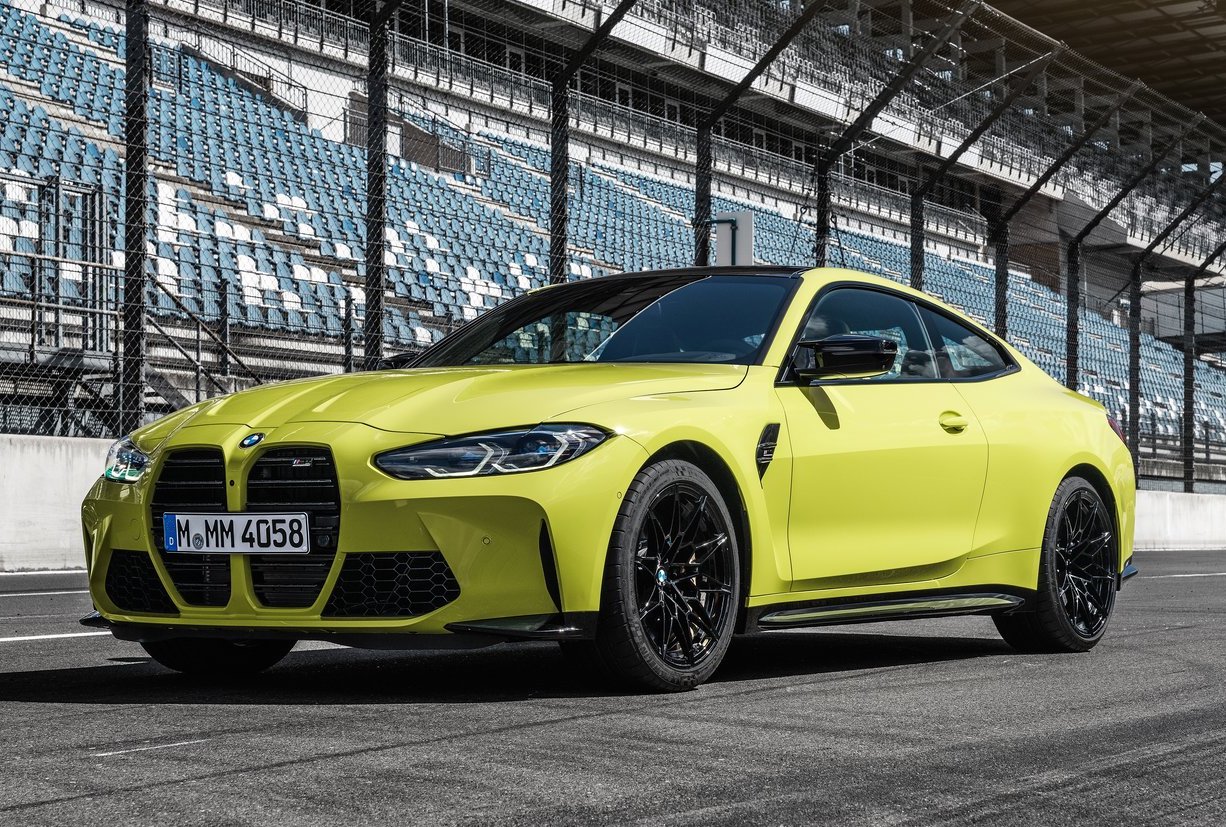 The new BMW M4: There is a fantastic car somewhere beneath all the controversial exterior design. 
In general, coupes are meant to be sleek and stylish machines. Losing two doors to gain extra style has always been the coupe way. This latest BMW M4 coupe however seems to defy that convention. Because even if the styling is controversial to say the least, underneath the widely-panned exterior lies a pretty competent performance car.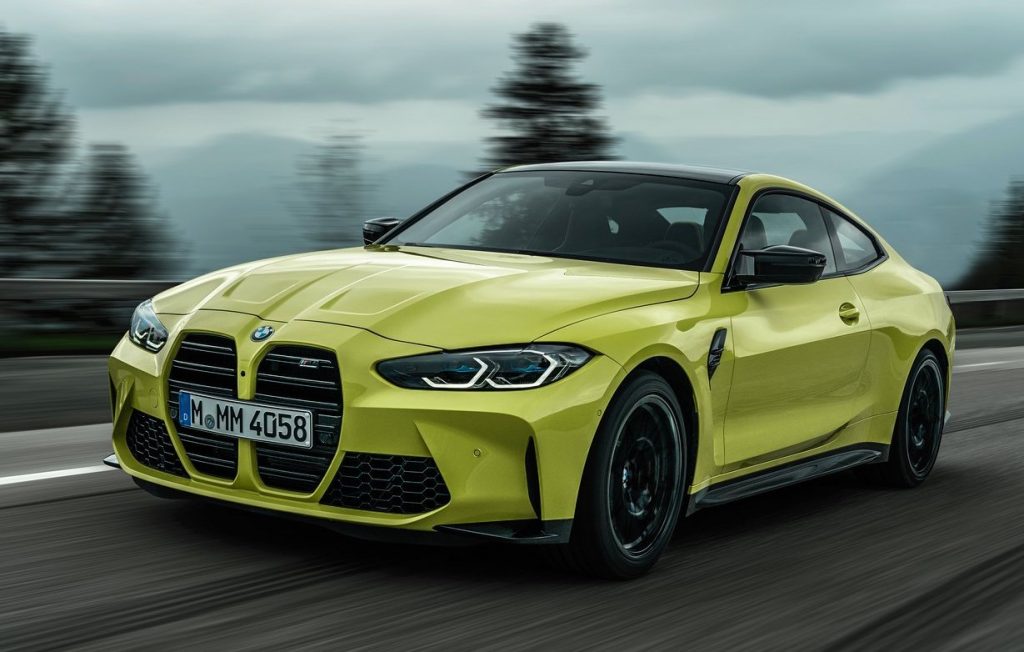 The news of the BMW M4 coming along with this huge snout of a grille shouldn't be a surprise to anyone already. Seeing that the plebeian 4-er was already launched with this pig snout of a front end. This however has not stopped the internet from lamenting the 'vandalism' done by the German marque on this coupe's front. Lung-shaped kidney grille aside though, it is worth pointing out that the BMW M4 does indeed tick all the right boxes for the enthusiast.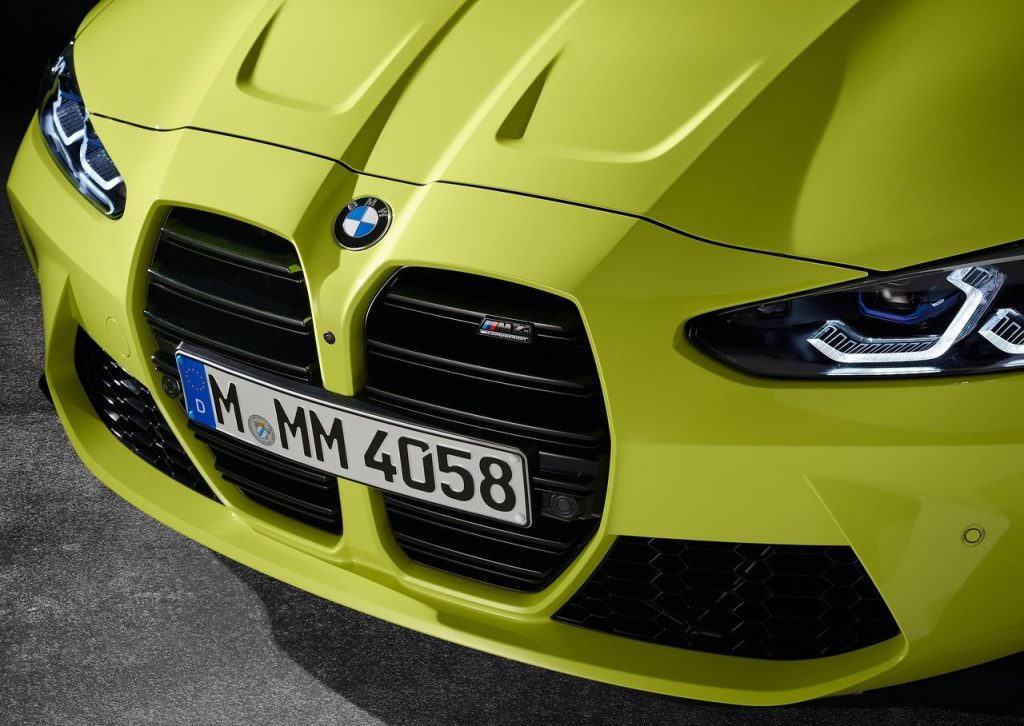 Starting with the rest of the exterior styling first. Blurring out the too-large front grille for a second, the rest of the front isn't too bad. While the two hood creases draw the eye to the grille again, the aggressive front bumper works in tandem with the angular headlights to enhance the sporty demeanour of the M4. Down the side, the obligatory M fender gills give way to flared wheel arches, which beneath them contain staggered 19 and 20 inch M alloy wheels.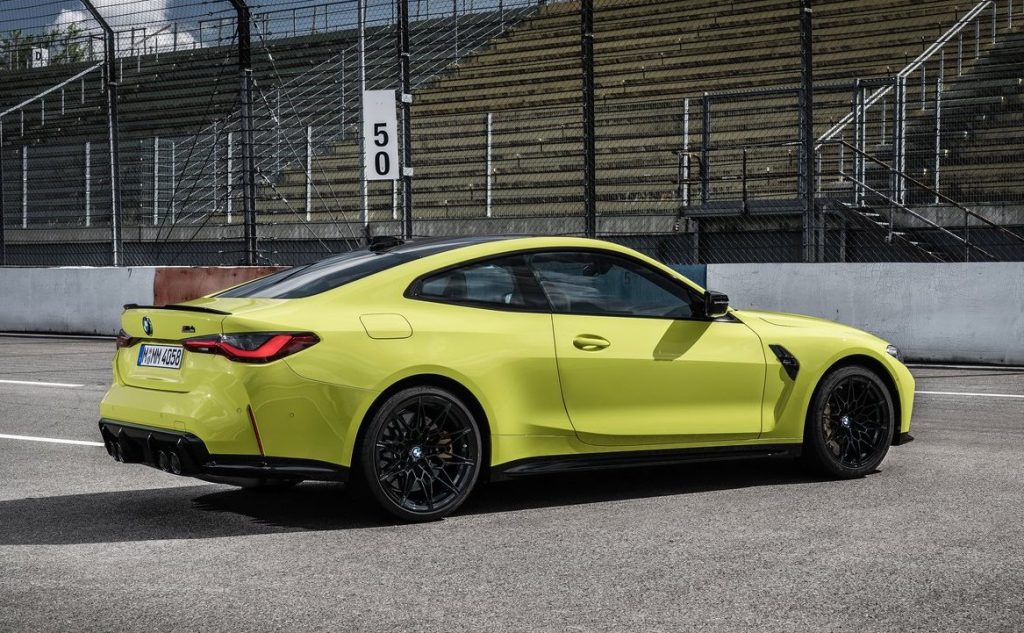 Round the back meanwhile is quad tailpipes housed within a black rear diffuser. Add to that a cheeky carbon rear lip spoiler and the standard carbon fibre roof, and you're left with the aggressive rear end design of the M4. On the subject of the rear of the M4, the rear three quarter is probably the best view of the whole car. Not only because the front end is obscured this way, but this generation 4 series in general looks better than the 3 series sedan on which it is based. While the 3 series may look a bit like a Lexus from the rear, this new generation 4 series coupe looks more purposeful by just subtly altering the rear design a tad.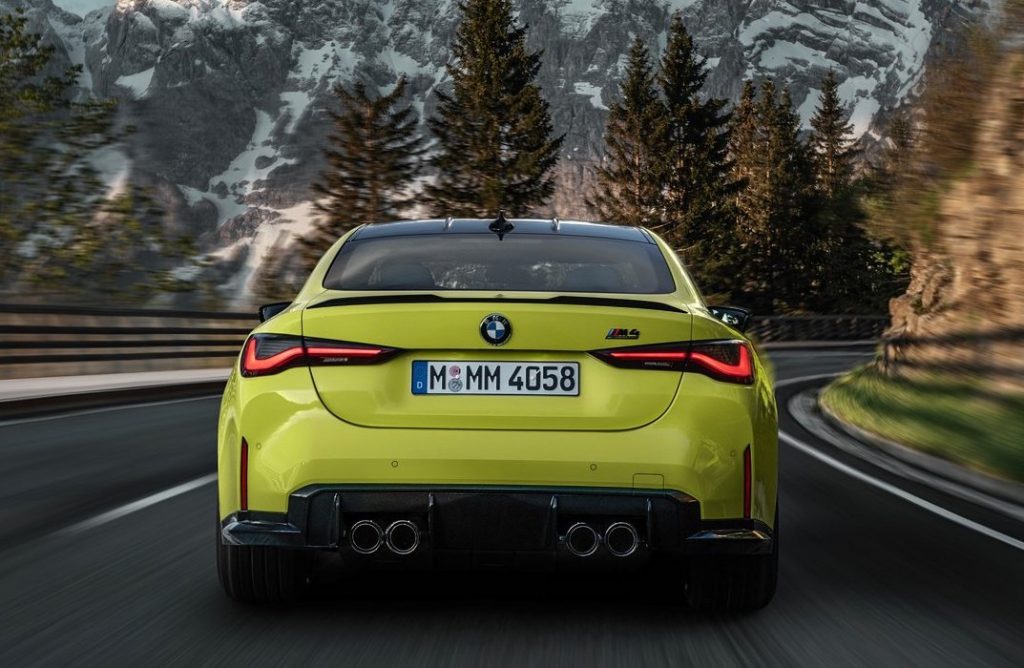 Powertrain-wise though, the M4 continues on with the tradition of being very much alike to the M3 on which it is based. Like the M3, two variants are available: the standard M4 and the hardcore M4 Competition. Both variants start off with the same twin-turbocharged straight six, but whereas the normal M4 makes do with just 480 hp, the M4 Competition has an extra 30 hp, bumping the power figure to a healthy 510 hp. This translates to a century sprint time of 3.9 seconds, a full 0.3 seconds faster than the normal M4. Although some credit to this faster time may go to the standard M xDrive rear-biased all-wheel drive system on the M4 Competition, a system not found in the standard M4 coupe.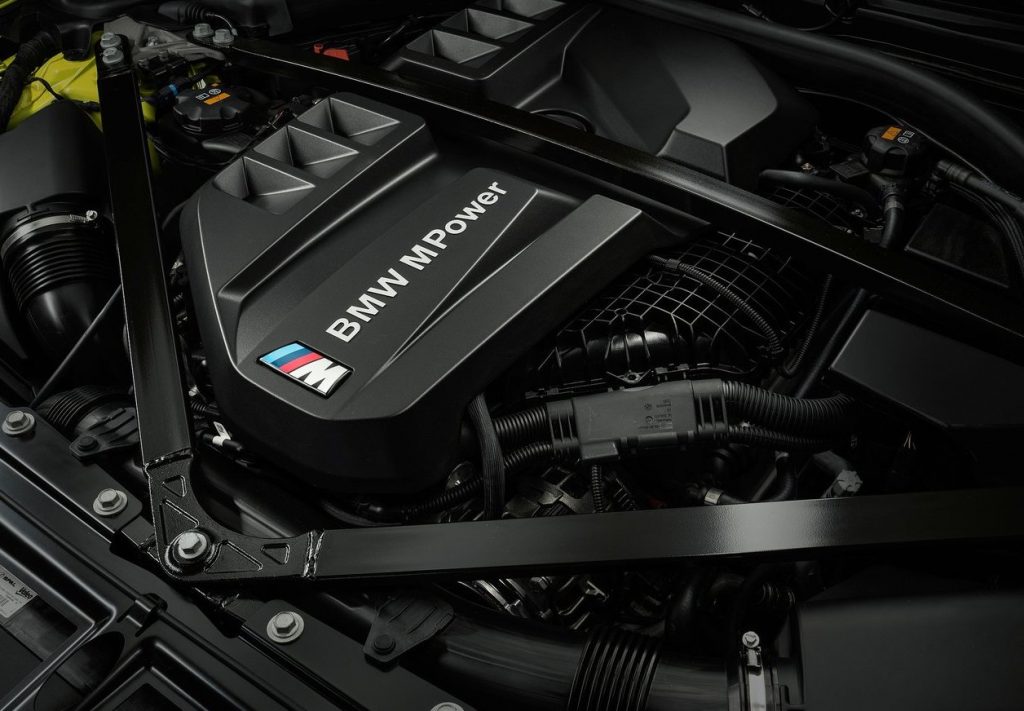 There are two transmissions to choose from when optioning an M4. Most buyers will most likely choose the 8 speed M Steptronic transmission with its Drivelogic and three shift programs. The keen driver however might be tempted to opt for the six-speed manual gearbox instead. A transmission option that BMW claims to not be offered in any other car within the segment.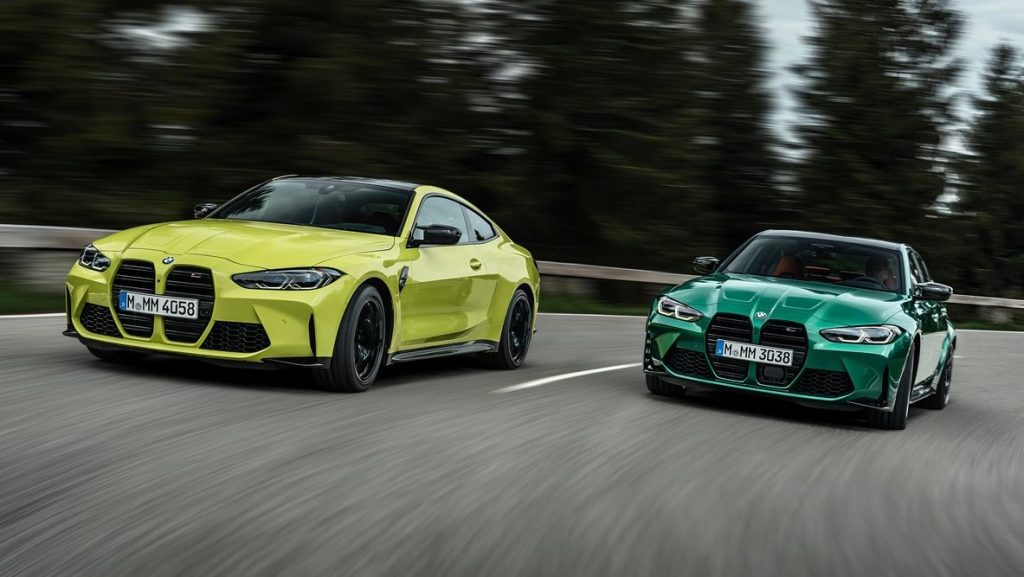 Keen drivers will also be appreciative of all the M technology sprinkled all over the important parts of this driver-focused car. Adaptive M suspension and variable ratio M steering will mean that this M4 should still tackle the twisties as well as an M car should. M Traction Control with M Dynamic mode should also allow drivers to push the limit without going over. All this while M Compound brakes stops accidents from happening in the first place. 
Speaking of accidents, as the M4 is based on a 4 series, the M4 rightly comes with all the BMW active safety features one could possibly ask for. While on the topic of being based on a 4-er though, the interior of the M4 is also very much like a 4 series. Just with a few performance trinkets that act as constant reminders to this sporty coupe's performance breeding.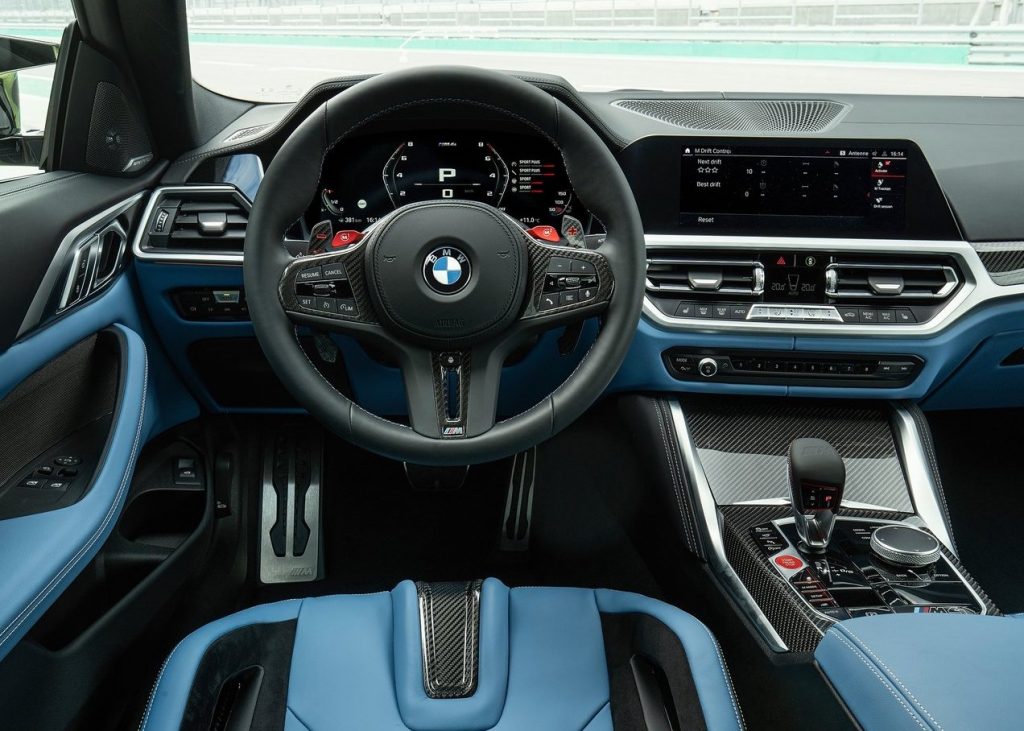 While optional electrically operated M Carbon bucket seats (seen below with shades of lime green and pale blue) may liven up the otherwise sedate but well laid out interior of the M4, drivers would probably have more fun with the new M Drive Professional interface that is standard on this performance coupe. This interface allows drivers who track their M4s access to the 'M Drift Analyser, M Laptimer and M Traction Control'.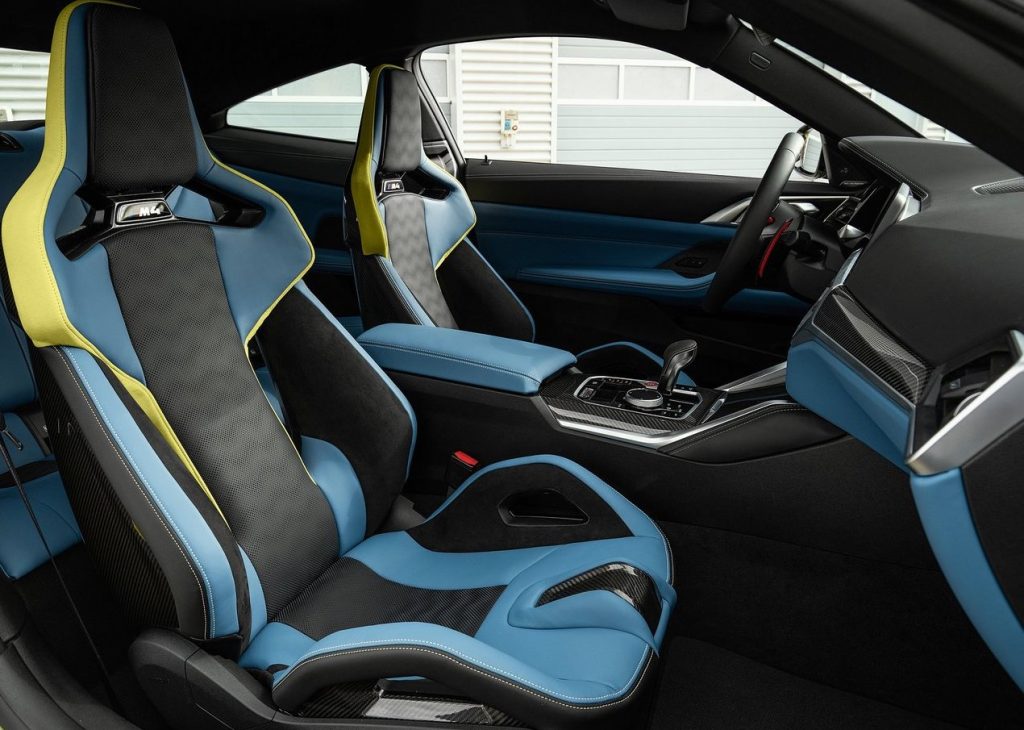 Drivers who intend to turn their M4 into track rats may also seriously consider the M Race Track Package that supposedly sheds 25 kg of the kerb weight, and adds 'M Carbon ceramic brakes, special M light-alloy wheels and M Carbon bucket seats.'
Thus far, no word yet on the pricing of this performance M coupe yet, but prices are expected to be around the same region as that of the current M4. With that in mind, this does sprout an interesting question as to whether this M4 will actually sell or not. 
While major manufacturers like Toyota and Nissan have dipped their toes back in the coupe game, there is no denying that the coupe market is on the decline. Already handicapped by its marmite design, will the M4 be able to pull through in this ever-competitive market?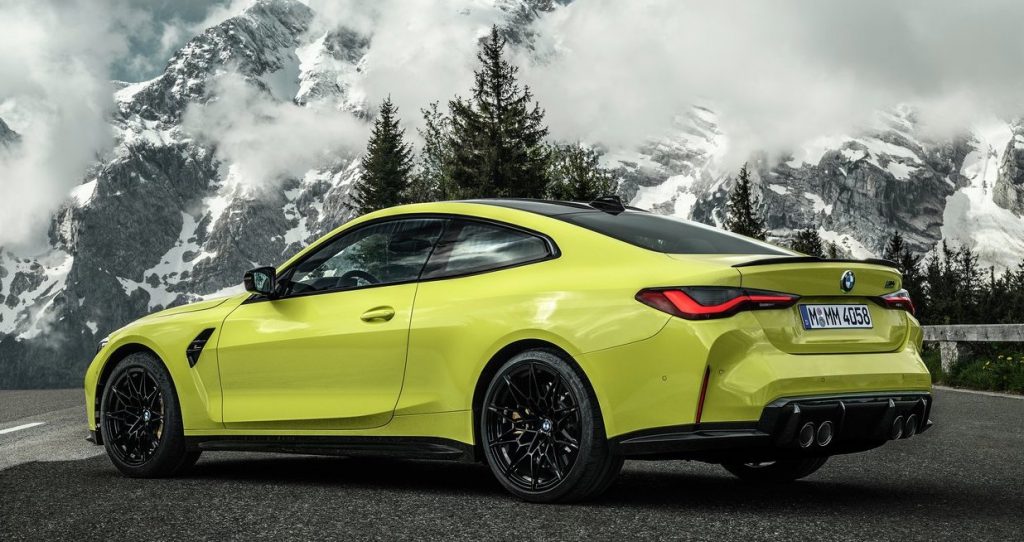 PRESS RELEASE: New edition of the pace-setting high-performance sports cars in the premium midsize segment:
BMW M3 Sedan: 
353 kW/480 hp; acceleration [0 – 100 km/h (62 mph)]: 4.2 seconds; fuel consumption combined: 10.8 l/100 km (26.2 mpg imp); CO2 emissions combined: 248 g/km. 
BMW M3 Competition Sedan:
375 kW/510 hp; acceleration [0 – 100 km/h (62 mph)]: 3.9 seconds; fuel consumption combined:10.2 l/100 km (27.7 mpg imp); CO2 emissions combined: 234 g/km.
BMW M4 Coupé: 
353 kW/480 hp; acceleration [0 – 100 km/h (62 mph)]: 4.2 seconds; fuel consumption combined: 10.8 l/100 km (26.2 mpg imp); CO2 emissions combined: 248 g/km.
BMW M4 Competition Coupé: 
375 kW/510 hp; acceleration [0 – 100 km/h (62 mph)]: 3.9 seconds; fuel consumption combined: 10.2 l/100 km (27.7 mpg imp); CO2 emissions combined: 234 g/km.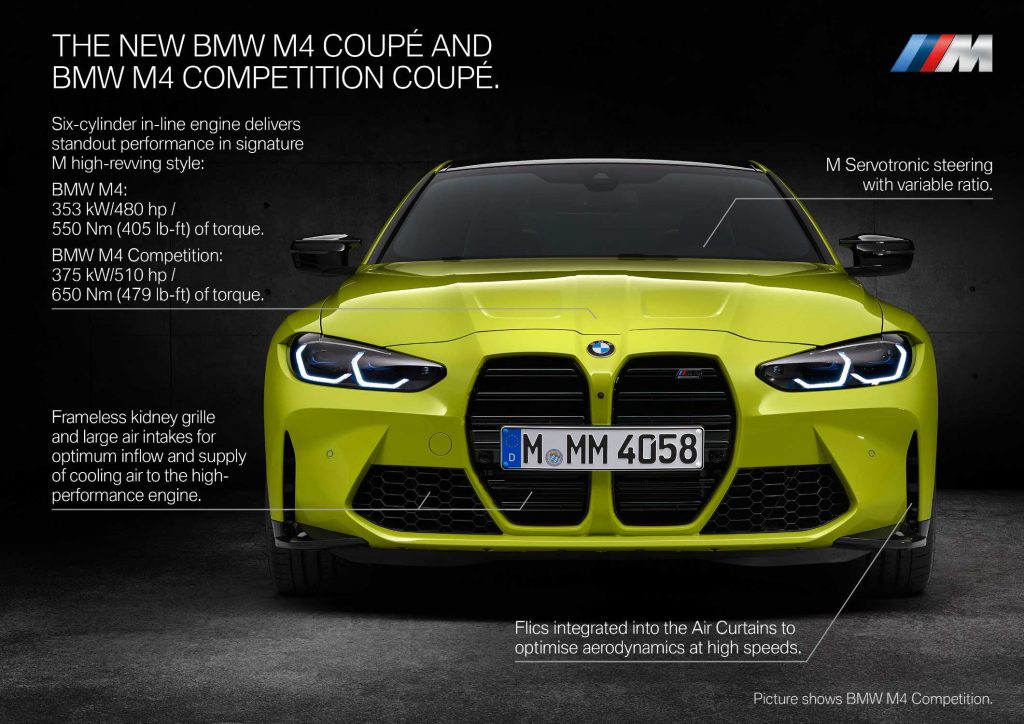 High-performance cars with authentic allure boast cutting-edge racing-car technology and a character profile in the tradition of the original BMW M3 presented 35 years ago. Market launch from March 2021.
New BMW M3 Sedan and new BMW M4 Coupé with unequivocally performance-focused vehicle concept. Tuning work conducted alongside testing programme for the BMW M4 GT3 racing car. Familiar M blend of dynamism, agility and precision meets everyday usability and long-distance capability.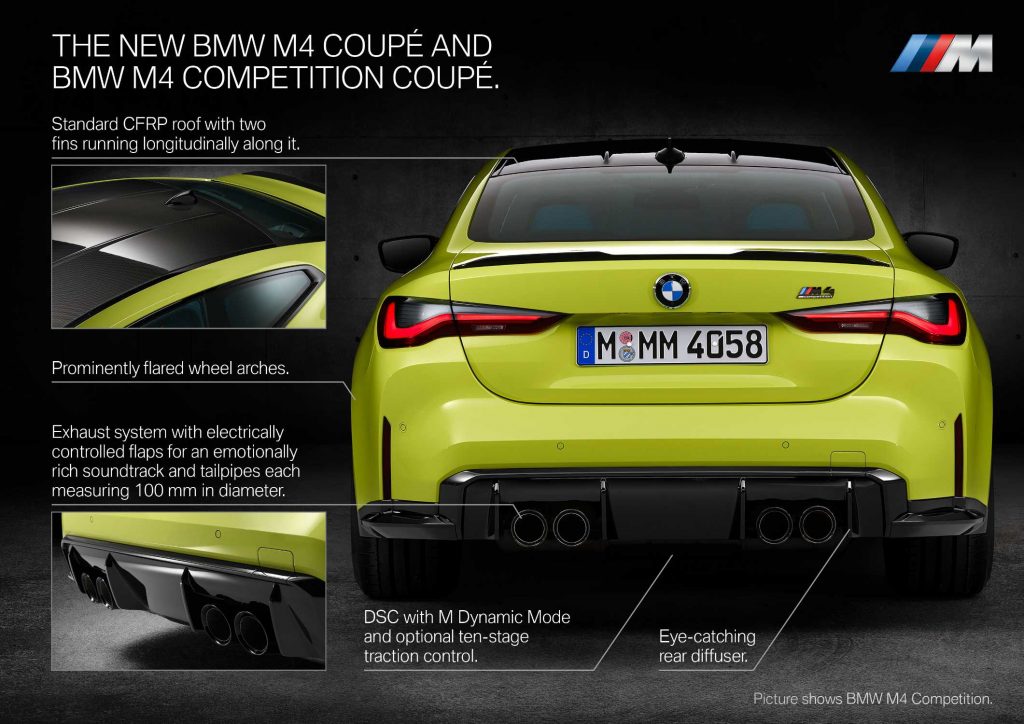 Extra variety in the powertrain offering. Authentic performance experience in the new BMW M3 Sedan and new BMW M4 Coupé thanks to six-speed manual gearbox not offered by any rival. BMW M3 Competition Sedan and BMW M4 Competition Coupé with eight-speed M Steptronic transmission. Competition models also available with M xDrive all-wheel-drive system for the first time, est. from summer 2021.
Six-cylinder in-line engine with M TwinPower Turbo technology, high‑revving character, maximum 375 kW/510 hp and up to 650 Nm (479 lb-ft). Two turbochargers, optimised direct injection, cooling and oil supply adapted for track use, model-specific exhaust system with electrically operated flaps for emotionally stirring engine soundtrack.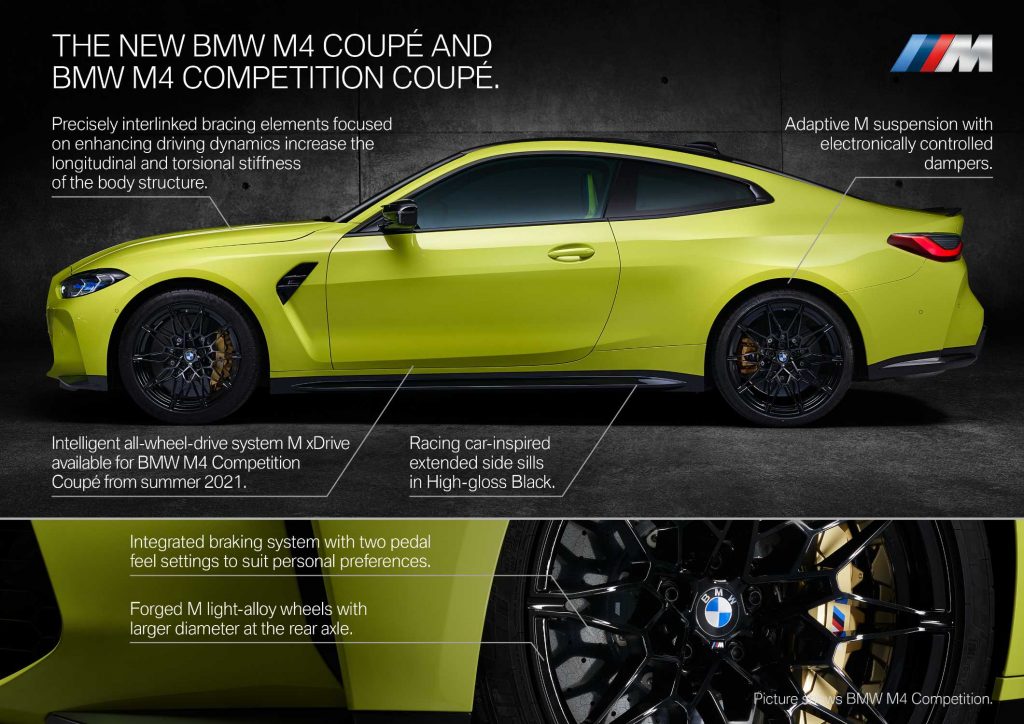 Model-specific six-speed manual gearbox with Gear Shift Assistant for extremely dynamic driving situations. Latest generation of the eight‑speed M Steptronic transmission with Drivelogic and three shift programs. M xDrive links up with Active M Differential, rear-wheel-biased setup, three selectable modes: 4WD, 4WD Sport and 2WD for pure rear‑wheel drive and deactivated stability control.
Adaptive M suspension with electronically controlled shock absorbers and M Servotronic steering with variable ratio are fitted as standard. M‑specific front- and rear-axle modifications. New integrated braking system with two settings for pedal feel and response. M Compound brakes as standard, M Carbon ceramic brakes optional.
Dynamic Stability Control (DSC) including M Dynamic Mode and, for the first time, integrated wheel slip limitation and M Traction Control adjustable through ten stages.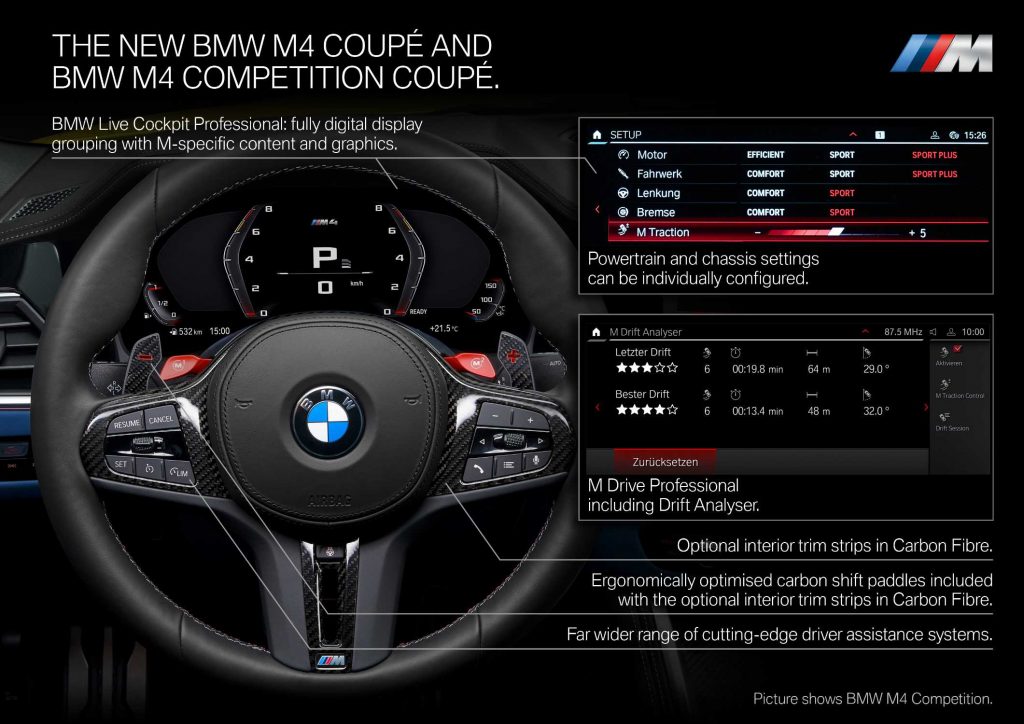 Forged M light-alloy wheels – front: 18-inch, rear 19-inch (Competition models with M xDrive – front: 19-inch, rear 20-inch). Performance tyres optional.
Extremely stiff body structure and chassis mounting thanks to measures including model-specific bracing elements for the engine compartment, a front axle subframe with aluminium shear panel, underfloor bracing elements and a rear axle subframe with a rigid connection to the body.
Two body variants with their own individual exterior designs and an emotionally engaging aesthetic. BMW M3 Sedan and BMW M4 Coupé with performance-oriented body features: M-specific version of large, vertical BMW kidney grille, powerfully sculpted wheel arches with eye‑catching M gills, prominent side sill extensions with attachments to the front and rear aprons, carbon-fibre roof with aerodynamically optimised fins, plus rear spoiler and familiar M tailpipe pairs. New, exclusive exterior paint finishes. M Carbon exterior package and BMW M Performance Parts available as options.
Ergonomically optimised sports-car cockpit with M-specific displays and controls. Newly developed M sport seats and fine-grain Merino leather trim with extended features fitted as standard; optionally with seat ventilation. New M Carbon bucket seats with structure-based design available as an option.
M-specific control/operating concept with Setup button for direct access to the settings for the engine, chassis, steering and braking system – and, depending on the model and specification, also M xDrive, Gear Shift Assistant and traction control. Two individually composed overall setups can be activated using M buttons on the steering wheel.
M Mode button enables the intervention thresholds of the driver assistance systems and the displays in the instrument cluster and optional Head-Up Display to be configured individually. ROAD and SPORT settings are available as standard; additional TRACK mode for track driving added when M Drive Professional is specified.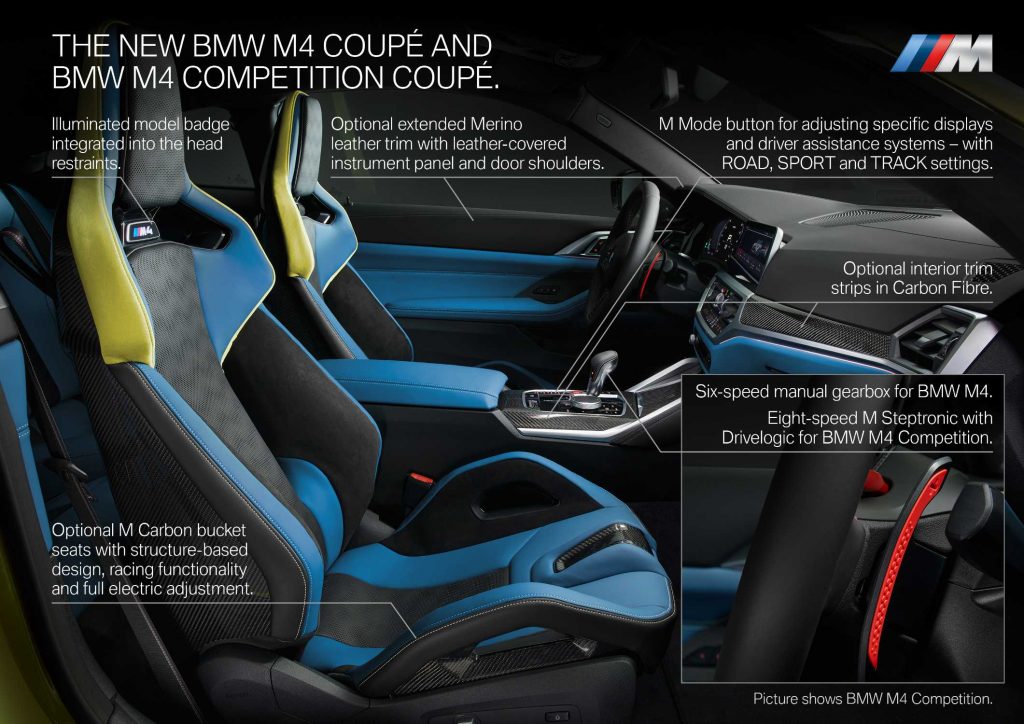 Premiere of M Drive Professional (including M Drift Analyser, M Laptimer and M Traction Control), for a particularly intense performance experience on the race track.
Significantly expanded selection of driver assistance systems. Park Distance Control, Front Collision Warning, Lane Departure Warning and Speed Limit Info fitted as standard. Options include Driving Assistant Professional with Steering and Lane Control Assistant, Active Navigation, Emergency Lane Assistant, Parking Assistant with Reversing Assistant, BMW Drive Recorder and BMW Head-Up Display with M-specific displays.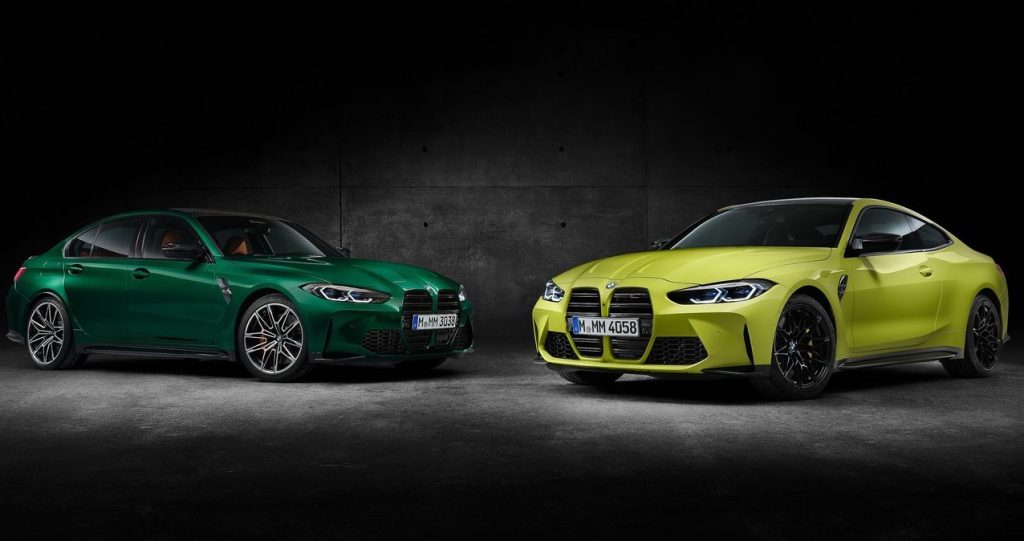 BMW Live Cockpit Professional with fully digital display grouping, BMW Maps navigation system and BMW Intelligent Personal Assistant as standard.
M Race Track Package available for the first time reduces vehicle weight by around 25 kilograms thanks to features including M Carbon ceramic brakes, special M light-alloy wheels and M Carbon bucket seats.