Used cars
A Suzuki Hustler Could Be Yours In Malaysia For New Axia Money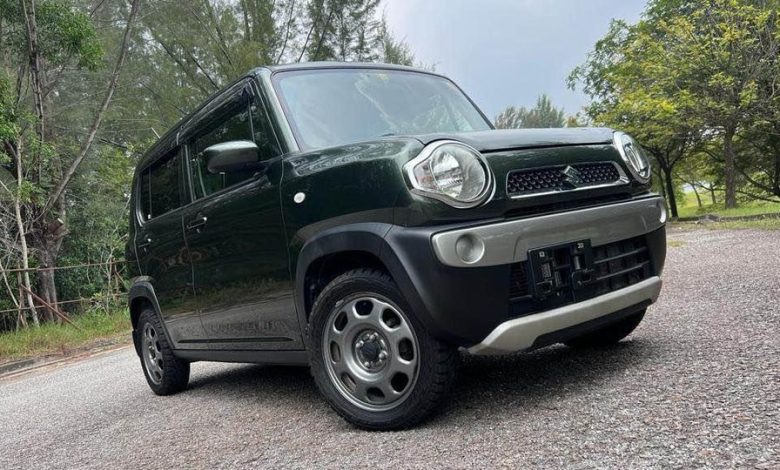 Sure it may be 7 years old and somehow is even slower than the Axia, but ain't this Suzuki kei 4×4 just that much cooler than a Perodua?
While EVs may be the hot new thing on Malaysian roads these days, some might have surely noticed that there have also been significant uptick in kei car sightings locally too. In fact, there is almost never a day now that goes by without spotting either a Honda N-Box or a Daihatsu Taft pootling around the more atas areas of KL and PJ.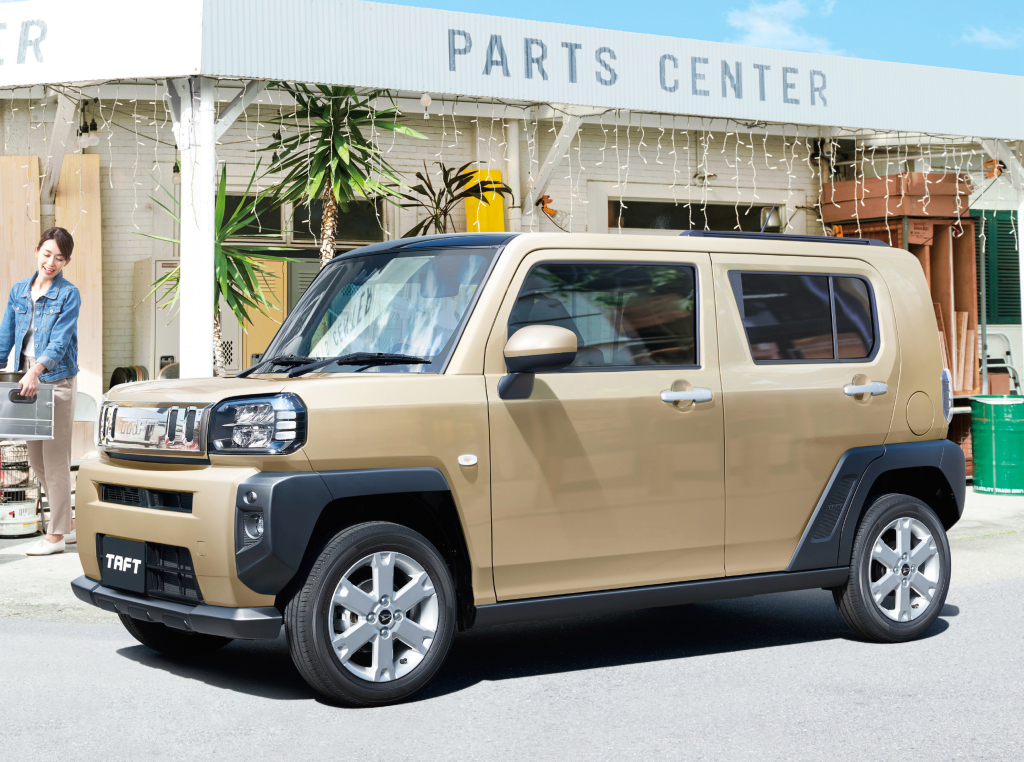 And unfortunately, while these kei cars are among the cheapest new vehicles you could buy in the land of the rising sun, one has to however be rather atas to afford these kei cars here. That is as the newer iterations of these tiny vehicles at least do cost a pretty penny once they arrive here, with three-year-old examples of a Honda N-Box commanding nearly the same RM 90k price tag as a brand new City over here. 
Kei cars however, despite their titchy size, are happily not immune from depreciation. So there are indeed now some of these small cars sporting similarly small price tags. Like this 2016 Suzuki Hustler for instance that was recently spotted for sale on Facebook Marketplace for RM 48,000.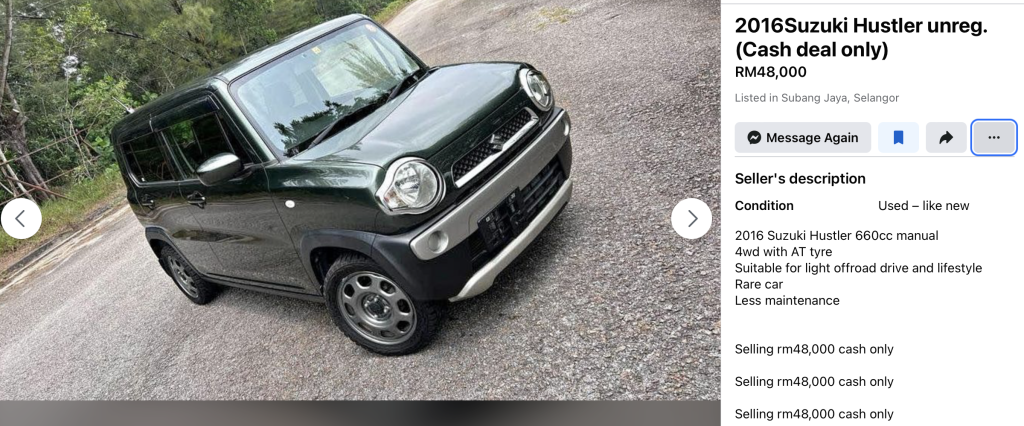 Ok granted, RM 48,000 may not exactly fit into everyone's definition of a small price tag, especially for a 7 year old car. But it is nevertheless about the same price as a brand-new top-spec Perodua Axia. And while it may have an engine that is somehow weaker than said Malaysian supermini, there however really is no contest between the Suzuki and the Axia as to whichever is the cooler small car.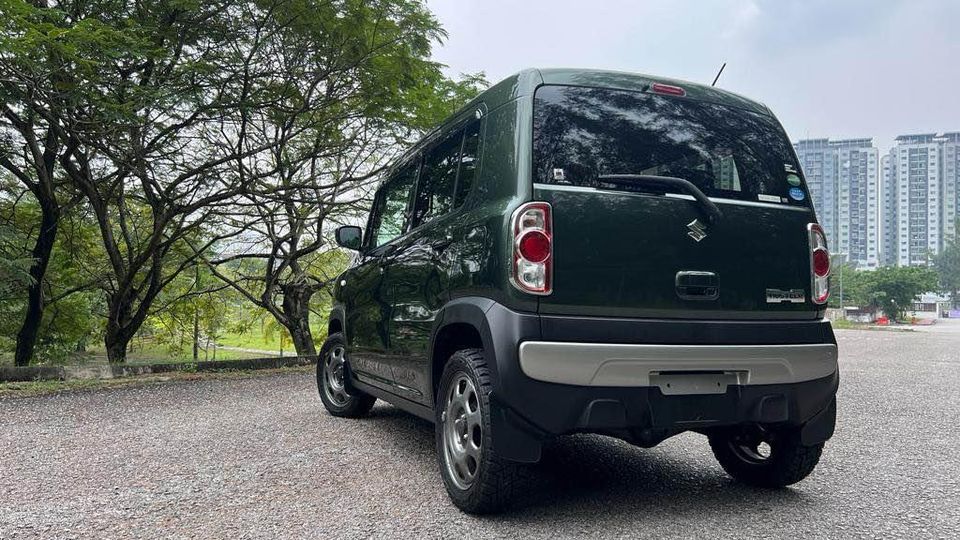 Just before getting too ahead of ourselves however, here is a brief background on the Hustler for those who may have never heard of this kei car before. Launched initially in 2014 with a second iteration out in 2020, this small Suzuki (and its Mazda Flair Crossover twin) could be considered one of the pioneers of the kei crossover genre. Featuring a boxy and rugged exterior aesthetic but yet a car-like interior, the Hustler was essentially a more civilised, city-centric version of Suzuki's Jimny. 
Though that is not to say that the Hustler was a purely on-road vehicle too. That is as unlike most crossovers these days, this little Suzuki could actually be optioned with four-wheel drive. A feature that incidentally this particular one for sale has, in addition to some meaty all-terrains too for if its new owner wants to take this little green car off the beaten path.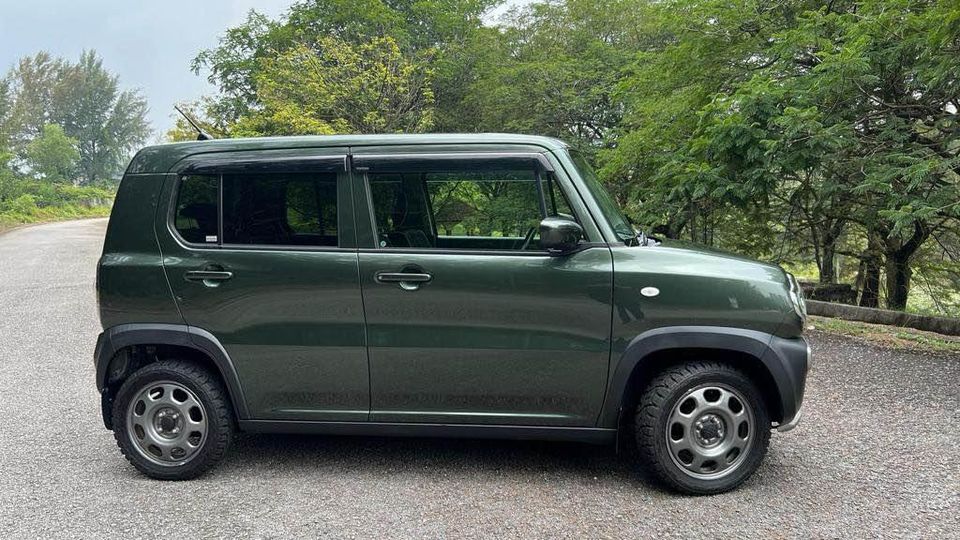 What more too is that much like every other true off-roader, this particular Hustler also packs the enthusiasts choice of transmission in the form if a five-speed stick shift. Unfortunately however, under the hood of this dark green Suzuki here is only a naturally aspirated 660 cc naturally-aspirated three-cylinder that puts out all of 51 hp, instead of the more powerful 63 hp turbocharged unit that was also available.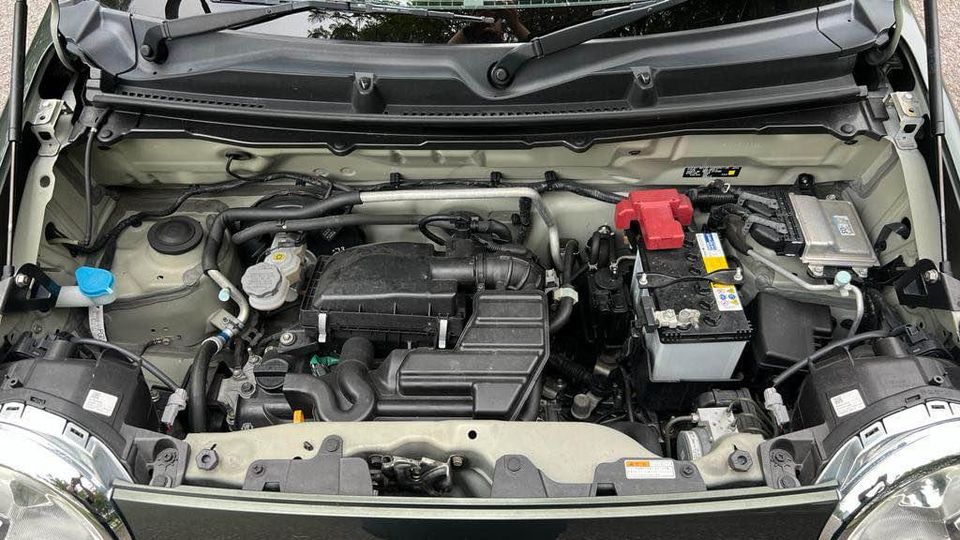 Said three-pot in this green car is also said to have 100,000 km on the clock already, though it does in any case seem to have worn its miles well. Its seats for instance does not appear to have any rips or even wear marks on its funky covers. Its bodywork too from the pictures at least looks to be straight as an arrow, with its dark green paint also appearing to be surprisingly factory fresh in spite it already being around since 2016.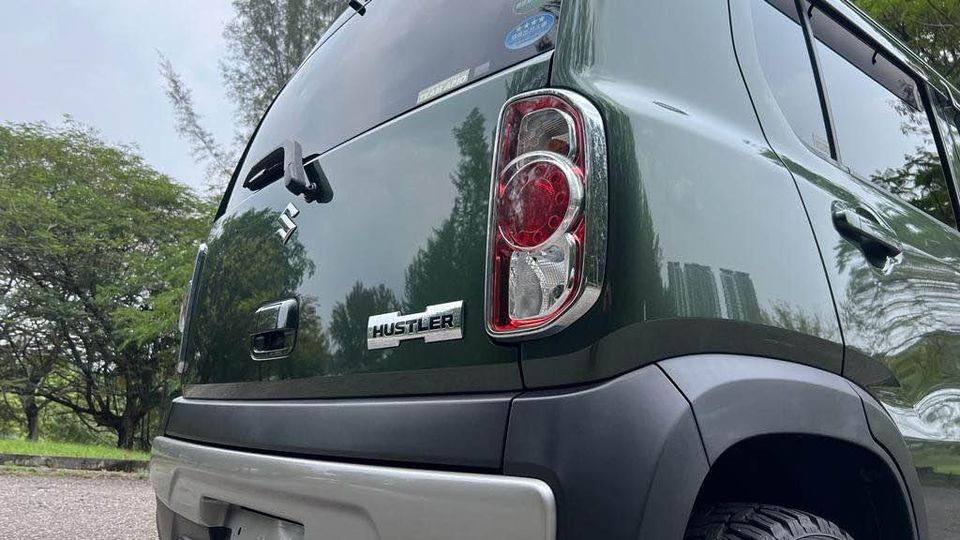 Furthermore, while the manual transmission may be on the agricultural side for some relative to the CVT alternative, this particular Hustler does nevertheless also come with some pretty civilised features like automatic climate control and central infotainment touchscreen. And in spite of having not the world's biggest boot and legal seating for only four too, even large adults will likely be able to comfortably fit in this small Suzuki due to its boxy dimensions and ample rear leg room.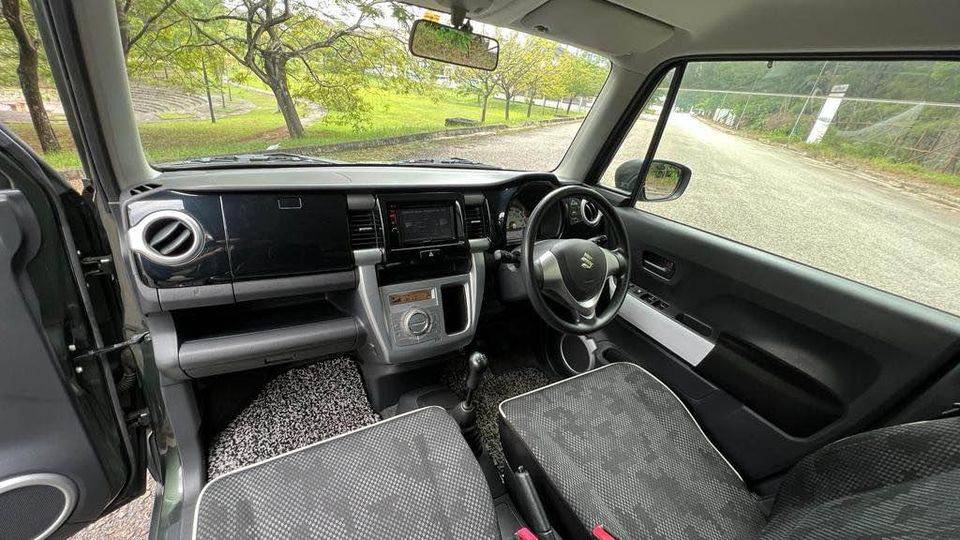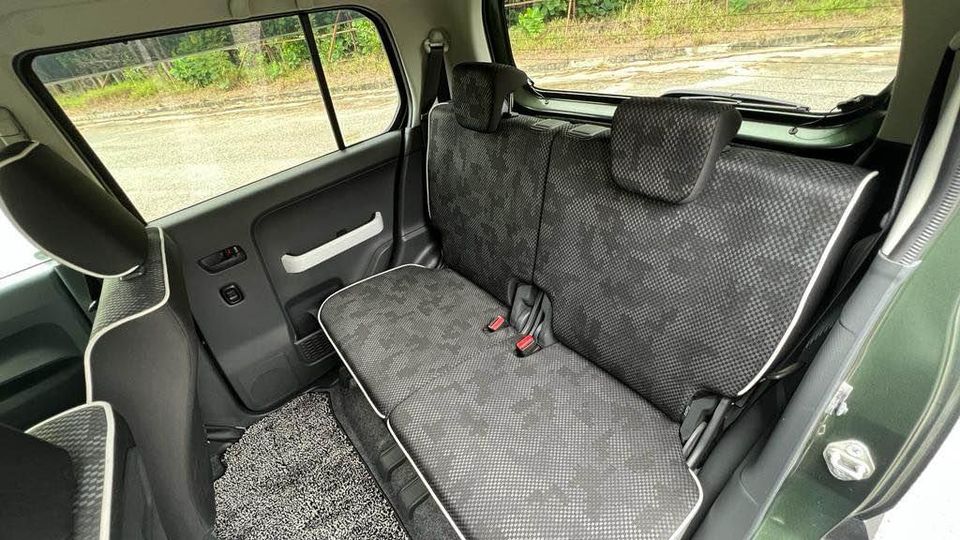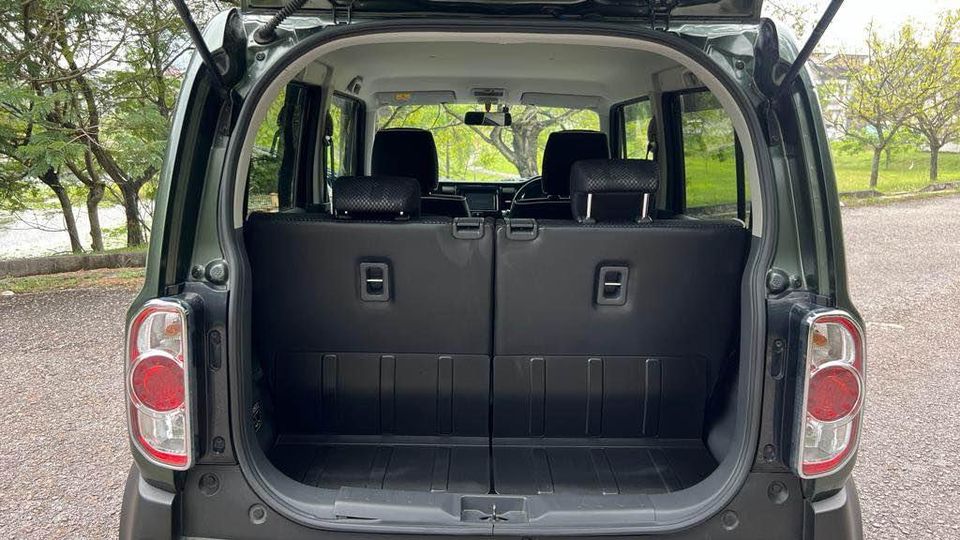 Moreover, for those who like to personalise their cars, you're in luck, as the aftermarket accessory list for the Hustler is only rivalled by the amount of storage cubbies in its interior. The wilder of which includes camping tarps that attaches to its roof or bootlid, to a body kit from Japanese tuner DAMD that can turn this Suzuki into a shrunken Jeep Wrangler lookalike, which would actually rather suit this all-wheel drive kei car. 

Now it is worth highlighting at this point that automacha.com does not have any affiliation with, or would bear any responsibility from the transaction of, this 2016 Suzuki Hustler. Seeing that the seller of this kei car has stated in the advert that it only wants to perform a cash sale, the purchase of this tiny crossover would not be made by someone who is considering taking out a loan for an Axia.  
It is also worth emphasising that any sane-minded individual considering the Hustler would (and should) just go for a used Axia Style instead. Sure, it might not have the four-wheel drive capabilities (which no one is going to reasonably need with a kei car anyway) of the Hustler, but still nevertheless has the same off-roady look as this Suzuki.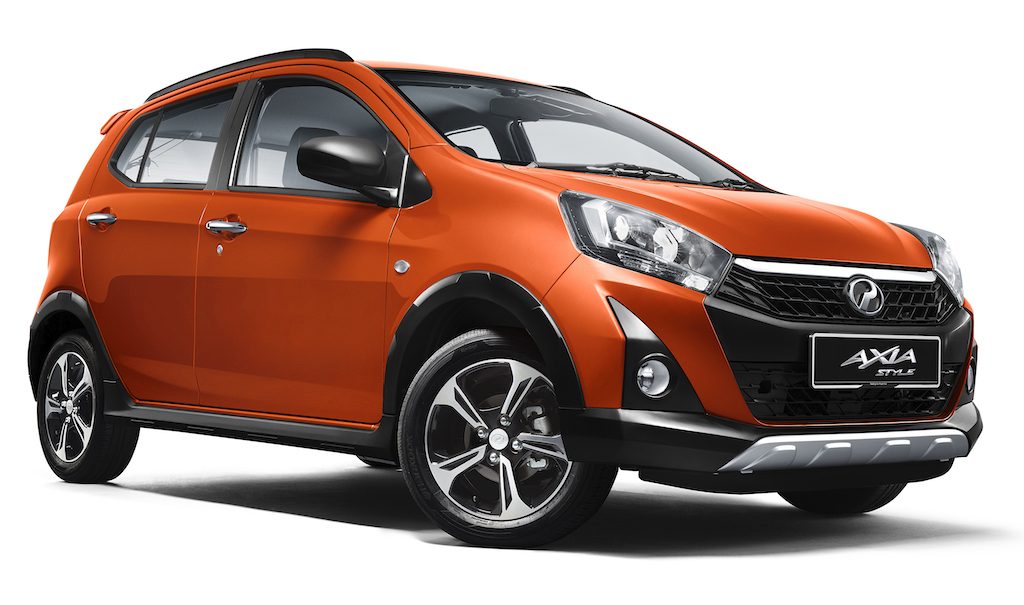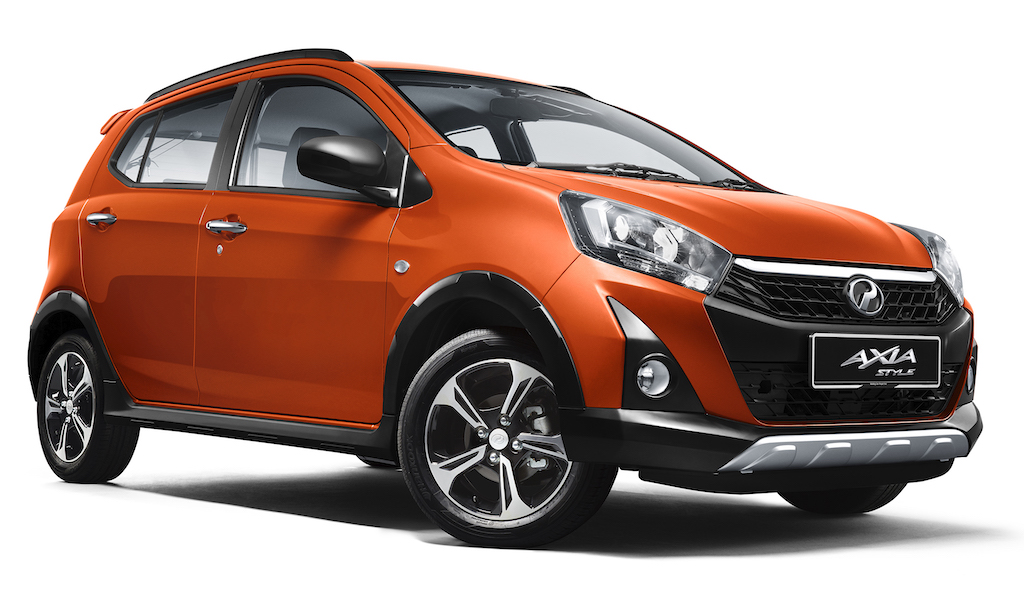 The Perodua is likely also to be faster in a straight line, easier (and cheaper) to maintain and can legally seat more people than the Hustler too. Though for those who buy their cars with their hearts (and not their heads) and perhaps have been charmed by this cute little Suzuki, you could convince yourself that this is at least cheaper than buying a Jimny.