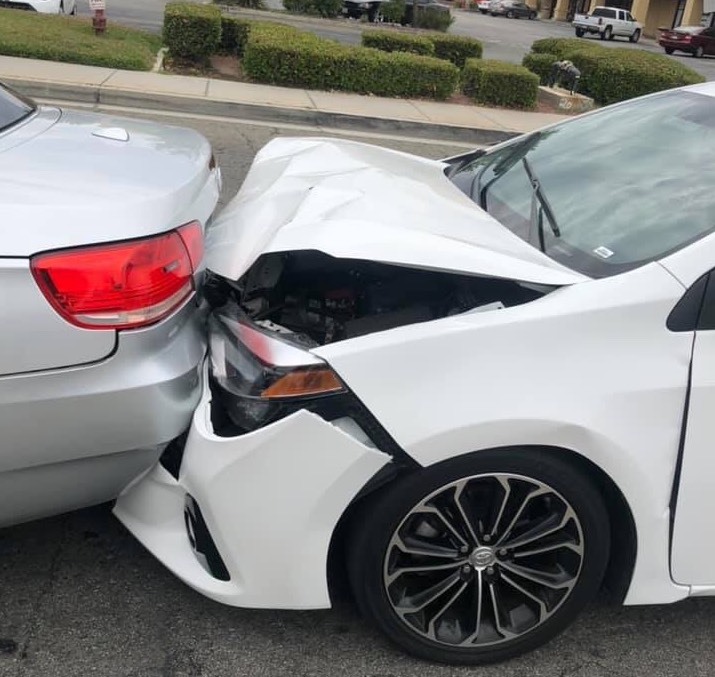 No one expects to meet in an accident when they get behind the wheel of a car. With the growing number of vehicles on the road each year, the risk of accidents also increases. From 2017 to 2018, the total number of road accidents increased by a whopping 14,723 cases. (Source: Malay Mail, 30 Jan 2019)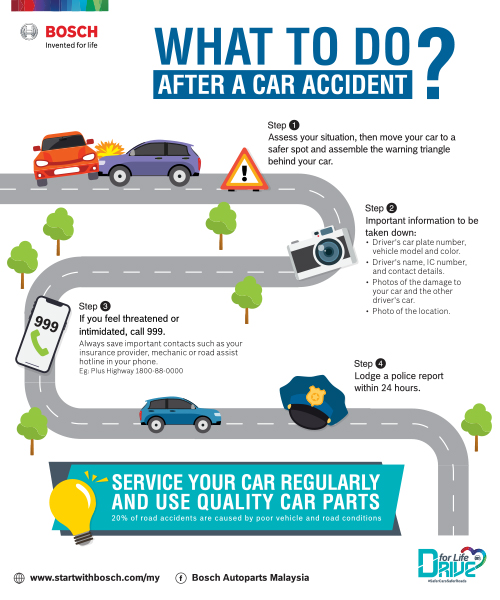 Being smart about your approach by preparing ahead, can help you get out of a tight spot and is crucial for your safety. In line with Bosch Automotive Aftermarket Malaysia's (Bosch AA) "Drive for Life" campaign launched in May that advocates for safer cars and safer roads, Bosch AA would like to empower all drivers towards safer mobility with these five useful tips.
Assess your situation
First, breathe. Then, calmly assess yourself for injuries before checking on your passengers. Once everyone's safety is accounted for, try moving your car to a safer spot and assemble the warning triangle behind your car. Only when it is safe, have passengers exit the vehicle and wait by the side of the road, ideally behind a road barrier. If you feel threatened or intimidated in any way, call the police immediately and inform them of the incident and your location.
Assess your vehicle
When it is safe to inspect your car, take photos of the damages on your vehicle and of all other vehicles involved. This will help with potential disputes later on. Exchange the following information with the other drivers:
Car plate number, road tax, vehicle model and color
Driver's name, IC number and contact details
While it is common practice to exchange personal particulars with other driver(s) involved in the accident, it can be unsafe especially for women to disclose this information to a stranger. If you personally feel uncomfortable sharing your contact details, provide contact details of a close male family figure or friend instead.
Understand procedure
It is ideal to lodge a police report within 24 hours unless you need medical attention and to also consider the jurisdiction you're in. Upon filing a report, a police officer will take photos of your car and your case will be assigned to a traffic investigating officer.
For insurance claims, you will need a copy of the police report, the investigating officer's report detailing who is at fault and photos of the accident scene.
Service your car regularly and use quality car parts
Even though only about 20% of road accidents are caused by poor vehicle and road conditions, prevention is always better than cure. Regular upkeep of your car and the usage of quality car parts can increase the car's reliability, performance and safety. It not only helps reduce the risk of car breakdowns can help as well as help you avoid becoming a statistic.
Feeling overwhelmed? Keep a copy of these tips in your car
It will help you remember what to do in the event of an accident and keep you prepared to face the unexpected and handle any situation with confidence!