Cars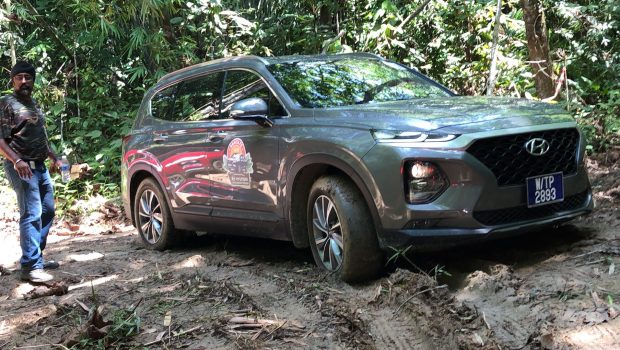 Published on July 11th, 2019 | by Hammer
0
Hyundai Santa Fe 2019 model test driven in the wild
Yes, it was going to be a day of muddy trails, river crossings and some durian feasting as we took the all new Hyundai Santa Fe for a hardcore test drive into a forest reserve in Negeri Sembilan.
Unlike most other 4×4 vehicle test drives where we see little mud and just small stream crossings that are no worse than a Petaling Jaya rising flood, this test drive was conducted by a team of 4×4 experts led my team leader Steven Sim (a very well known Malaysian who has driven across the globe with his team).
The all new Santa Fe will be bought by Malaysians who will never do this drive or take their previous SUV into the wild but Hyundai's new MD, Mr Low wanted to show the media and our readers the capability of this luxury SUV in the rough in order to convince buyers of its engineering strength, chassis rigidity and Hyundai's HTRAC All-Wheel Drive (AWD) system which will be very useful when Klang Valley flash floods arrive.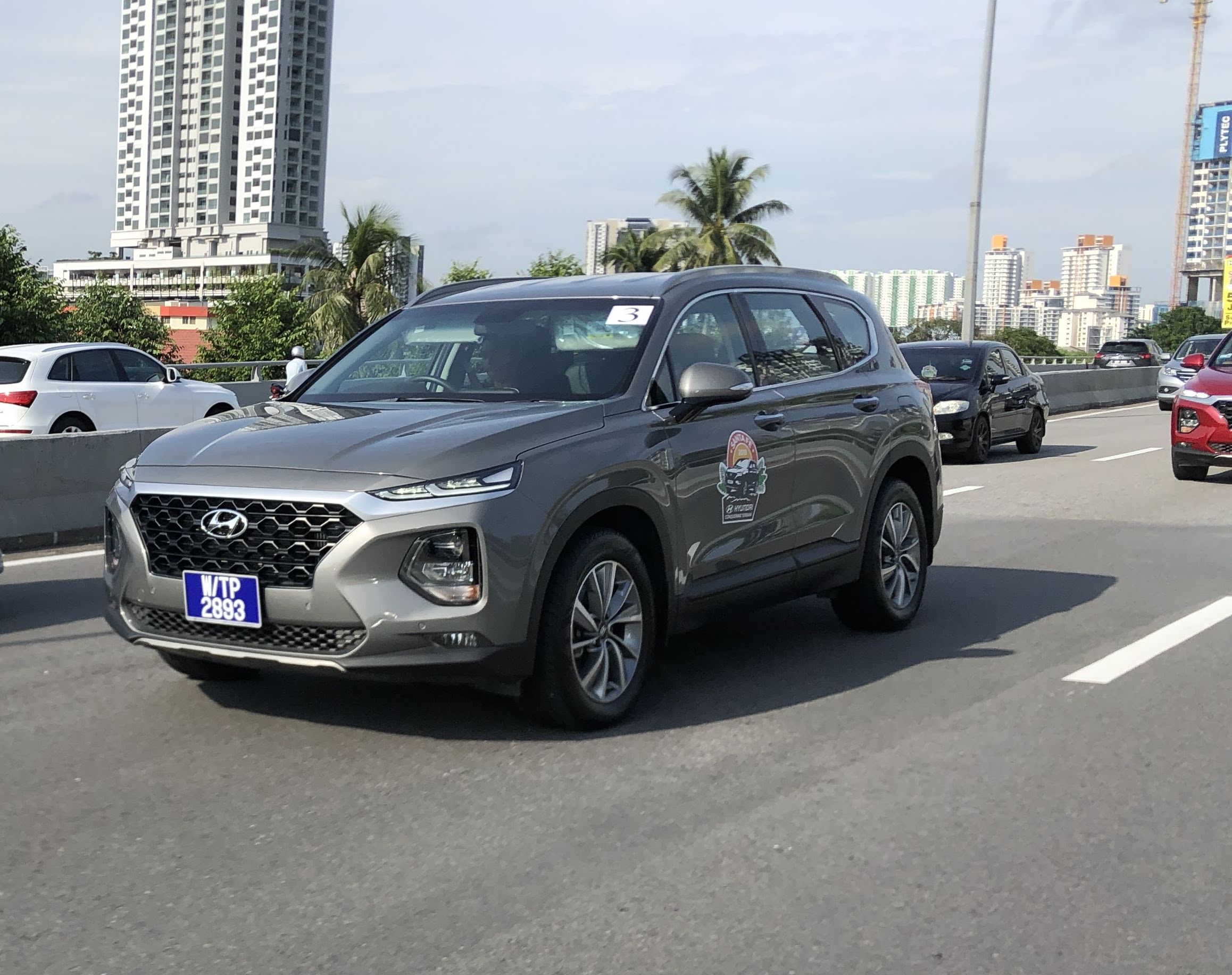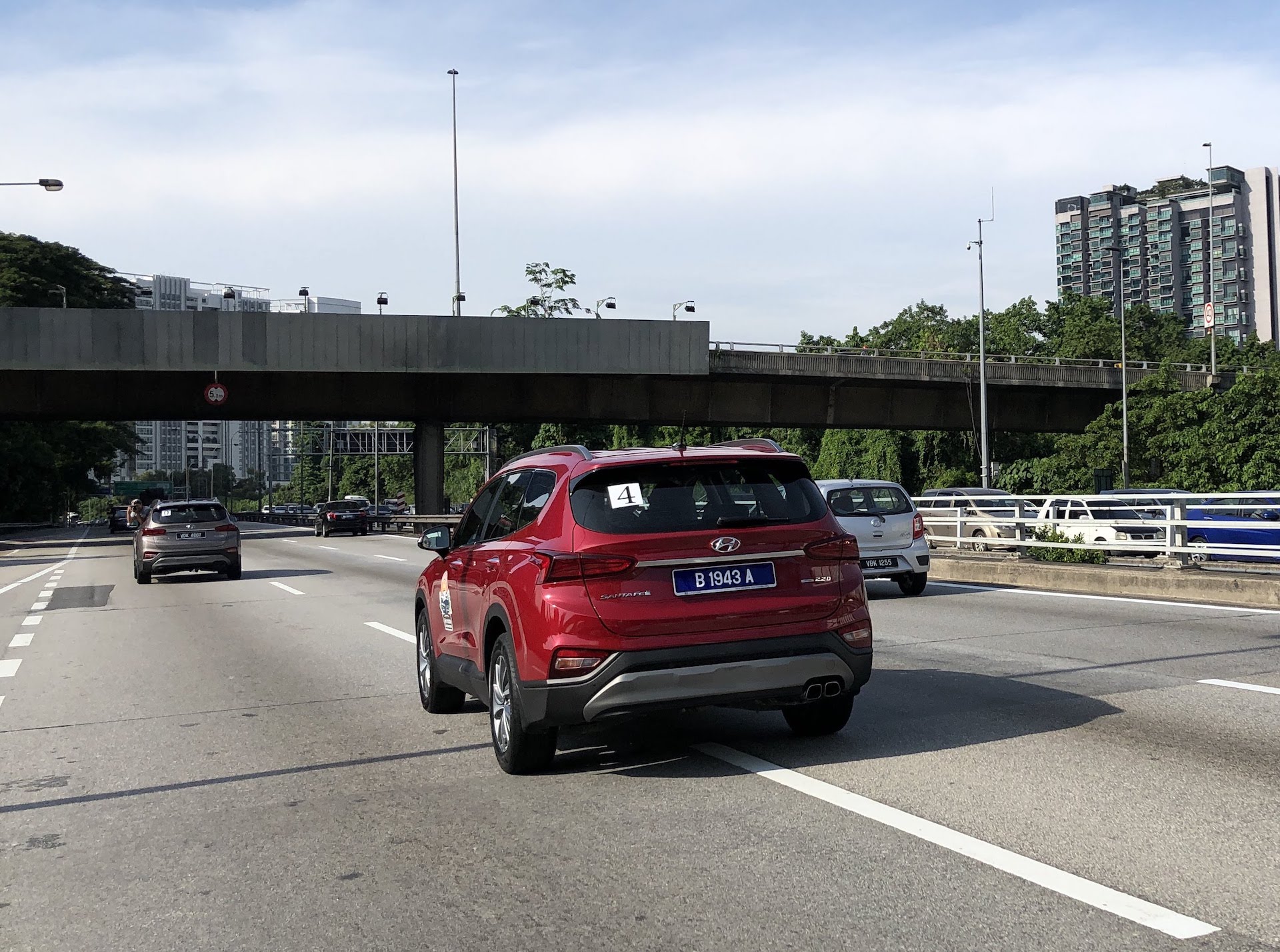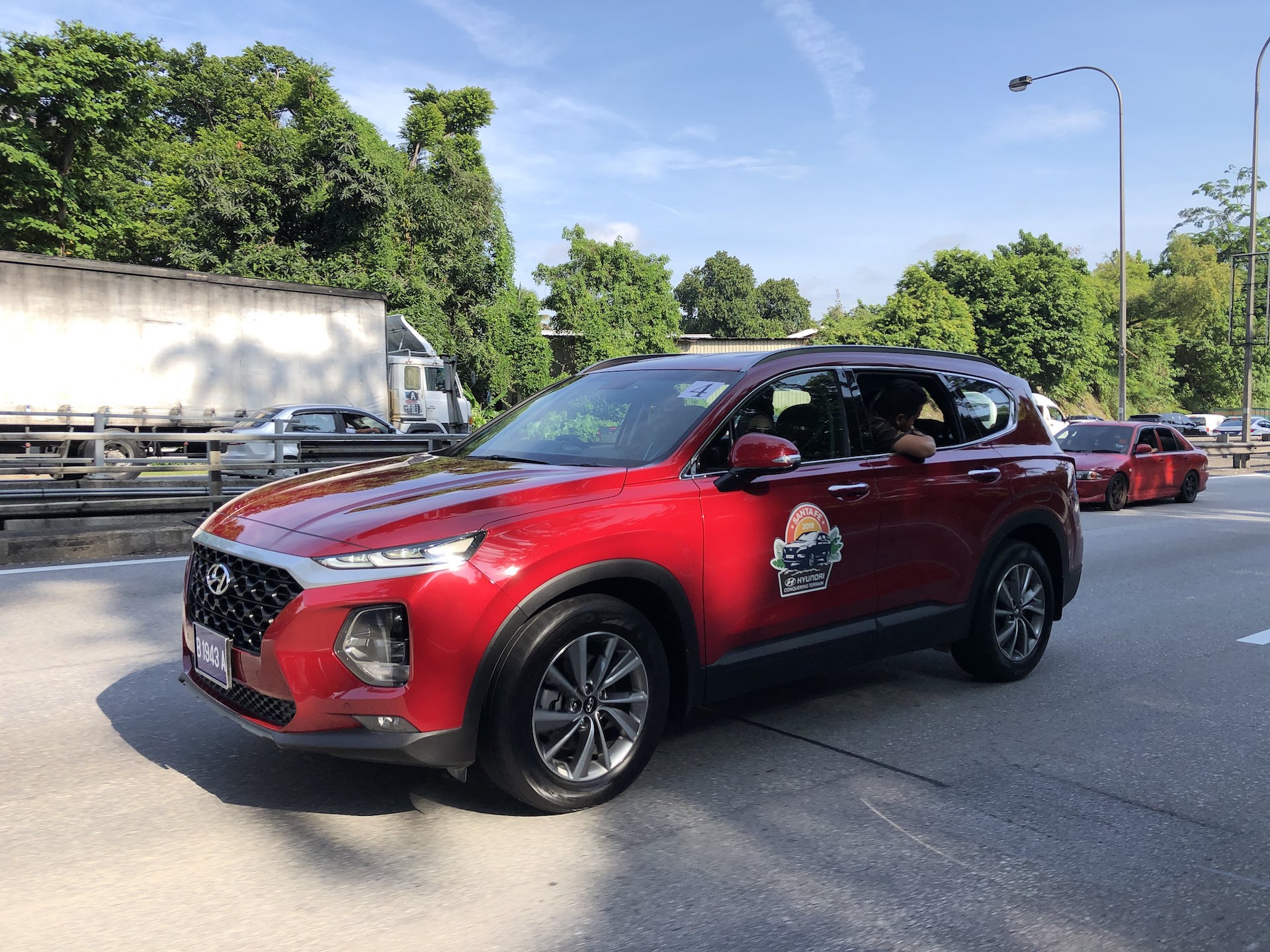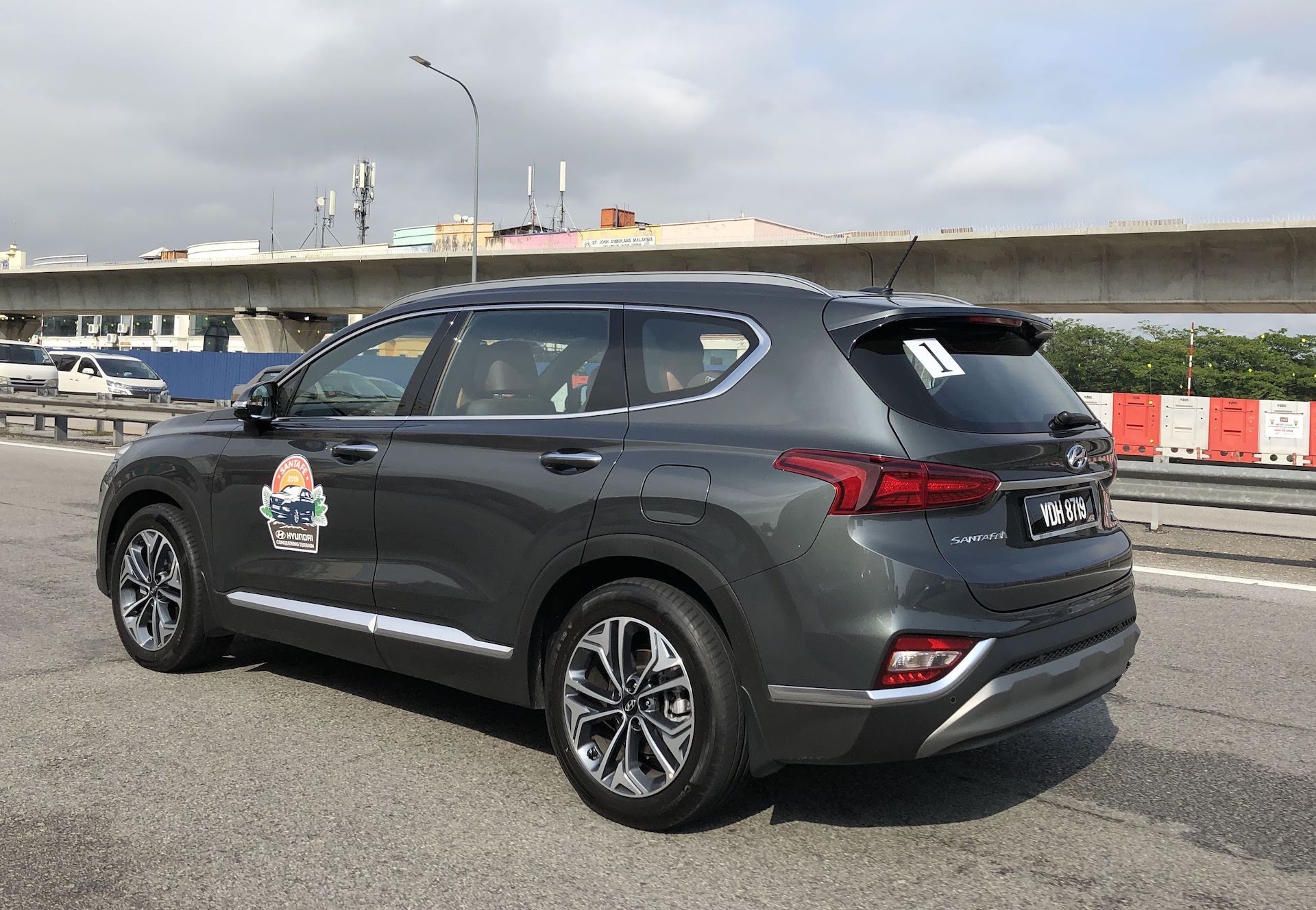 Our test drive started early in the morning with an 89km tarmac drive via Ulu Langat into Negeri Sembilan's forest reserve. Once we reached the gates of the reserve, it was a slow crawl/drive to the test track which included a mix of river crossings, muddy tracks and some slow moving bush bashing. With 4×4 experts to guide us, we felt what this all new Santa Fe was ready to deliver in the rough, (where almost 99.9% of buyers will never go) which is confidence inspiring on the road and when looking for high speed stability. This is what Hyundai engineers have worked to deliver in every Santa Fe.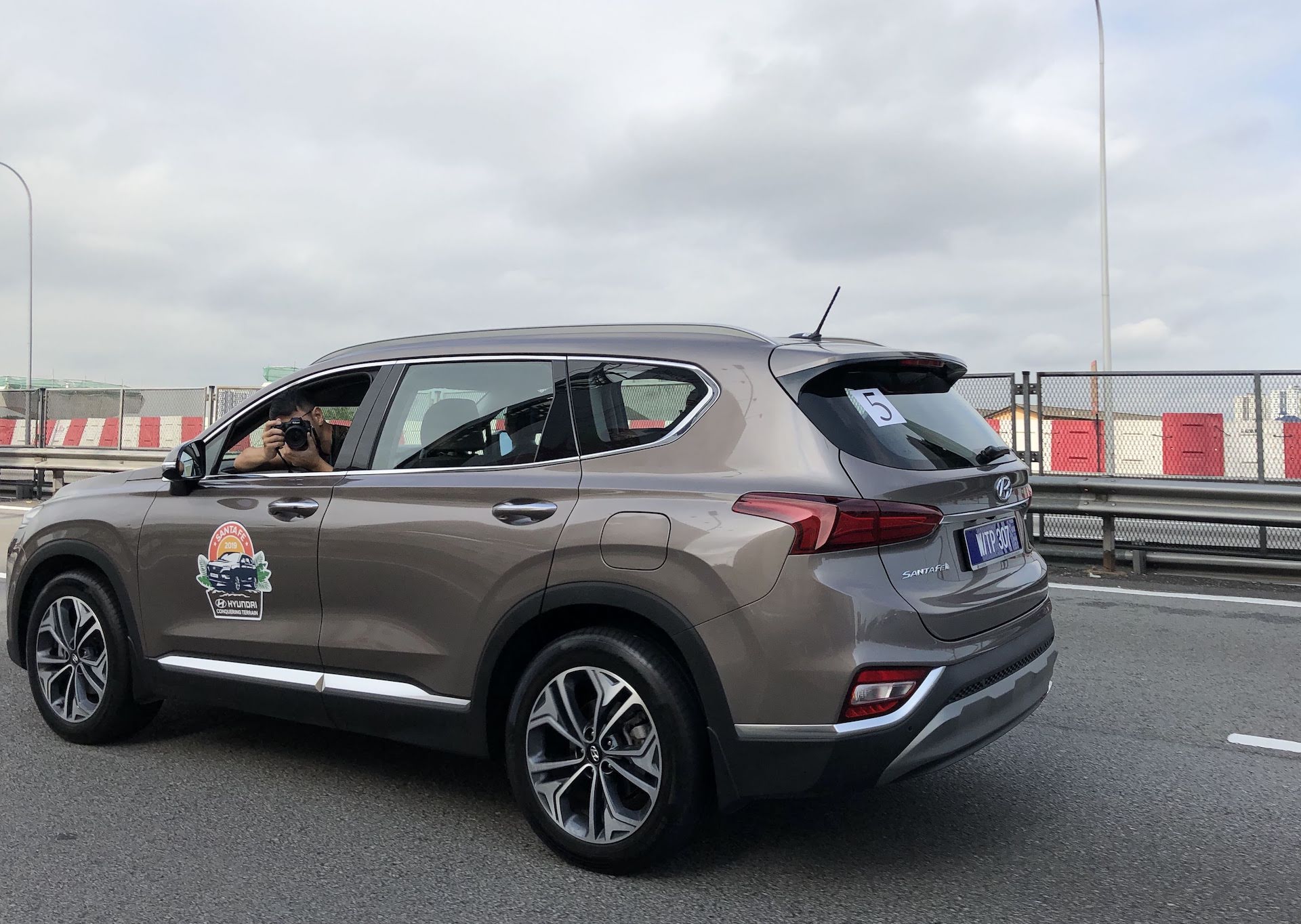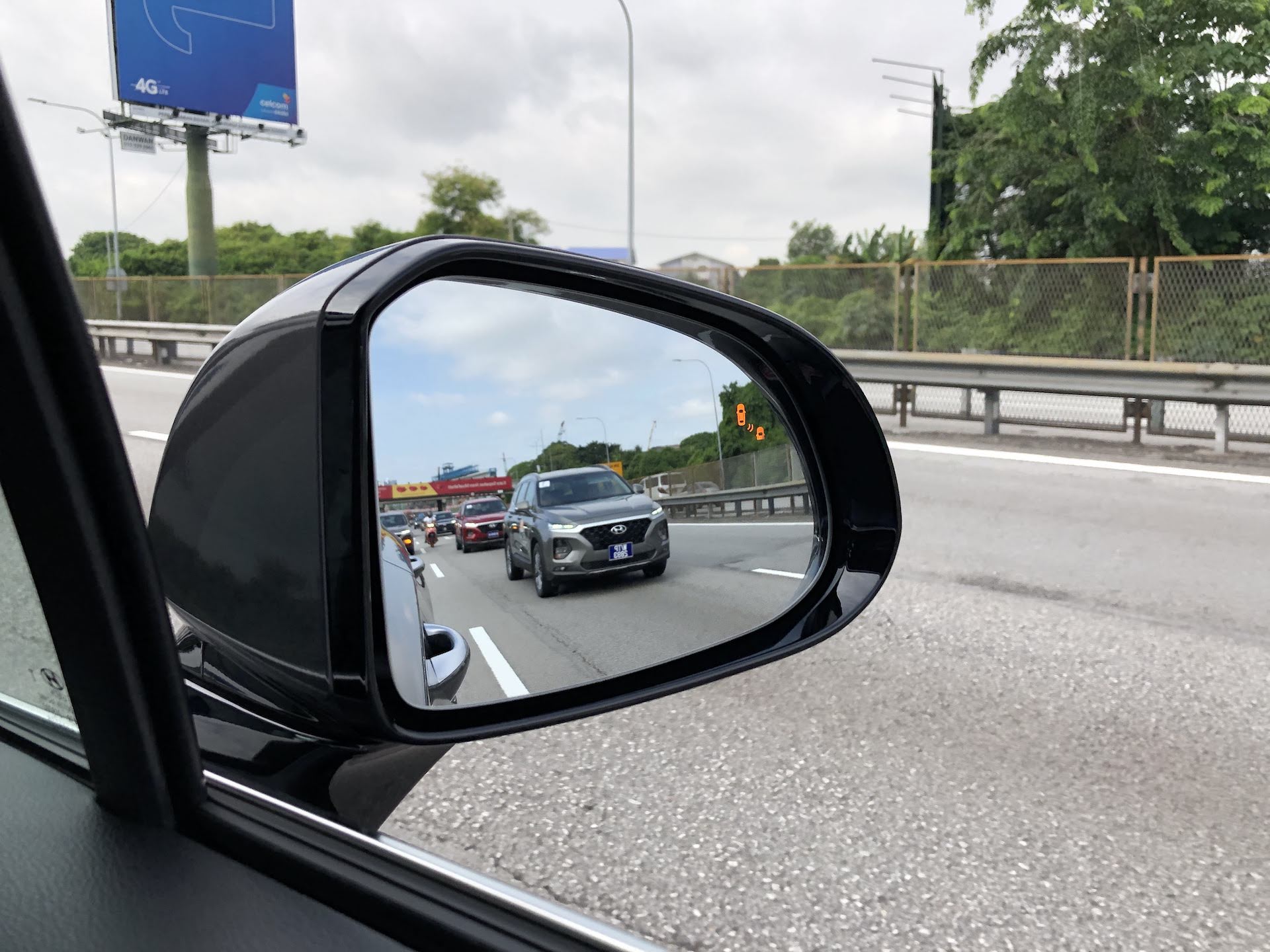 This Santa Fe delivered on all counts on the tarmac and on the rough as you can see from the pictures shared here.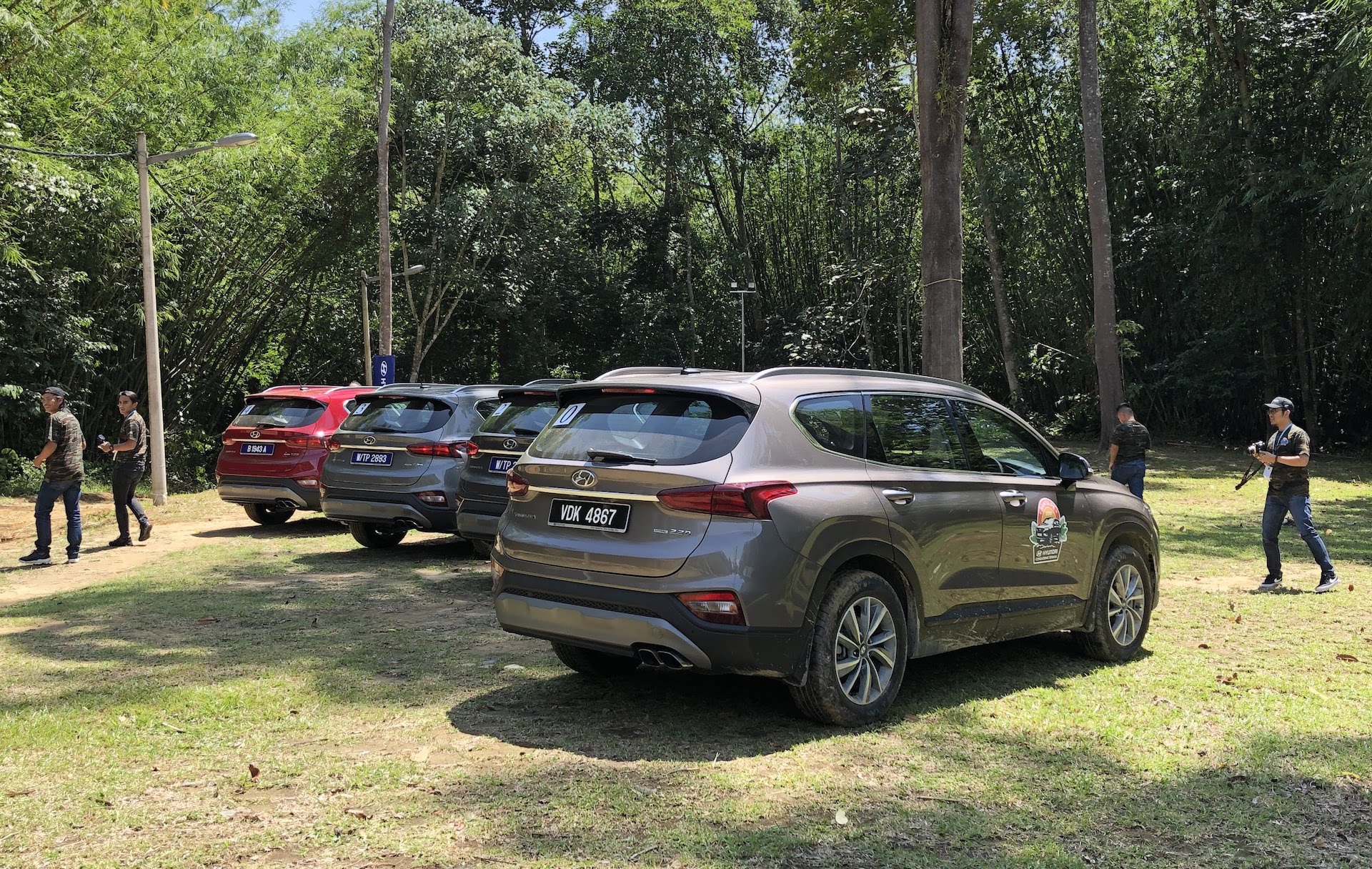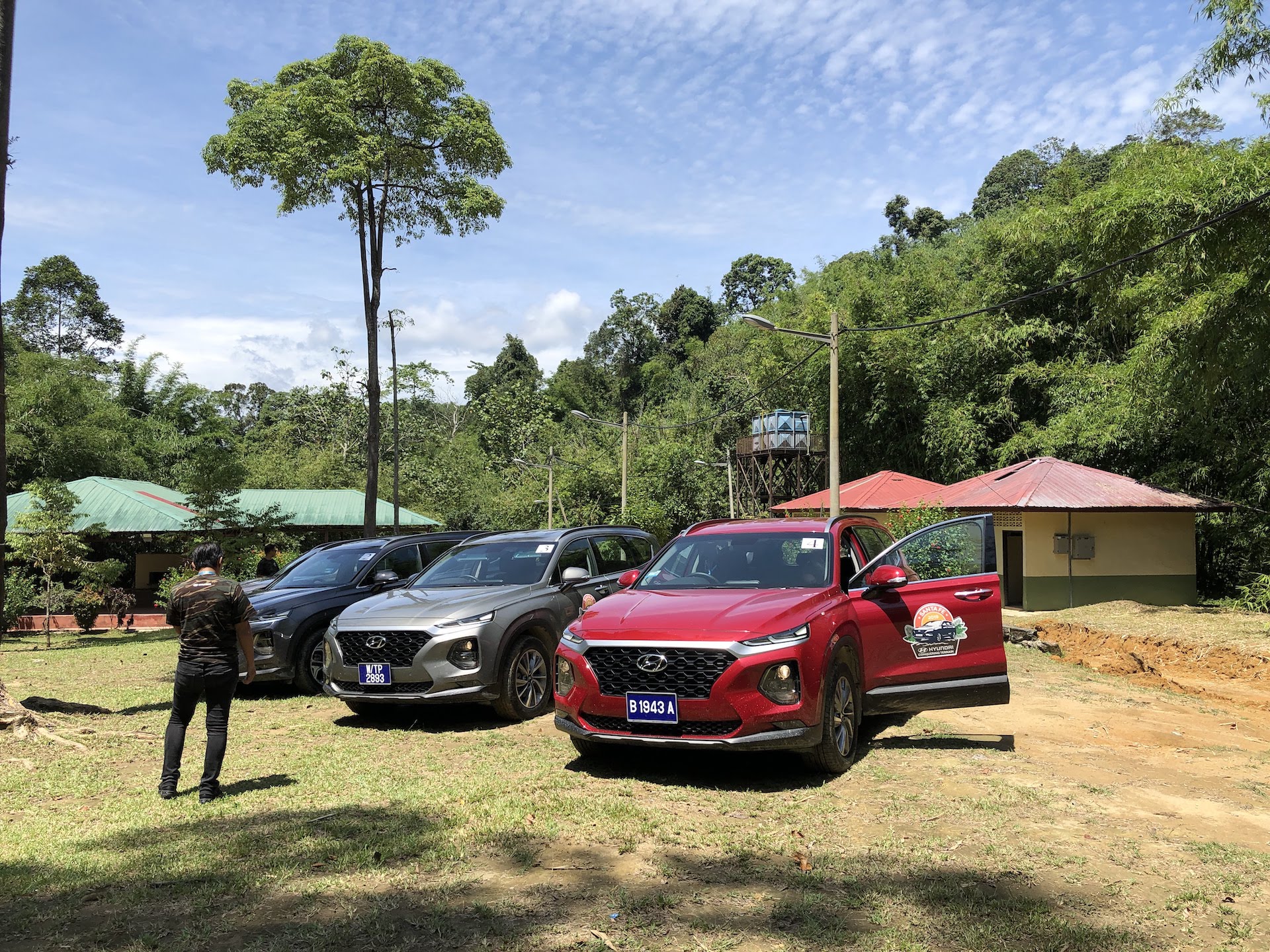 Our 2.2 diesel was equipped with Hyundai's HTRAC All-Wheel Drive (AWD) system. The HTRAC AWD system is a multi-mode system, providing an electronic, variable-toque-split clutch with active torque control between the front and rear axles. The driver selectable HTRAC Normal, Sport and Smart modes help provide confident control in all weather conditions. This system also has a wider range of torque distribution variability than many competitor systems and has been tuned to conditions such as straight-line acceleration, medium and high-speed cornering and hill starts.
Exterior Design
The Santa Fe's front adopts the Hyundai's new SUV family which enhances the car's expressive and more adult-looking appearance as well as its strong and robust character. The Hyundai Santa Fe face introduces the Cascading Grille that is complemented by the Composite Light – a design comprising slim LED Daytime Running Lights (DRL) positioned on top of the LED headlights. Also, the sculpted garnish that connects the DRL with the front grille emphasises the width and powerful stance. In this way, it adds a lot of character to the car's front making it more imposing than the predecessor, the third generation Santa Fe. To underline the majestic look, the A-Pillar has been pulled back to achieve a longer bonnet.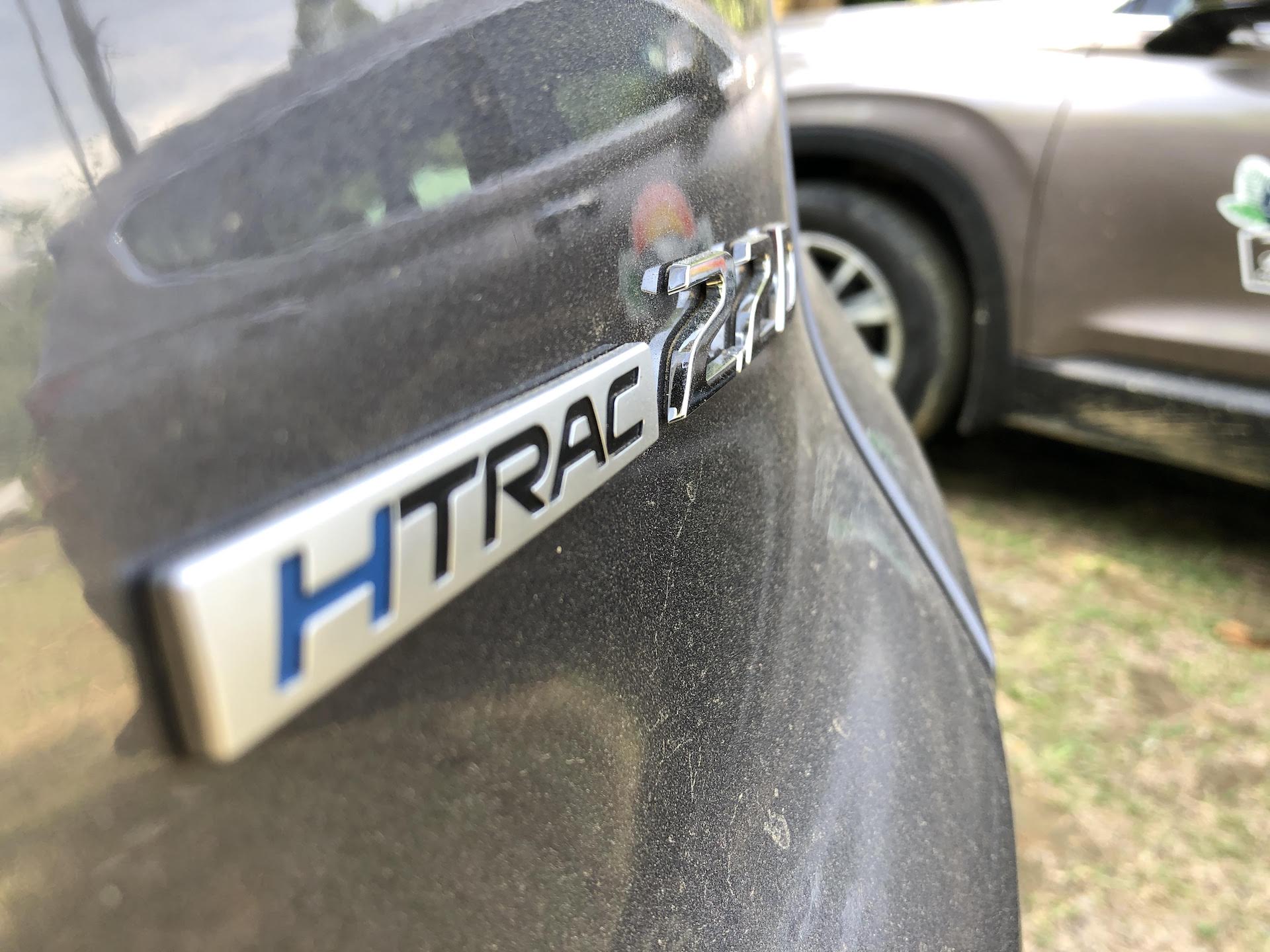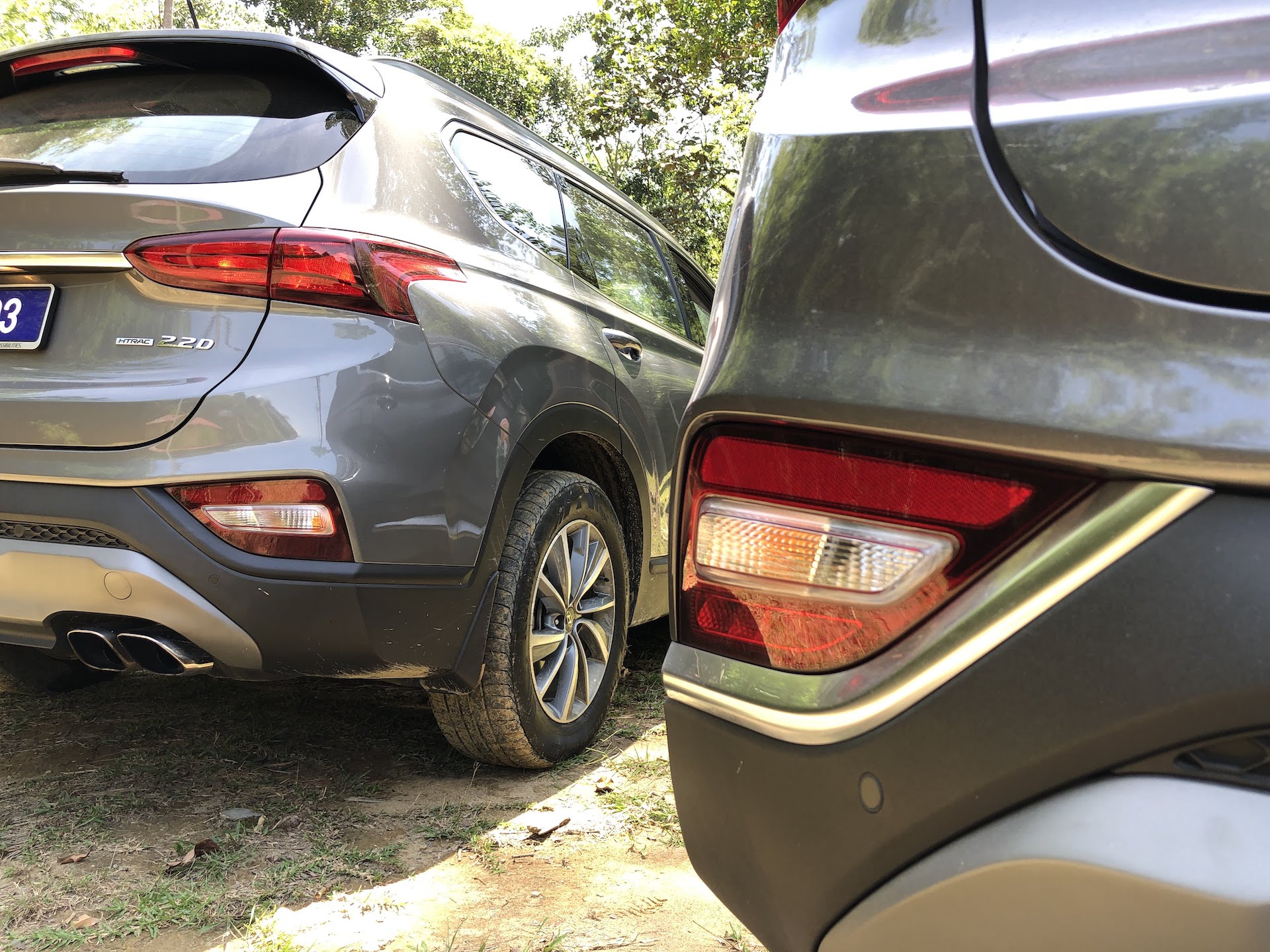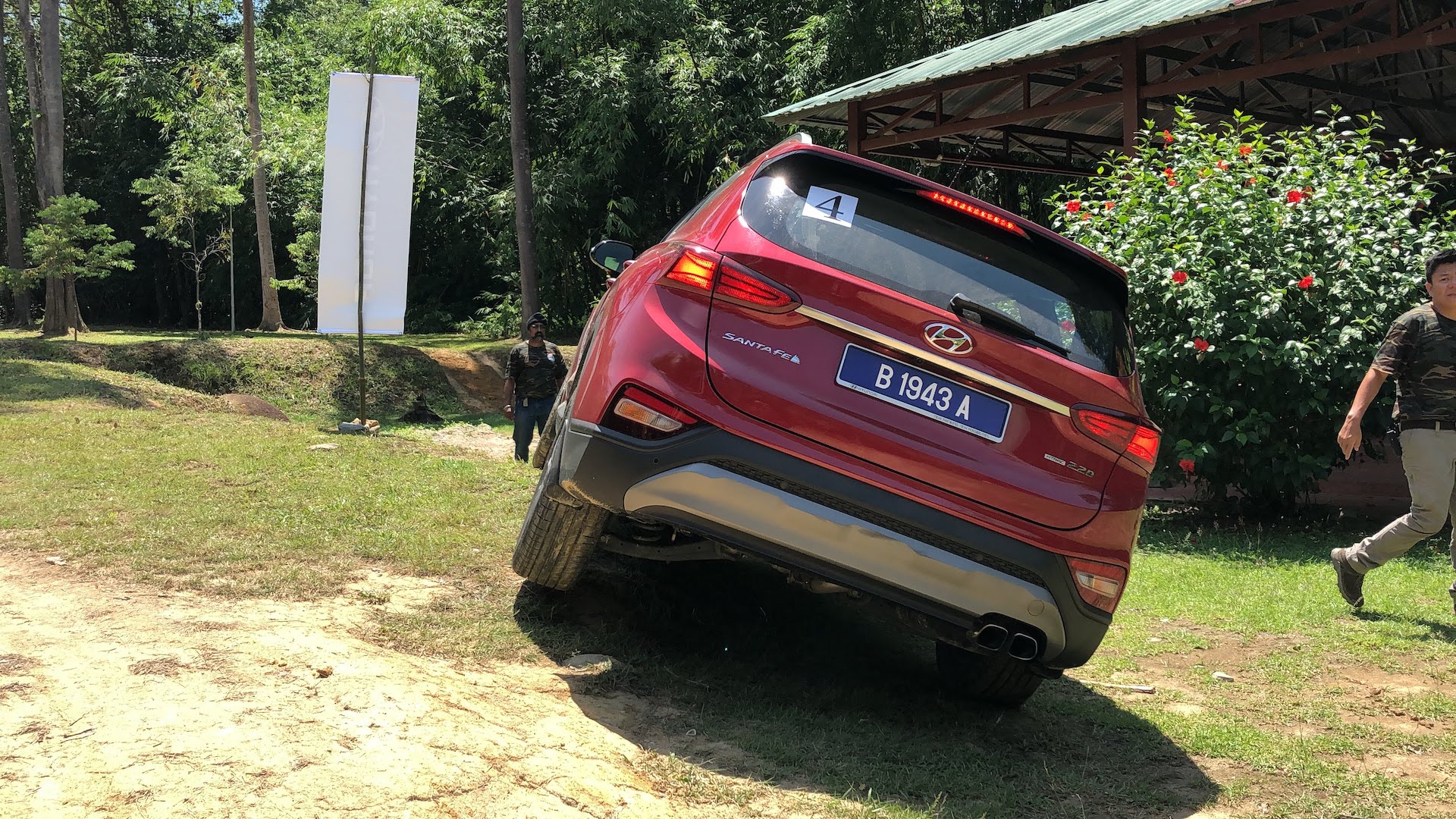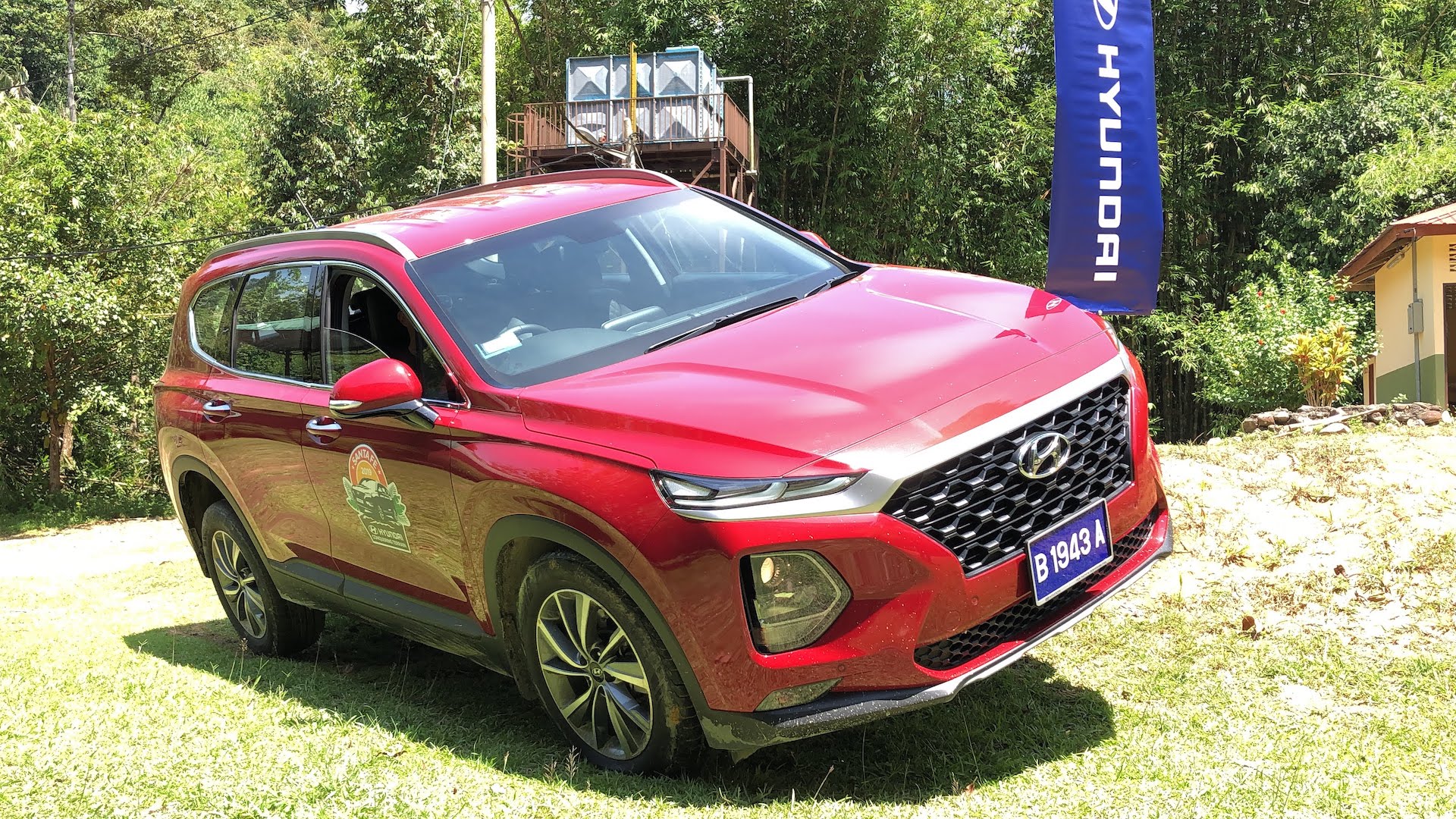 To create the confident, muscular stance at the car's side, the Santa Fe features pronounced fender surrounding dynamic wheel arches. Its slimmer synthetic surroundings and the rich surfaces and volumes contribute to the high-quality look. The dynamic character of the car's side is further enhanced by a sleek roof line creating the impression of stability. The full-length character line running from the headlights to the taillights forms a fluid design and again adds stability and elegance.
The rear creates a confident stance with a striking bumper design and unique tail lights. For a simple and clean rear lamp design, the upper rear lamp is made of LED and indicator reversing light and fog lights are integrated in the rear bumper. The character line that pronounces the rear fender is directly flowing into the corner of the back light, giving the car maximum width. The chrome element at the bottom of the doors continues to the rear bumper, emphasising the more defined SUV profile of Hyundai Santa Fe.
The exterior dimensions make the All-New Santa Fe appear even more prominent. With a length of 4,770 mm and a width of 1,890 mm and a longer wheelbase of 2,765 mm, the Hyundai Santa Fe has an even stronger stance on the road and provides more comfort for its passengers.
Interior Design
The interior takes up the premium design theme of the Santa Fe. We loved the Burgundy interior color with an engineered wooden garnish, in leather and with a black headliner in suede. This is of course available on the high spec version of this all new Santa Fe and moves the goalposts of interior quality right smack in the middle of its European rivals who charge at least RM50,000 more for their basic SUV.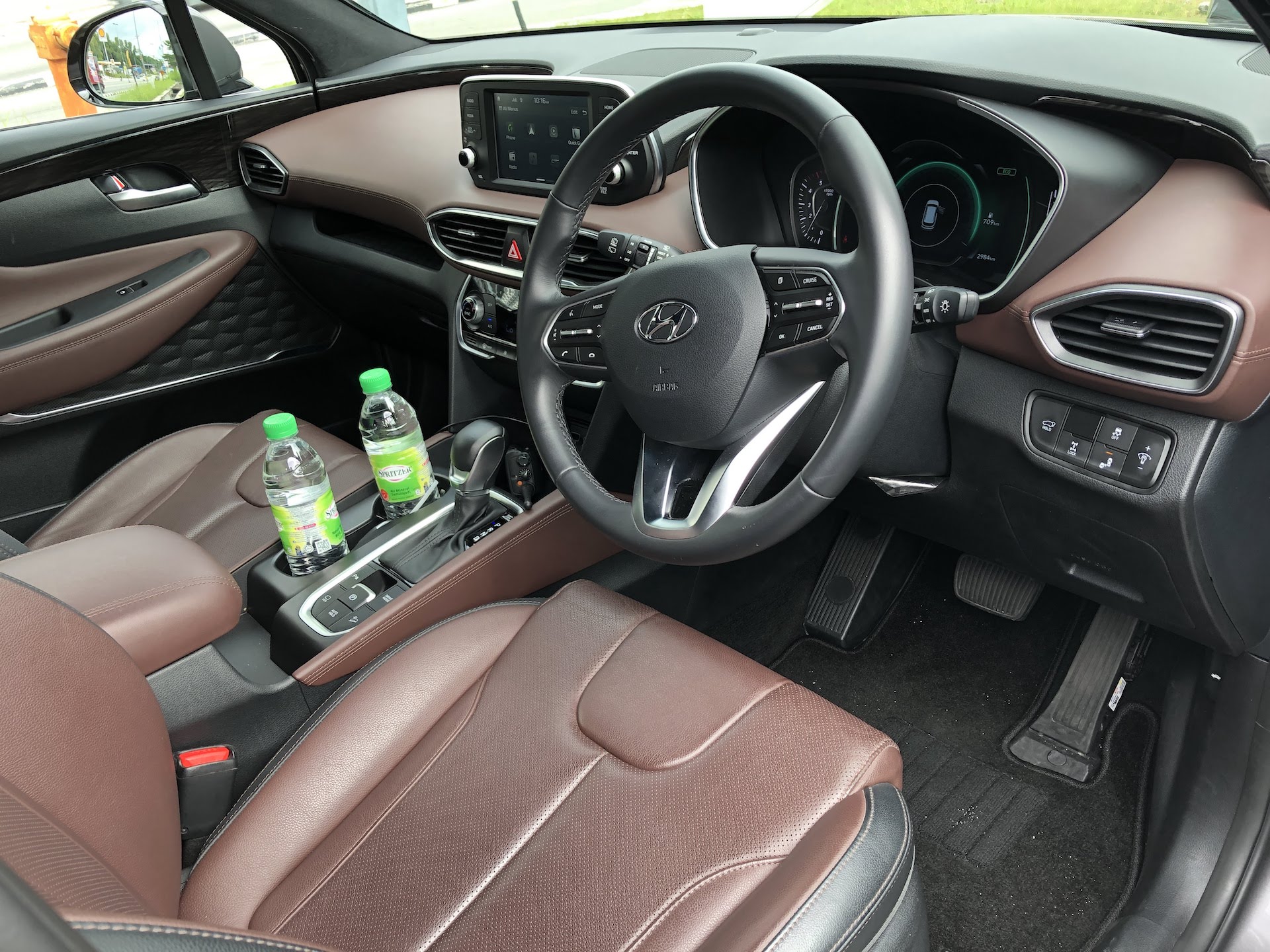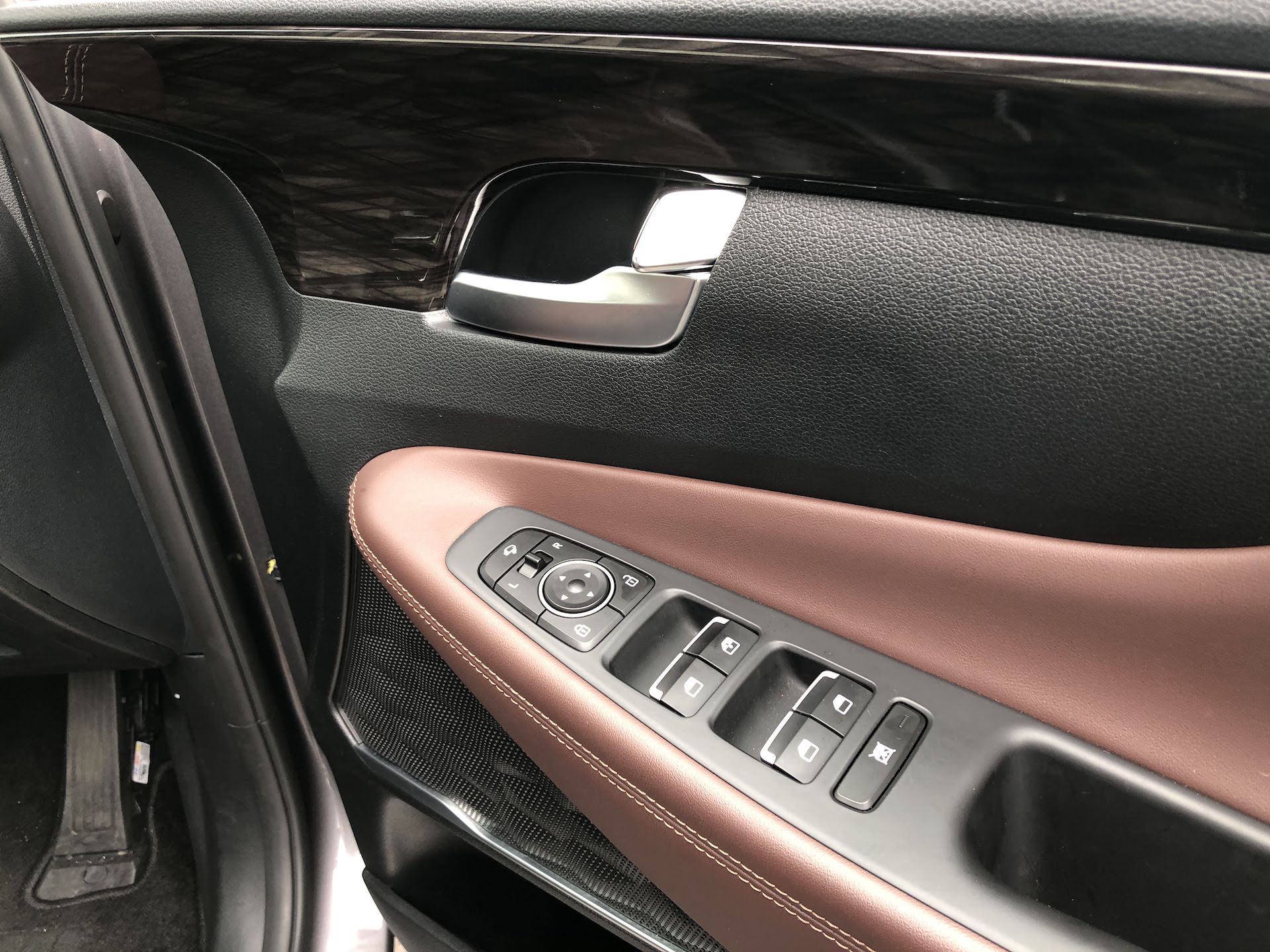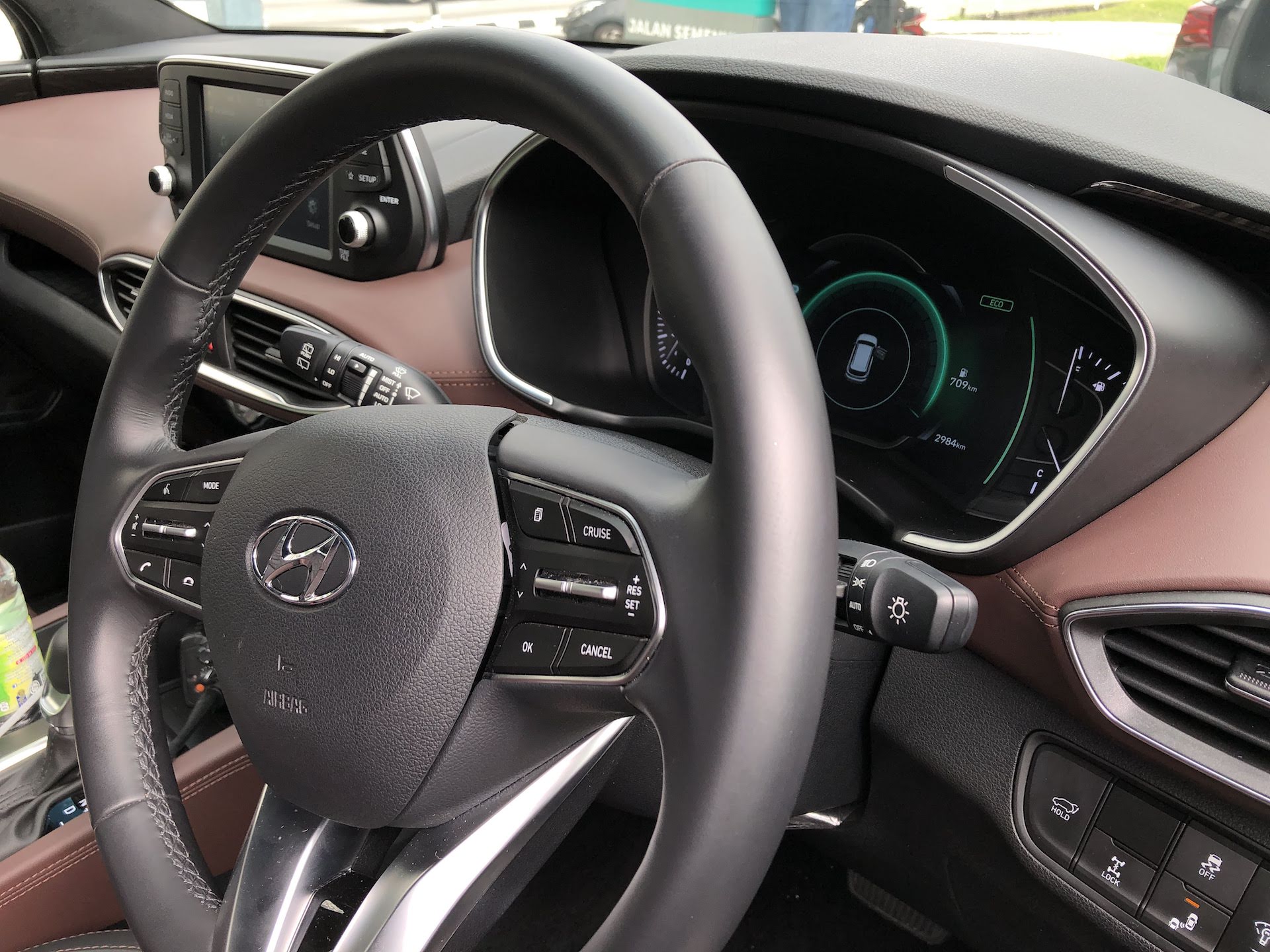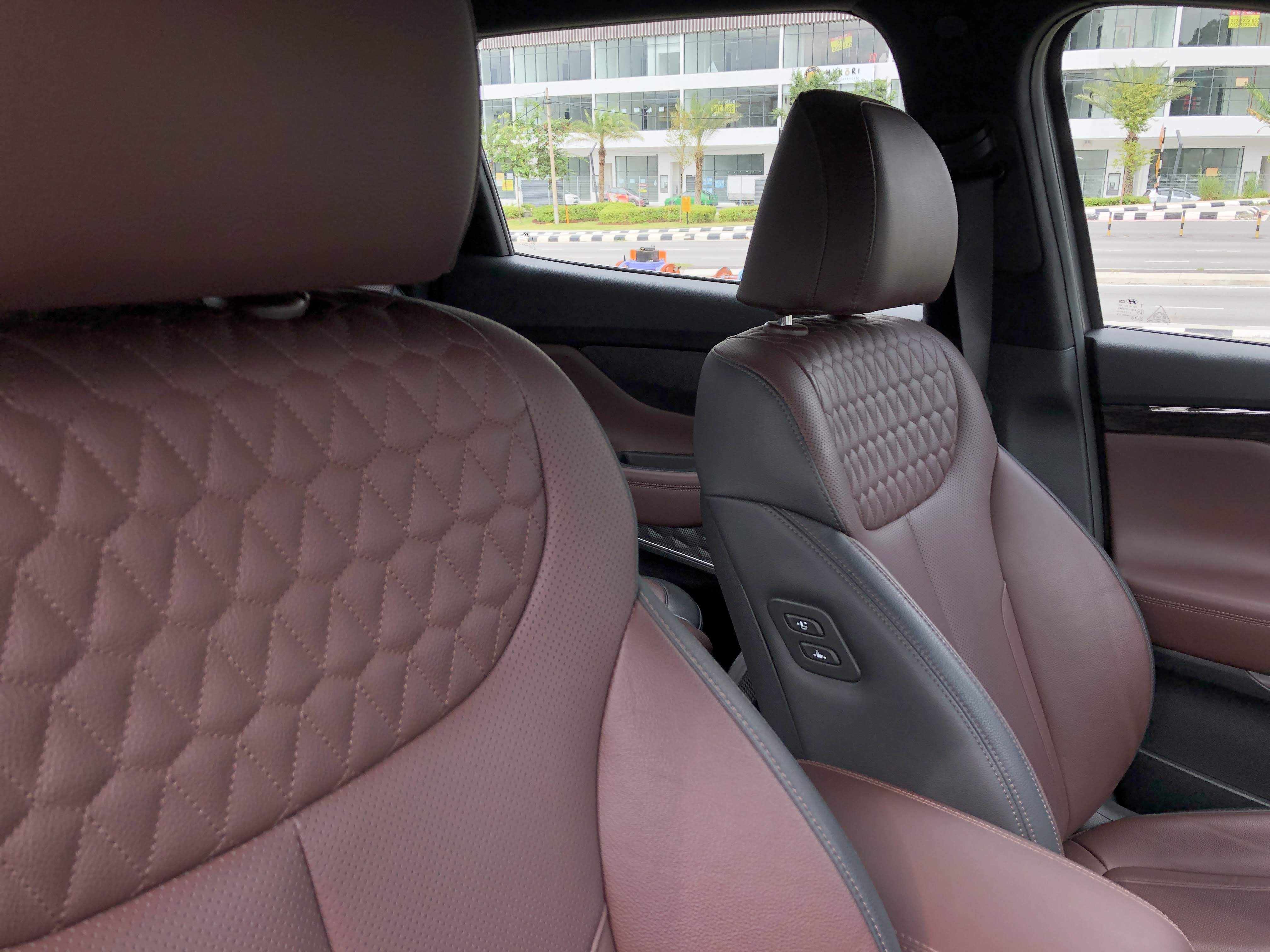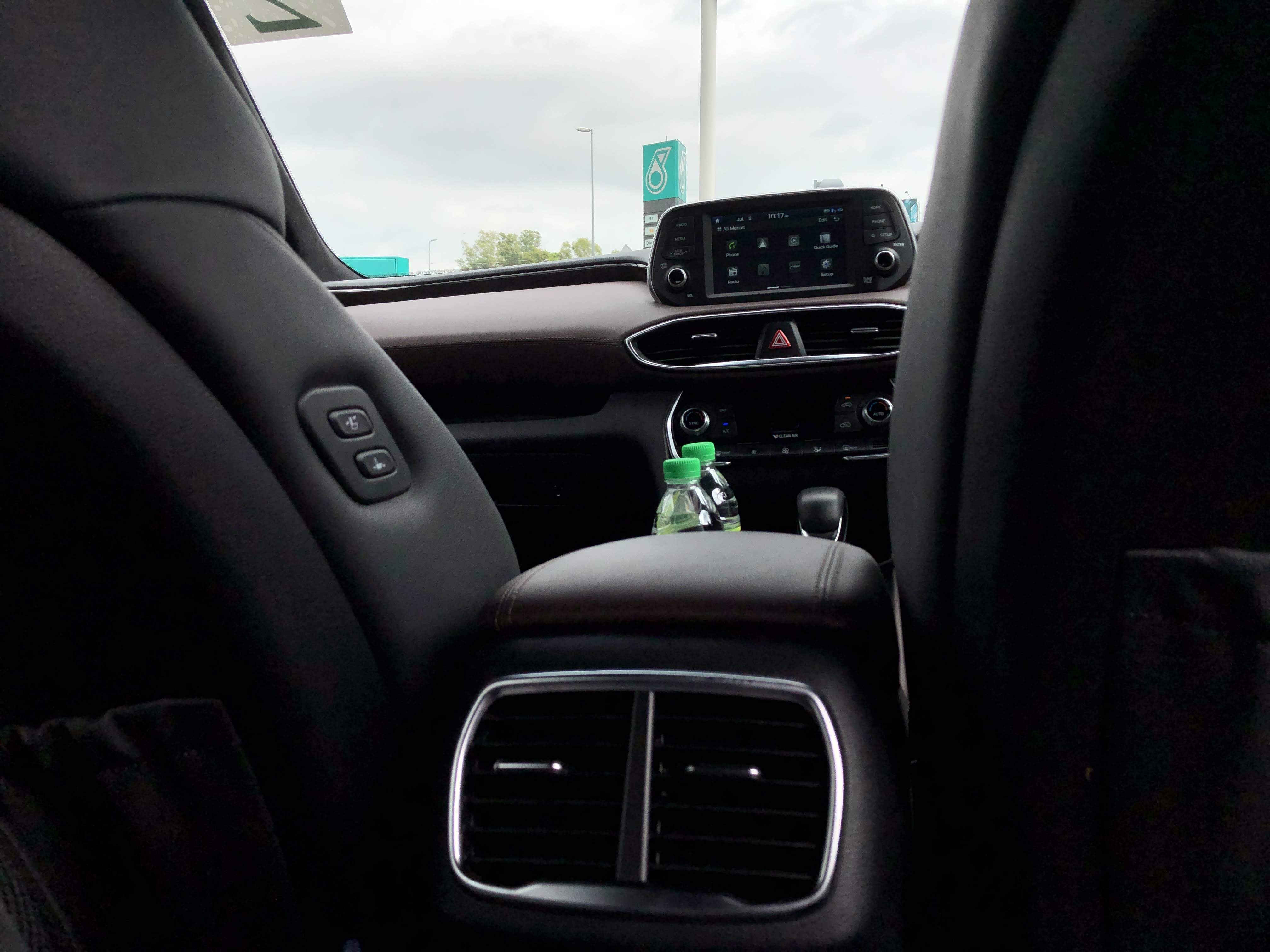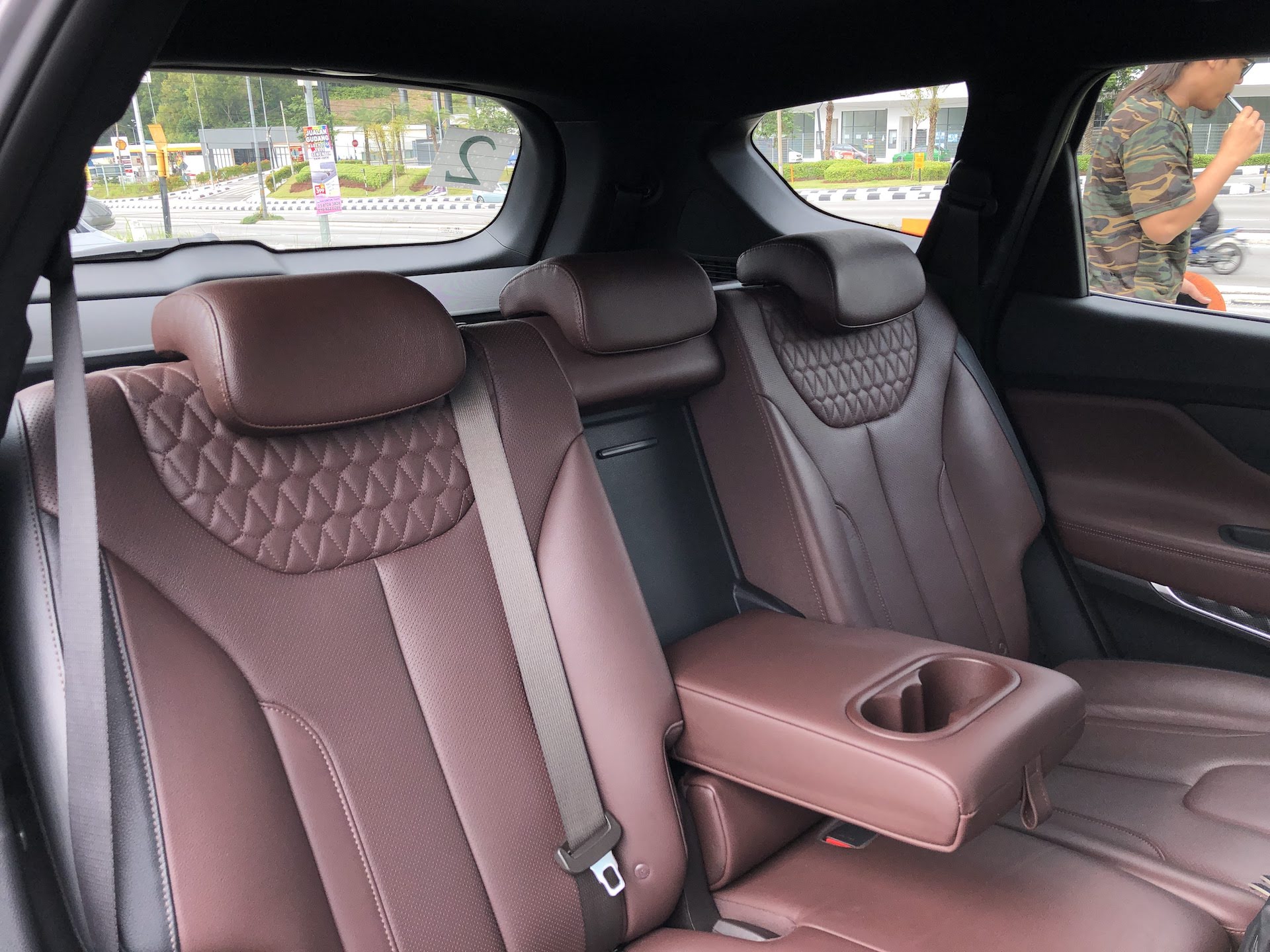 The Santa Fe has a refined and ergonomic interior architecture. As more high-technology components became part of the interior environment, the interior design impresses with warm colours and natural-inspired pattern to nicely balance between comfort and convenience. The result is almost a dual cockpit layout maximising both functionality and aesthetics. The slim upper section overlooks the flush and soft mid-section, accented with decorative stitching. The lower section houses additional storage space in an open slot inspired by the shape of a breaking wave.
The embossed texture on the door speakers and the seat embroidery are reminiscent of a stylised mountain range. To create the unique and premium experience inside this all new Hyundai Santa Fe, the technical pattern contrasts against handcrafted quilting, which is rich in shape and texture.
For optimised visibility the floating type touchscreen is set high. The stunning relationship between design and functionality combines high quality with a horizontal and roomy layout and enhanced visibility. The visibility to the rear is improved by the larger rear quarter glass (plus 41 per cent) and higher second- and third-row openness.
The All-New Santa Fe also increases comfort on short and long trips for passengers in the second and third row, even for adults. In the second row, legroom is increased by 38 mm and the seat is 18 mm higher. The new one-touch walk into the third row eases passenger access to third row seats. Headroom in the third row has been improved by 22 mm.
Luggage capacity is increased by 40 litres to 625 litres (VDA) offering flexibility for everyday needs.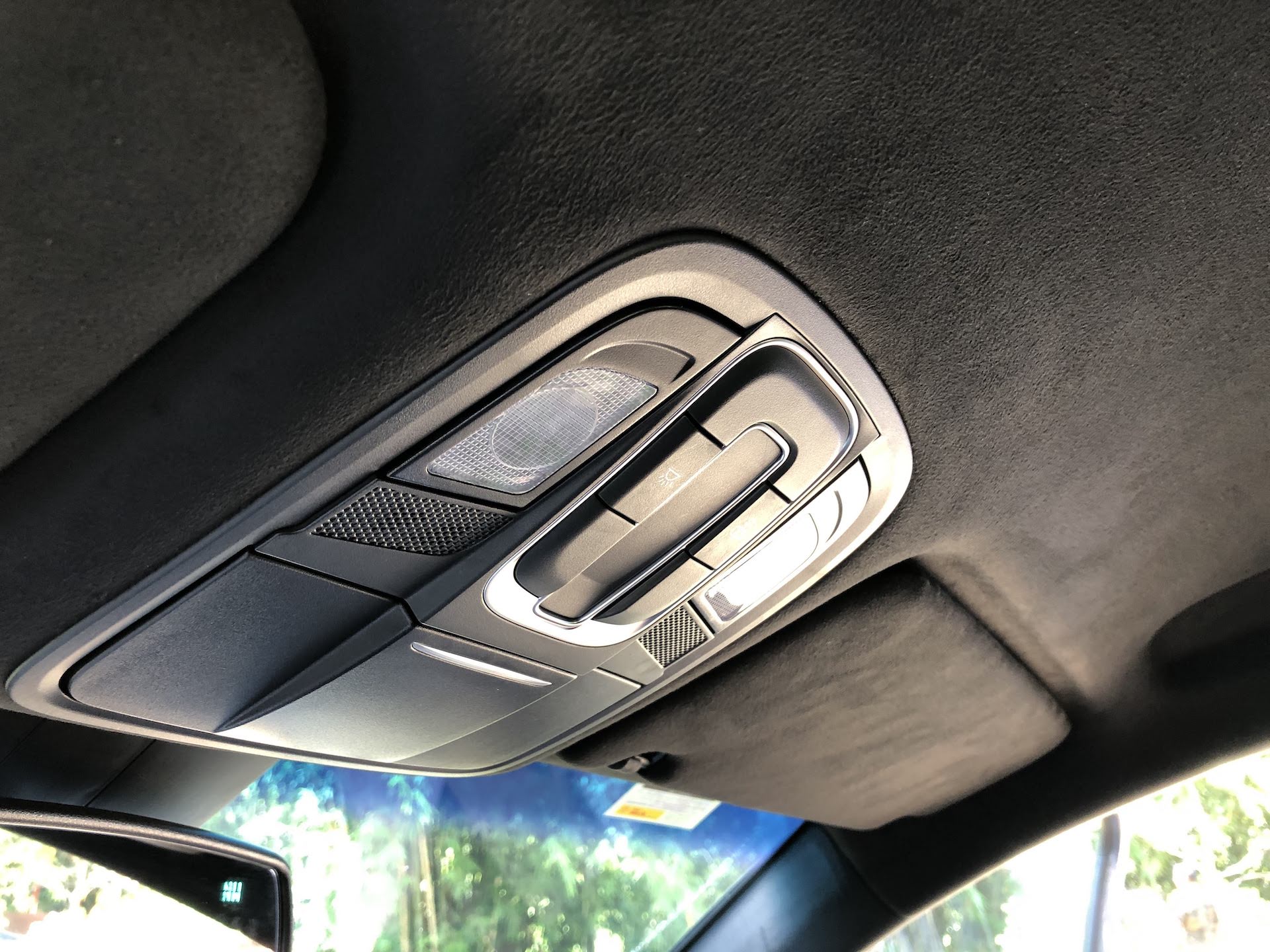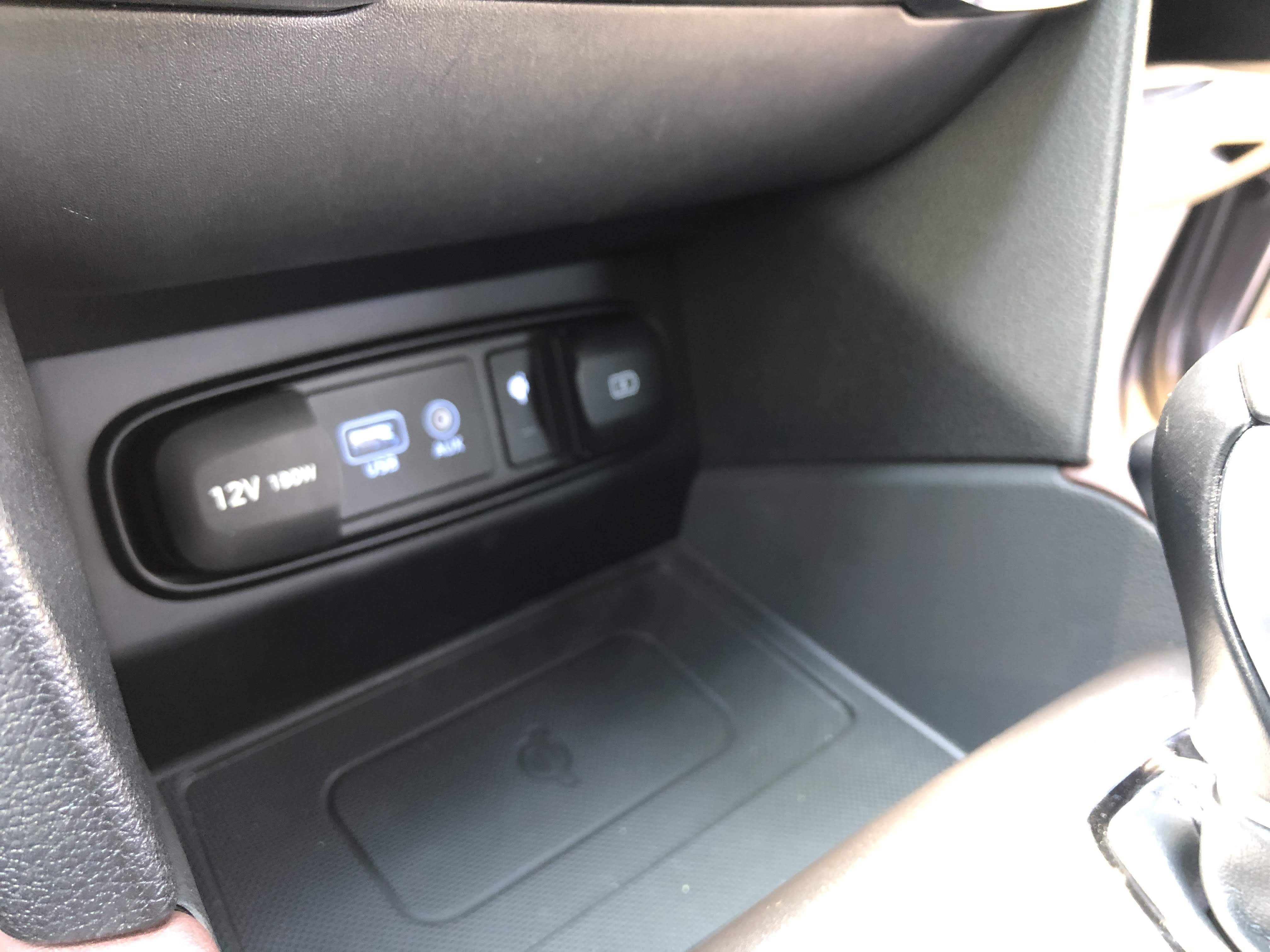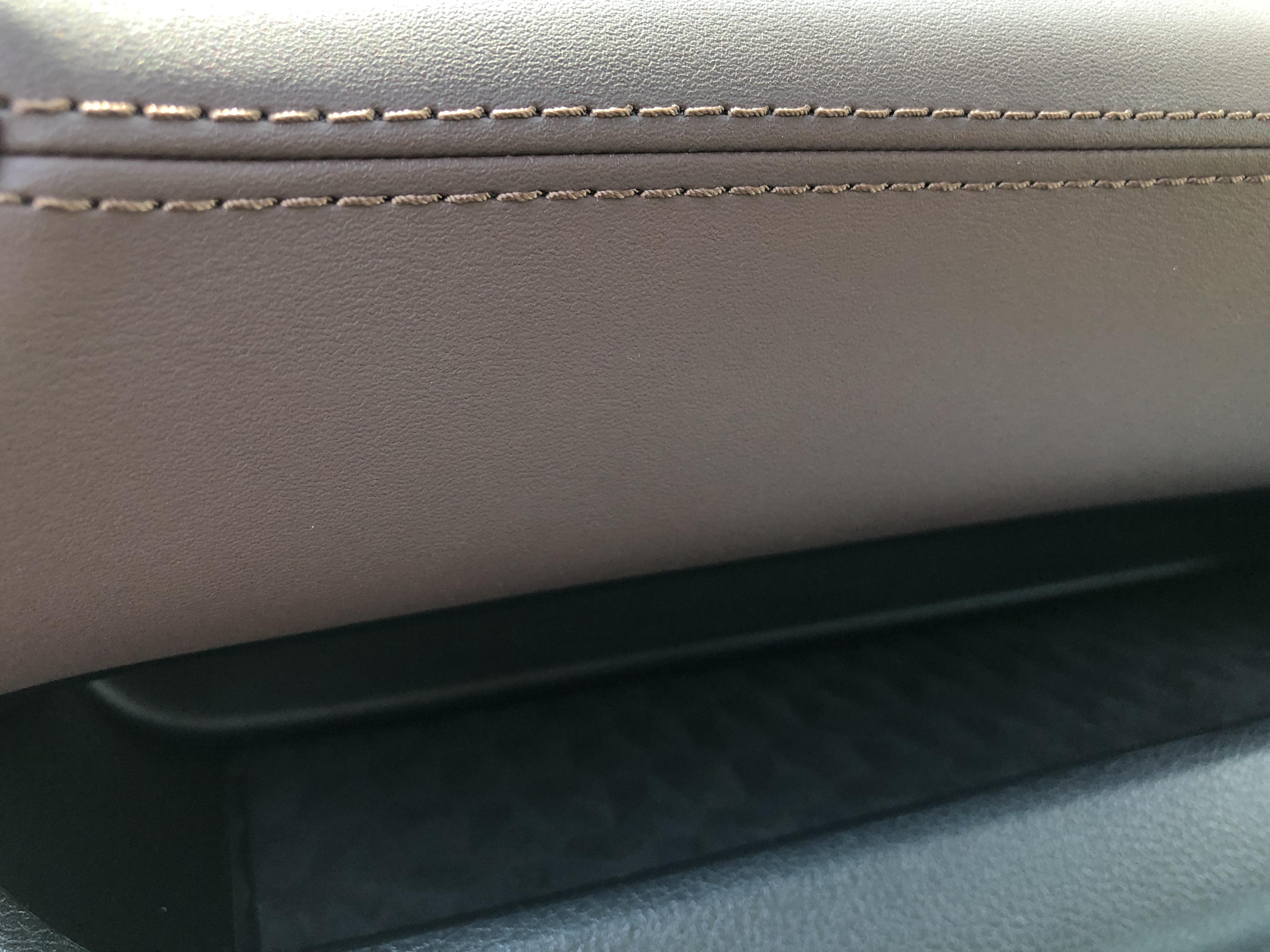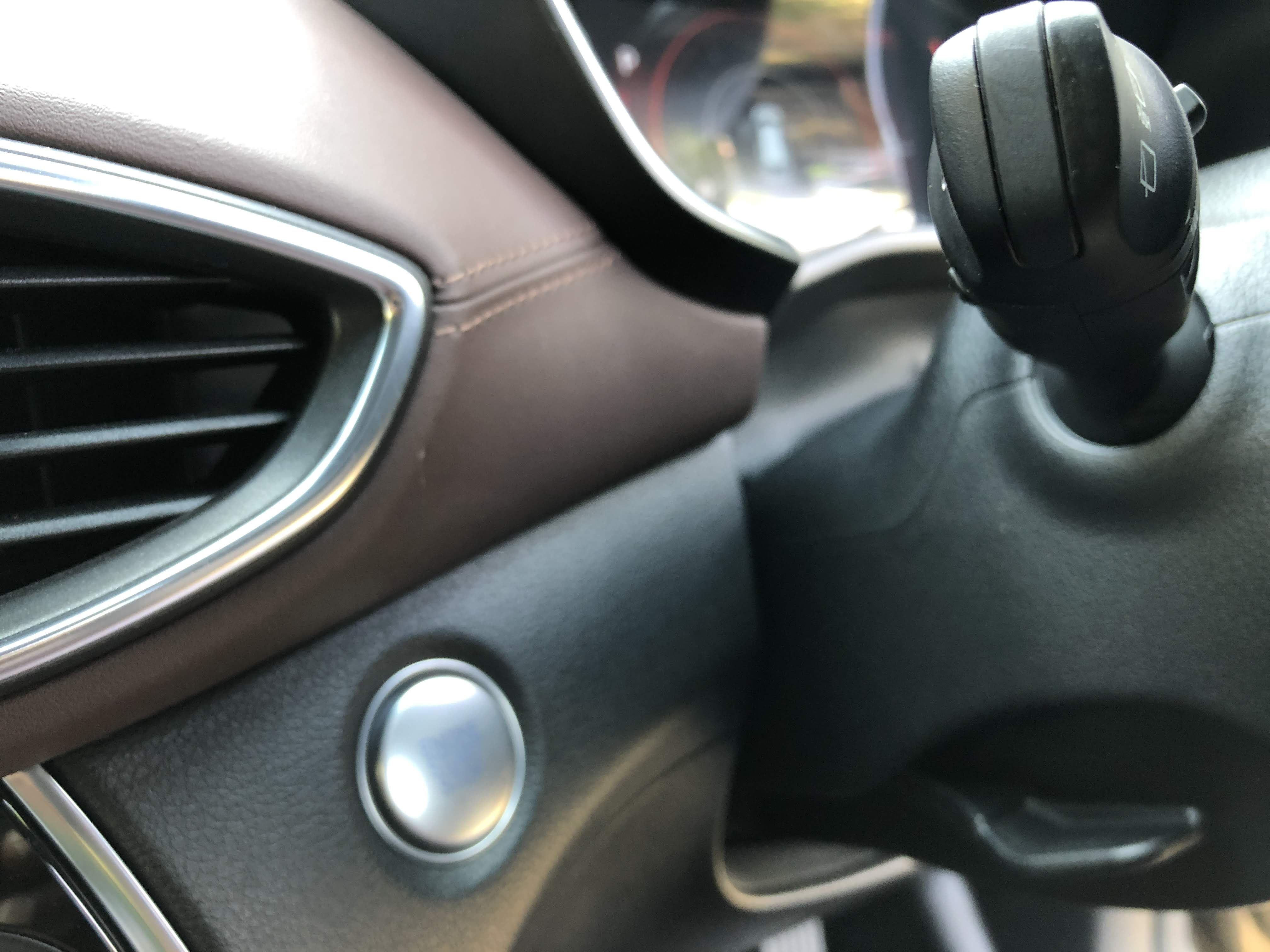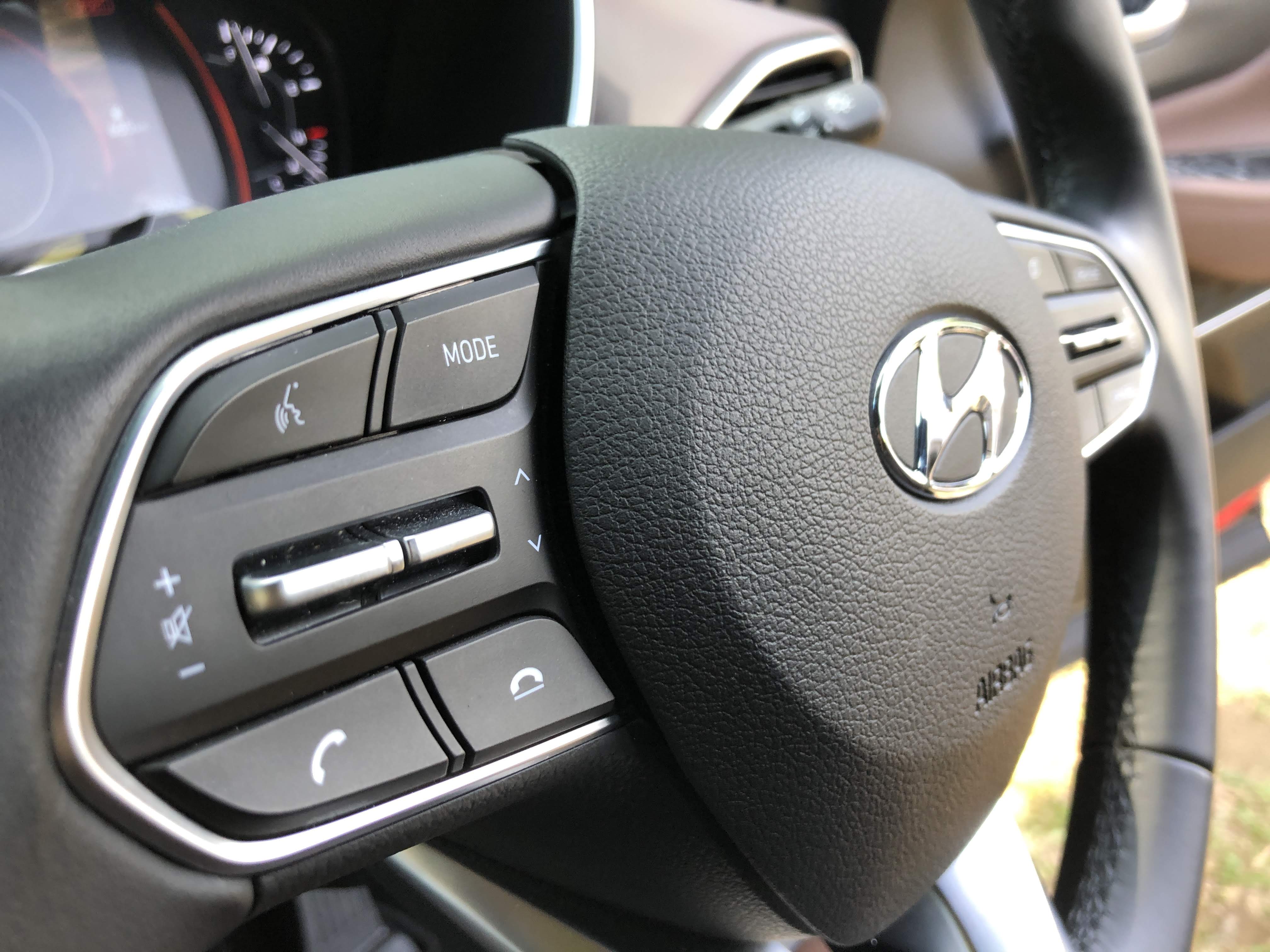 Diesel power with a new 8-speed automatic gearbox
The 2.2-litre CRDi with four-wheel drive and 8-speed auto comes with 193 PS and 440 Nm of torque (Fuel consumption combined in NEDC conversion: 5.7 – 6.3 l/100km; CO2 emissions combined in NEDC conversion: 150 – 165 g/km). T
This newly developed 8-speed auto is not available with the petrol driven Santa Fe. This 8-speeder is engineered with a transversal layout. It offers a more compact set-up and an increased gear span for enhanced performance and reduced fuel consumption. The gear ratio is widened by 18.3 per cent resulting in an improved engine response during start and acceleration. During braking the engine response is improved due to a higher downshifting point. The higher gear ratio width ensures greater differentiation of the drive modes.
The rack-mounted steering (R-MDPS) is a first for the Santa Fe and is combined with the 8AT. R-MDPS means that the electric motor module is attached directly to the steering rack, ensuring high steering stability at high speeds as well as improved precision and quick steering response at low speeds. The steering gear ratio is increased to 60 mm/rev for an overall higher steering response. The new R-MDPS is also lighter than the previous system.
What Do You Get
Our test unit was the Premium diesel version at RM211,888.00 and this car comes with Rear Occupant Alert; Blind-Spot Collision Warning; Rear Cross Traffic Collision Warning, Bi-function LED Projection, Dynamic Bending Light, 8-way power seat for the front passenger & 10-way power seat for the driver, Walk-in Device on passenger seat, Leather Dashboard Trim; Deluxe Cloth or Suede on the pillar; sun visor and roof trim; 7-inch Supervision TFT LCD, Floating-typed 7″ Display with Apple CarPlay and Android Auto, Power Tailgate, Wireless Phone Charger, Rain Sensor, 19-inch wheels and LED lamps.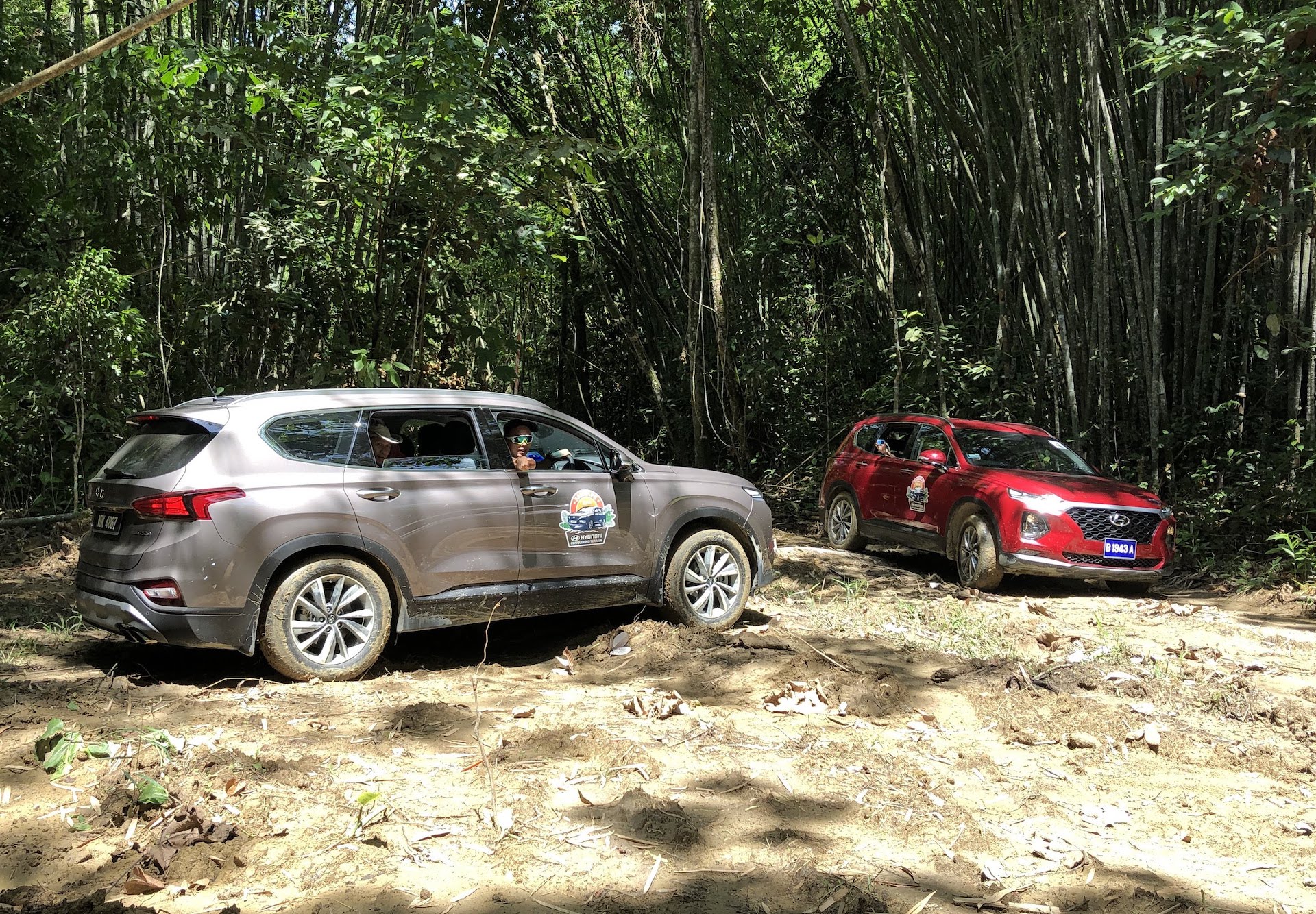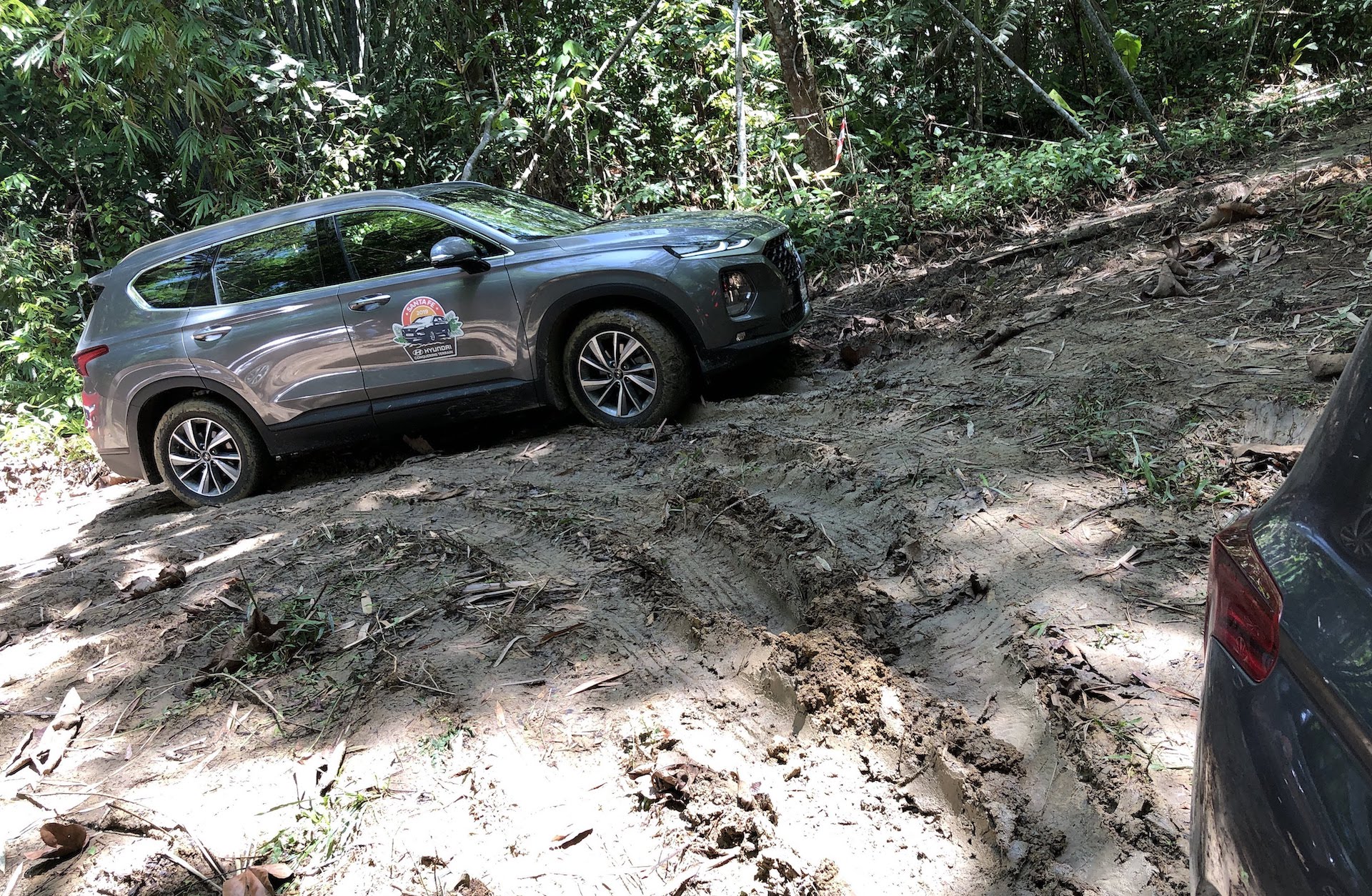 Safety Features
Standard safety features carried over from the previous generation are the 6 Airbag system, Electronic Stability Control (ESC), Vehicle Stability Management (VSM) system, Hillstart Assist Control (HAC), Downhill Brake Control (DBC), Antilock Braking System (ABS), Brake Assist System (BAS), Traction Control System (TCS) and an Immobiliser.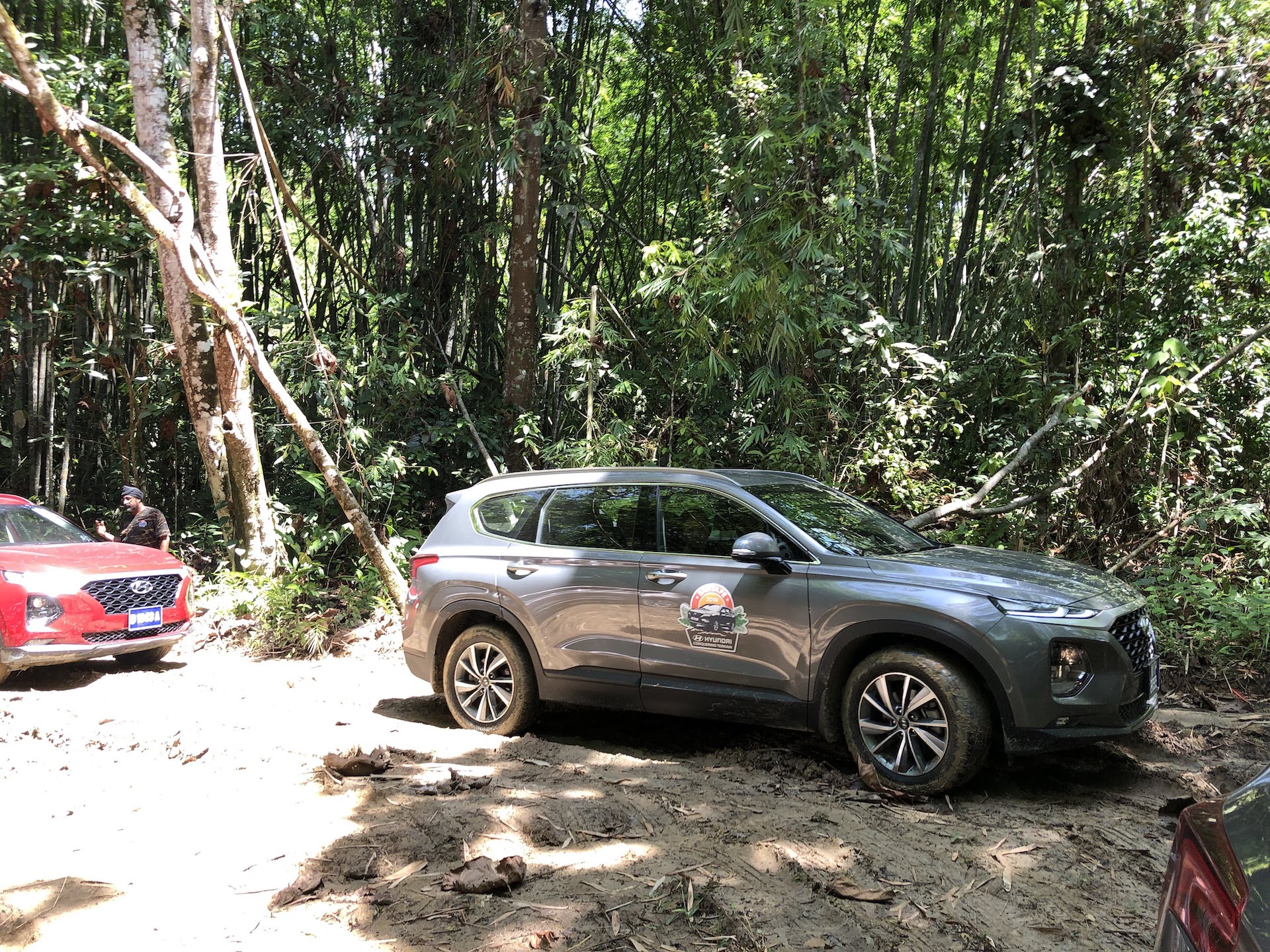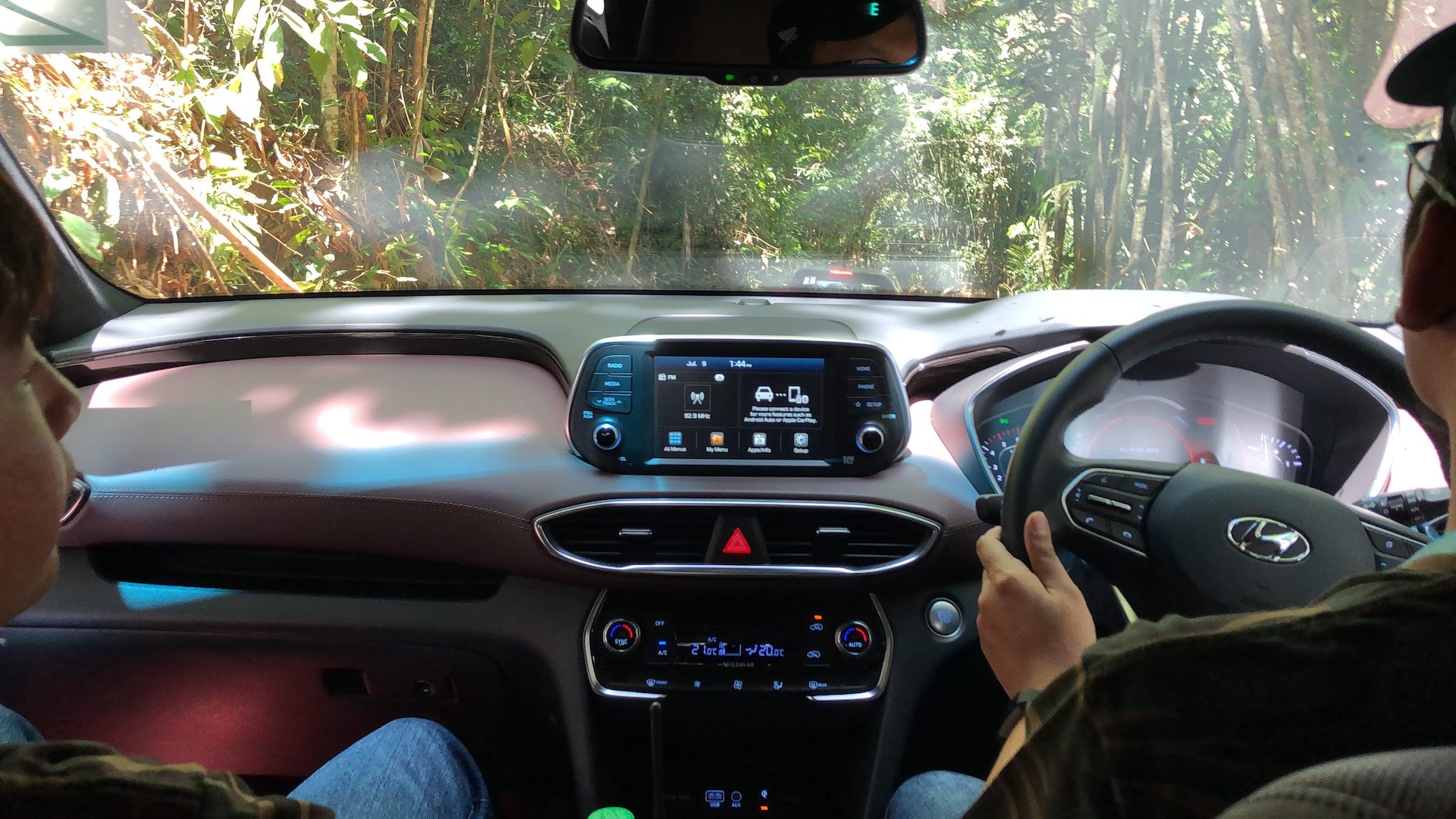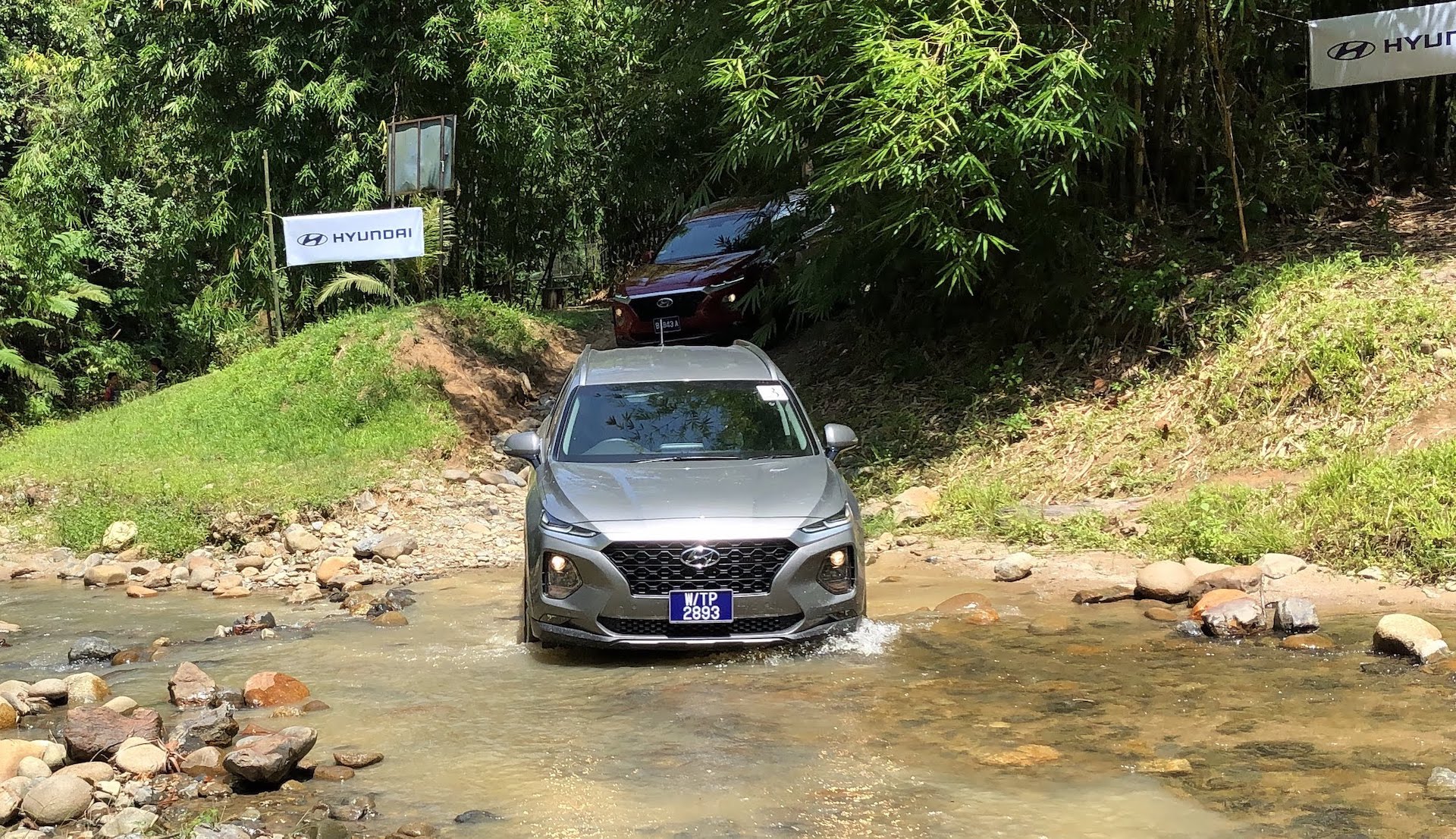 Standard Convenient Features
Across all variants sold in Malaysia, you will get a 12-way Driver Power Seat, Smart One Touch Walk-in, Floating Type 7-inch display, Auxiliary and USB ports as well as Bluetooth connectivity with Voice Recognition, Safety Power Window, Back Warning Camera, Parking Distance Warning (front & rear), Auto Light Control, Auto Cruise Control and a Roof Rack.
Best Warranty In The Business
The all-new Santa Fe is entitled to 50,000km free service with 3 years' validity and a five-year or 300,000km (whichever comes first) warranty.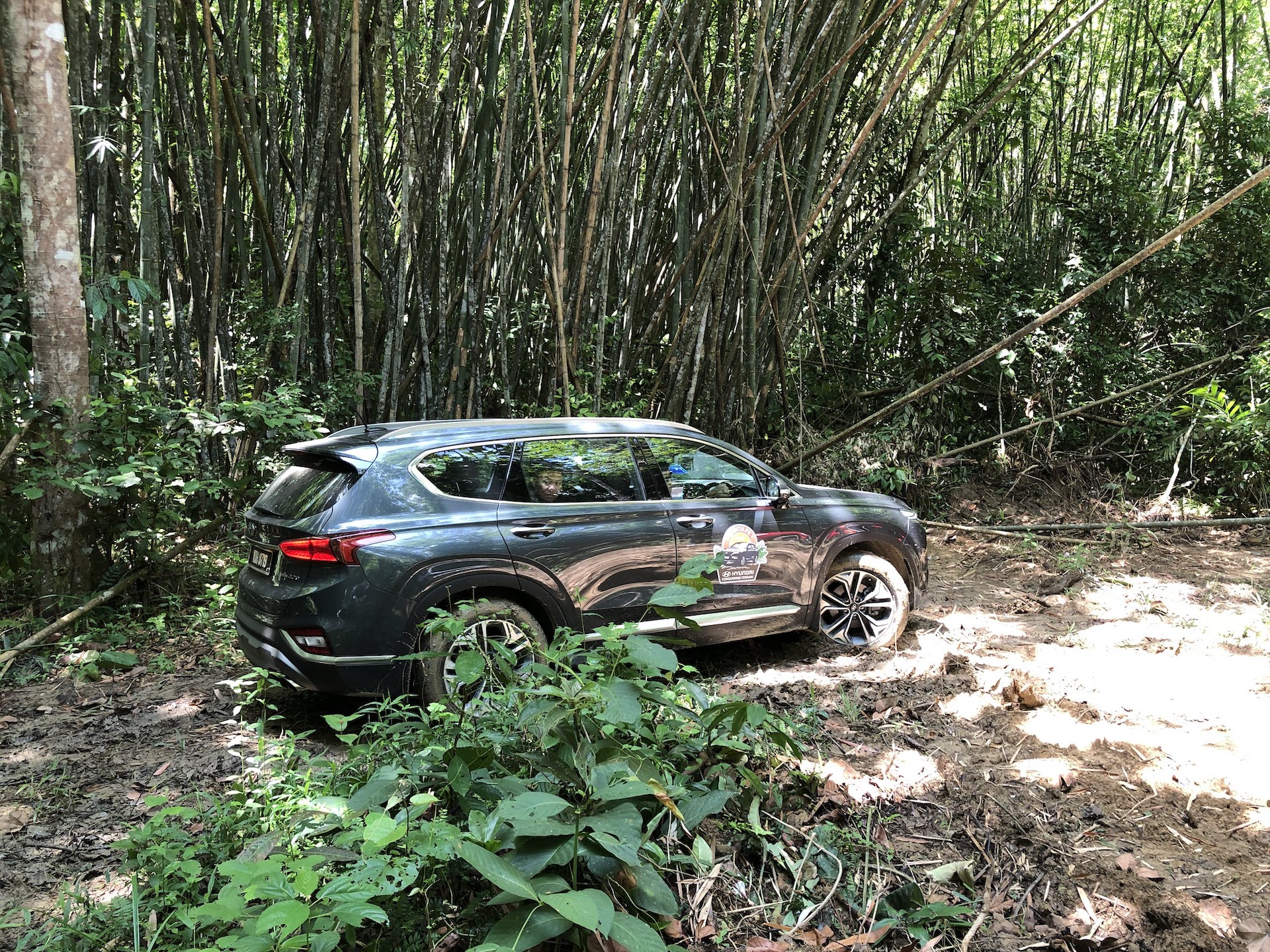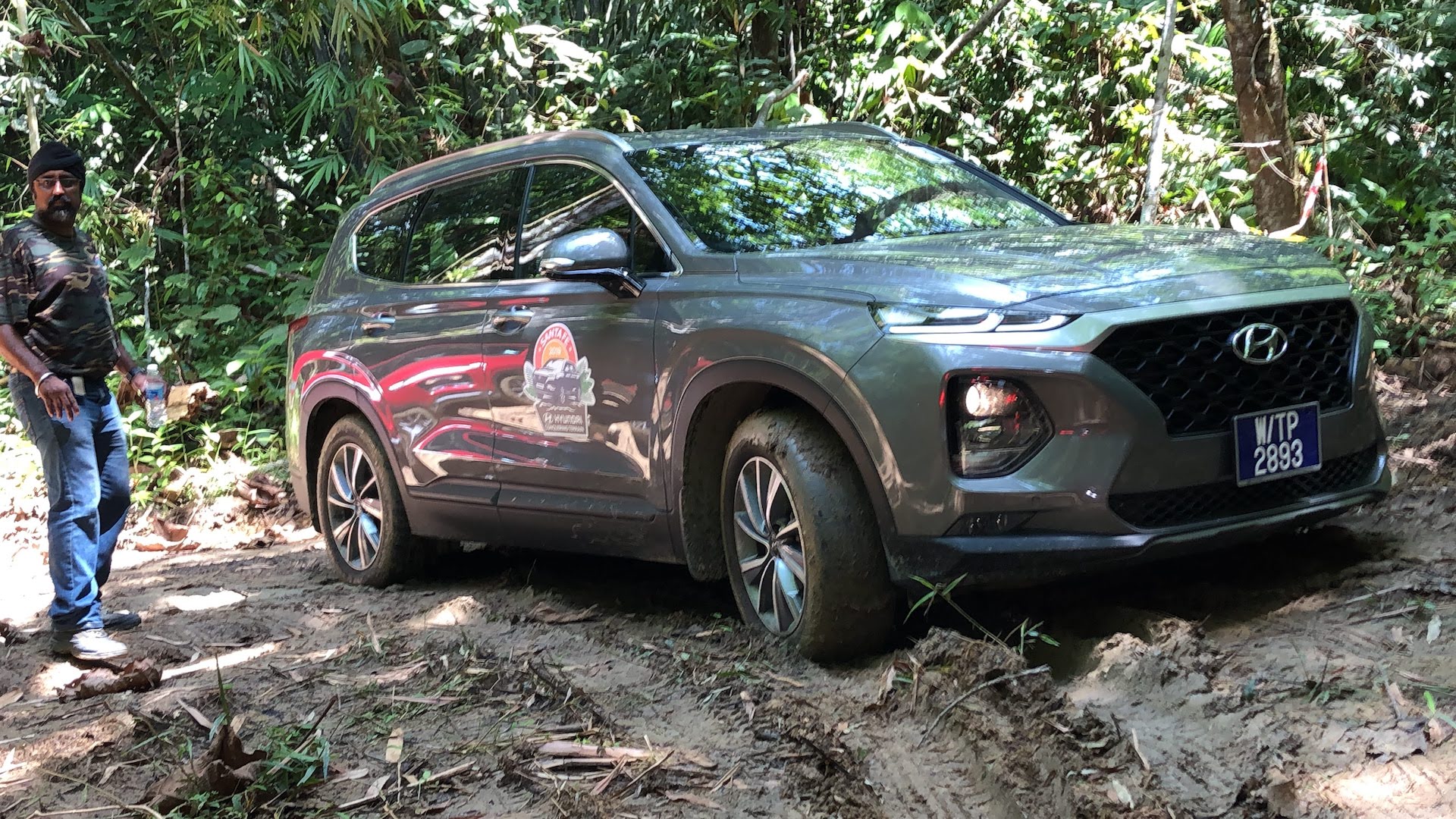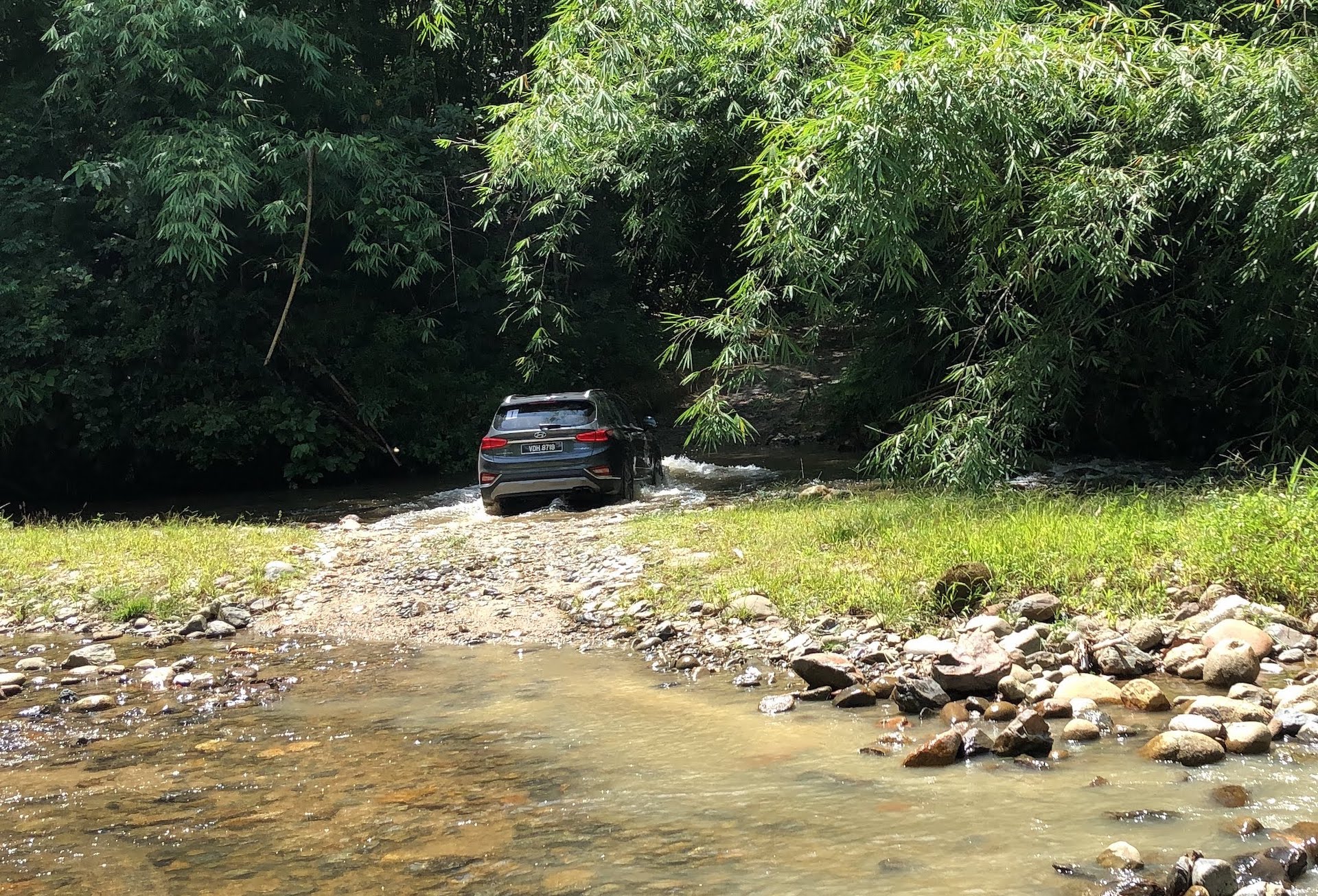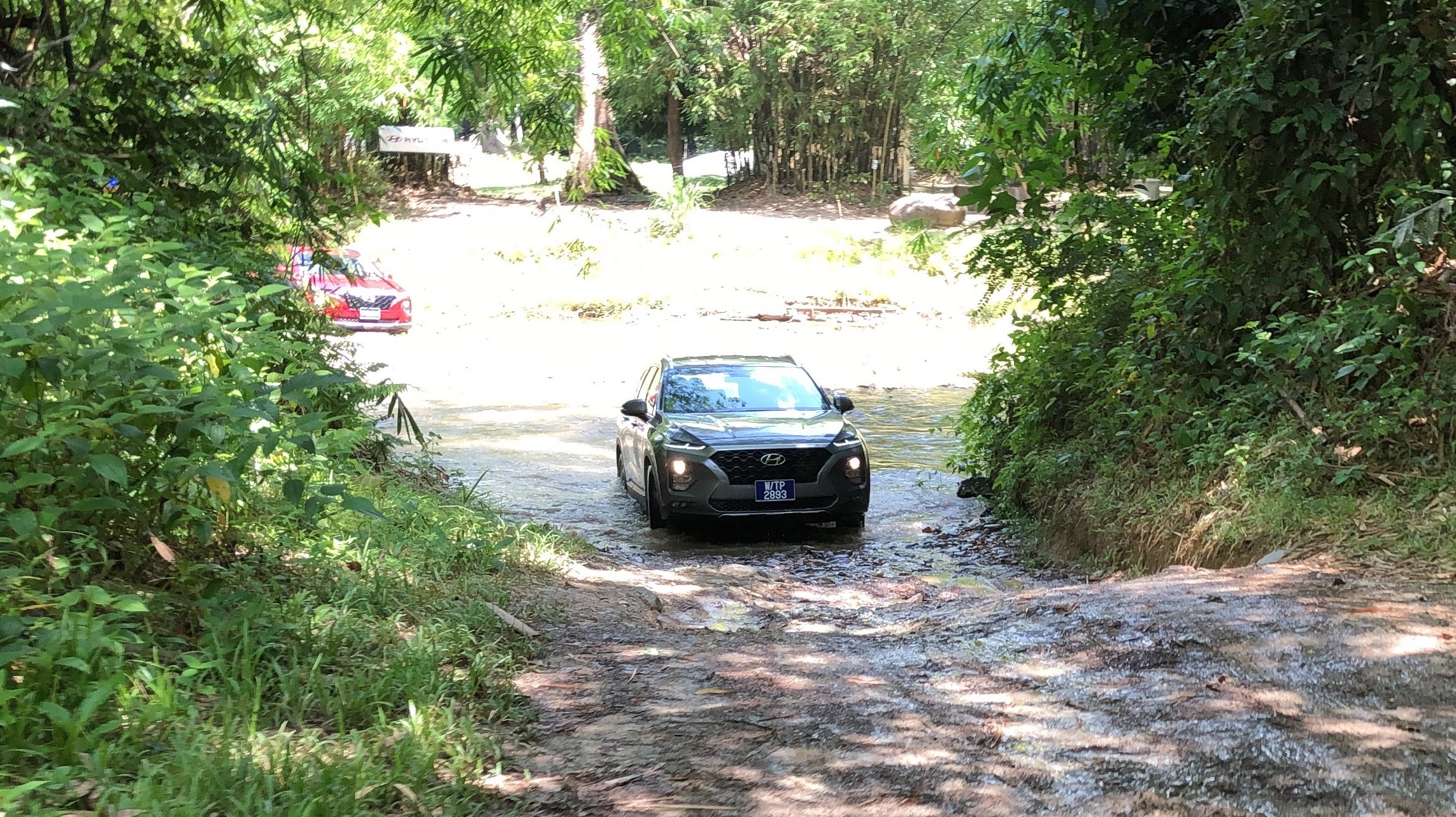 Hyundai Santa Fe DIESEL Specifications
Engine: CRDi 4-cylinder
Capacity: 2199cc
Power: 193hp @ 3,800rpm
Torque: 440Nm @ 1,750-2,750rpm
Transmission: 8-speed auto
Speed: 190 km/h as tested
0-100km/h: NA
Price: RM211,888.00