Used cars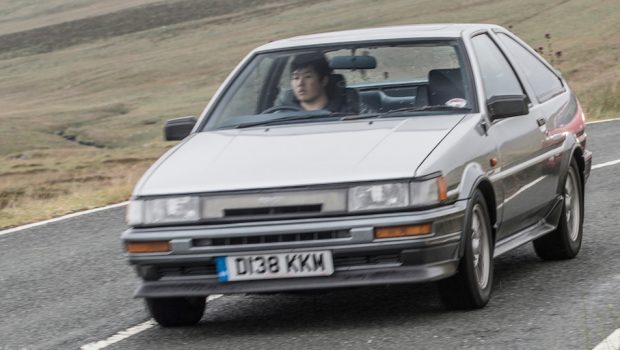 Published on May 25th, 2020 | by Hammer
0
Toyota Levin Celebrates 37 Years Of Success
This was a rear-drive product from Toyota and when it was unveiled in 1983 as the 5th generation Corolla hatchback, the designers and engineers had no idea how iconic this car was going to become in the following years, well 37 years already and still going very strong in every single market that is exists. Malaysia is not exception and the used prices are going to silly levels as you read this and all for a simple rear well drive hatchback. Well ……..let us explain more.
Power Unit
Fitted with a high-revving and involving 1.6-litre, double overhead cam (DOHC) engine producing 124hp and mated to its engaging rear-wheel drive chassis with a low-slung driving position for the driver, the Toyota AE86 or Levin was a real undiluted driver's dream. So much so, it quickly became the choice of serious race and rally professionals wanting a playful, reliable and fast rear-wheel drive machine. From the showroom it delivered a 0-100km/h acceleration time of 8.3 seconds with its slim 970kg and reached 205km/h easily.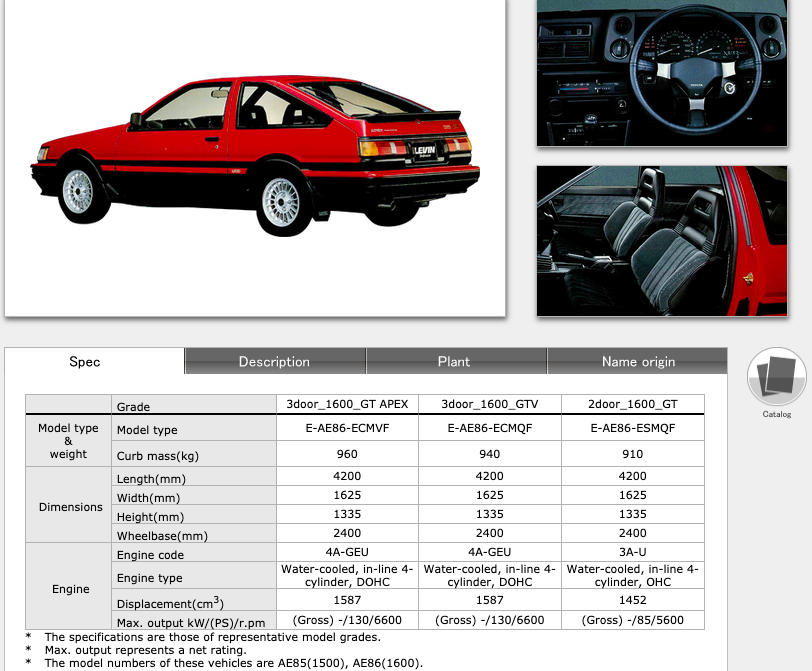 Old Story
We were given the chance to purchase a low mileage single lady owner Levin with light blue exterior and dark blue interior back in 1997 for just RM20,000 and we declined with a lot of hesitation as there was no loan available and sadly no RM20k cash in the pocket.
Factory History
The insider-chassis code of "AE86" depicts the 1600 cc RWD model from the range. In classic Toyota code, the "A" represents the engine that came in the car (4A series), "E" represents the Corolla, "8" represents the fifth generation (E80 series) and "6" represents the variation within this generation.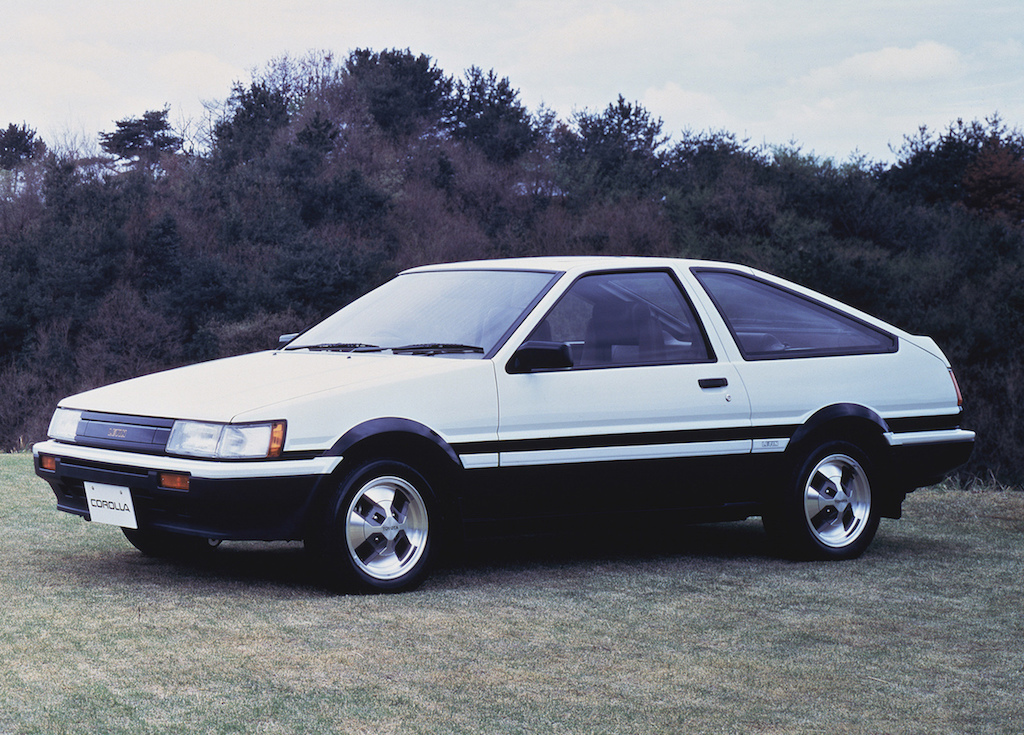 Fixed Or Flip
The Levin has fixed-headlights and its sibling, the Trueno has retractable headlights, but both can be found in either a hatchback or as a coupe. The export model name Corolla covers both variations. The AE86 (along with the lower spec 1,452 cubic centimetres (1.452 L) AE85 and 1587 cc SR5 versions) was rear wheel drive (unlike the front wheel drive CE80, EE80 and AE82 models), and is among the last rear-drive cars of its type, at a time when most passenger cars were being switched to front-drive.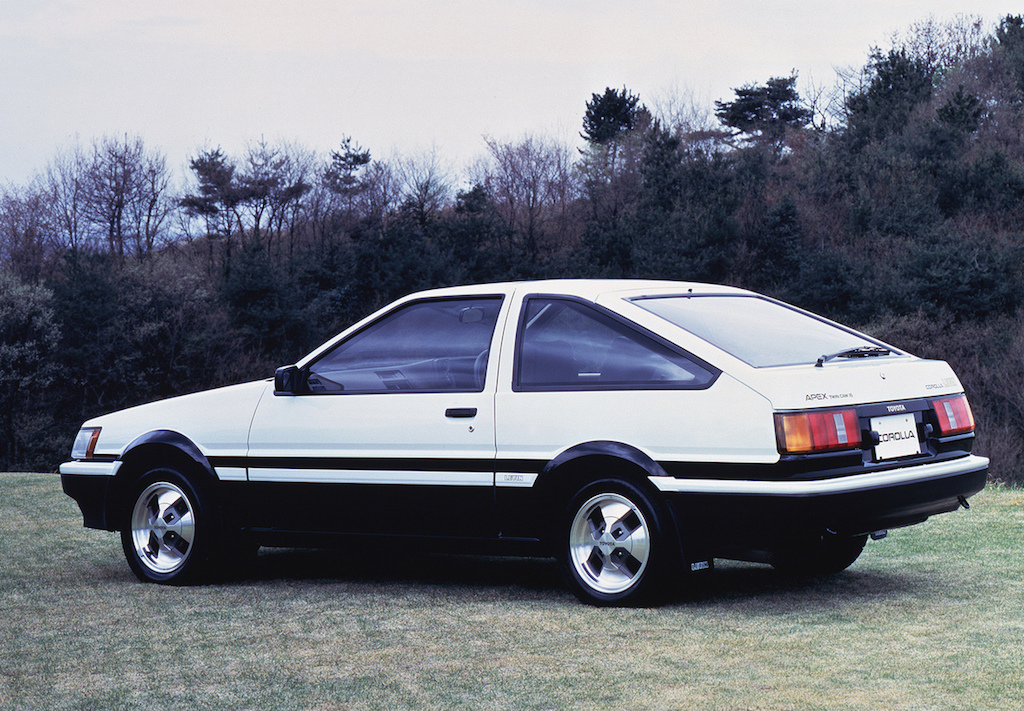 In 1987, there was a limited edition model of the Levin called "Black Limited" that served as a send-off model before the AE86 chassis was replaced later that year by the front wheel drive AE92 Corolla/Sprinter range.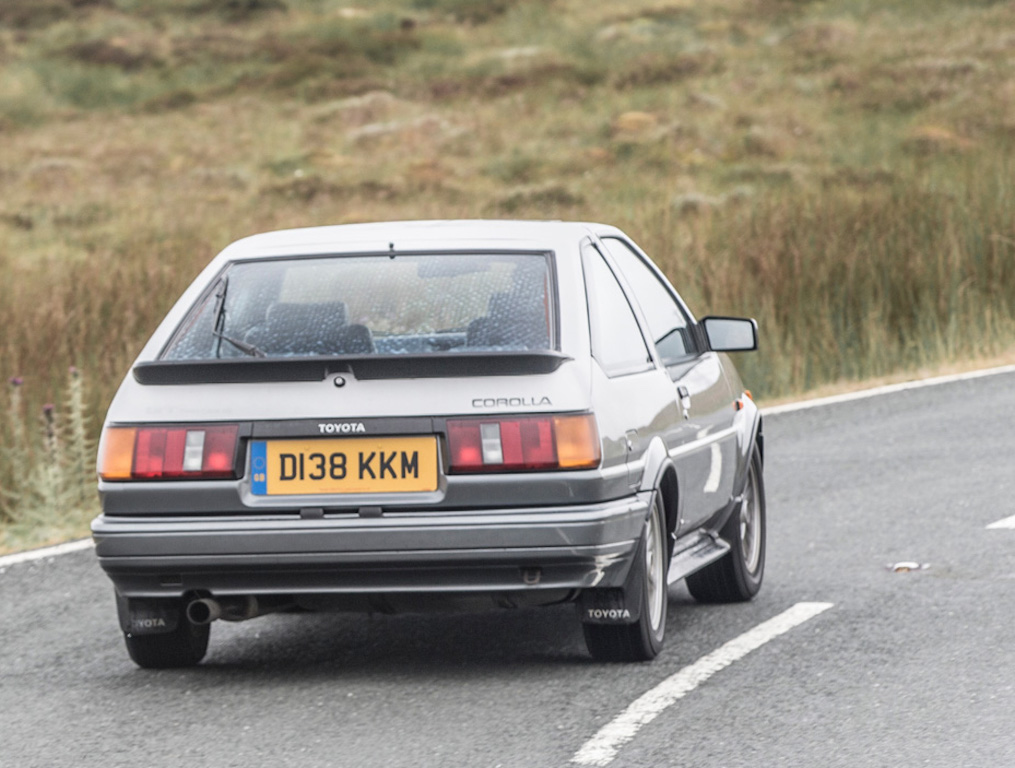 Today, some 37 years later, or if your lucky enough to find the last edition which will be 33 years old, the asking price of this Japanese hatch is between RM90,000 and RM120,000 (same price as a used 5 to 7-year old Toyota GT86) which puts its side by side with most retro Japanese cars that are high demand today. Cars like the Datsun 240Z and the Toyota Celica 1600ST.
What moved the AE86 into folklore was its pioneering role in drifting and film. Chosen by Japanese racing legend Keiichi Tsuchiya for its outstanding handling balance and control, the AE86 remains a mainstay at drift shows and competitions. But probably the most famous AE86 of them all is the white-over-black model that appeared in the classic Manga movie 'Initial D' in 1995: a film that told the story of Takumi Fujiwara, a delivery driver by day and drifting king by night. And his vehicle of choice – well, of course, it had to be the legendary Corolla AE86 Levin.
Rear-wheel drive coupe models emphasised sporty driving characteristics by using either 1.5- or 1.6-litre engines, both mounted longitudinally. This latter variation, frequently known as the Hachi-Roku (or 'eight-six' in Japanese) in reference to its 'AE86' chassis code, was the last Corolla with a FR drivetrain. Its numerous race and rally successes, not to mention its lead role in popularising the sport of drifting, means this model has become one of the most cherished and iconic vehicles in Toyota's modern history.
Similar to the 3A engine fitted to FF models, the second-generation 1.5-litre 3A-U was designed as an entry level performance unit. It benefited from improvements in fuel economy and overall performance, partly due to the fitment of a dual-branch exhaust manifold.
4A-GE engine
However, the true high-performance version was a more serious derivative of the 3A – the new 1.6-litre 4A-GE Lightweight Advanced Super Response Engine (LASRE). Originally designed as a single overhead cam unit to replace the famed 2T-GEU, 18 months into development the engine was converted to double overhead cam format with a 16-valve head to boost its high-rev output as well as increase its intake, combustion and exhaust gas efficiency levels. Along with its DOHC design, the 4A-GE incorporated new technologies including an aluminum cylinder head, forged crankshaft, Toyota Variable Induction System and higher compression ratio. As a result, the engine generated a maximum output of 130PS at 6,600rpm and maximum torque of 110 lb/ft at 5,200rpm.
it's lack of other complex systems such as airbags, anti-lock brakes, stability control systems, and adaptive suspension put this car more in the mechanically simple category than not.  As a whole, cars this easy to maintain haven't been produced in decades, so the Corolla coupe has last-of-its-kind appeal in this category.
Its lightweight gives the Corolla coupe a decidedly old-school sports car appeal.  Weighing far less than any small car today makes it easy to drive, and adds to fun-to-drive tossable handling characteristics as well as a great economy rating of 42mph highway
Corolla GT Coupé 'AE86' Statistics
Engine: 1.6-litre 4A-GE, twin overhead cam with EFI
Kerb weight: 970kg
Power output: 124bhp
0-60mph: 8.3 seconds
Top speed: 122mph