Automotive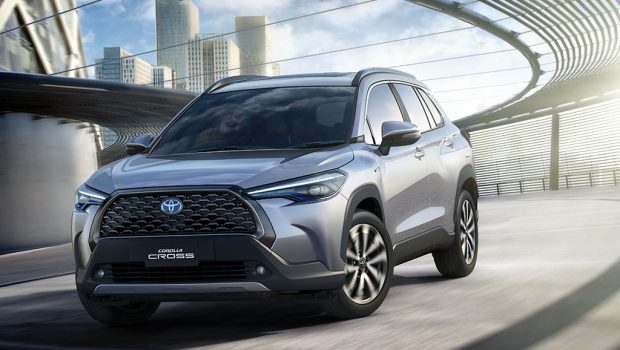 Published on July 9th, 2020 | by Joshua Chin
0
Toyota Corolla Cross SUV Launched In Thailand
The legendary Corolla nameplate appears now on an SUV. 
Need more proof that the SUV craze is here to stay? Well even the Corolla nameplate, that synonymous with 3 box sedans, now features on an SUV, with the launch of the new Toyota Corolla Cross in Thailand today. 
Designed to slot in just barely beneath the Toyota RAV-4, the overarching concept of the Corolla Cross according to Toyota is 'Corolla Meets SUV'. As such, this new 5 seat SUV is based on the Toyota New Global Architecture (TNGA) that underpins the CH-R and the Corolla sedan, which incidentally is the best selling car in the world.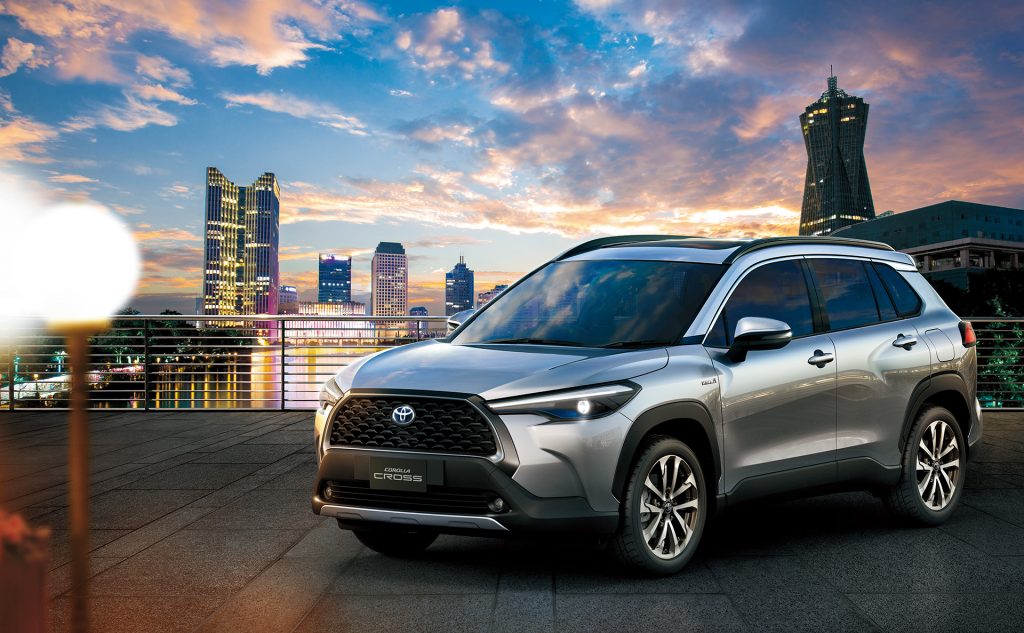 Design wise, the Corolla Cross is similar to any other generic SUV. Plastic body moulding and some token off-road design cues like skid plates with integrated fog lamps and roof bars help conceal the fact that those 18 inch wheels will probably never see anything other than tarmac. 
This latest Toyota SUV is akin to a slightly shrunk down version of the current RAV-4, Toyota's other SUV in its lineup. Albeit with the sharp edges of the RAV-4 rounded off and slightly redesigned LED headlights and taillights for a more shapely look.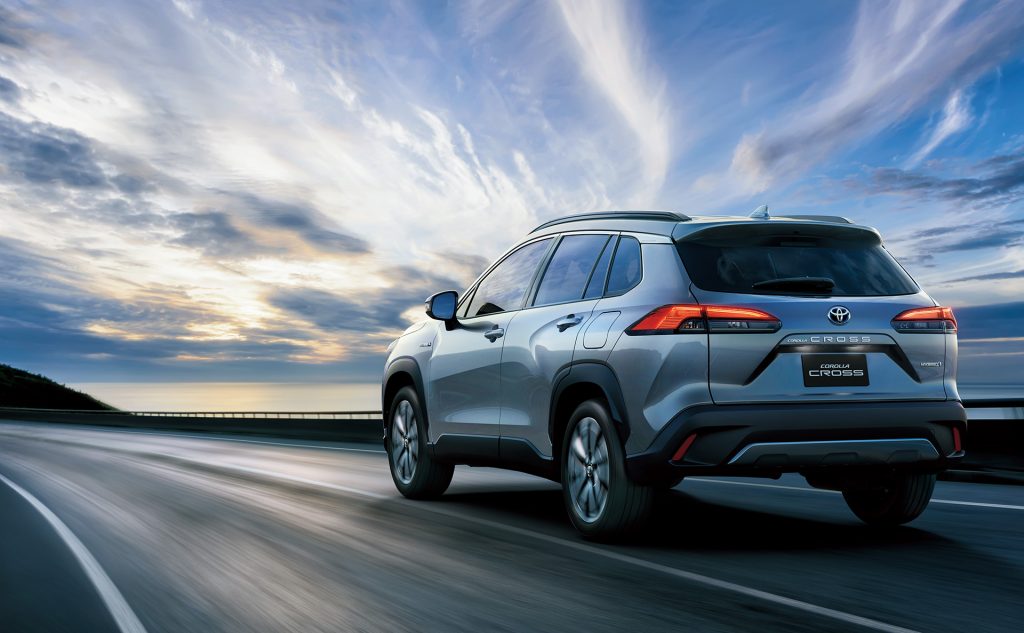 Powered by a range of 1.8 litre naturally aspirated petrol and hybrid engines as found in the Corolla sedan, the Corolla Cross should generates sufficient performance for everyday uses. And with an average fuel consumption of 22.3 km/l and 18.9 km/l for the hybrid and petrol variants respectively, the Corolla Cross will also be quite economical for daily driving. 
Handling of this new SUV also would most likely be on par with its rivals. Interestingly though, the Corolla Cross adopts a cheaper, less sophisticated torsion beam rear setup instead of the more complex independent wishbone design found on its CH-R and Corolla sedan platform-mates. 
On the interior front, the Corolla Cross basically lifts the interior wholesale from its sedan counterpart, with the notable addition of the option of Terra Rossa interior colour to liven up this family SUV.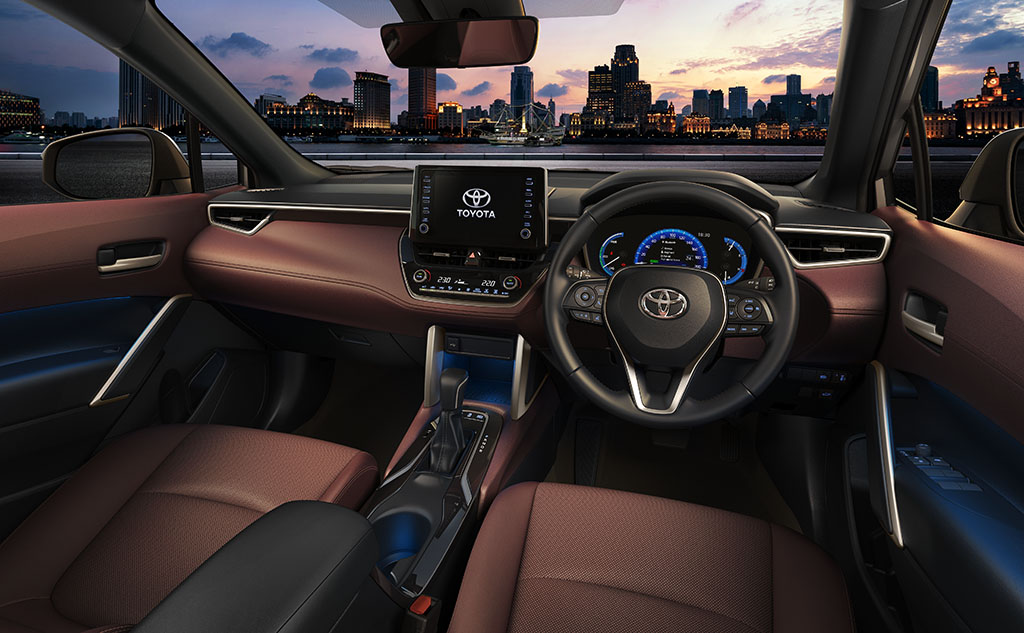 A 7 inch Multi Information Display (MID) and a 9 inch infotainment system with Apple CarPlay is standard on all models. Toyota's T-connect application is also part of the infotainment package. Containing useful features such as Geofencing and Find My Car, it allows owners to be joined firmly at the hip with the Toyota dealer for the chance to enjoy the other benefits like the Toyota Care Pay How You Drive Insurance that tracks your driving to reward you with insurance discounts. 
The usual convenience features you'd expect from a mid-range Japanese SUV in the ASEAN market also make its way to the Corolla Cross. These include a powered moonroof, dual zone climate control with rear air vents, reclinable rear seats and smattering of USB charging points for rear passengers.
The benefit of the Corolla becoming an SUV though is now the Corolla Cross has up to 487 litres of cargo space. Toyota also boasts large doors for this SUV, of which the rear ones are power operated by a kick sensor, so it is easier to get in and out of you know.
As for safety, the Corolla Cross comes with Toyota Safety Sense. This provides the usual smattering of safety acronyms like Pre-Collision System, Lane Departure Alert with Steering Assist, Dynamic Radar Cruise Control with Lane Tracing Assist, Automatic High Beam, as well as Panoramic View Monitor, Blind Spot Monitor, Rear Cross Traffic Alert, and 7 SRS Airbags.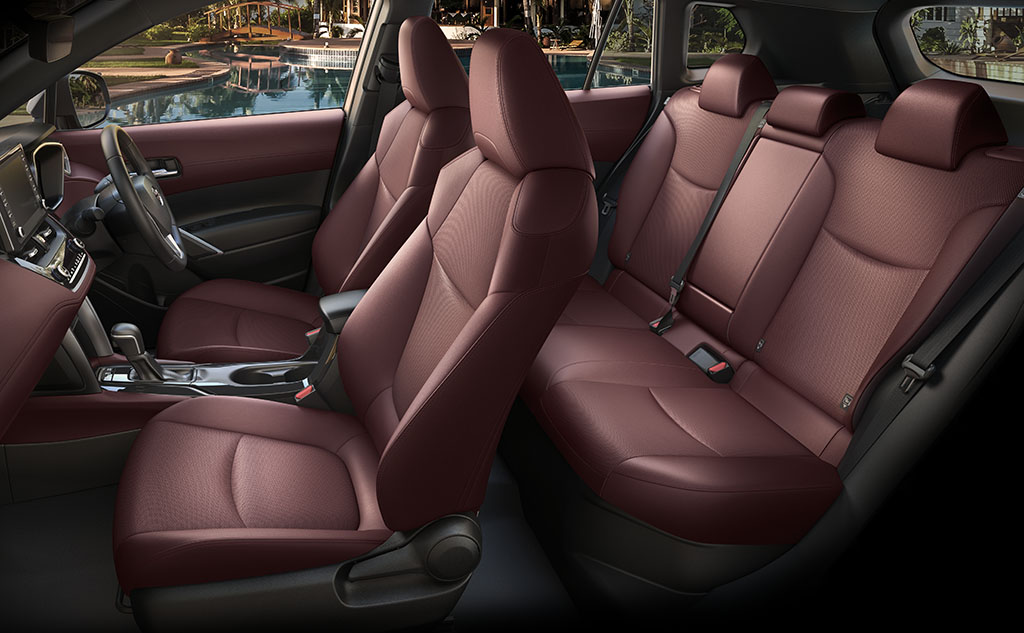 Offered in four variants in Thailand, prices range from 989,000 THB (RM 135,400) for the sole 1.8 petrol variant to 1,199,000 THB (RM164,145) for the Hybrid Premium Safety with all the bells and whistles.
With deliveries expected at the end of September, this made in Thailand SUV is only sold to our neighbour up north at the moment. However Toyota has plans to export it overseas, perhaps even to Malaysia.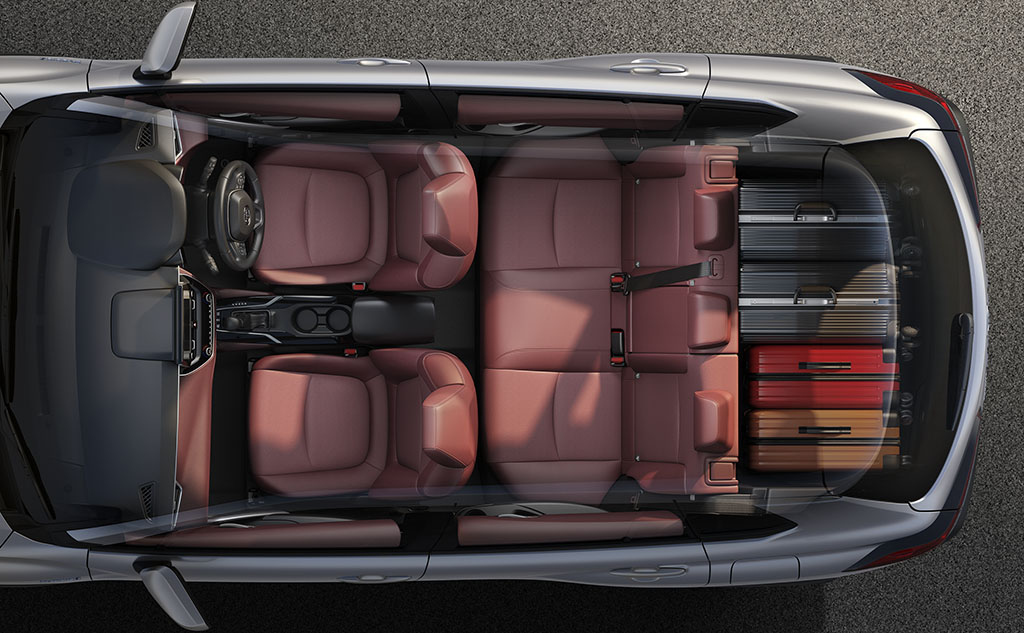 If it does happen, the Corolla Cross is set to compete against the smaller HR-V, the similarly sized Subaru XV, Hyundai Tucson and Mazda CX-5, as well as the slightly larger Honda CRV, VW Tiguan and its stablemate, the RAV-4. 
With even the Corolla transitioning over to the SUV trend, this is a clear sign of the times ahead in the auto industry. However, this also leads to the simple question: What about Toyota's original SUV nameplate, the RAV-4 then?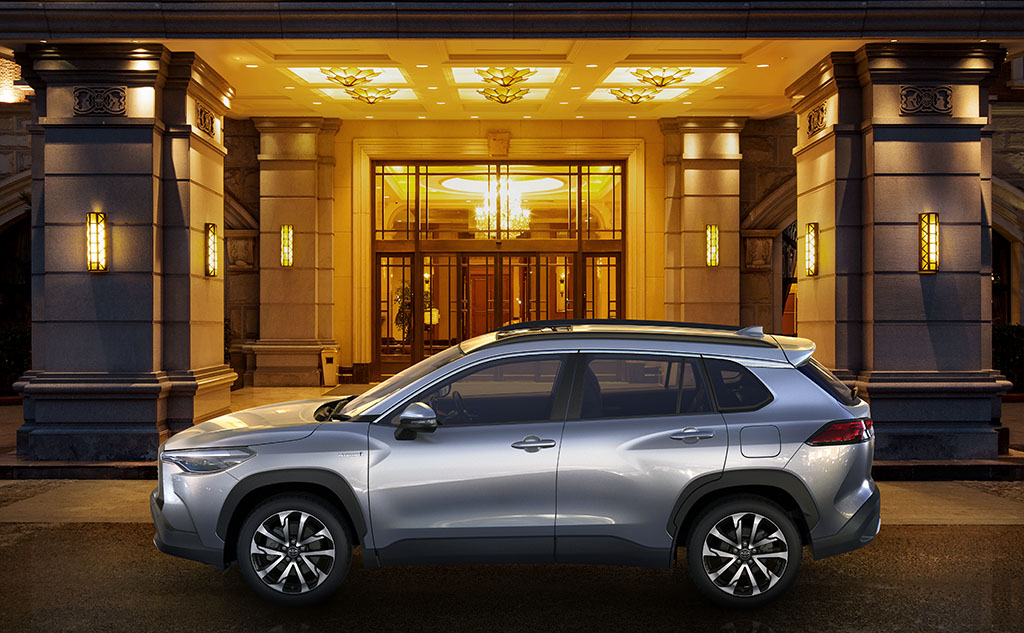 More information can be found in the press release below: 
Toyota Announces Phenomenal Launch of New SUV 
Global Debut of All-New "Corolla CROSS" 
A New Journey
Mr. Michinobu Sugata, President of Toyota Motor Thailand Company Limited, alongside Mr. Surasak Suthongwan, Executive Vice President of Toyota Motor Thailand Company Limited, and Mr. Daizo Kameyama, Chief Engineer of Toyota Motor Corporation, unveiled the world debut of the latest Toyota's SUV "All-New Corolla CROSS" in Thailand on 9 July 2020. Underpinning the slogan of "A New Journey", the All-New Corolla CROSS comes fully equipped with a wide range of innovative technologies and functions that go above and beyond to exceptionally fulfil people's lifestyles and provide maximum comfort for drivers and passengers while they are travelling on journeys in pursuit of the true meaning of life.     
Toyota Motor Thailand Company Limited introduces the global launch of its new SUV "All-New Corolla CROSS" in Thailand. This fine masterpiece has been developed to express a strong sense of sportiness, agility and robustness on the exterior, while the interior stands out with spacious room, excellent comfort, vast and highly adjustable luggage capacity, and remarkably quiet cabin. Besides, the All-New Corolla CROSS has been thoroughly designed to seamlessly satisfy all kinds of customer needs and lifestyles with a complete list of great functions and equipment to ensure that customers can enjoy great versatility, including the addition of Power Back Door with Activated Kick Sensor and Panoramic view monitor. Moreover, the car comes with the renowned Toyota New Global Architecture or TNGA that guarantees the leading-edge driving performance, coupled with the world-class Toyota Safety Sense which offers the ultimate confidence and peace of mind in all journeys. The All-New Corolla CROSS is available in the 1.8-liter gasoline engine and the 1.8-liter 4th generation hybrid engine variants, giving superb acceleration and fuel economy. 
Mr. Michinobu Sugata said, "The situation of COVID-19 outbreak in Thailand is gradually improving, and the Thai Government in response announced series of relaxations of our daily lives and business. While the country takes encouraging steps towards its recovery, we, Toyota Motor Thailand, are willing to stay side by side with the Thai people and fight against the pandemic until its end by continuing our 'Toyota Stay with You' Project. However, although the situation is improving, we should remain vigilant and help minimize the risk."
Toyota is committed to moving forward as the Mobility Company that continues to offer happiness and safety for everyone under the company's philosophy to create "Ever Better Cars" with an aim to always scale the heights in the development of automobiles. The All-New Corolla CROSS is by far the best model for everyone, and it will take you to explore the new experience of A New Journey under the New Normal.    
Mr. Michinobu Sugata further added, "With the tag-line of 'A New Journey', the All-New Corolla CROSS is developed under the concept of 'Compact yet Comfortable' and 'Dignity Urban Vogue'. This is a new product in the new category which Toyota has never had before in the SUV segment, and Thailand is the very first country in the world to introduce the All-New Corolla CROSS. The platform of Corolla CROSS is based on Corolla sedan, and therefore its QDR, Quality, Durability, and Reliability, is guaranteed. On top of that, with the All-New Corolla CROSS, you will be able to "Spend precious time with your family in the private and safe space" and also "Showcase your lifestyle", with a powerful yet delicate exterior as well as a spacious interior. We pursue to satisfy all your wishes about classy utility beyond your expectations together with affordable prices. The All-New Corolla CROSS will be rolled out at our Gateway manufacturing plant, which is our passenger car plant in Chachoengsao province, from 13 July 2020. Most importantly, the car is made by Thais and exported to other markets by Thais."
Mr. Daizo Kameyama said, "The concept for this car was 'Corolla Meets SUV'. Corolla is the best-selling Toyota vehicle in the world. In fact, Corolla is Toyota itself. Since the launch of its first generation in Japan in 1966, the Corolla series has become a best-seller with cumulative sales of about 48 million cars in some 150 countries worldwide. The most remarkable characteristics of the Corolla CROSS are the premium feel and utility that go beyond customers' expectations, evoking the sense of 'Urban Toughness' particularly portrayed by the design of its wide stance. We are confident in the sheer appeal of this SUV's stylish and powerful appearance, which stimulate and inspire people to embrace new challenges by delivering exceptional comfort."
All-New Corolla CROSS …A NEW JOURNEY has 5 unique selling points 
1.Design
A New Outstanding Journey – A New Journey … Reflecting state-of-the-art design

 
The exterior design uniquely stands out with its stylish and sporty feel yet unveils the sense of luxury in combination with toughness. The car comes with a power moonroof, roof rack, LED headlights and taillights, as well as 18-inch alloy wheels.  
♣A New Satisfying Journey – A New Journey … Offering ample space for all your needs

 
The design in the interior represents a seamless work of art with the new Terra Rossa red shade as the interior color, along with the addition of 7-inch Multi Information Display (MID).
2. Performance
A New Energetic Journey – A New Journey … Showcasing the ultimate powertrain
The 1.8-inch hybrid engine with the most innovative 4th generation hybrid system has been completely developed so that the battery offers greater performance, endurance, and fuel efficiency, while preserving the exciting driving pleasure and superior power of acceleration. For the hybrid engine, the average fuel consumption is only 23.3 kilometer per liter, with the carbon dioxide emission of 98 grams per kilometer. On the other hand, for the gasoline engine, the average fuel consumption is 15.4 kilometer per liter, with the carbon dioxide emission of 150 grams per kilometer.
A New Confident Journey – A New Journey … Having everything under control in all journeys 
With Toyota New Global Architecture (TNGA) and the newly developed torsion beam, the suspension has been largely enhanced for better grip and smooth ride, while improving the balance while driving straight and cornering. All these features substantially help provide drivers with greater agility, confidence, and visibility.
3. Comfort
A New Convenient Journey – A New Journey … Bringing sheer convenience to all your trips 
The All-New Corolla CROSS offers a large luggage space with a maximum capacity of up to 487 liters. Besides, the cabin is distinguished by large doors that make it easy to get in and out, as well as the ample headroom that makes the occupants feel fresh and comfortable. The car also comes with Power Back Door with Activated Kick Sensor that allows greater convenience. Moreover, there are Power Adjustable Driver Seat, Dual-Zone Automatic Climate Control, Rear Seats can be reclined up to 6 degrees, Rear Seat Armrest with Cup Holders, along with Air Vents and USB Outlets for rear passengers. 
4. Safety
A New Protected Journey – A New Journey … Presenting superlative safety standard
The safety features and environmental performance of the All-New Corolla CROSS have been advanced based on the remarkable DNA of Corolla series to ensure driving confidence in all journeys with the world renowned Toyota Safety Sense, for example Pre-Collision System, Lane Departure Alert with Steering Assist, Dynamic Radar Cruise Control with Lane Tracing Assist, Automatic High Beam, as well as Panoramic View Monitor, Blind Spot Monitor, Rear CROSS Traffic Alert, and 7 SRS Airbags 
5. Connection
A New Connected Journey – A New Journey … Connecting all lifestyles for sheer confidence, safety, and worry-free experience.
With the 9-inch touchscreen compatible with Apple CarPlay together with T-Connect, the vehicle offers flawless connection between itself and the driver, making the journey a moment of happiness and peace of mind, while ensuring that car maintenance will never be a difficult task. 
Mr. Surasak Suthongwan revealed, "Thailand is a beautiful country with a unique characteristic. To illustrate, we have strong and harmonious relationships with each other as if we are one big family. The current situation of COVID-19 outbreak has brought the world to a great paradigm shift in which all of us need to embrace various social distancing practices. However, looking on the bright side, this has made us closer to our family and, more importantly, pinpointed the start of the New Normal. At Toyota, we are ready to drive Mobility of Happiness for you, while fulfilling all kinds of lifestyles for everyone, whether it be going to work, travelling, playing sports, spending time on relaxing with family, travelling to their hometown, as well as going on a trip with some good friends.  
The All-New Corolla CROSS will certainly mark the new definition of "A New Journey" in New Normal.  The launch in Thailand is the world premiere of a Corolla car that undergo a profound transformation from the popular passenger car to the unprecedented SUV that offers greater utility and versatility, plus considerable freedom and fun driving experience like what one can feel when sitting behind the wheel of a sporty passenger car. Above all, the All-New Corolla CROSS comes fully equipped with a wide variety of comfort functions and a complete package of safety features.  
The main target customers are families with a variety of lifestyles and preference for modern trends. The key unique selling points of this model are great comfort, superior convenience and ultimate safety for everyone in the family. All seats are equally comfortable, offer maximum confidence and prevent a feeling of fatigue along the journey. There is also an option of hybrid engine that provides exceptional fuel economy, substantial quietness, powerful performance, and low emission. Besides, the car offers great value for money, endurance, as well as guaranteed good resale price. All these elements are undoubtedly the unique identity of Toyota."
Get ready to embrace the New Buying Experience and New Usage Experience through T-Connect by Toyota application that provides virtually all the technologies and services to connect the future mobility and fulfil all lifestyles. 
New Buying Experience: The advanced technologies have transformed how customers buy cars and created the exhilarating experience for customers with a variety of innovative services developed by Toyota.  
Connect Locator is the service that provides real-time stock checking and car delivery tracking, making it possible for our customers to precisely monitor their car delivery status.
Connected Auto Loan (CAL) is the new approach of auto loan credit approval that makes it easier for customers to own a Toyota car.
Sabuy 😀 Service provides a groundbreaking leasing offer with not only a 20% lower rate of installments compared to normal leasing schemes, but also the car maintenance service package at Toyota Service Centers valued at 23,000 THB, as well as future price guarantee for trade-in.
KINTO is the innovative online car rental service for individual customers to go for a long-term Toyota car rental. This serves as another new alternative for customers who want to enjoy worry-free and temporary ownership that does not require a down payment.
First-class insurance package "Convini-Insure" provides 3-year coverage and the premium can be combined with the monthly installments.
With Guarantee Future Value (GFV), customers do not have to worry about the resale price for hybrid variant.

New Usage Experience: Drivers can enjoy seamless connection for future mobility through T-Connect by TOYOTA mobile application with 3 key features: 
1. Always located and protect: Offering first-rate services for peace of mind, as well as superior safety and worry-free ownership as follows: 
Find My Car

 

TheftTrack

 

SOS

 

Geo-fencing
2. Telematics CARE: It makes car maintenance simpler for Toyota car owners, providing a worry-free driving experience.  
Maintenance Reminder Service including online appointment

 

Vehicle Information
Toyota Care PHYD (Pay How You Drive) is the innovative insurance scheme which allows customers to save more with great discounts that are based on the driving data analysis. Good drivers who drive safely will enjoy discounts on renewal premiums. First, customers can enjoy a no claim bonus which offers a 20% discount on renewal premiums. On top of the no claim bonus, PHYD provides 25% additional discount which is calculated based on good driving behavior score.

   
3. Happiness Mobility: Offering enhanced joy of driving in all journeys through the following services: 
Concierge Services take care of you throughout the entire journey

 

In addition, we present Fleet Telematics Service (FTS) for business clients to help them conveniently and efficiently track, plan and control the usage of their cars and drivers by offering real-time information display system and important data related to the car.

 
Mr. Surasak Suthongwan further added, "Realizing that each individual customer has a different view of 'A New Journey', we proudly present special editions of the All-New Corolla CROSS at the point of purchase on top of the standard model, making the car ownership a more joyful and exciting experience.
Urban sport style: With enhanced sportiness, the car highlights your own unique identity with the addition of aero parts and rear tailgate trim. 
Adventure style: The car has been designed to portray a greater sense of boldness and readiness to venture out everywhere. With the addition of aero parts and rear tailgate trim, this edition is suitable for those who love new travels and adventures to fulfil their ultimate experience. 
Customers can choose the special option that suits their own preference at the additional expense of less than 500 THB on the monthly installments (calculated based on 60-month lease terms). Interested customers can contact Toyota dealers nationwide for more information. 
Furthermore, we would like to introduce another channel for customers to interact with Toyota. Available in a VDO format that can be watched through mobile phones, Toyota Tube (T-Tube) shows customers how to use different functions of the car. Customers who would like to test drive the All-New Corolla CROSS can register online at www.tmttestacar.com or contact Toyota dealers nationwide." 
Mr. Michinobu Sugata concluded, "In developing the All-New Corolla CROSS, what we have taken care most is the drivers' total feeling about the ultimate balance of drivability which provides ease of driving, ride comfort and enormous fun. On top of its excellent drivability, we have put all the functions beyond customer expectations. And most notably, together with the T-Connect technologies, customers can have our PHYD, Pay-How-You-Drive, car insurance which I believe will be good incentives for your safety drive. I truly believe that our new automotive masterpiece will certainly take all of you to explore the new journey towards the promising future with the ultimate peace of mind."