Reviews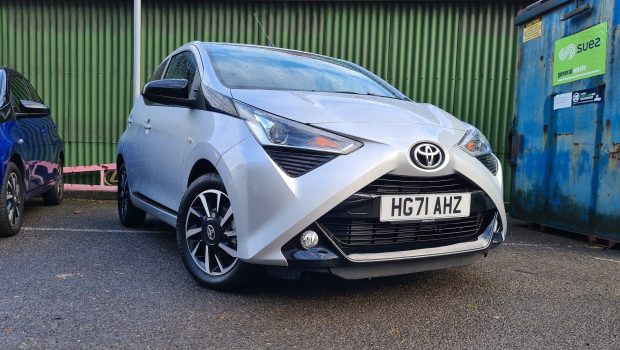 Published on February 27th, 2022 | by Joshua Chin
0
Road Trip Review: Toyota Aygo 1.0 VVTi X-clusive 
The Aygo is Toyota's European answer to the Axia, but is it better than its distant Malaysian counterpart?
It might come as a surprise to some, but the compact city car segment has all but evaporated in Malaysia. See, where once was the likes of Kancils, Kelisas and Picantos, it is only the Axia that is currently the sole truly tiny car currently on sale in Malaysia right now.
And in a rather interesting twist, despite the number of high horsepower exotica that regularly headlines the automotive stories of the week, the choices for city cars in Europe are actually rather plentiful to say the least. With one the many on offer just so happens to be the Toyota Aygo, that I was recently bombing around the west of England with.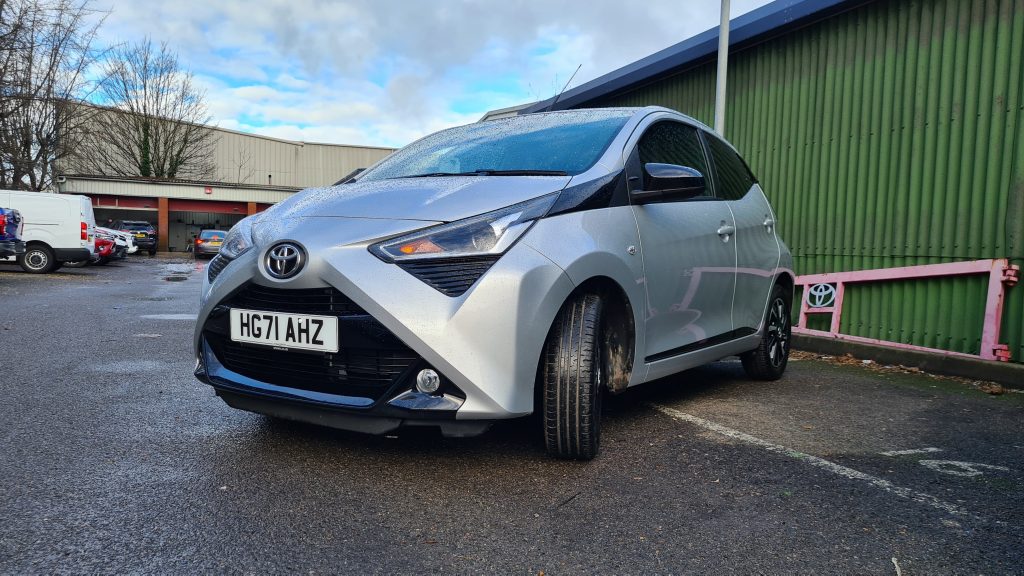 Now while quite a lot of fun in its own right, many will undoubtably not be very interested me retelling my weekend getaway. So let's instead discuss on whether this Aygo will work in Malaysia, or more specifically perhaps why the Axia will probably be a better fit in Europe than an Aygo will do better over here.  
Before elaborating on that rather interesting conclusion however, let's just kick off with what exactly the Aygo is first. And to those who perhaps is not wholly familiar with this model, it might be surprising to hear that this tiny Toyota isn't entirely the Japanese auto giant's own work.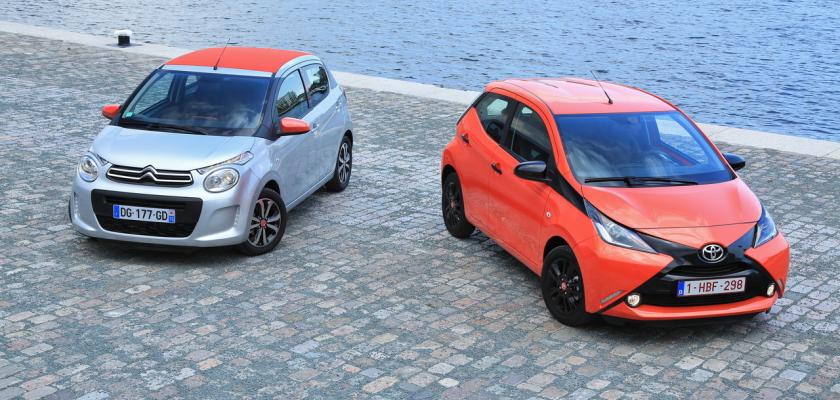 Yes, even before there was the Toyobaru twins and BMW-based Supra, Toyota was already collaborating with the PSA group in the cheap and cheerful city car market for Europe. This collaboration therefore resulted in the Aygo here, along with its Franco twins in the form of the Peugeot 108 and Citroen C1.
In fact, if we are being total pedants here, this is actually the second iteration of this particular partnership which made its debut back in 2014. It is worth pointing out too that this Aygo is actually no longer on sale in Europe, with Toyota having replaced it with its own Aygo X crossover city car, which might render this review a little bit pointless for those wanting proper consumer advice.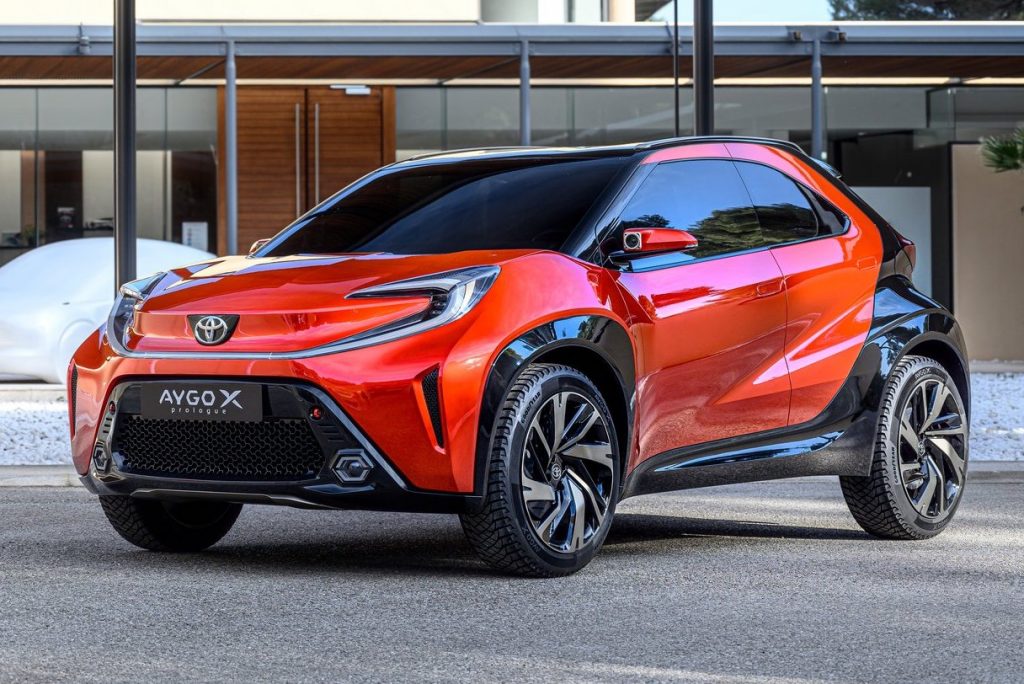 Seeing though as not many will have heard of the Aygo in Malaysia anyway, it is still worth just going through and properly reviewing the car, mostly just for the sake of context to that curious conclusion foreshadowed a couple of paragraphs ago.
So beginning in the inside of the Aygo then, the first thing that might stand out immediately for some is that there are only four seats in this tiny Toyota. One less than the number of seats available in the Axia, there are also other more immediate practical problems when it comes for the more vertically endowed, as headroom in the back two seats will be tight for anyone over six-feet.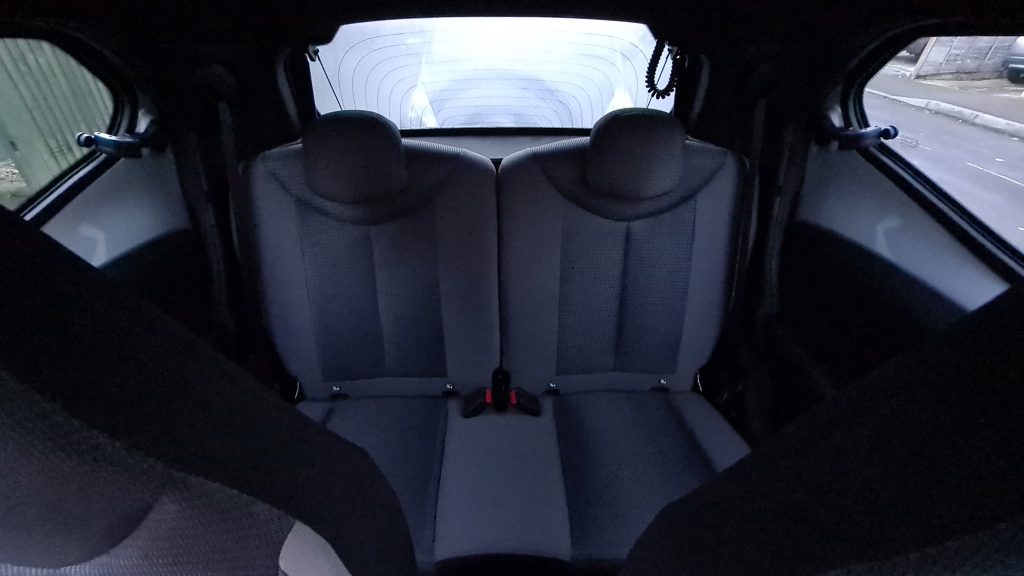 Interestingly too, Toyota has deemed that rear passengers of the Aygo could do without rear windows that can wind down, with manual hinges (alá minivan) instead being the only way for rear seat occupants to get some air out back. The lack of rear headroom and ventilation however might just be addressed in the available cloth-roof cabriolet variant of the Aygo, and in just circling back on the practicality front, the boot of this tiny city car is nevertheless deep enough to swallow two carry-on baggages.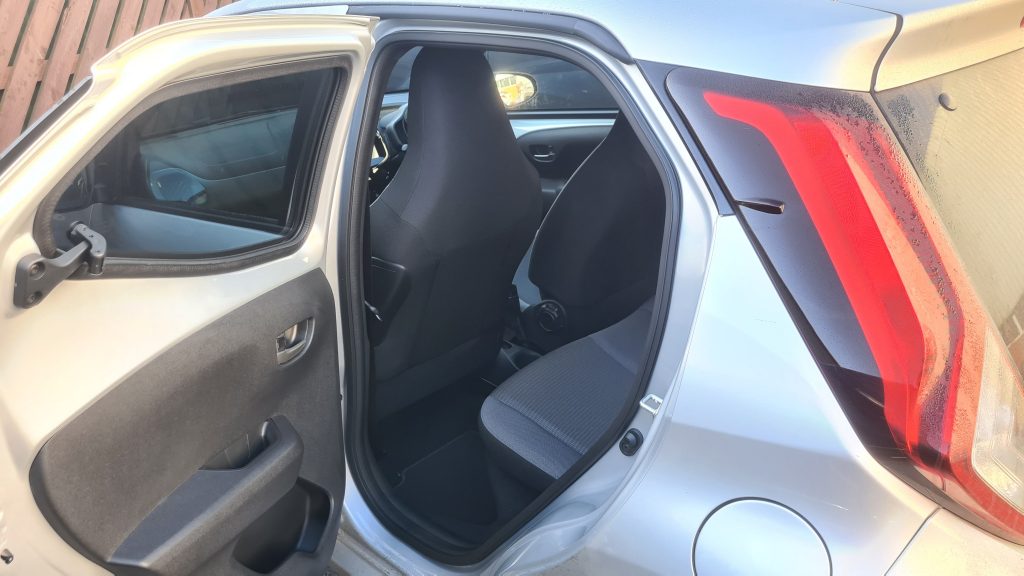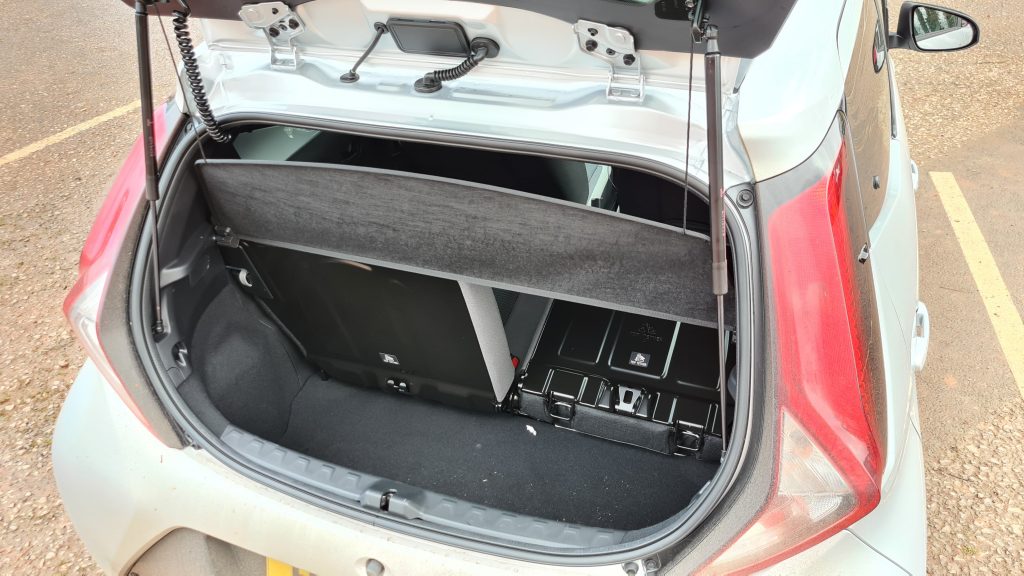 Continuing further on with the plus points within the Aygo's tiny cabin, while hard scratchy plastics are more the norm rather than the exception in this most affordable of Toyotas offered in the old continent, what little money that was allocated on the interior side of things is rather smartly spent on some more city-centric kit, like automatic emergency braking and lane keep assist for instance, which come as as part of the standard Toyota Safety Sense package. Automatic headlights and automatic climate control are also included on this particular top-trim X-clusive variant, in addition to Apple CarPlay and Android Auto integration in its 7-inch infotainment touchscreen.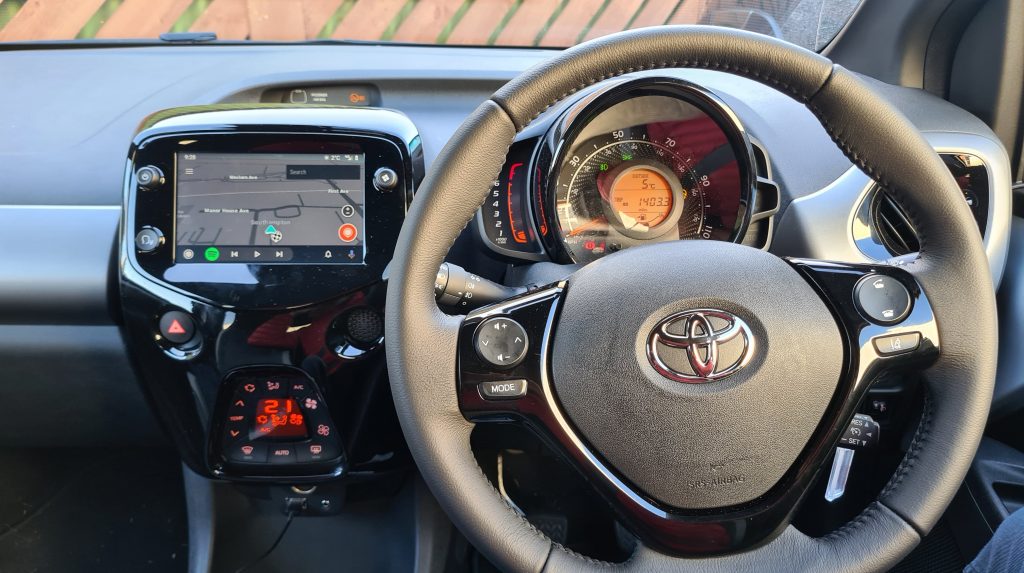 Perhaps in an attempt to further make the Aygo seem more grown up than it is too, Toyota has also curiously included cruise control as part of the standard kit list with this city car. It however doesn't need to be said that this is a somewhat redundant feature, as highways are unsurprisingly not really this tiny Toyota's comfort zone.
Given that the naturally aspirated three-cylinder under the hood of the Aygo has only 72 horsepower and posts a glacial century sprint time of just a smidge 14 seconds, it thus isn't what anyone would consider reasonably speedy. In fact, it is not an exaggeration to say that overtaking of any sort on any kind of roads requires that extra a bit of planning and preparation, and quite a lot of courage.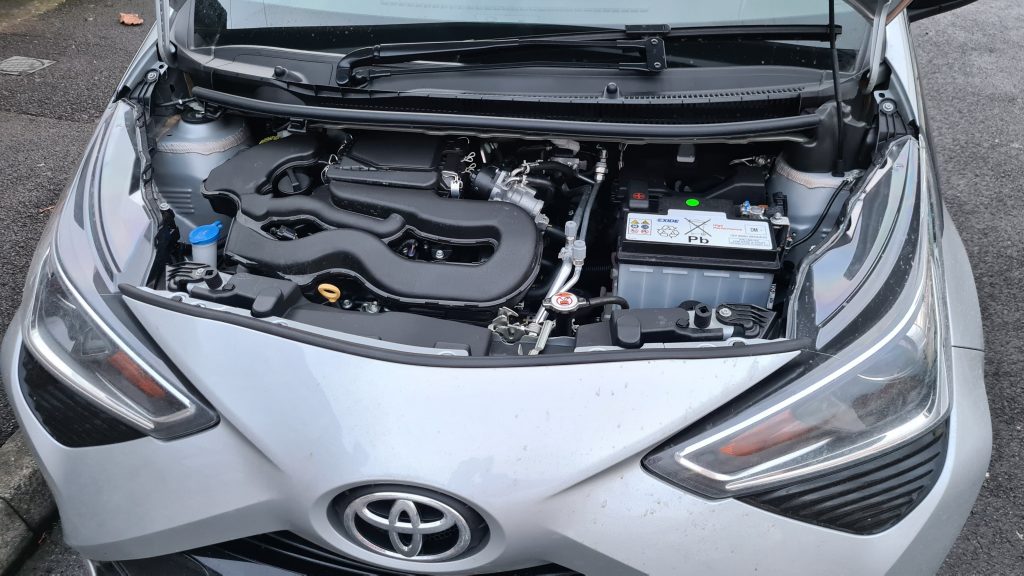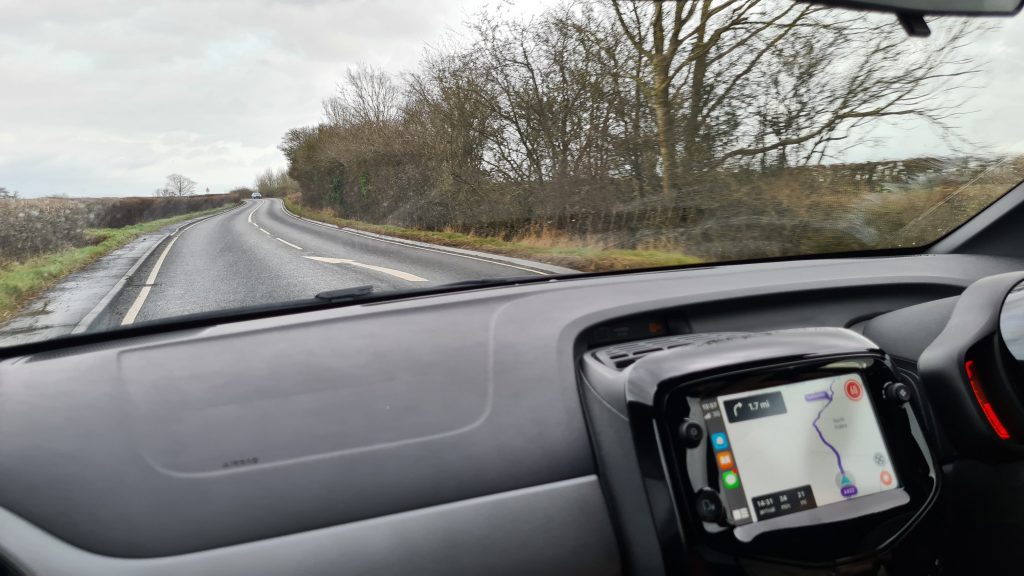 In all fairness though, what little power the Aygo has it gives rather willingly. This little Toyota also seems to enjoy being wrung round the neck a bit, as evidenced by the three-cylinder that only emits a rather sonorous thrum as hits its stride (and peak torque) near the upper regions of its 6,500 rpm red-line. So if one is prepared to give it a damn good spank, the Aygo does then make for a rather fun tool in tackling the twists and turns of a typical British b-road. Particularly when this diminutive Toyota is paired with the enthusiast's choice of transmission.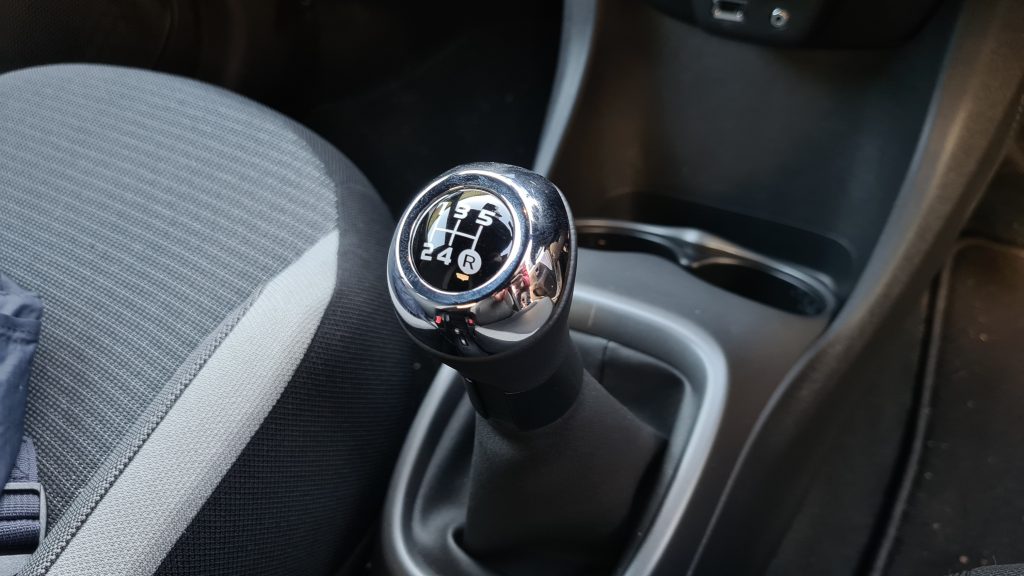 Yes, while automatics have been the gearbox of choice in the wider global auto market for a while now, Europe however seemingly didn't get the memo for this particular progression in automotive technology. To that end therefore, most models sold in the old continent (particularly the more affordable choices) could still be specced with a row-your-own 'box. The traffic lights here even turn amber before going green too, which is helpful in giving those who are rowing their own gears a bit of prep time before eventually setting off.
Just getting back to the Aygo's 5-speed manual transmission though and having removed the petrolhead-tinted glasses that dictate all row-your-own gearboxes should be deified, it is unfortunate to report that it is not all good news on this front with this little Toyota. A long wand and vague clutch bite point a good manual transmission it does not make, after all.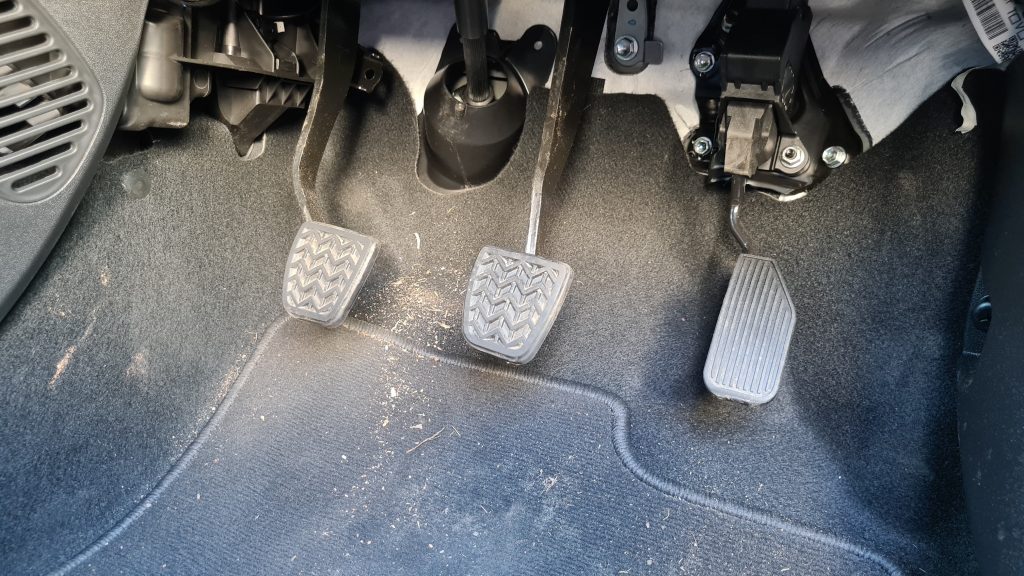 An electrically-assisted power steering that is wooly and uncommunicative also rather puts a damper on the otherwise fun hooning experience of the Aygo round the trunk roads of England, with no reach adjustment on the steering column being another slight black mark against it. Tall and skinny tyres too are not the most confidence-inspiring when said windy roads turn slightly damp (which they always are in rainy ol' England). Though it is worth pointing out that the tiny brakes on this lightweight Toyota are surprisingly more than adequate in bringing proceedings to a stop with relative rapidity.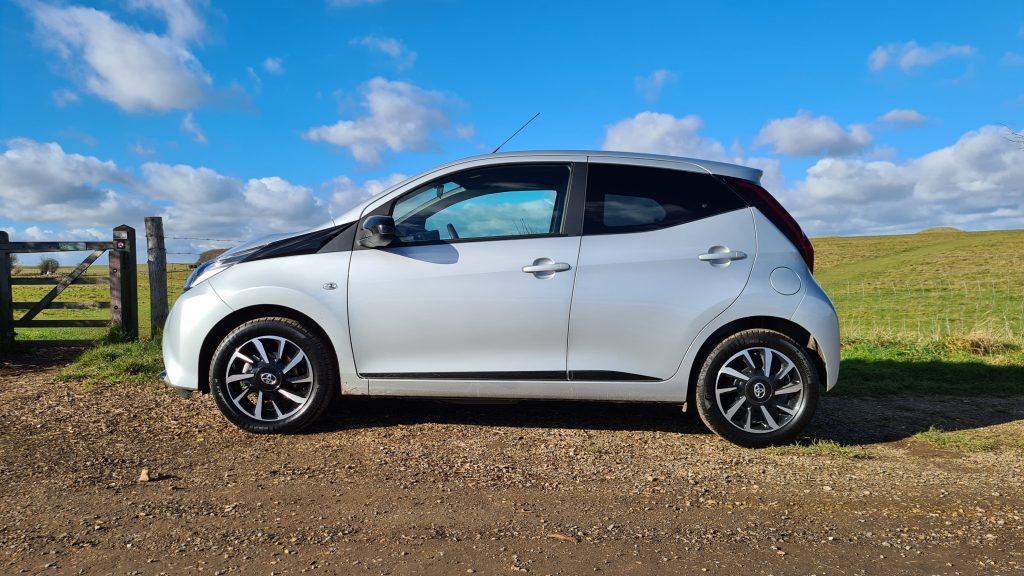 Also on the list of surprising positives with this Aygo is its surprisingly comfy single-piece cloth front seats, that lead to no back issues from arising despite being on the saddle for over 6 hours at a time. And while its bold and aggressive exterior aesthetic might divide opinions too, there however is no denying that this tiny Toyota is certainly not a boring looking little car to look at.
All things considered then and considering it on its own for now, the Aygo could be deemed as an adequate city car. It's little foibles means it is by no means a great car in any respect, but it nevertheless does the job of being a cheap and cheerful runabout well enough.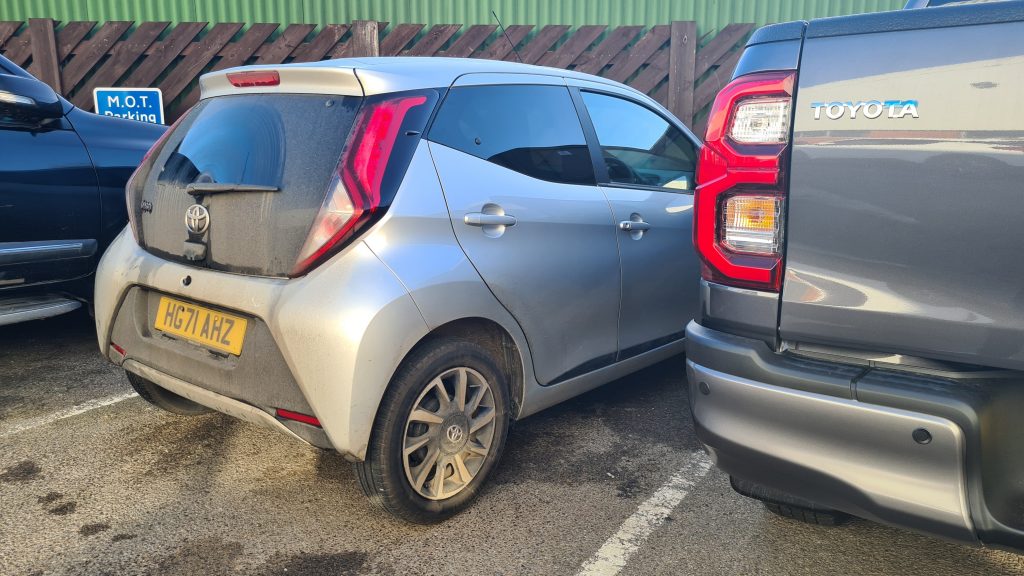 This though is where the Axia needs to be brought back into the discussion again. That is because while the puny Perodua is by no means an awesome city car in any respect, it does however score a few great points against the tiny Toyota.
For one, the Axia has 4 proper doors and four winding windows. It can also can legally fit a whole extra person within, not to mention 2 extra carry-on bags in its boot, with just a marginal increase in length (of 20 mm) over the Aygo. The Perodua could be said to handily beats out the Toyota when it comes to manoeuvrability and chuckability around town too, thanks to the greater visibility afforded to it with a larger greenhouse area. (The Aygo's swooping design towards the rear sees it lose points here over the boxy Axia.)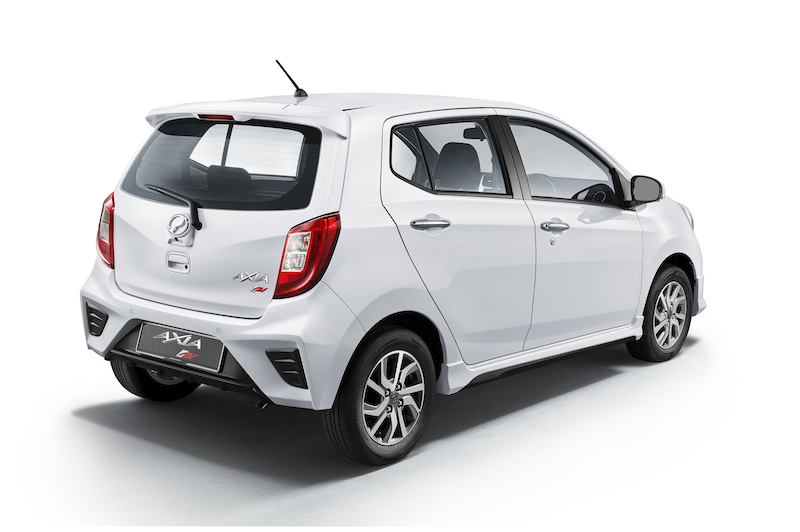 Add a few more mod-cons to it then, and a Toyota-fied Axia could well just fly right off the showroom floors in Europe. Which is kind of ironic, considering that most of the major bits and bobs that make up the Perodua originally came from the Japanese auto giant themselves after all.
With the Aygo X coming out soon enough however, it is unlikely that Toyota will go ahead with rebadging the Axia for sale in Europe. Though at least we Malaysians can however hold our heads up high and be proud to think that the some of the cars we make (mostly) on our own are actually comparable to what is being offered in the rest of the world.
Now if only we could expand on both the range of cars that can fit that criteria, and also the making it on our own part.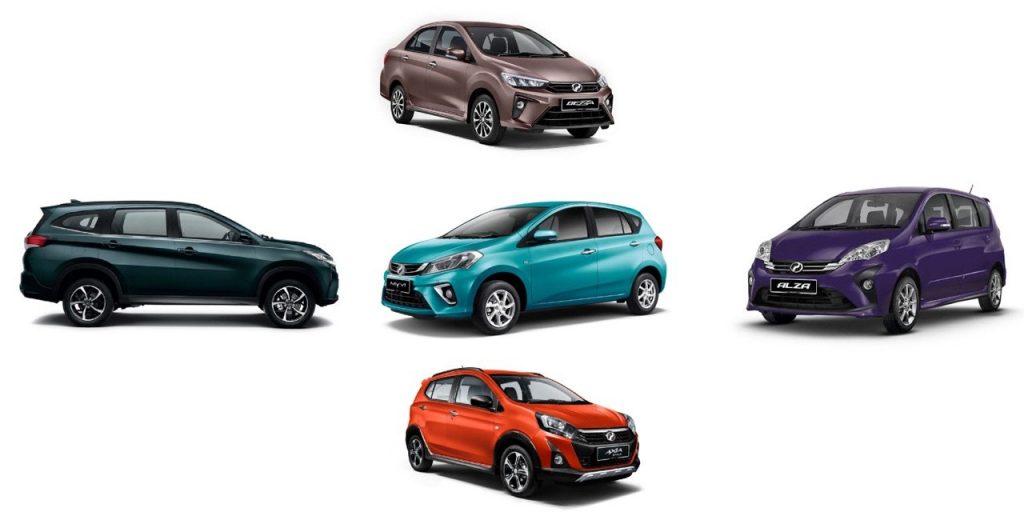 Odds and ends: 
There are only two climate vents on either end of the Aygo's dashboard, with no central vents to speak off. In any case, both circular vents are fortunately more than capable of bringing the compact cabin down (or in the case of winter, up) to temperature with relative rapidity.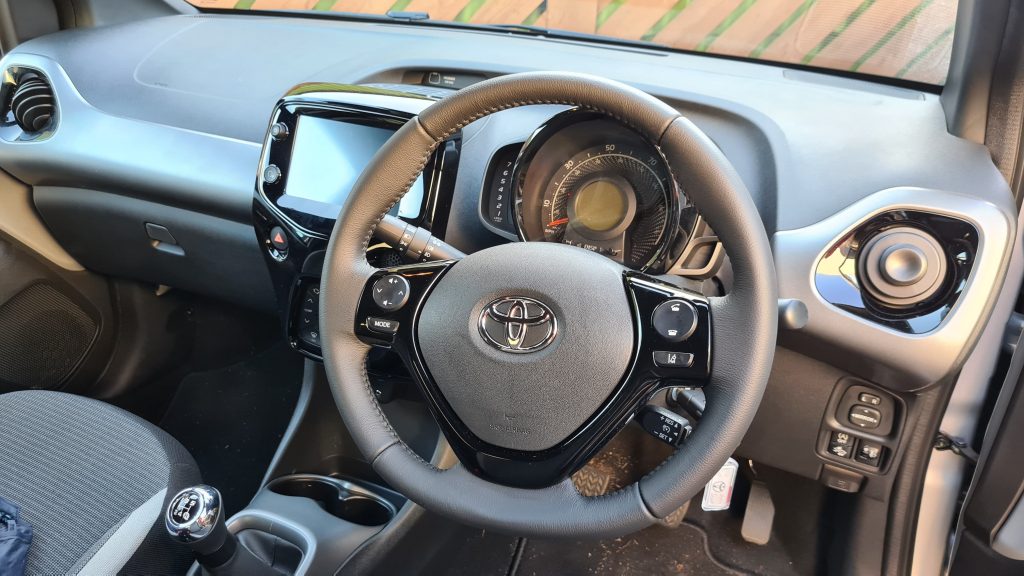 The tinny-sounding four speaker sound system in the Aygo is expectedly not the best in the world. There are also no speakers at the rear too. More the reason then to just go for the three door model, with those wanting the extra two doors better off splurging for the Yaris.
The rear hatch of the Aygo is just a single stamped piece of glass, which lowers production costs at the expense of an extremely high load lip. There is funnily enough a space saver spare tyre underneath the boot floor though, in place of a can of tyre foam that would undoubtably be the cheaper alternative.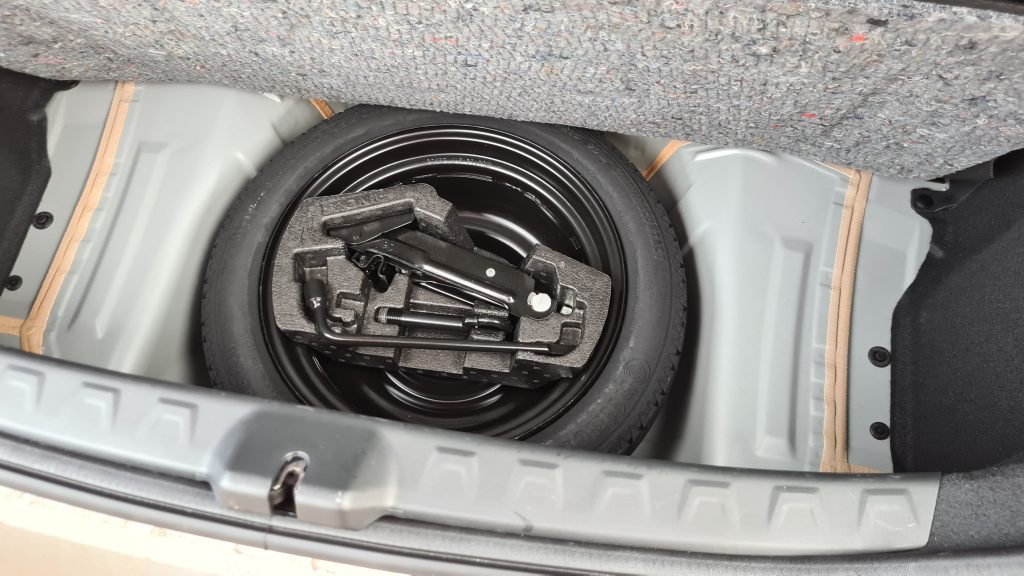 Toyota Aygo 1.0 VVTi X-clusive TSS 5 Door Specifications
Engine: naturally-aspirated 3-cylinder petrol
Displacement: 998 cc
Transmission: 5-speed manual
Max Power: 72 hp @ 6,000 rpm
Max Torque: 93 Nm @ 4,300 rpm
0 – 100 km/h: 13.8 seconds
Top Speed: 160 km/h
Fuel Economy: 3.4 litres/100 km
Price As Tested: £13,239 (RM 75,000)