Automotive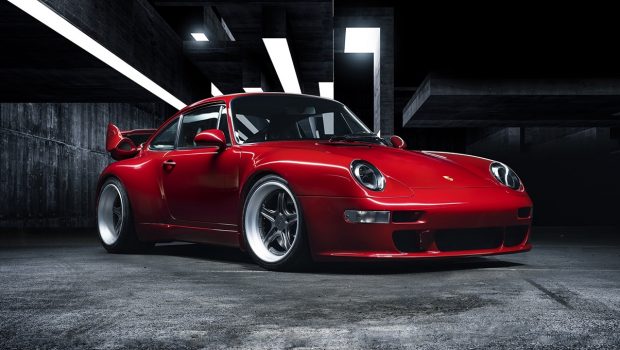 Published on August 9th, 2020 | by Joshua Chin
0
Gunther Werks Has Built The Ultimate 993 911
The last of the air-cooled 911s has finally given the money-no-object resto-modding treatment. 
To many 911 purists, the 993 generation of Porsche's rear engined sports car was considered to be the pinnacle of the breed. With it being the last air-cooled 911 before radiators made their way into the 996 generation of cars. to the people who believe that air is the only thing that should be cooling their Stuggart stallions, there is no better 911 than the 993 generation.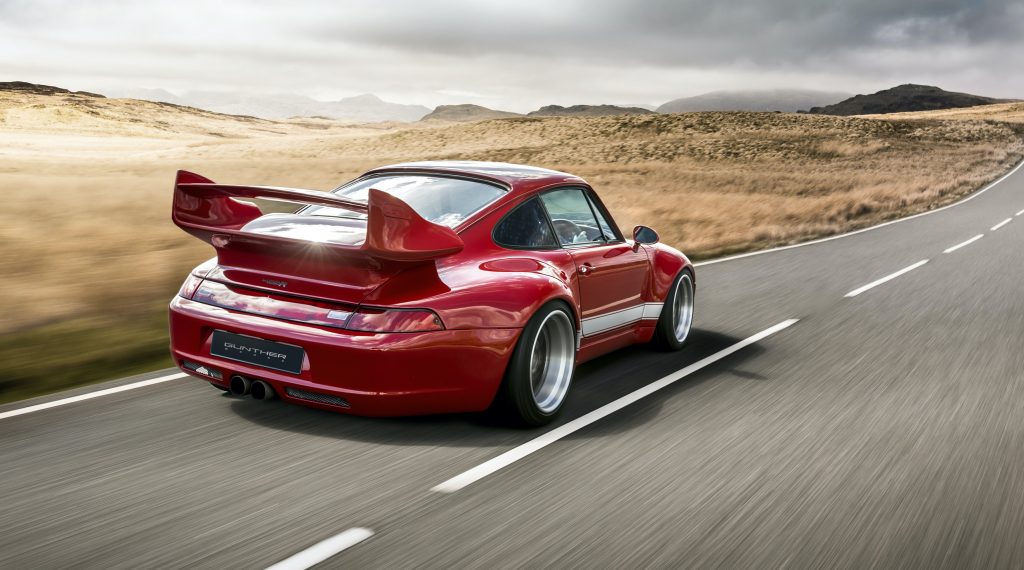 However to those who have seen the Porsche 911 lineup lately, especially their RS line of rear-engined track weapons, there is no doubt that the 911 has greatly improved from 22 years ago when the last air-cooled 993 rolled off the line. So how do these air-cooled 911 aficionados satiate their lust for modern performance, while staying true to their creed?
Enter the Gunther Werks GW 993 program.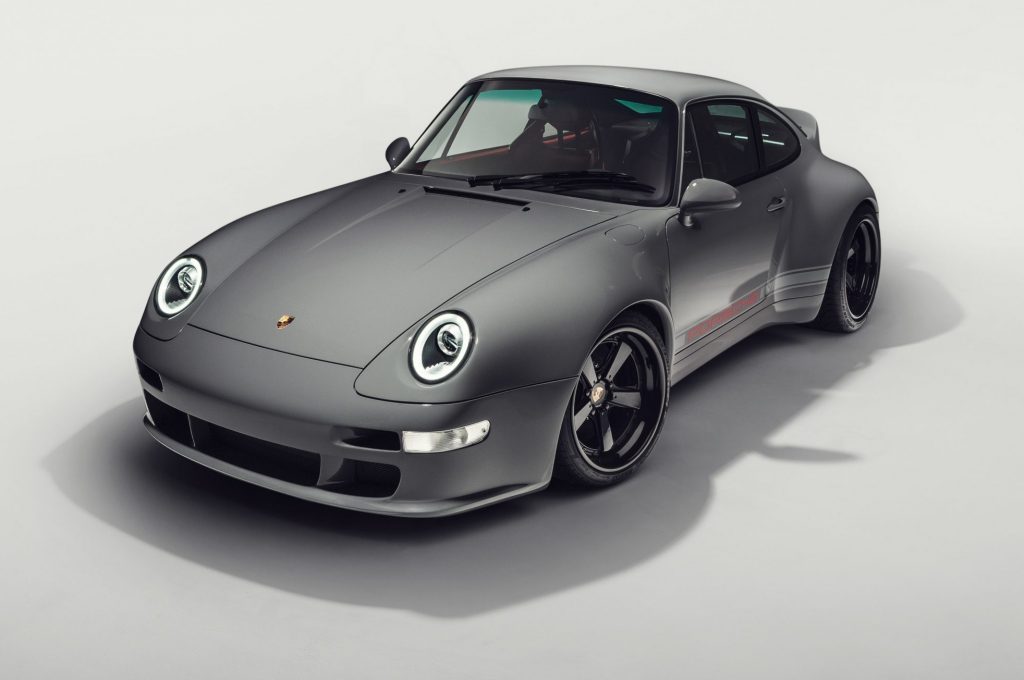 To those who haven't heard of Gunther Werks before, Gunther Werks is a resto-modding tuning house specialising in the 993 generation of 911s. Think of it as Singer for newer Porsches and you won't be far of.
Inspired by the current generation of RS 911s, the goal of the GW 993 project was to 'make the last of these air-cooled Porsches better in ever conceivable way, without, without detracting from the essence that is the pinnacle of air-cooled Porsches.'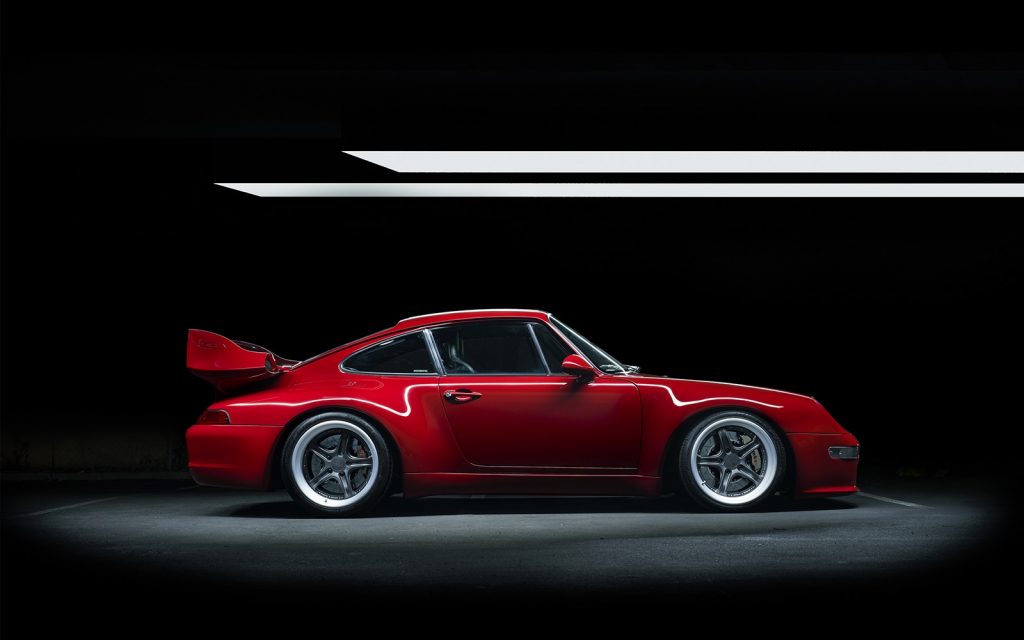 Using the hum-drum Carrera variant as the starting point, they certainly managed to achieve that goal. Every aspect of the GW 993 project will seem familiar to a 993 enthusiasts, but every bit is just subtly better. 
Take the engine for example. Like in a 993 Carrera, a naturally aspirated air-cooled lump still sits behind the rear axles of this Stuggart sports car. However, instead of only producing sub 300 hp, the motor in the GW 993 produces up to 431 hp and a terrifying 423 Nm of torque.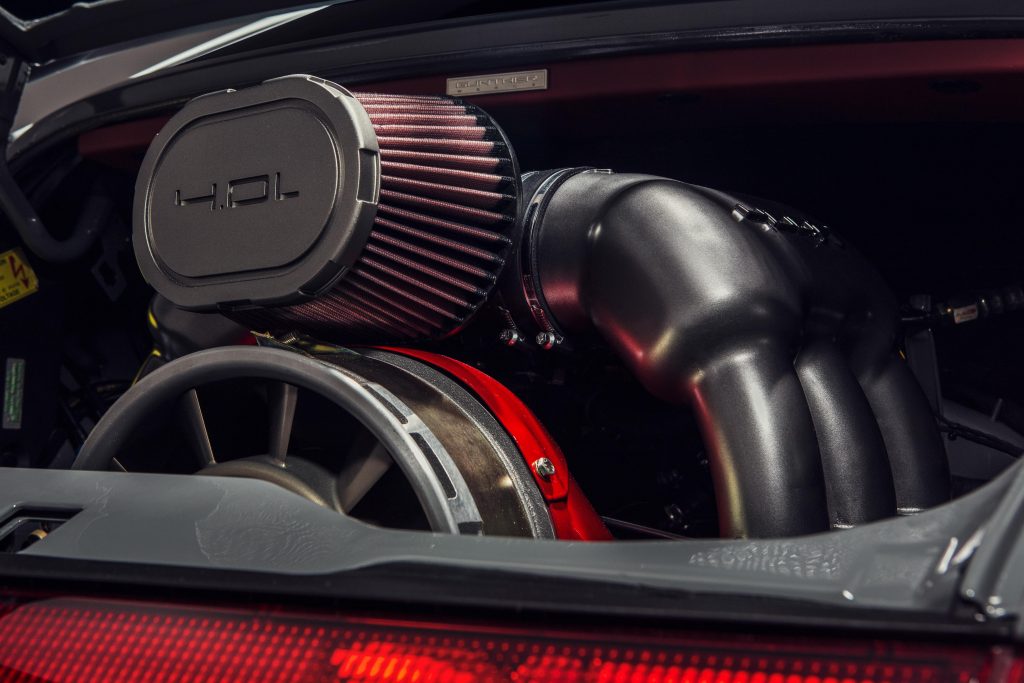 Redlining at 7800 rpm, the motor found in this resto-modded 993 has been thoroughly reworked with parts by some of the best names in the business. Mahle pistons and a twin-spark Motec ECU are among the parts that grace this engine, in addition to custom independent throttle bodies, billet crank and barrels, forged conrods and a bespoke same-length stainless steel header. Mated to the same Getrag G50 6-speed as found in the 993, but now with custom gear ratios and uprated clutch and flywheel, this retro Porsche will undoubtably fly.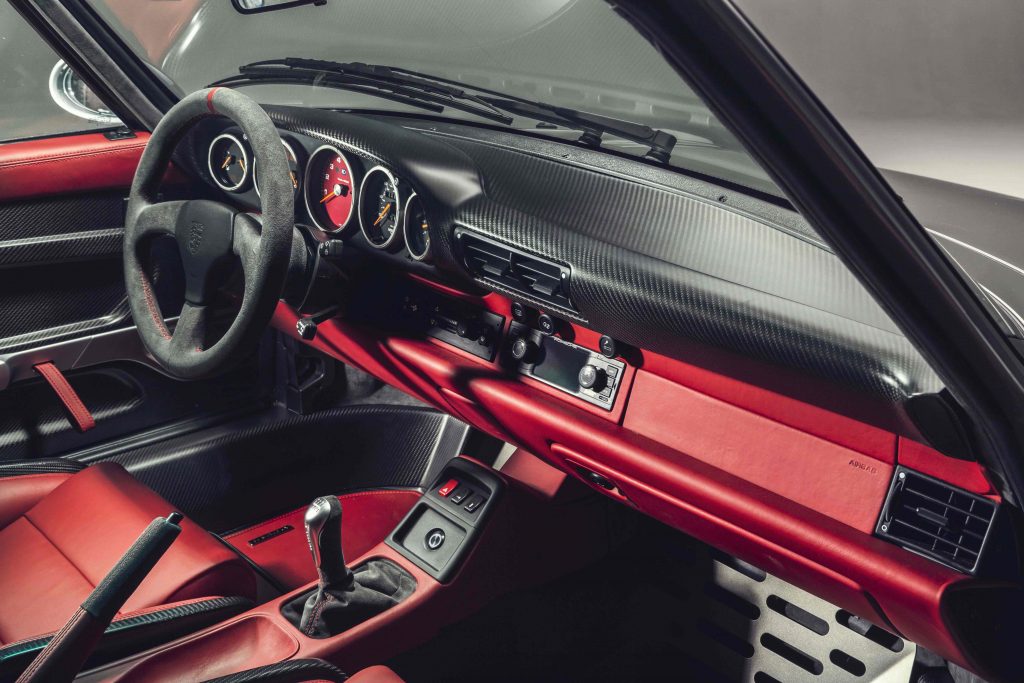 An almost anal attention to detail has also been put into extracting every last drop of power from this enlarged 4.0 litre naturally aspirated engine. The crank-driven power steering and air-con has been replaced with electric-hydraulic and electric systems respectively. Saving nearly 60 kg and recouping some 45 hp. This weight shedding method though is nothing compared to what the diet did to the body.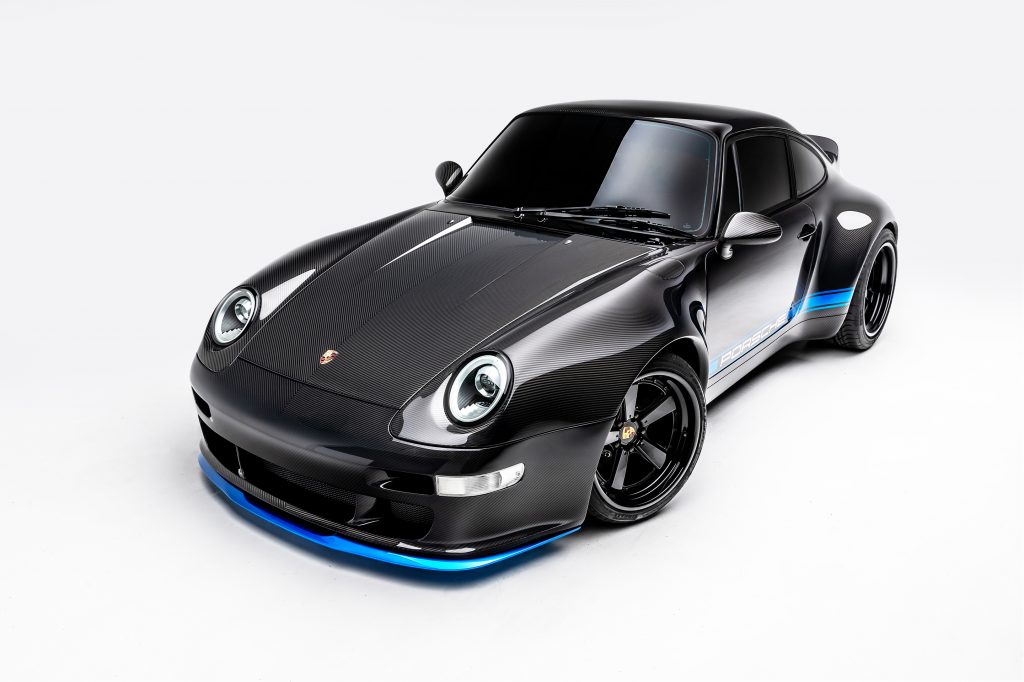 Judging by the extremely wide hips of the GW 993, you wouldn't have guessed that this air-cooled resto-mod weighs less than 1200 kg. In fact, this featherweight Porsche has shed more than 270 kg from its original donor Carrera thanks to the near-full carbon fibre body.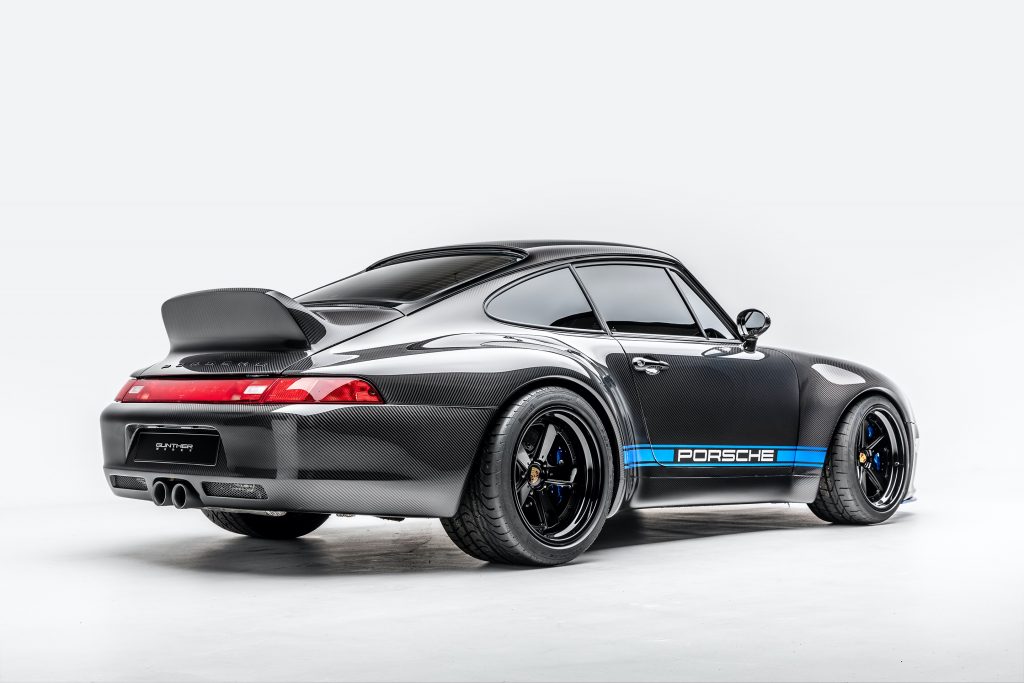 The front and rear bumpers, front and rear fenders, rear quarter panels, side skirts, bonnet and boot lid are all made from carbon fibre. Not to mention the entirely carbon roof too. In total over 800 hours is spent creating this entirely hand laid carbon fibre body. No surprise then that this custom Porsche costs well into the half a million dollar category, before options.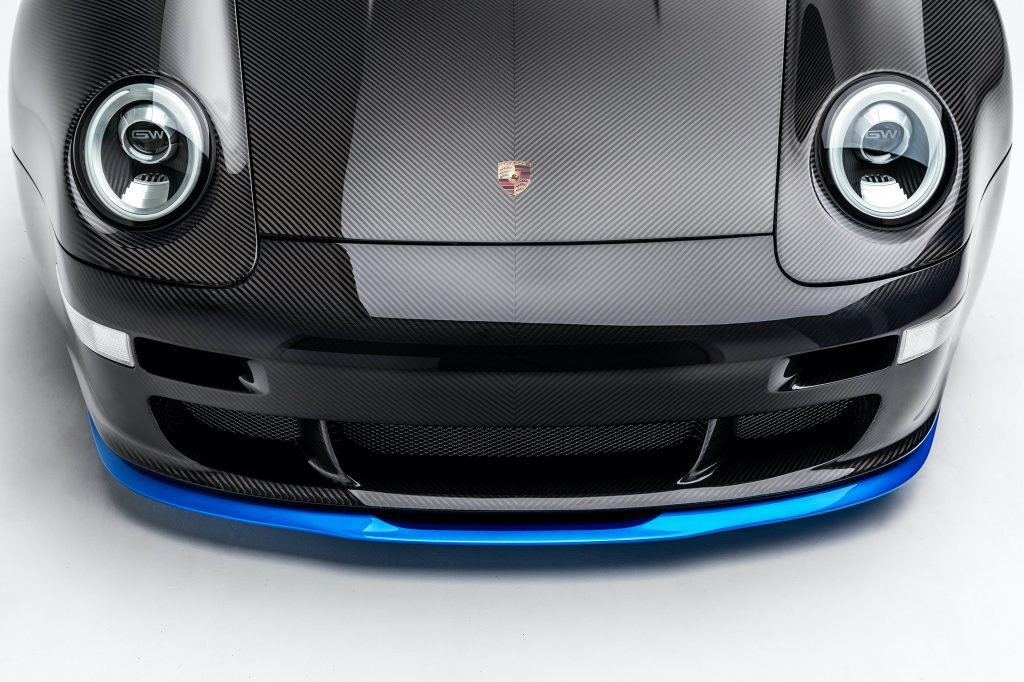 It is worth pointing out though that the weight shedding on the GW 993 was not done just for lightness sake. Actual thought has also been put to improving the 993's handling. Extensive work has been done to achieve a completely square track on the 993, thus effectively eliminating the understeer was inherent in older Porsches.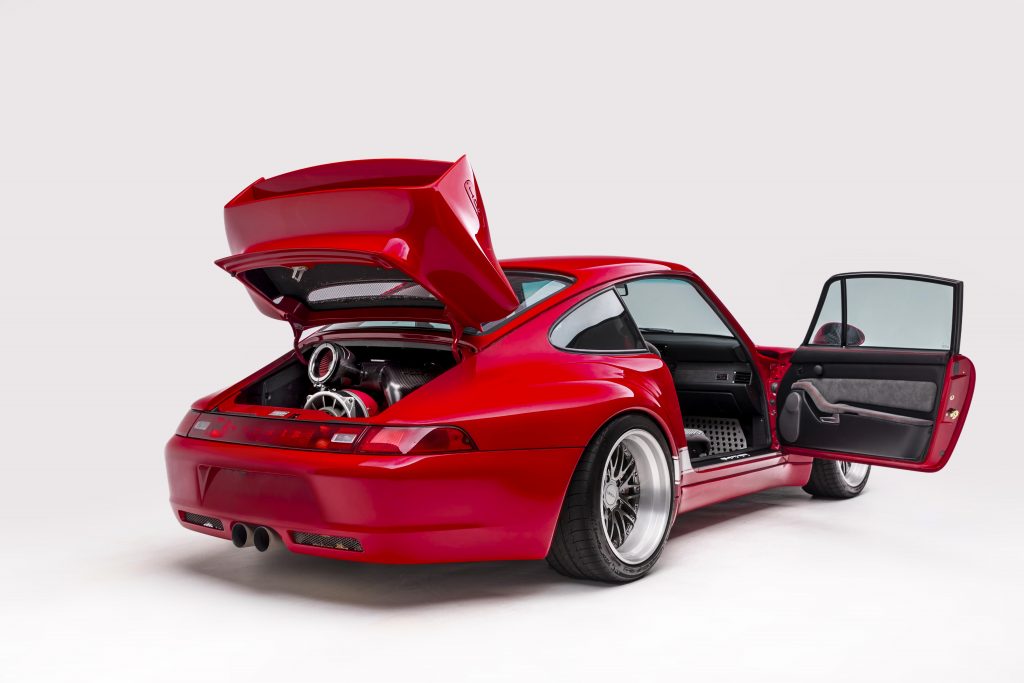 A whole host of suspension work including custom JRZ 4 way adjustable coilovers, lightweight uprights, upgraded bushings and a front strut brace are also partly responsible for the 993 handling like a finely tuned race car. 
The final touch on the handling front would be carbon ceramic Brembo brakes on both the front and the rear. Peeking out from behind the 18 inch bespoke forged aluminium 3 piece wheels resplendent in Pirelli P Zero Rosso racing rubber, this featherweight Porsche has enough braking power to stop on the proverbial dime.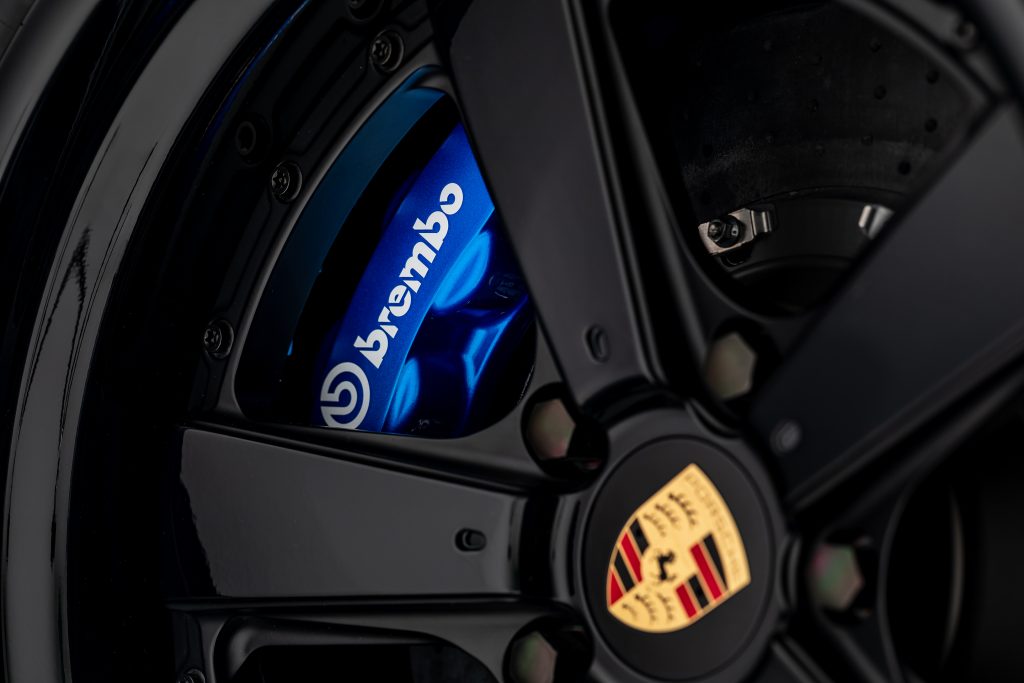 Before anyone thinks that this is a stripped out track day special, the GW 993 also boasts modern touches beneath that classic body shape. Modern illumination comes courtesy of custom Bi-LED projector headlights and LED tail lights.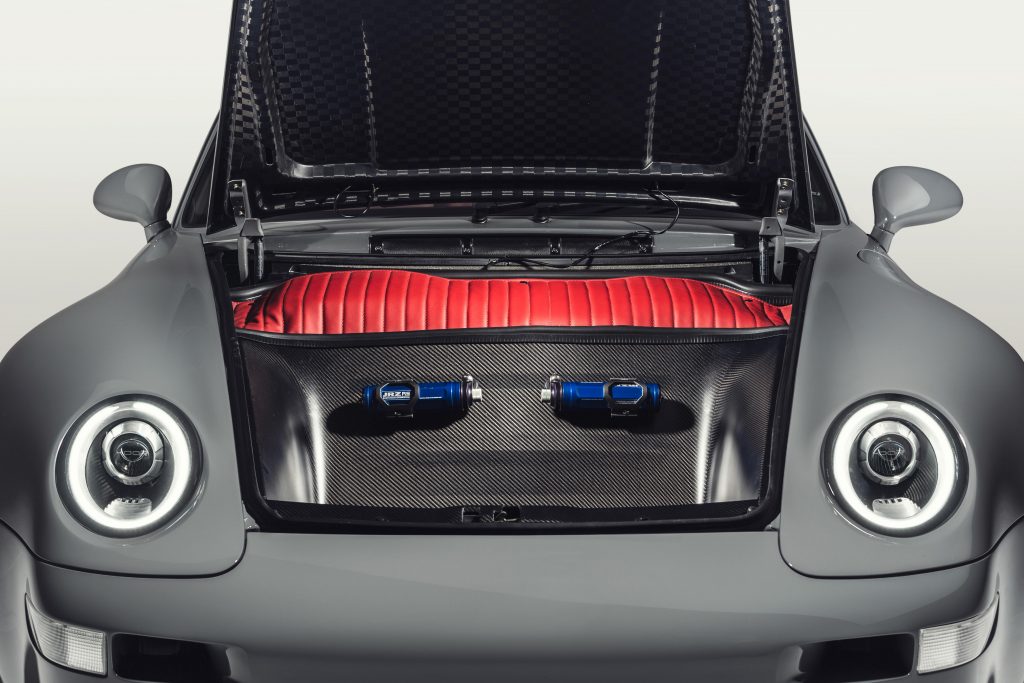 The interior too is fitting for a half a million dollar custom Porsche. Apart from the usual leather, Alcantara and carbon fibre trim pieces festooning the interior, there are also nice touches like the Porsche Classic radio with integrated Apple CarPlay and the custom billet aluminium ignition key. If the custom carbon fibre bucket seats don't clue into how special this car is, the 200 mph speedometer and a red rev counter that reads to 9,000 rpm will remind you of this 993's performance intent.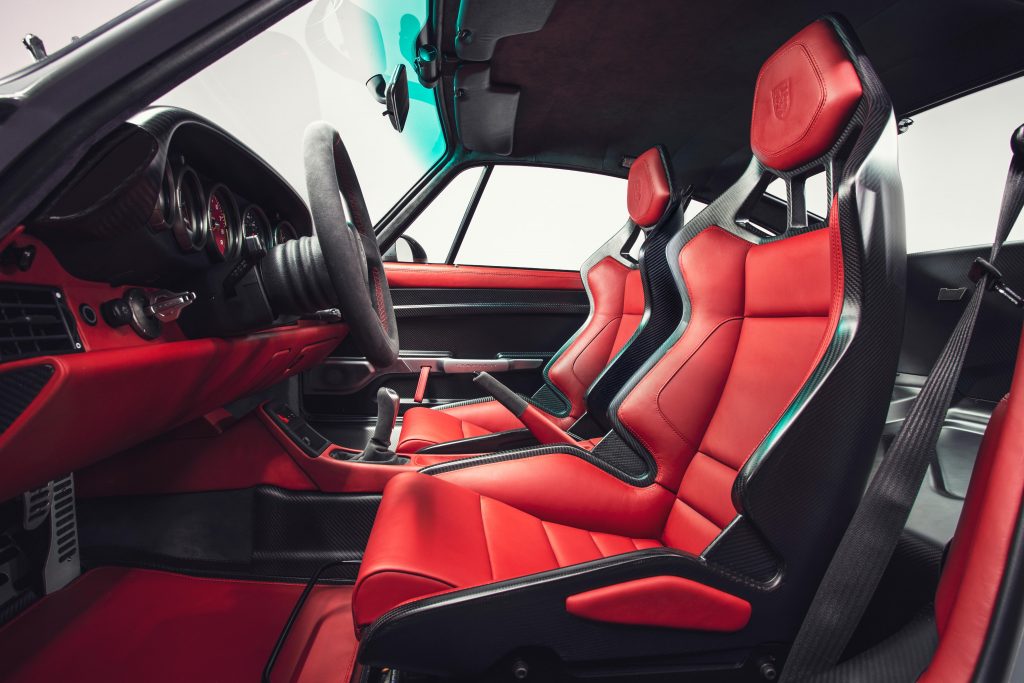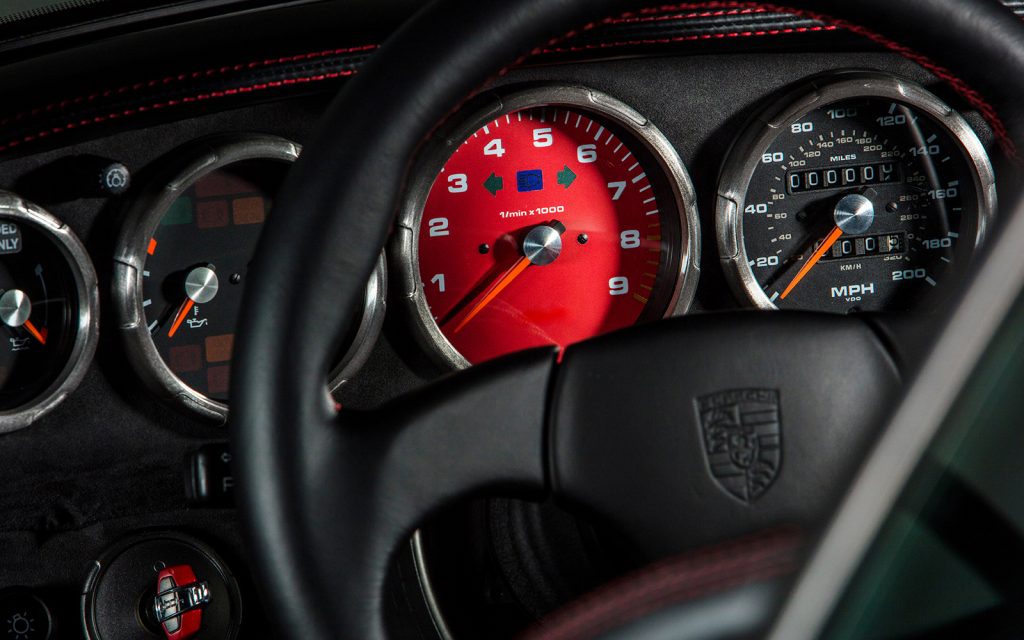 To some, a $525,000 (RM 2.2 million) resto-mod Porsche might seem like a ludicrous amount of money to spend on what is a 20+ year old car. However to the multi-millionaires who think its either the air-cooled way or the highway, the GW 993 might be the perfect car for your garage. But as it is only limited to 25 units, it might already be too late to place your order on this halo 993.