Motorsports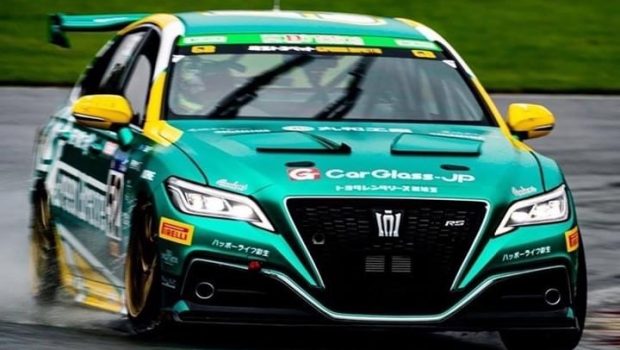 Published on July 22nd, 2020 | by Joshua Chin
0
Saitama Toyopet GreenBrave Crown RS Spotted Testing
First debut for its new Toyota Crown RS Endurance Racer
Fresh from their victory at the Super GT300 class at the first round of the 2020 Autobacs Super GT Series on Sunday, the Saitama Toyopet GreenBrave racing team has been spotted hard at work testing a new race car on the same track a day later. 
The #52 Saitama Toyopet GreenBrave Toyota GR Supra won the Super GT300 class at the first round of the 2020 Autobacs Super GT Series, and came third overall alongside a 1-2 lockout by the Super GT500 category GR Supras. Thus capping off an overall Toyota 1-2-3-4 during the race on Sunday. 
The main story however was the team were spotted testing their new Toyota Crown RS race car, supposedly built for the 2020 Perelli Super Taikyu championship. Based on the stickers on the rear windows of the Crown, it appears that this racing car would be racing in the ST-3 class of the Super Taikyu Series.
The ST-3 class consists of rear wheel driven cars with engine capacities of 2,001 cc to 3,500 cc. Other cars competing in the Super Taikyu ST-3 class includes Lexus RC350, Toyota Mark X and the Nissan 370Z (with a downsized engine to meet regulations).
Sources say that the Saitama Toyopet GreenBrave Toyota Crown RS, to give it its full title, is based on the Toyota Crown RS, which itself is the souped up version of the Japan only Toyota Crown luxury sedan. SuperGT regulations only allow little aerodynamic modifications so the body is still stock looking, discounting the massive rear spoiler of course. 
As for the powertrain, this green racing Crown utilises a 2.0 turbocharged engine, supposedly the same 8AR-FTS inline-four as in the production Crown. Although this racing unit had some major fettling by the racing gurus at TRD, as evidenced by the massive racing sticker on the engine and the car being surrounded by TRD technicians all day. 
Weather conditions were poor on Monday but a full shakedown run was achieved and trackside observers commented that they could still hear the screaming engine and sequential gear clicks over the downpour. 
The Toyota Crown, although active in drift championships, has not been seen in endurance racing for a long time. This is due to many teams opting for the similarly sized Toyota Mark X instead, like the #52 car that Saitama Toyopet GreenBrave still runs in the Super Taikyu Series. But perhaps due to the Mark X ceasing production last December, teams like GreenBrave are now switching to the Crown RS instead as a replacement for the Mark X in its racing fleet. 
Saitama Toyopet GreenBrave has yet to comment on whether this strikingly green Crown RS will replace the fan-favourite Mark X, or race alongside it for the 2020 series. What is known though is that this Crown RS will debut at the NAPAC SUPER TEC 24 Hours race in the Fuji Speedway scheduled for September this year.