Automotive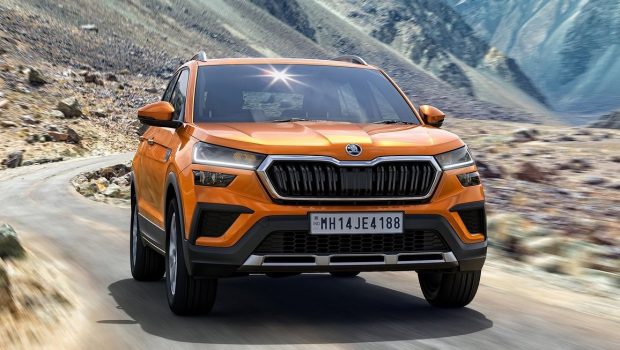 Published on March 19th, 2021 | by Joshua Chin
0
Skoda Unveils New Kushaq Crossover For India
This new Kushaq is the first model in Skoda's wider Indian expansion ambitions. 
Skoda is not just looking forward to grow its Asian footprint in China alone, but also in India too with the automaker recently unveiling its Kushaq over there. Touted to be typically Skoda but distinctly Indian, the automaker is pinning its hopes that this new B-segment crossover will be the stepping stone on its wider INDIA 2.0 expansion ambitions over there.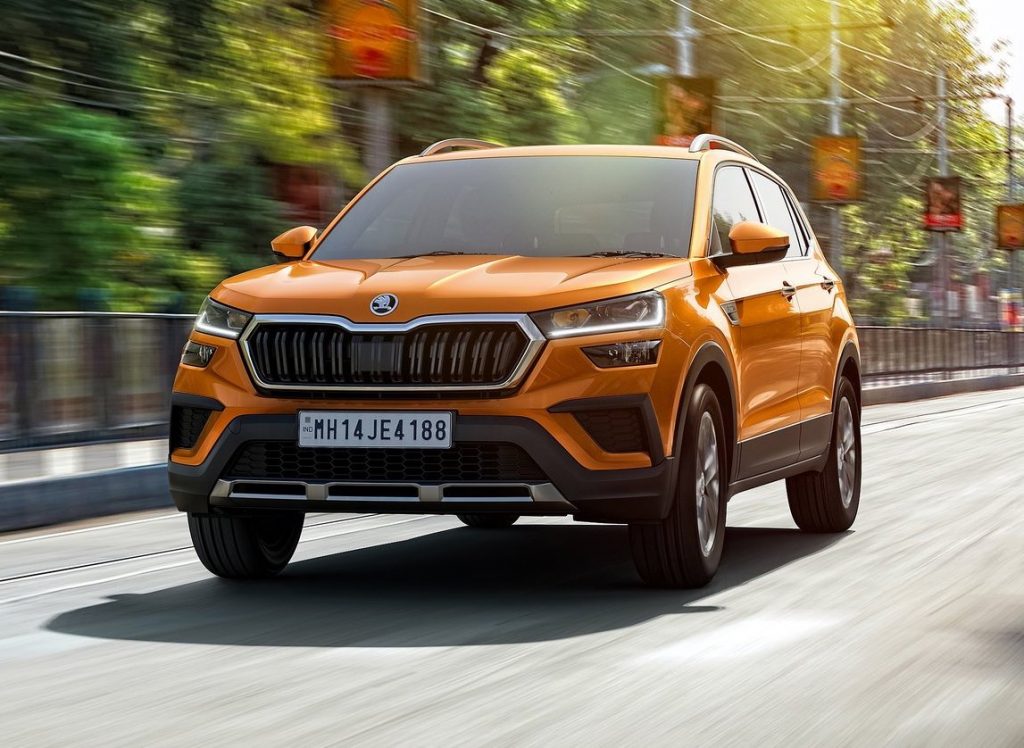 The first of four Volkswagen Group vehicles to be based on a variant of its MQB A0 platform that has been tailored for the Indian market, this new Kushaq is dimensionally similar to the likes of the Kia Seltos or even its Euro-spec brethren, the Kamiq. Unlike its European-biased counterpart however, this made-for-India compact crossover does ride a full 23 mm higher in order to take on the country's more 'challenging' road surfaces.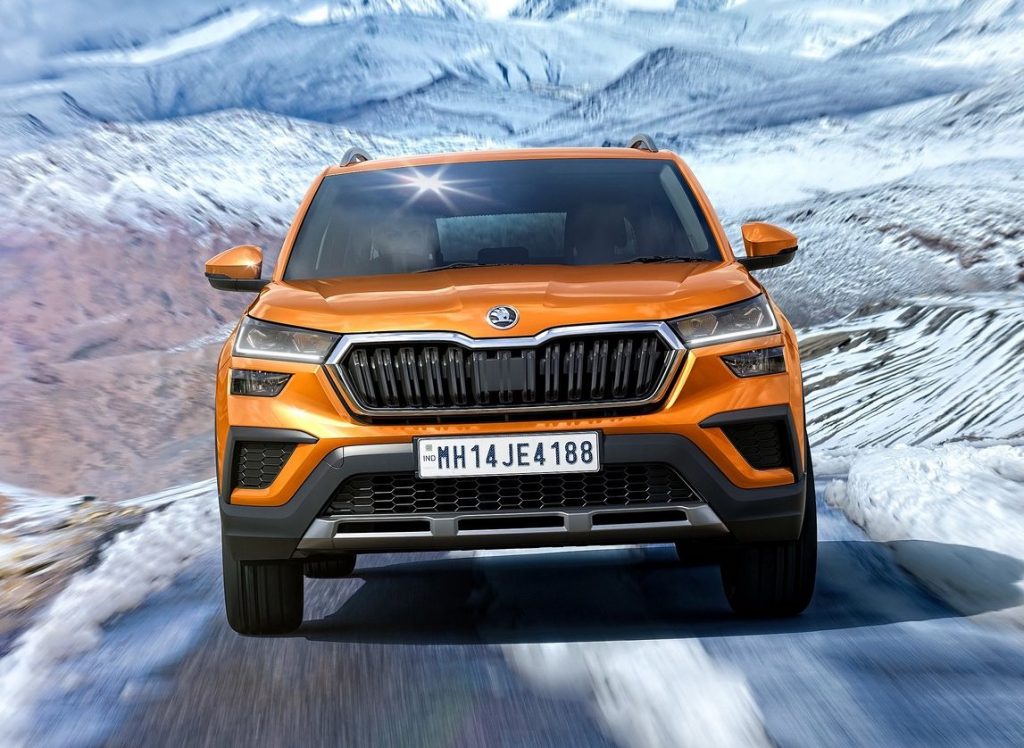 Continuing on its Indian influence, the Kushaq also comes as standard with 16-inch steelies as standard, with larger alloys relegated to the options list. Having said that, this Skoda SUV nevertheless does still retains much of automaker's corporate design direction with square, chunky silhouette with a double-shoulder side profile is capped off on either end by a large hexagonal grille flanked by split headlight clusters (LED on higher end models) up front, as well as inverted L-shaped tail lights round the back.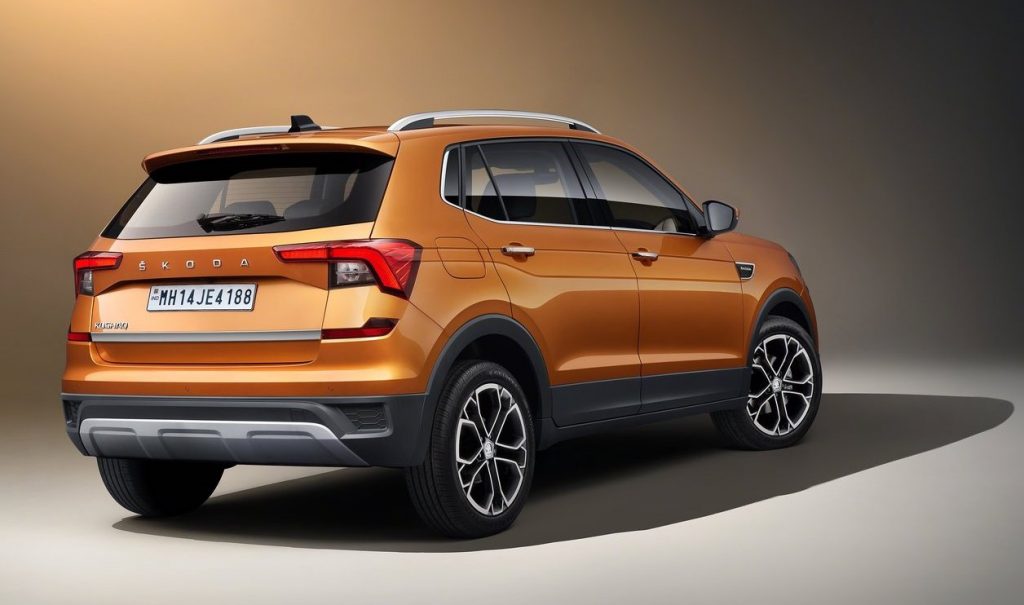 Other design details worth highlighting are the black plastic body cladding, silver roof rails and the silver skid plates that further gives the Kushaq a rugged edge. This particular Skoda crossover is also available in Honey Orange and Tornado Red, colours that have been developed specifically for the Indian market.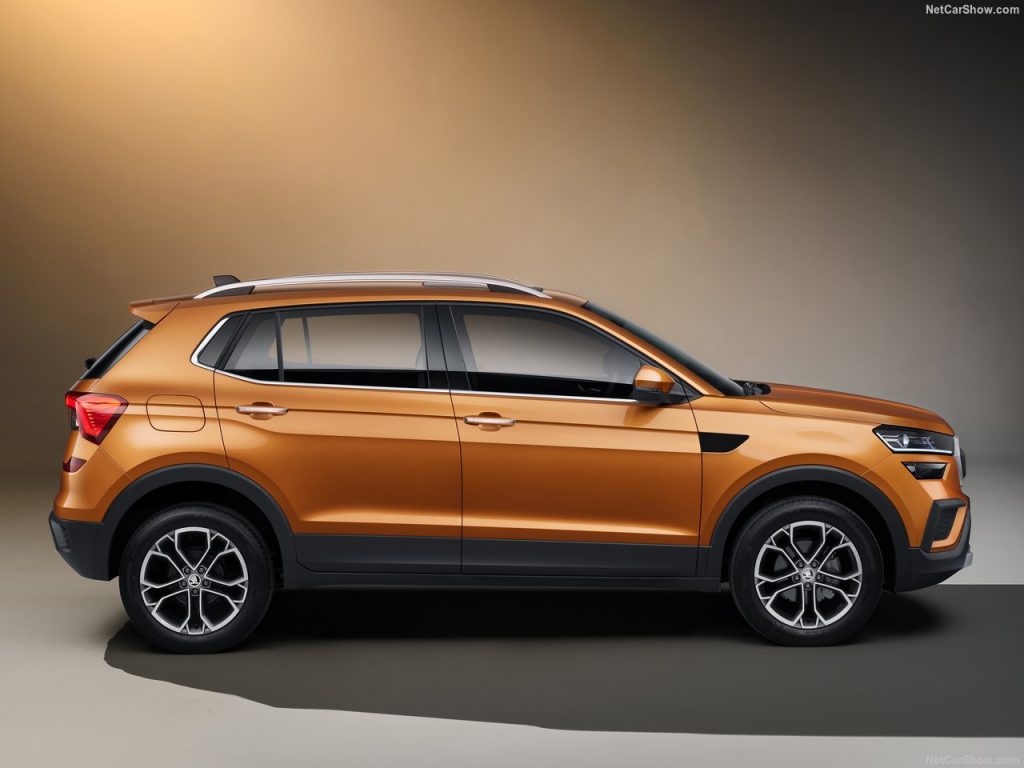 Now stepping inside the Kushaq, the clean, straight-edged dashboard design is topped off with a twin-spoke steering wheel, floating central touchscreen of either 7- or 10-inches in width and a little well that serves as a talisman holder. Part of the Skoda's 'Simply Clever' interior storage solutions, this compact crossover also features large door bins with elasticated straps, an A-pillar parking ticket holder, shopping bag hooks in the 385 litre boot and front cupholders with an adhesive rubber lining that allows drivers to open a water bottle one-handed.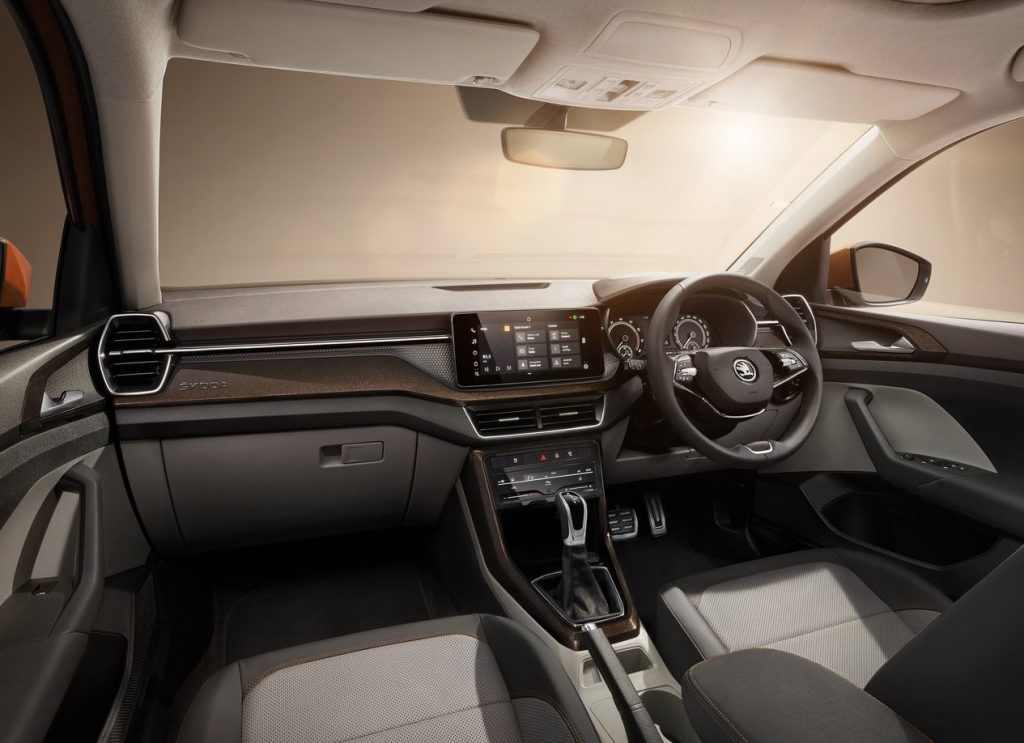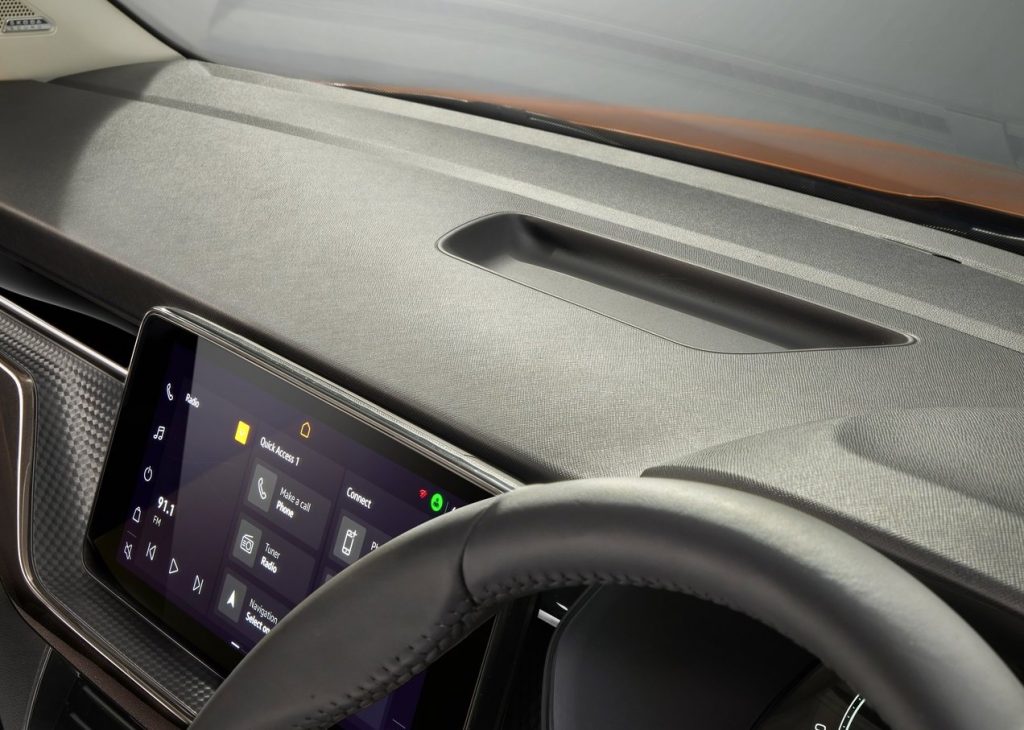 Being an Indian market car too, air conditioning comes as standard on the Kushaq, with a cooled glovebox and single-zone climate control also available on higher-end variants. These more premium variants also benefit from an upgraded sound system, LED interior ambient lighting, a wireless charging pad, ventilated front leather seats and a sunroof.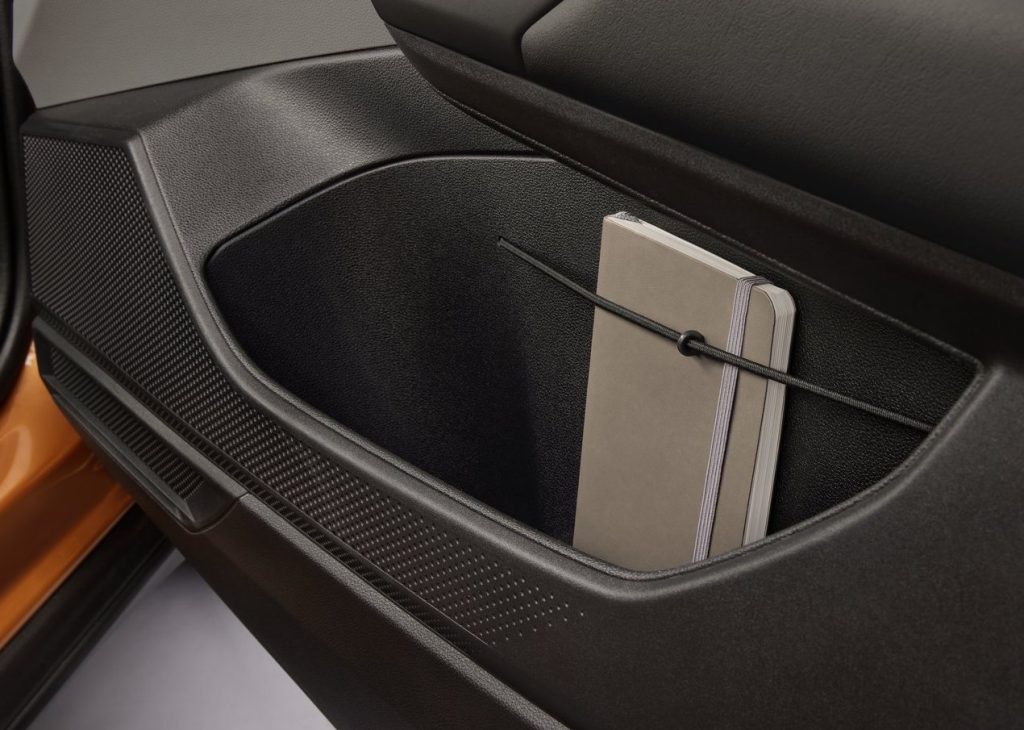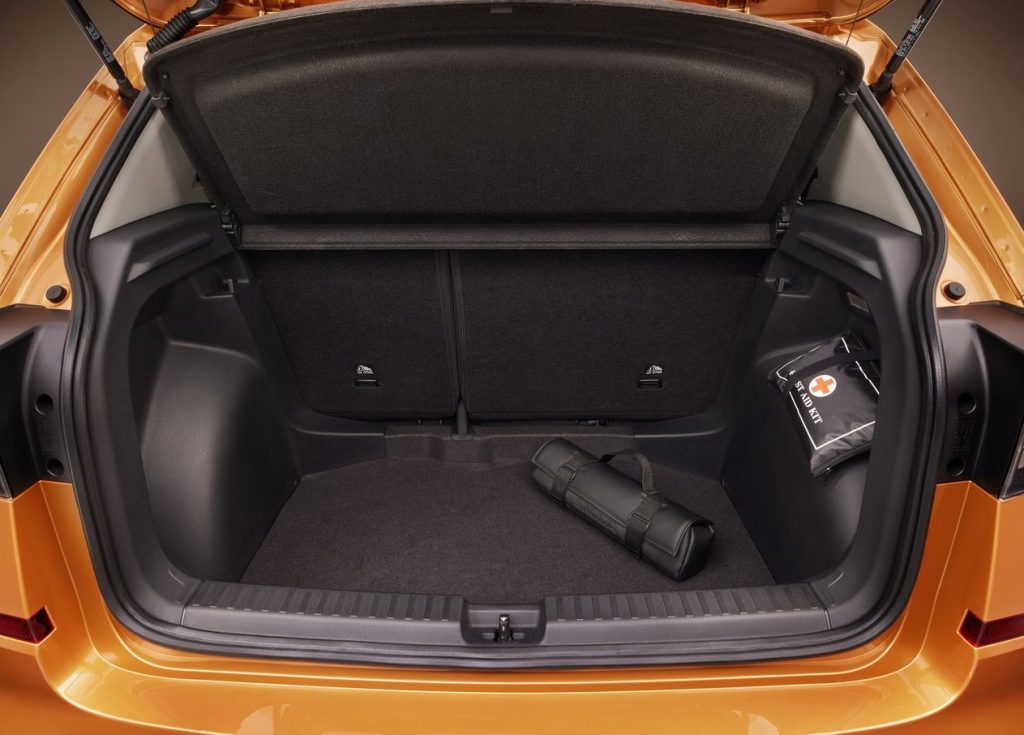 Moving on to what is under the hood of the Kushaq, a choice of two turbocharged TSI engines are available to drive the front wheels of this Skoda crossover. The first of which is a 115 PS/175 Nm 1.0 litre three-cylinder unit that is mated to either a 6-speed manual or 6-speed automatic transmission, with the second option being a larger 1.5 litre four-cylinder that outputs 150 PS and 250 Nm of torque that is available with a 7-speed dual-clutch transmission in addition to the aforementioned manual gearbox.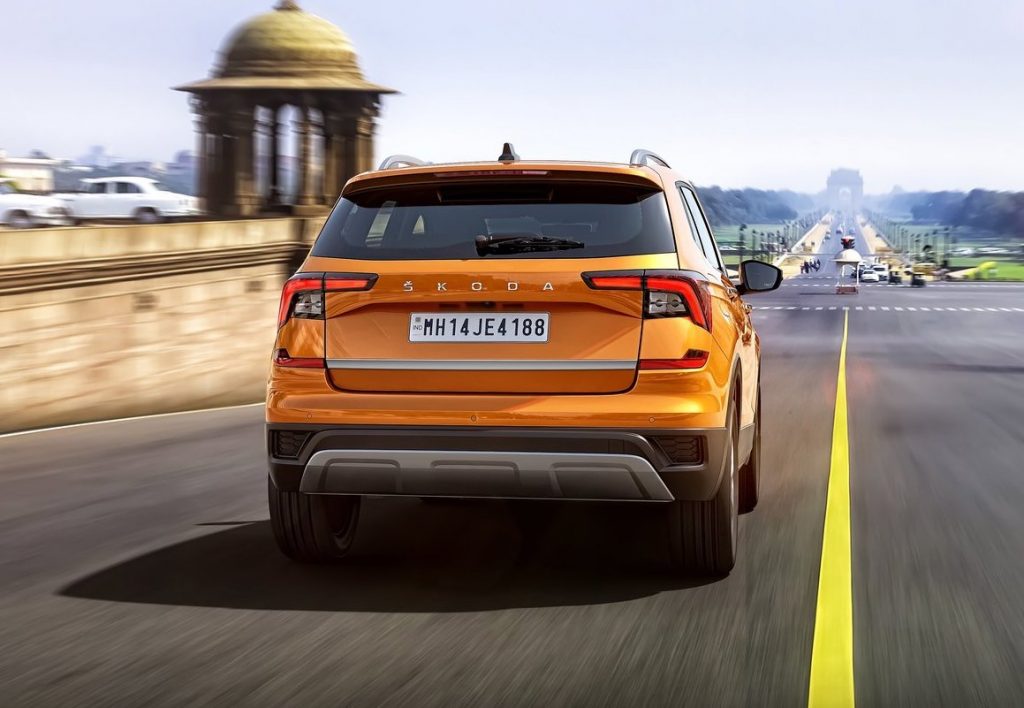 To be built in Skoda's new Indian plant in Pune with as much as 95% of all its parts coming from Indian suppliers, this new Kushaq is set to go on sale June with local deliveries occurring a month later. Prices for this compact SUV has yet to be officially announced, but the figures that have been floating around indicates that it is to cost from between Rs 10 lakh (RM 57,000) for the base model to Rs 17 lakh (RM 96,000) for the top-tier variant with all the bells and whistles. 
As for the chances of the Kushaq making it out of India, it would seem that Skoda has no official plans yet to begin exports to similarly developing nations. Moreover, if this compact crossover does make it outside of the Indian borders, there isn't exactly an established dealer network for the Czech automaker over here to receive it.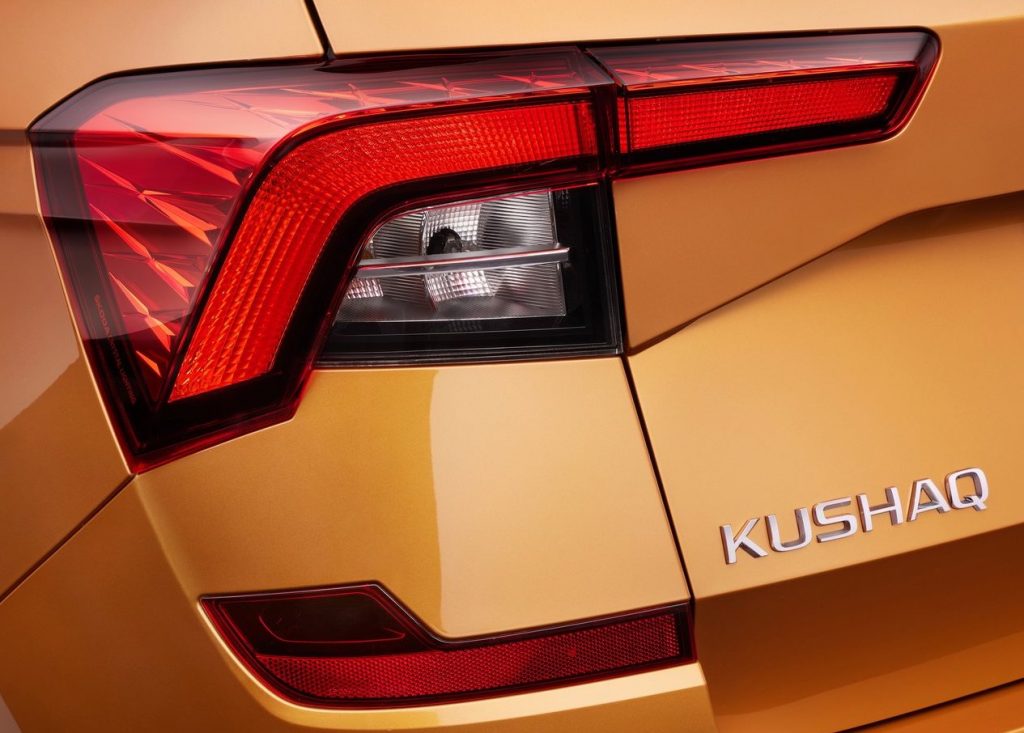 PRESS RELEASE: On the one hand, the new ŠKODA KUSHAQ is a typical ŠKODA, but on the other hand it's distinctly Indian. As much as 95% of all its parts will come from Indian suppliers, and many of its features are tailor-made for Indian customers.
The car's design was also developed with the taste of Indian customers in mind. The KUSHAQ is a head-turner, with its muscular lines giving this SUV a more adventurous and tougher look. Distinctive details and the use of contrast features in line with the trim selection or colour scheme are designed to appeal to Indian customers.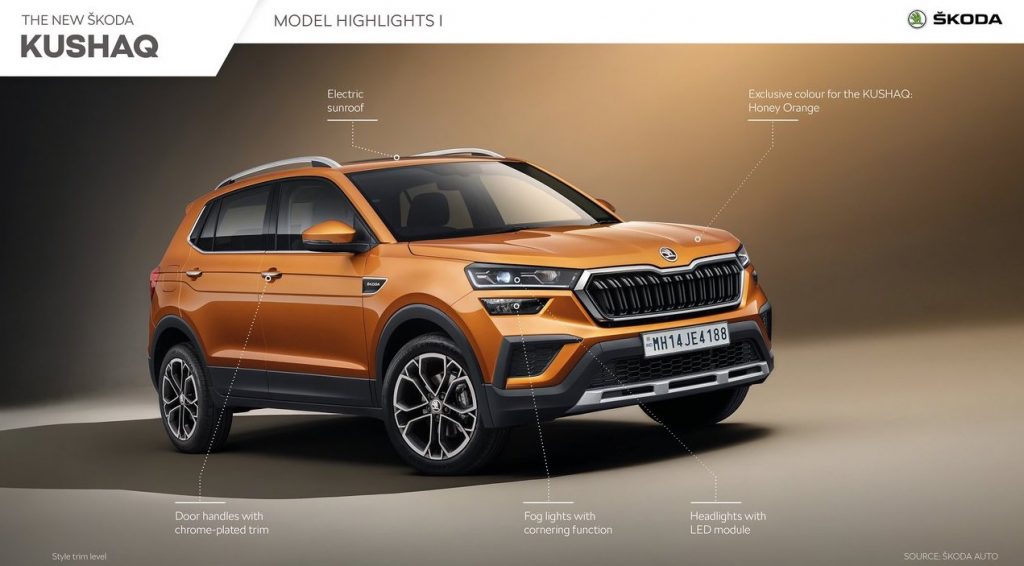 Exclusive colours
Two of the available colours, Tornado Red and Honey Orange, will be exclusive to the Indian market. As ŠKODA Storyboard previously learnt from designer Caroline Liehr, head of ŠKODA's design studio in Pune, Indian customers love colour and are much bolder than drivers in Europe in that regard. And their reward for this boldness is the new distinctive colour schemes available for the KUSHAQ. More conservative shades will also be available, of course: the popular Candy White, metallic Reflex Silver and metallic Carbon Steel.
The car's measurements were also adapted to Indian customers' requirements. The dimensions of 4,221 x 1,760 x 1,612 mm (l x w x h) and 2,651 mm wheelbase make the newcomer the ideal car for almost any environment: teeming city streets and busy and often very bumpy roads in the countryside and smaller towns. The clearance of 188 millimetres is also a big help in that regard. 
The KUSHAQ has also been given truly big wheels: sixteen inch steel wheels with stylish hubcaps come as standard, while customers can also choose sixteen or seventeen inch light alloy wheels.
Another detail tailored to the local market is air-conditioning which comes as standard. Air-conditioning comes with the basic Active trim, while the higher Ambition and Style trims boast digitally controlled Climatronic air-conditioning. The model's interior is very roomy and airy (the Style trim package features an electric sliding sunroof), with 385 litres of luggage space behind the rear seats. There's another 26.2 litres of storage space in the cockpit itself. From the Ambition trim level upwards, the 6.1 litre passenger seat glove compartment is air-conditioned. One little speciality for Indian customers is a little well on the dashboard where drivers can safely keep their lucky talisman: it will stay in one place and in the driver's line of sight.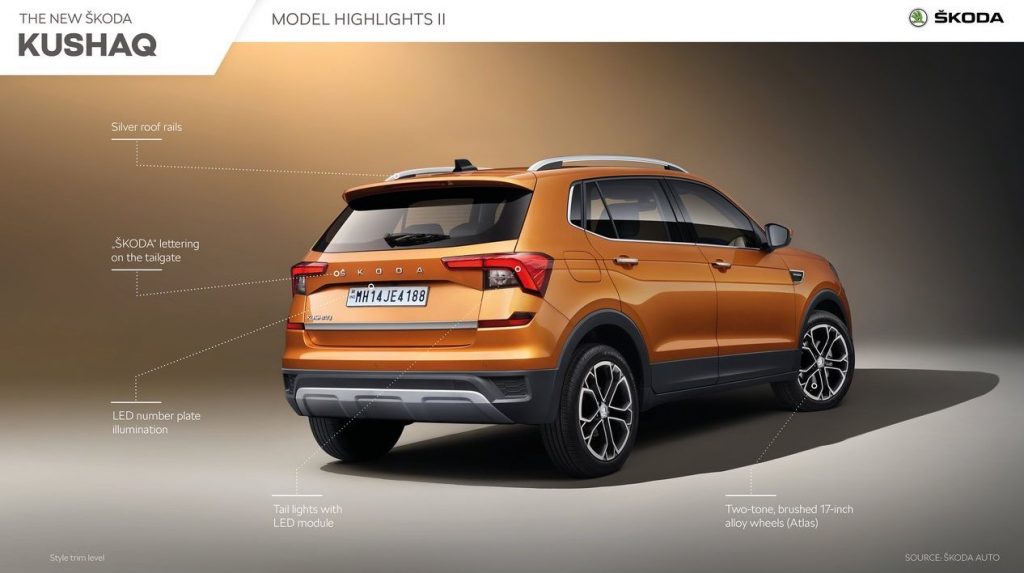 Affordable price and state-of-the-art technology
Affordability is one of the important factors bringing success on the Indian market. The KUSHAQ is not intended to be the cheapest car in India, but local customers will appreciate ŠKODA's typically excellent value-for-money. At an affordable price, customers will get a spacious and practical car with a wide range of features, including state-of-the-art technologies available to customers on the most demanding car markets.
The headlights are a good example of this strategy. Starting with the Ambition trim, the KUSHAQ has a set of LED headlights with ŠKODA's typical crystalline design. In the KUSHAQ's two-section headlights the LED lamps are used both for daytime lights and for passing and full beam lights, while the brake lights and rear lights use diodes.
The ŠKODA KUSHAQ is also the first car on the Indian market that comes with the ESC stabilisation system as standard in all versions. That is a sign of the emphasis on safety, which continues with other features: the KUSHAQ can have up to six airbags; it has a multi-collision braking system as standard and ISOFIX anchor fixtures on the rear seats. Drivers will benefit from assistance systems like the optional Hill Hold Control and cruise control. A tyre pressure sensor and rain sensor are other optional extras.
The car is powered by either a three-cylinder 1.0 TSI engine delivering 85 kW (115 hp) or four-cylinder 1.5 TSI giving 110 kW (150 hp). The engines can be hooked up to a six-speed manual gearbox or automatic transmission. The automatic transmission for the smaller engine is six-position, but the four-cylinder engine can come with a seven-position DSG transmission.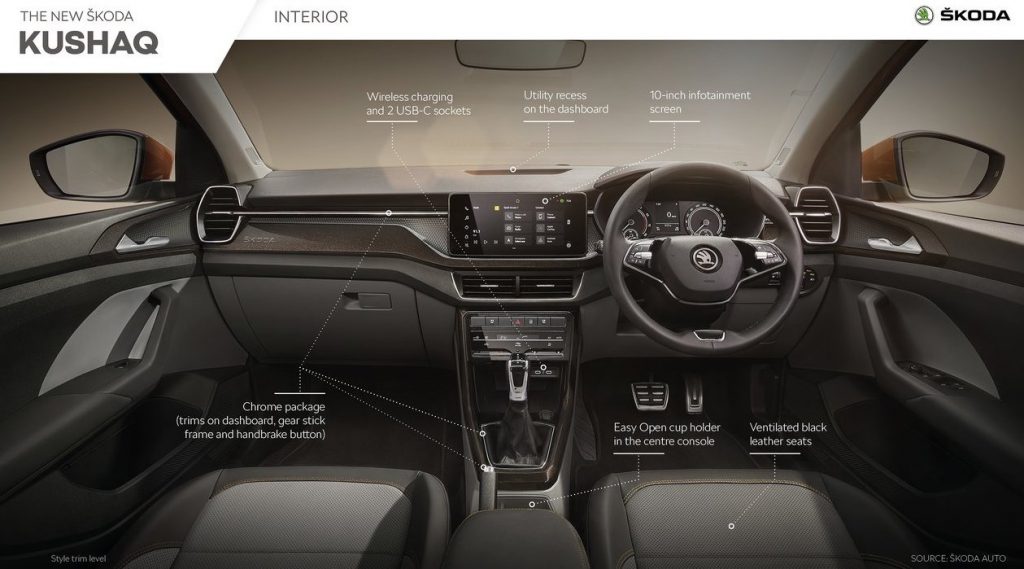 Simply Clever, of course
The KUSHAQ's dashboard technologies are state-of-the-art as well. The "floating" infotainment display that is so typical or ŠKODA cars today comes in 7 and 10 inch sizes depending on the choice of trim. Needless to say, it is a colour touch screen that connects to a mobile phone. This means that owners will be able to make use of the numerous ŠKODA Connect services, including the option of obtaining a navigation function from the ŠKODA app shop. That applies to the top-of-the-range infotainment version. Another optional feature is the PhoneBox holder for wireless mobile phone charging, but of course there will be USB connectors as well (USB-A and USB-C).
ŠKODA's Simply Clever philosophy is also evident in the practical storage spaces: besides the talisman holder on the dashboard there is the Jumbo Box in the centre console, generously sized pockets in the doors, which can even hold large bottles, and the cleverly designed drinks holders that make it easy to open a bottle with just one hand. There is another cup holder in the pull-out backseat elbow rest. There is a parking ticket holder in the A-pillar and shopping bag hooks in the luggage compartment, while ambient LED lighting enhances the interior atmosphere.
There's no doubt the KUSHAQ is a typical ŠKODA: clever features, affordable and genuinely robust. And suitably stylish.