Automotive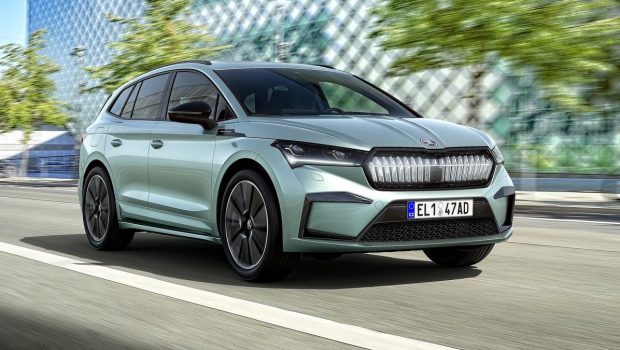 Published on September 3rd, 2020 | by Joshua Chin
0
New Enyak iV Is Skoda's First EV SUV
Skoda's first bespoke EV SUV attempt has an impressive 510 km of range. 
Skoda has just announced its first bespoke EV SUV in the form of the new Skoda Enyak iV. Interesting name aside, this new Czech electric SUV could be the EV SUV that is a genuine alternative to its internal combustion engined counterparts.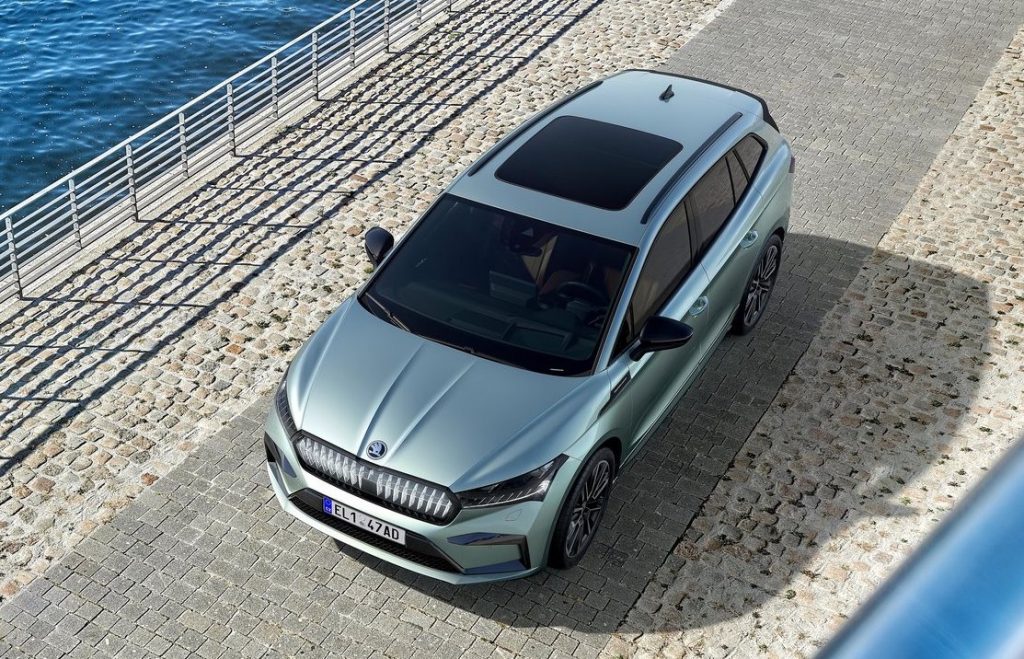 The first Skoda to be based on Volkswagen's new MEB modular EV platform, the Enyak iV is  a handsome looking car. Discounting the almost unnecessarily large front grille with slats that illuminate on higher-trim variants, the overall design of the Enyak is steers towards more conventional car design language than other more radical-looking EVs around. 
A lot of emphasis of the exterior design has also been put into the aerodynamics of the Enyak iV as although about the same size as any other mid-sized crossover on the market today, this 5 seat Skoda SUV apparently has a Cd factor of just 0.27. An impressive feat for an SUV of this size. That being said this is partly thanks to its lower stance compared to other crossovers, with the Enyak sitting somewhere between an MPV and an SUV in terms of height.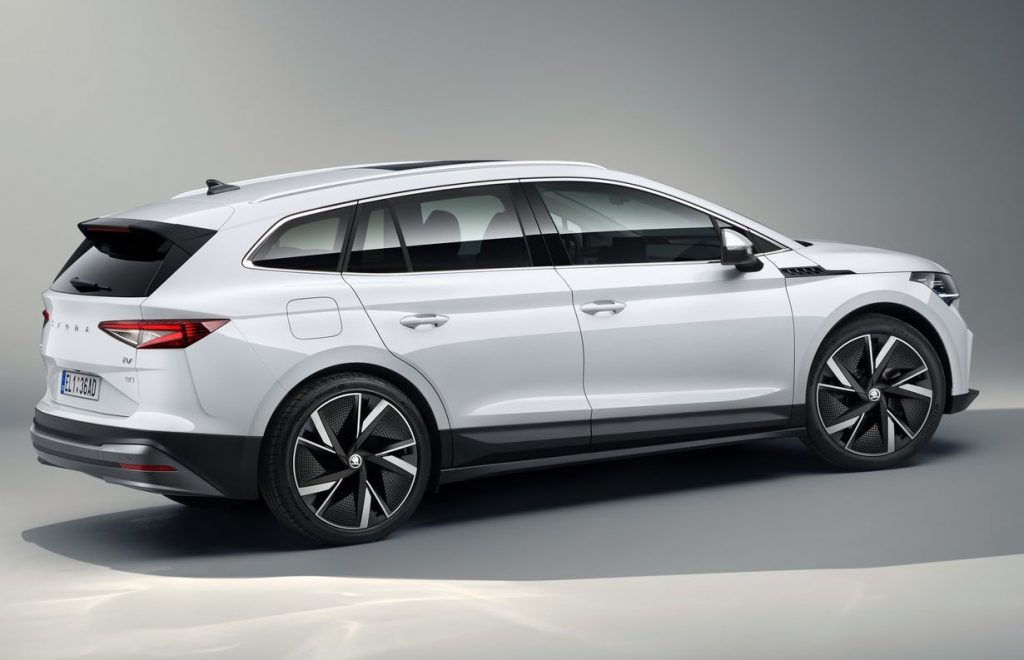 In terms of powertrain options, the Enyak iV is available in three battery sizes and five power outputs. The cheapest of which will be the rear wheel drive 60iV with a 177 hp single electric motor powered by a 62 kWh battery pack that will be good for 390 km of range and a 0-100 time of 9.7 seconds. 
Going up the range yields a more powerful 201 hp electric motor powered by an 82 kWh battery pack that can drive either just the rear wheels or all four wheels. This powertrain combination allows the Enyak iV to have a 480 km range for the four wheel drive variant and a 510 km range for the rear wheel drive models.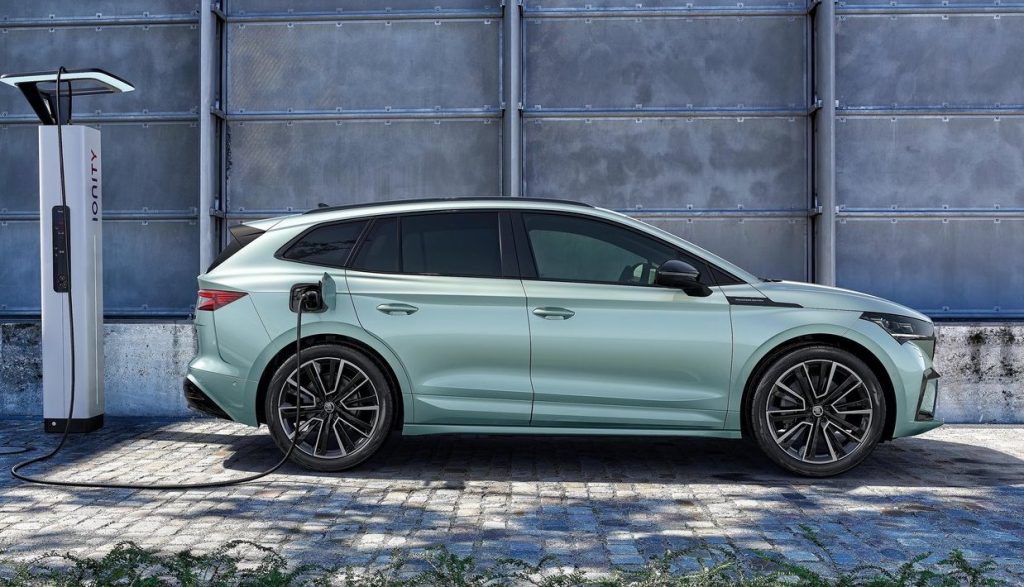 To those looking for a bit more pep in their EV SUV though, there is also a performance-oriented Skoda Enyak iV VRS in the works with a 302 hp electric motor capable of a 0-100 km/h time of just 6.2 seconds. 
All models will be capable of the usual DC rapid charging up to 125 kW and will be able to charge from 10% to 80% in less than 38 minutes. 
On the interior front, the Enyak iV goes down the minimalist route with only a row of buttons on the centre console complementing the 13 inch central touchscreen and 5.3 inch digital instrument cluster. Being a Skoda, there are also numerous practical touches as part of its Simply Clever feature. These include a 6.2 litre storage cubby in the centre armrest and a dual-level boot floor with integrated cable cleaner to keep the charging cable clean when stored away.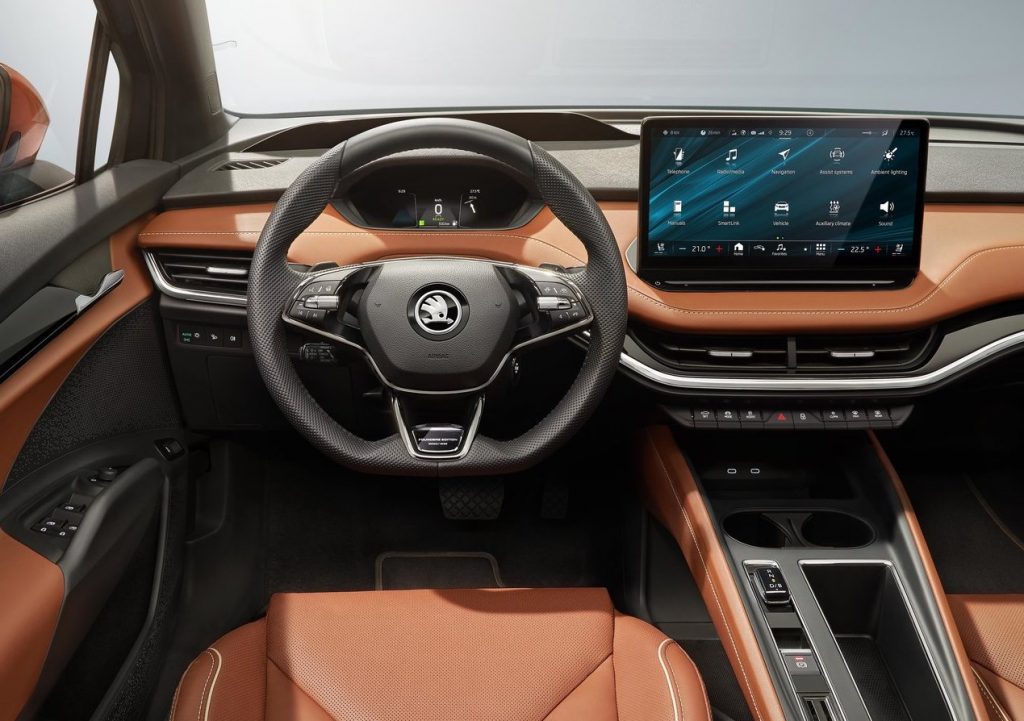 Prices of this new Skoda EV SUV will start from £33,450 (RM185,300) for the base trim level 60iV and deliveries will begin from its Czech factory from early 2021.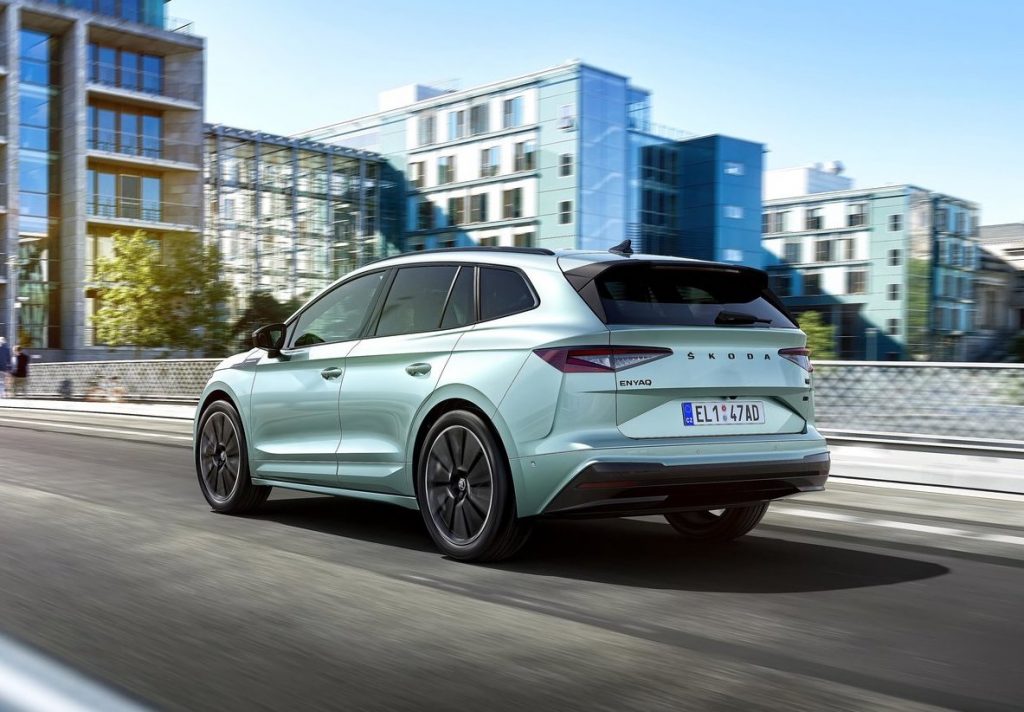 More information can be found in the press release below: 
By launching its brand-new ENYAQ iV, ŠKODA is taking the next systematic step in the implementation of its E-Mobility strategy. The all-electric SUV is the Czech car manufacturer's first production model to be based on Volkswagen Group's MEB modular electric car platform. The ŠKODA ENYAQ iV offers rear- or all-wheel drive, along with a range that is perfectly suitable for everyday use, covering up to 510 km* in the WLTP cycle, and brand-typical spaciousness. ŠKODA is continuing to develop its emotive design language – to this end, the new SUV features an all-new interior concept offering Design Selections instead of classic trim levels and a brand-new structure of the options available. One particular highlight is the exclusive ENYAQ iV Founders Edition, which is limited to 1,895 units and is commemorating the company's anniversary celebrating 125 years of success.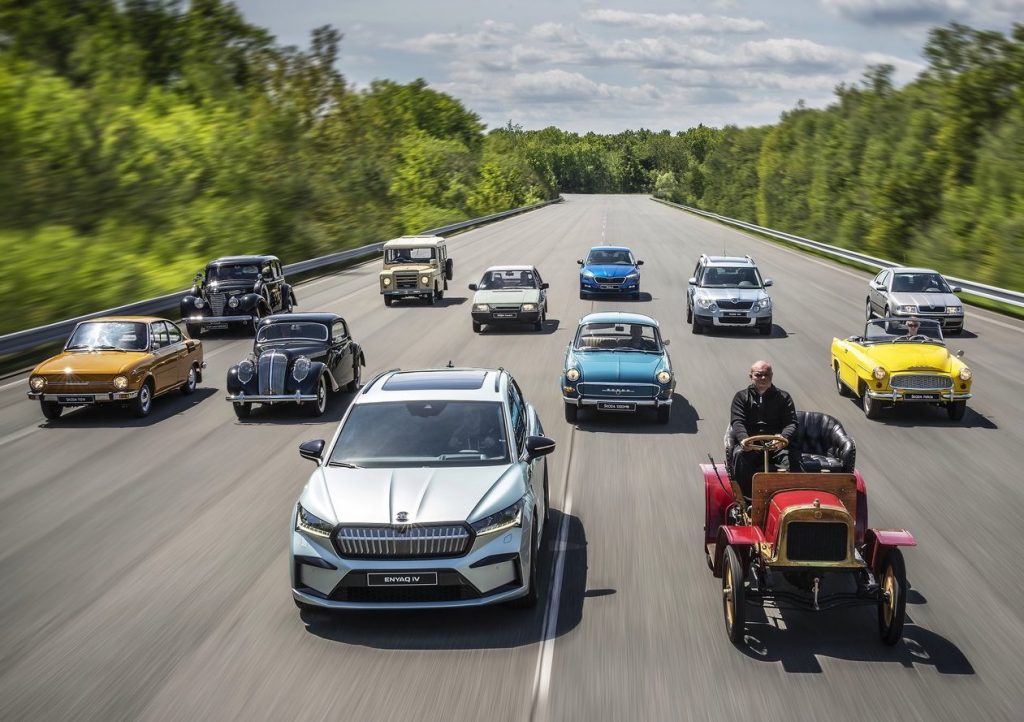 Immediately following the world premiere of the new ŠKODA ENYAQ iV, it is possible in many countries to pre-order the base model and other variants. The exclusive and particularly extensively equipped Founders Edition is limited to 1,895 units and pays homage to the company's successful history and its founding by Václav Laurin and Václav Klement 125 years ago. Adorning the multifunction leather steering wheel, a Founders Edition badge – produced by the Czech crystal manufacturer Preciosa – will display the model's number, confirming that it is from the limited range. The exclusive ENYAQ iV Founders Edition will be delivered in spring 2021.
The ENYAQ iV boasts an all-new drive concept, exploiting the possibilities that Volkswagen Group's MEB modular electric car platform has to offer. The MEB consists of what is known as the skateboard platform, in which the battery is incorporated into the floor to save space. Three battery sizes, five power outputs ranging from 109 to 225 kW and rear- or all‑wheel drive cater to many different requirements and uses. With ranges of up to 510 km* in the WLTP cycle, the ENYAQ iV is an ideal everyday companion. Furthermore, it can tow trailers weighing up to 1,400 kg (8% gradient) or 1,200 kg (12% gradient).
New Design Selections replace the classic trim levels and set new standards for the interior. Each Design Selection, put together by ŠKODA material concept designers, provides a tasteful interior with an exceptional feel-good factor and features natural, sustainably processed and recycled materials. A new, clearer structure of the choices available – ten themed packages as well as some individual options – makes it quick and easy to customise the vehicle to suit the owner's taste.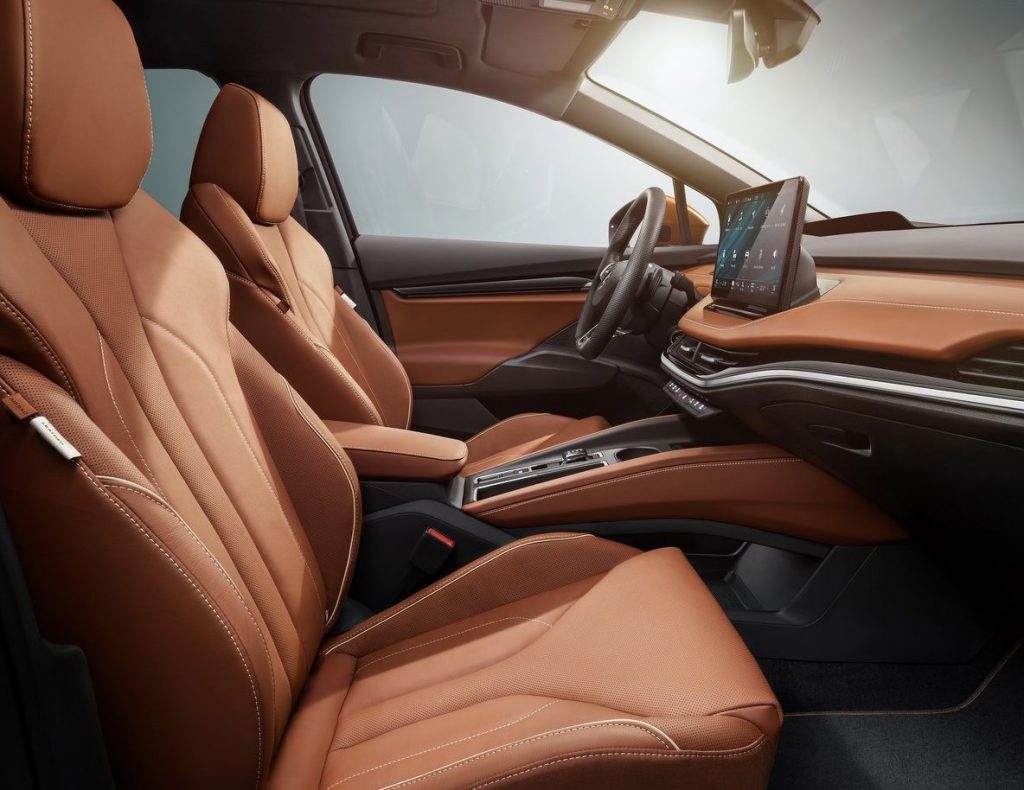 ŠKODA has developed Simply Clever solutions specific to electric vehicles, such as a cleaner for the charging cable, a protective cap for the charging socket and a compartment for the charging cable under the boot floor. The new centre console arranged over two levels provides plenty of space; a clever insert ensures that the false boot floor is neat and tidy. In the ENYAQ iV, the classic ŠKODA ice scraper is located inside the car – in its tailgate to be precise.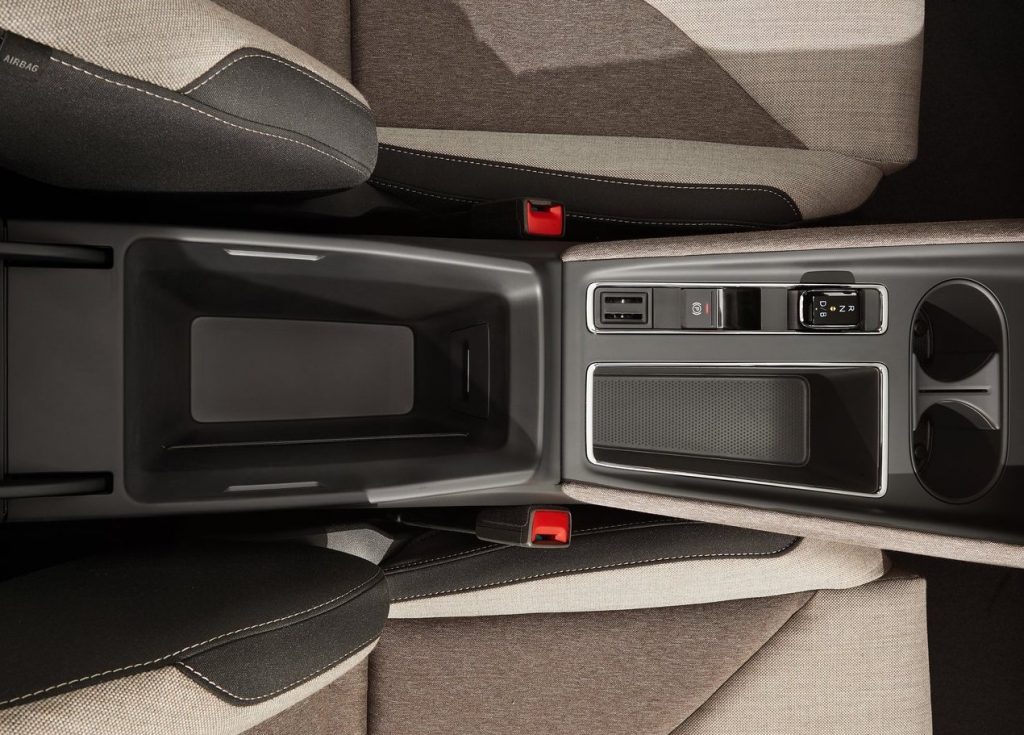 The MyŠKODA Powerpass ensures owners can easily and conveniently recharge their vehicles at most of the charging points in the European Union using just a single card. In addition, ŠKODA is also involved in building the Ionity quick-charging network throughout Europe. The brand offers three versions of the ŠKODA iV wall box for at-home charging. Using the fast-charging cable, the owners can recharge their ŠKODA ENYAQ iV at fast-charging stations too.