News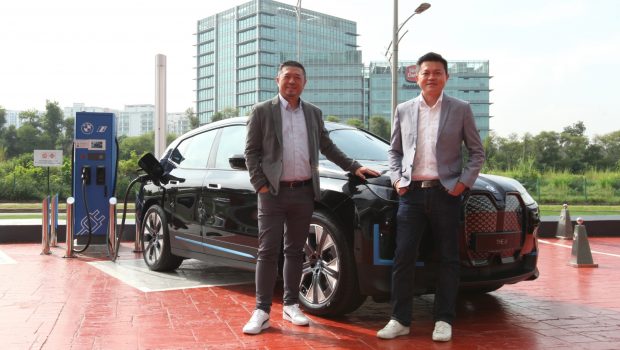 Published on August 1st, 2022 | by Aaron Fernandez
0
Sime Darby plans to increase EV infrastructure in Malaysia
Sime Darby are attempting to increase EV charging infrastructure in the country. They have already made efforts into adding charging ports along highways throughout Peninsular Malaysia. This is a great effort from Sime Darby to increase EV adoption in our country. As of right now, there are still many issues and downsides to owning an EV in Malaysia. Increasing the amount of charging ports in the country is a good start into getting more people to buy an EV.
Here are the locations for all the Sime Darby charging stations.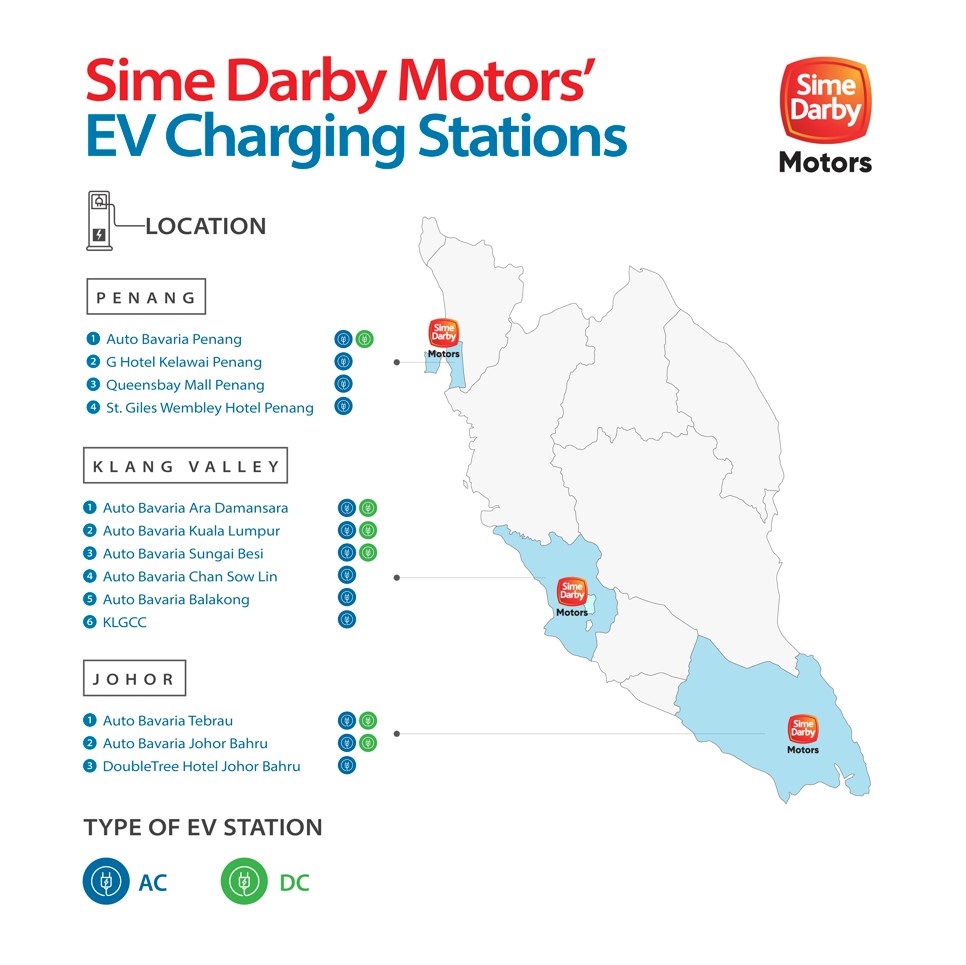 No.
Location
Type of EV station / AC/DC
Klang Valley
1.
Auto Bavaria Ara Damansara
AC / DC
2.
Auto Bavaria Kuala Lumpur
AC / DC
3.
Auto Bavaria Sungai Besi
AC / DC
4.
Auto Bavaria Chan Sow Lin
AC
5.
Auto Bavaria Balakong
AC
6.
KLGCC
AC
Penang
7.
Auto Bavaria Penang
AC / DC
8.
G Hotel Kelawai Penang
AC
9.
Queensbay Mall Penang
AC
10
St. Giles Wembley Hotel Penang
AC
Johor
11
Auto Bavaria Tebrau
AC / DC
12
Auto Bavaria Johor Bahru
AC / DC
13
DoubleTree Hotel Johor Bahru
AC
Sime Darby have worked with Auto Bavaria to set up these direct current (dc) and alternative current (ac) fast chargers. Sime Darby chargers are available for booking through the GO TO-U application. Sime Darby EV owners get to use these chargers at a slightly cheaper cost. These are the pricing for all the fast chargers:
Sime Darby Motors EV Owners 
24KW
RM0.20 / minute
60KW
RM0.80 / minute
90KW
RM1.20 / minute
Non-Sime Darby Motors EV Owners / Public Rates
24KW
RM0.40 / minute
60KW
RM1.20 / minute
90KW
RM1.60 / minute
PRESS RELEASE
Sime Darby Motors Malaysia is on track with its plans to create a seamless experience for electric vehicle (EV) owners and to support the development of a highly efficient EV charging network for its range of brands.
In playing its part to accelerate the adoption of EVs, Sime Darby Motors has identified locations for EV charging stations at every 200 to 300 kilometres along highways across Peninsular Malaysia to ensure all high-density areas are in range of charging stations. Part of these efforts include ensuring the availability of innovative and convenient support services for all existing and new customers who have purchased an EV from Sime Darby Motors.
Taking the lead in the journey is Auto Bavaria, the longest-serving and largest BMW authorised dealership group in Malaysia. Leveraging on its extensive network of direct current (DC) and alternating current (AC) fast chargers, a total of 33 charging facilities are currently operational across Klang Valley, Penang, and Johor.
Sime Darby Motors today announced its network of chargers is available for booking via the GO TO-U digital experience platform for e-mobility application powered by a wholly-owned subsidiary of Tenaga Nasional Berhad, TNBX Sdn Bhd. The GO TO-U application affords Sime Darby Motors EV owners the convenience of pre-booking EV charging stations, connecting with local businesses within walking distance, and enjoying added services such as battery health checks, scheduled maintenance and customer support. Members of the public or non-Sime Darby Motors EV owners are also able to use the GO TO-U application to book EV charging stations across Sime Darby Motors' network.
As part of Sime Darby Motors' drive to continuously enhance services for customers, Sime Darby Motors EV owners are eligible to receive a 10-year waiver on membership fees via the GO TO-U app worth RM2,400, in addition to special DC charging rates and free charging at AC chargers available until December 31, 2022. Meanwhile, non-Sime Darby Motors EV owners will receive a membership fee waiver, special DC charging rates and free charging at AC charging points, all currently available until December 31, 2022.
Sime Darby Motors Malaysia Retail & Distribution Managing Director Jeffrey Gan said, "Sime Darby Motors remains focused on our energy-efficient drive as a leading automotive player in Malaysia. We are on track with our plans to populate our roads and highways with EV charging stations to help accelerate the adoption of EVs. We are also pleased to offer a uniquely Sime Darby Motors' customer experience for Sime Darby Motors EV owners, which promises an enriching EV experience across all Sime Darby Motors brands. This will be a game changer for our EV customers and for us as well, with data analytics that will be made available. We are excited to bring innovative automotive experiences to our customers as we play our part in furthering the country's aspirations for a low carbon mobility future."
Auto Bavaria Managing Director Vi Thim Juan commented, "We are thrilled to present a new range of mobility services to our customers as we enhance their BMW EV experience. Our extensive network coupled with our new offerings will elevate and more importantly ensure a convenient journey, backed by unmatched service support. We are proud to be able to contribute to the thriving electromobility ecosystem and towards a greener Malaysia."
Interested customers may download the TNBX's GO TO-U app with the following links or QR codes according to their mobile platform: https://bit.ly/GoToU-Android on the Google Play Store or https://apple.co/3aAhdOO on the Apple App store.