Automotive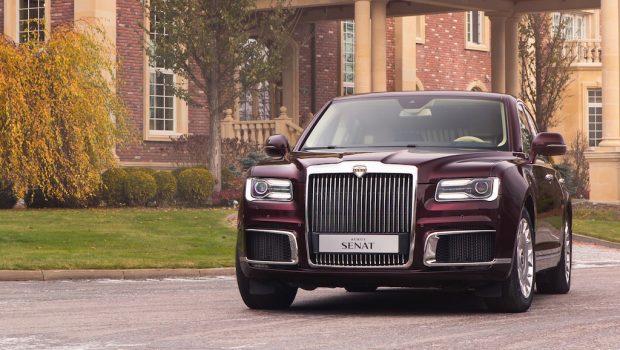 Published on January 28th, 2019 | by Hammer
0
Rolls Royce Ghost or this AURUS Senat
The Ministry of Industry and Commerce of the Russian Federation has just released these images of the AURUS Senat sedan and limousine.
The new AURUS Senat is a product of the Unified Modular Platform (The Eight Modular Platform in Russian), also formerly known as Cortegiu, which originally envisaged the creation of a modular architecture (chassis) as well as a propulsion unit line hybrids based on V8 and V12 engines. A 9-speed automatic gearbox was developed for AURUS cars by another Russian company – KATE.
The AURUS Senat sedan is equipped with an all-wheel drive and a hybrid propulsion unit based on a 4.4-liter V8. The unit produces 598hp and 880Nm of torque and is further assisted by an electric motor with 40hp and 400Nm. It accelerates from the standstill and to a speed of 100km/h in just 6.0 seconds. Maximum speed is limited to 250km/h. The car also has four running modes: Auto, Sport, Comfort and All Road. It can also be armoured.
With a length of 5,630 mm long, a wheelbase of 3,300 mm, a ground clearance of 200 mm and a weight of 2,740 kilograms the AURUS Senat will make a grand entrance with many mistaking it for a Rolls Royce or Bentley.
Mass production is scheduled to start in mid-2020.