Cars
Porsche 911 GT3 RS 2023 Model Price From RM2,630,000
Latest Porsche 911 GT3 RS makes its debut at Sepang International Circuit alongside the return of the Porsche Carrera Cup Asia 2023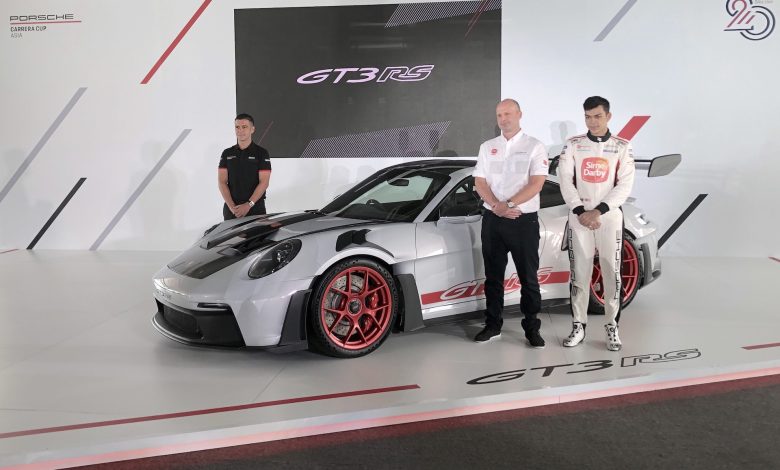 On a weekend filled with racing action, Porsche Malaysia introduces the motorsport-derived 911 GT3 RS at Sepang International Circuit, alongside the return of the Porsche Carrera Cup Asia 2023.
The new 911 GT3 RS was unveiled by Christopher Hunter, Chief Executive Officer of Sime Darby Auto Performance, Alexandre Gibot, Managing Director of Porsche Motorsport Asia Pacific and Nazim Azman, Sime Darby Racing Team race driver.
The sports car takes full advantage of technology and concepts from motorsport, from its high-revving naturally aspirated 525 PS engine to its intelligent lightweight construction. But it's the cooling system and aerodynamic elements of the 911 GT3 RS that connect it most directly with its motorsport brother, the 911 GT3 R.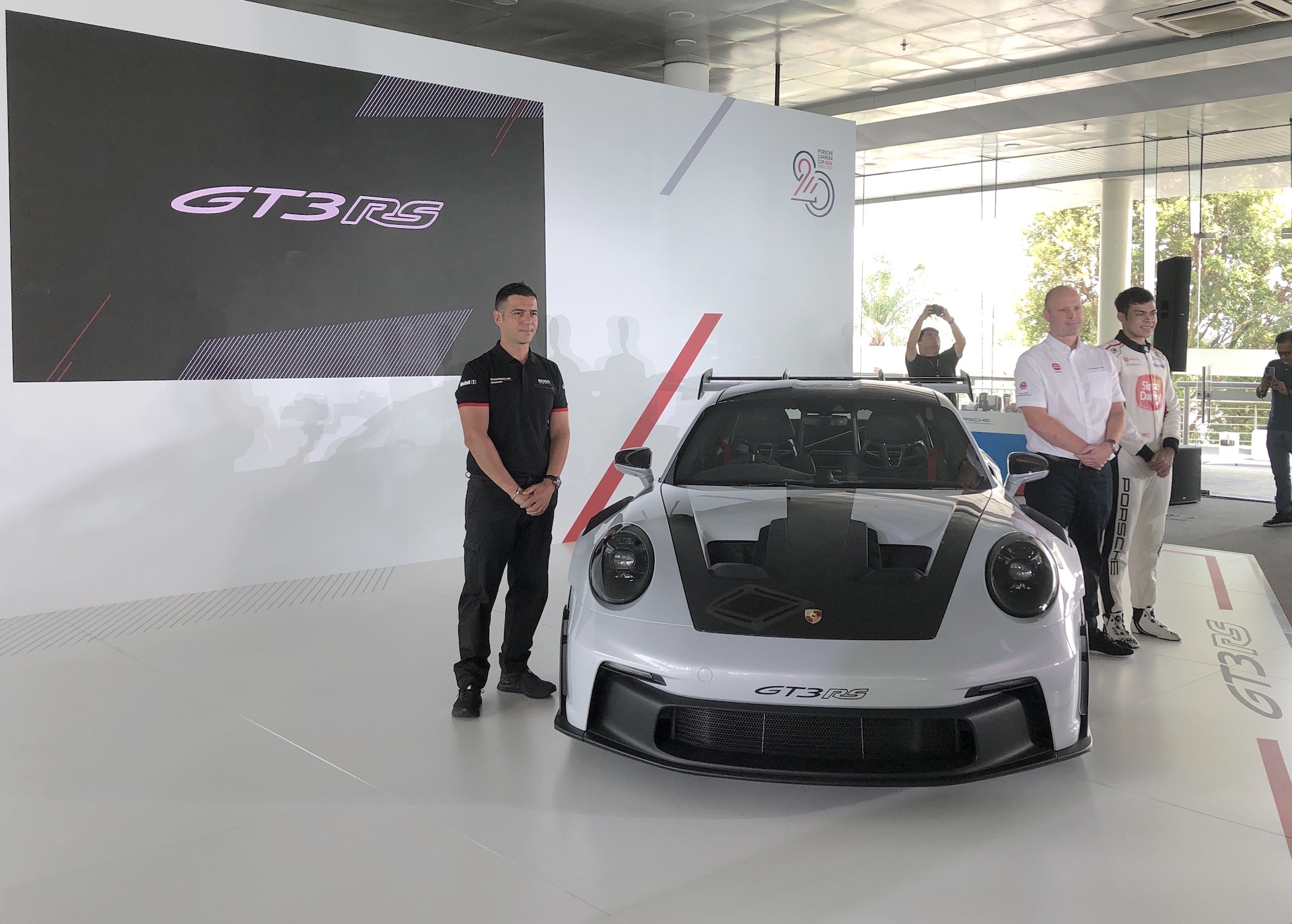 Central radiator concept inspired by motorsport – the foundation for active aerodynamics
A centrally positioned radiator was first used by Porsche in the Le Mans class-winning 911 RSR and subsequently in the 911 GT3 R. Now, it is featured in a road-going 911 model for the first time.
Instead of the three-radiator layout seen in previous 911 models, this new 911 GT3 RS relies on a large, angled centre radiator in the car's nose, positioned where the luggage compartment is located on other 911 models.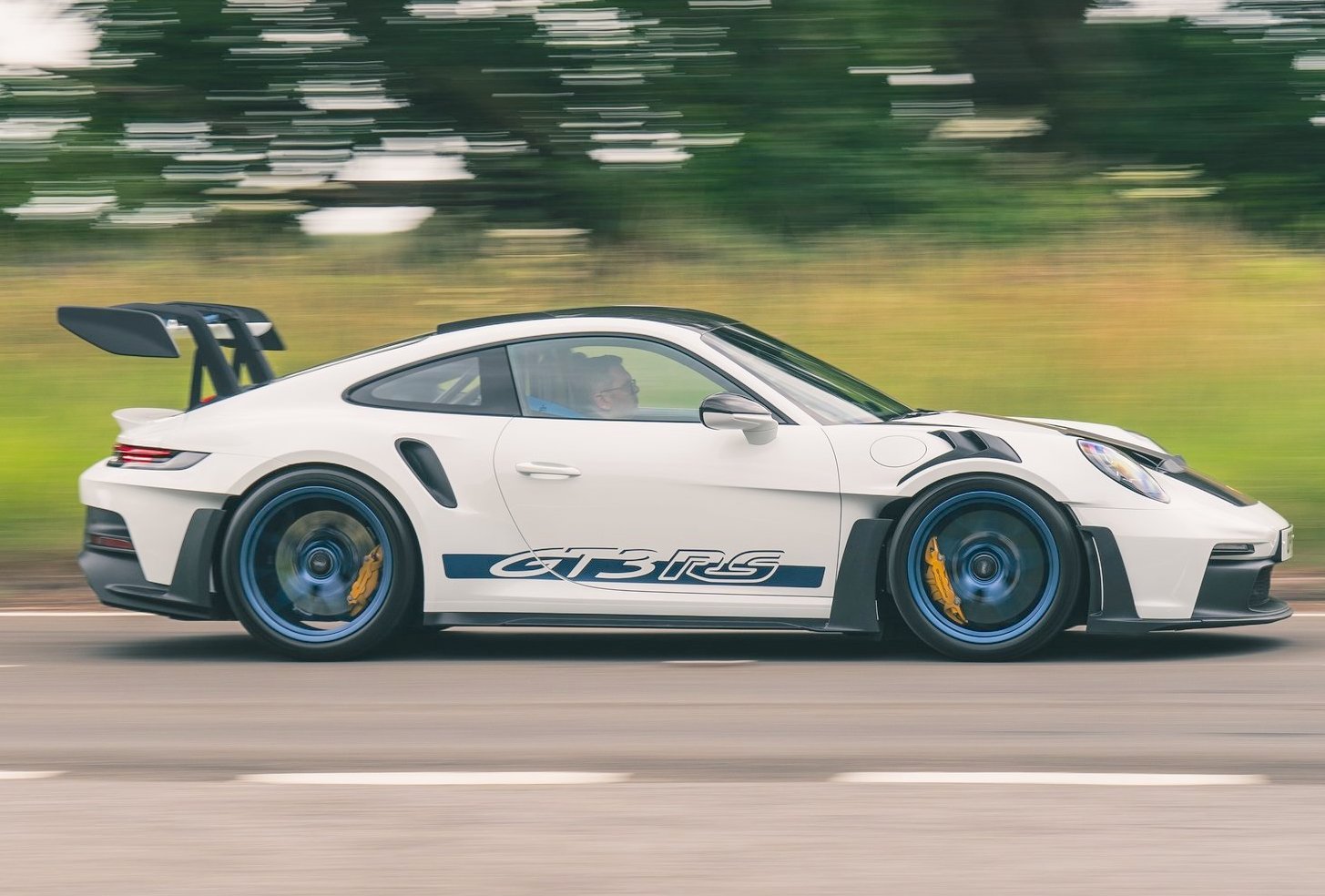 This has made it possible to use the space freed up on the sides to integrate active aerodynamic elements. These continuously adjustable wing elements – in combination with the two-part rear wing and a number of other aerodynamic measures, provide 409 kg of total downforce at 200 km/h.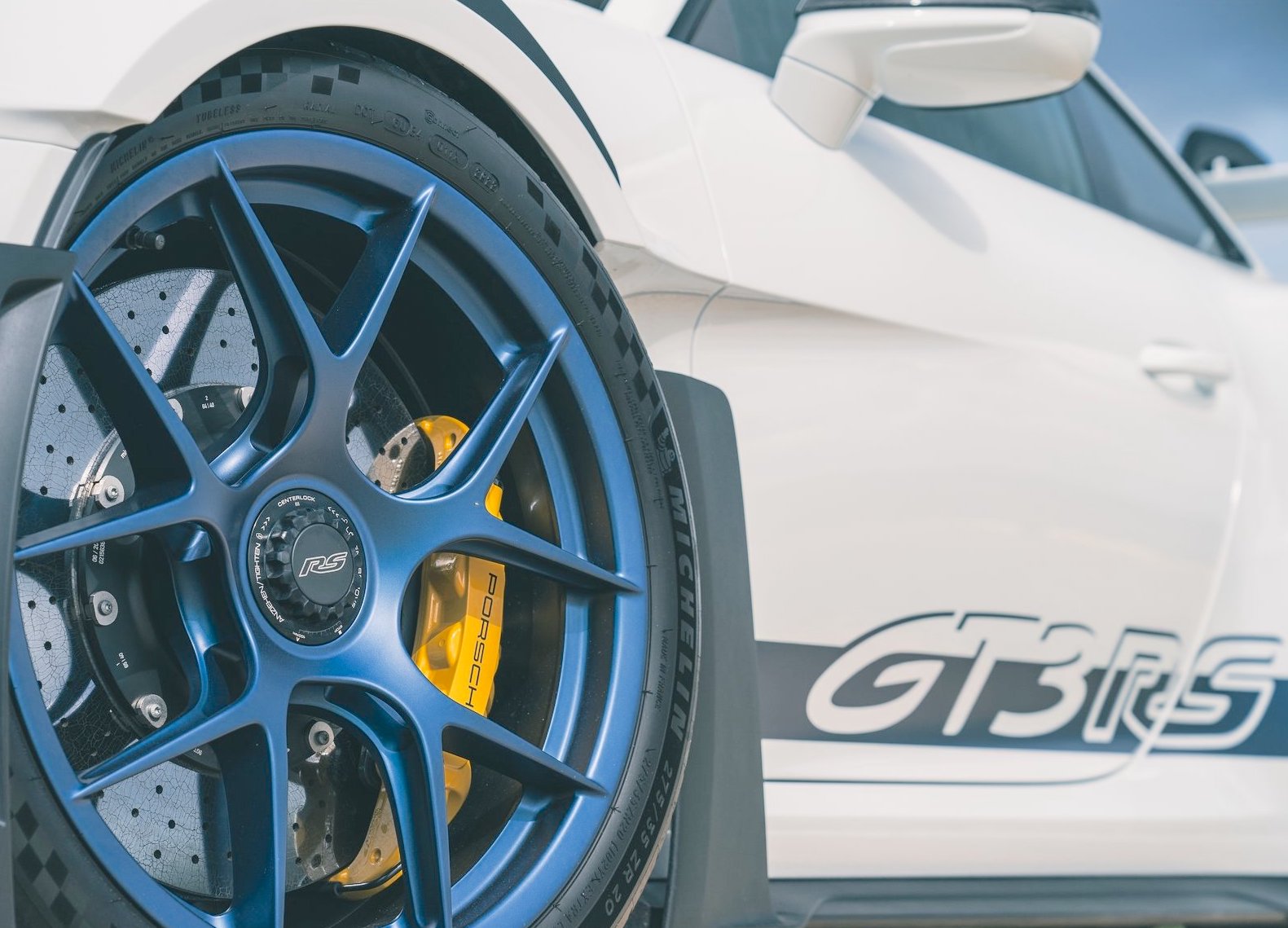 It means that the new 911 GT3 RS generates twice as much downforce as its 991.2-generation predecessor and three times as much as a current 911 GT3. At 285 km/h, total downforce is just 860 kg.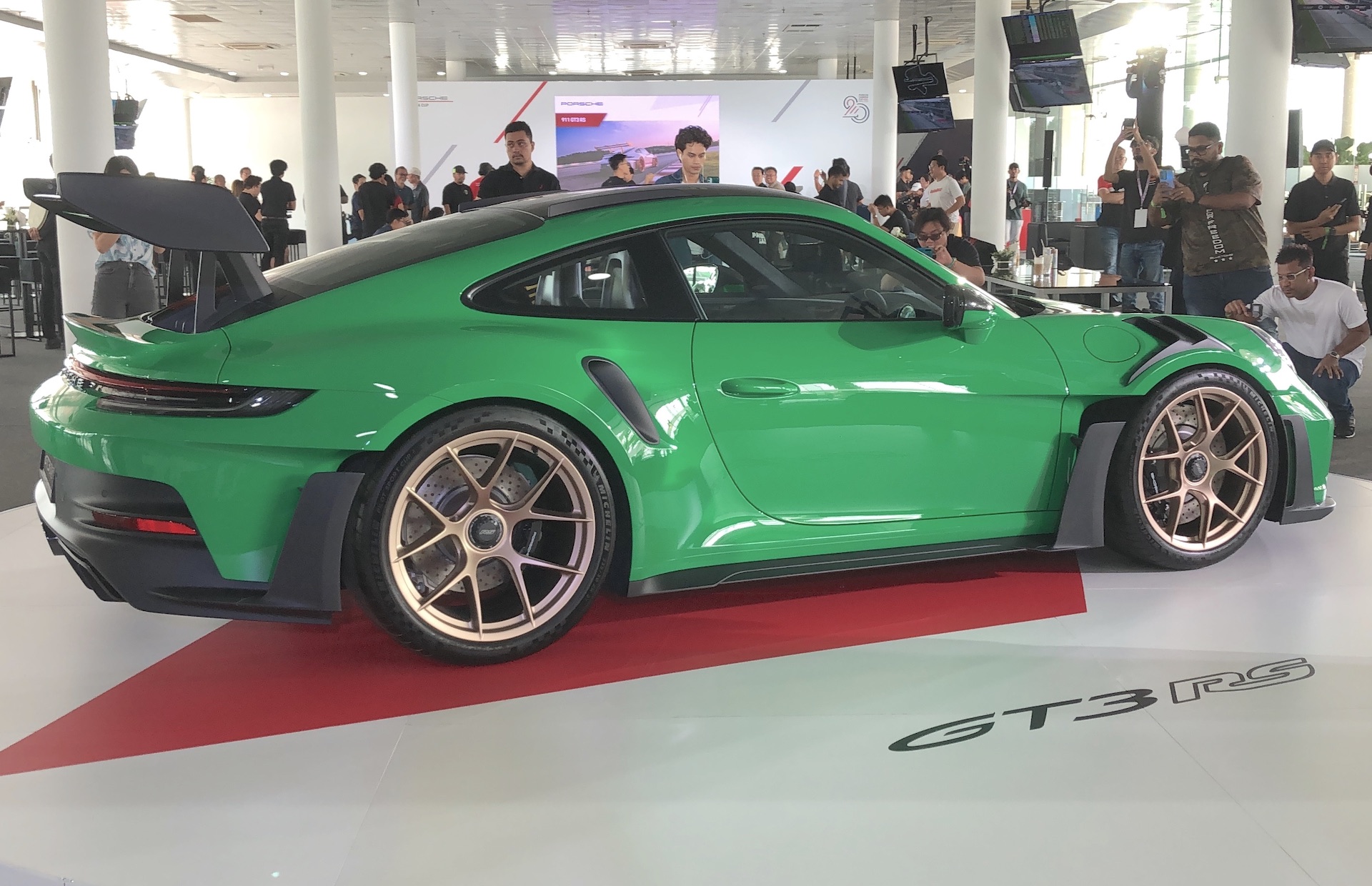 High-revving, four-litre six-cylinder boxer engine
The 4.0-litre high-revving naturally aspirated engine has been further optimised compared with the engine in the 911 GT3. The increase in power to 525 PS is achieved primarily by using a new camshaft design with modified cam profiles. Its single-throttle intake system and the rigid valve drive are derived from motorsport.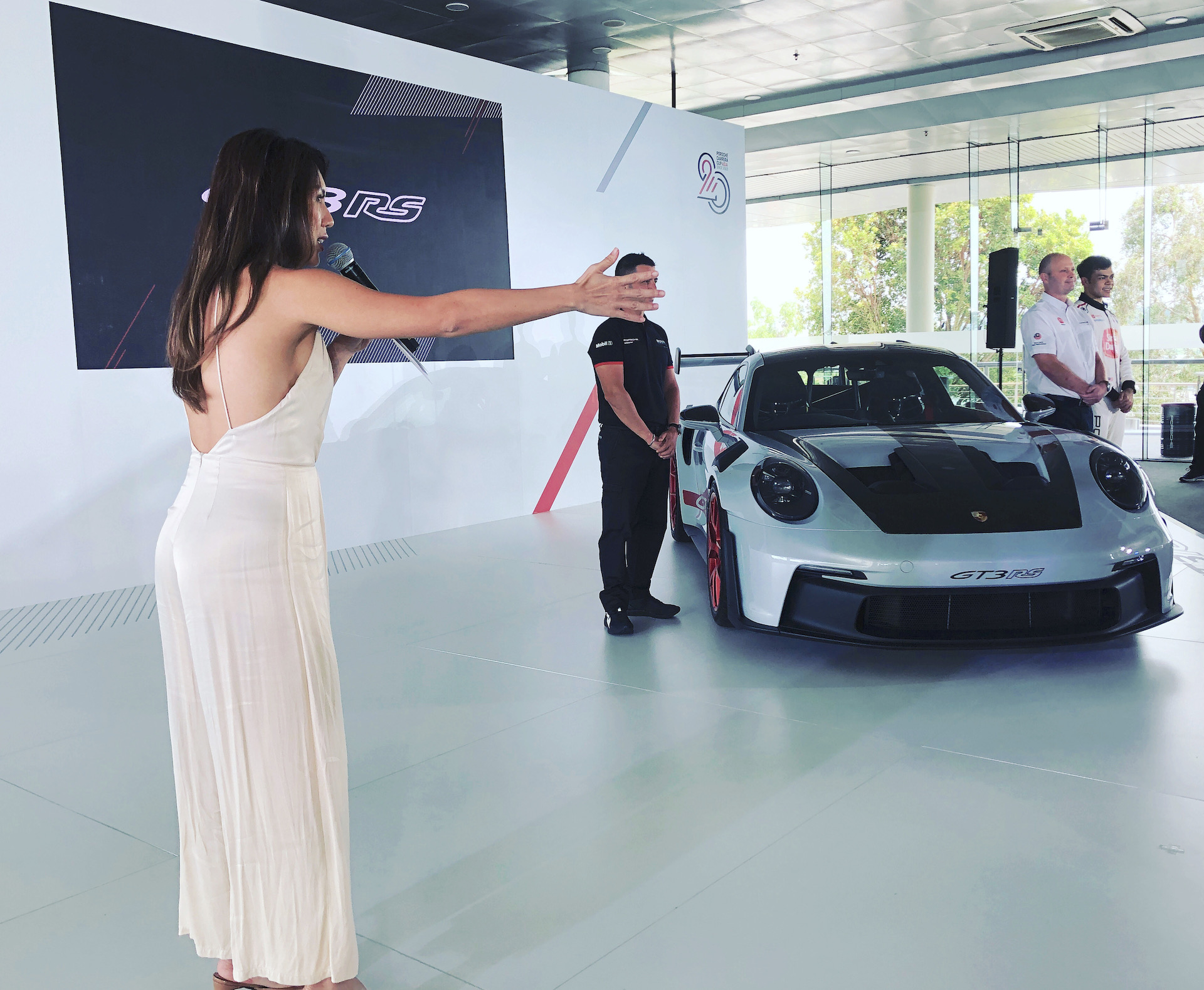 The seven-speed Porsche Doppelkupplung (PDK) has a shorter final drive ratio than the 911 GT3, further improving acceleration, while air intakes on the underbody ensure that the transmission can withstand extreme loads during frequent track use. The Porsche 911 GT3 RS accelerates from zero to 62 mph (100 km/h) in 3.2 seconds and reaches a top speed of 184 mph (296 km/h) in seventh gear. Combined fuel economy is 21.1 mpg, equivalent to 305 g/km CO2 (WLTP).
The front axle features six-piston aluminium monobloc fixed-position calipers with 408 mm diameter discs. Compared to the 911 GT3, the piston diameters have been increased from 30 to 32 mm, while disc thickness has been increased from 34 to 36 mm.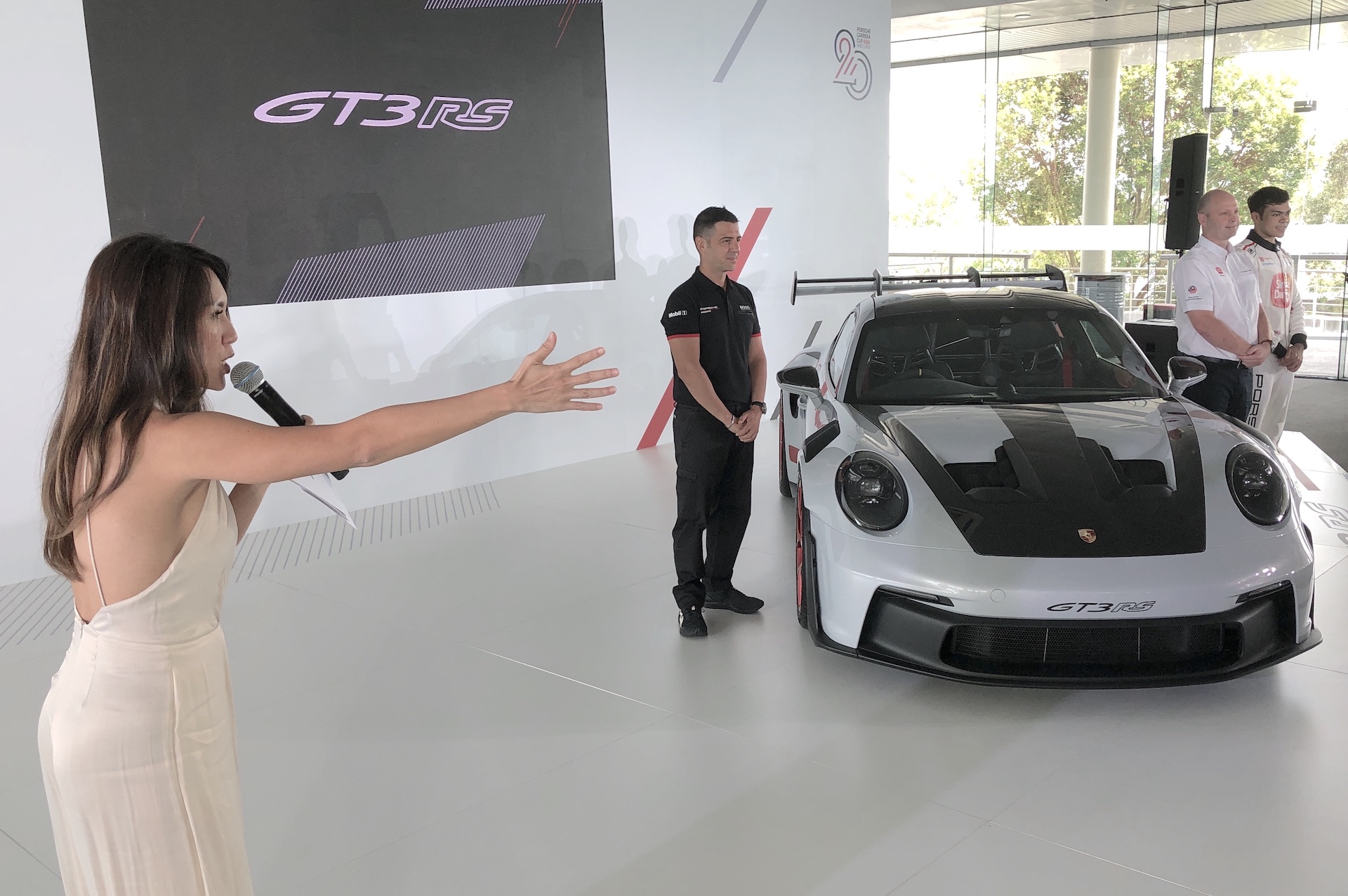 The rear axle continues to be fitted with 380 mm brake discs and four-piston fixed calipers. Porsche Ceramic Composite Brakes (PCCB) are available as an option, and feature 410 mm discs on the front axle and 390 mm discs on the rear axle.
The new 911 GT3 RS comes standard with forged light-alloy centre-lock wheels, fitted with 275/35 R 20 front and 335/30 R21 rear tyres, ensuring a high level of mechanical grip.
Lightweight construction all the way
Intelligent lightweight construction has been a basic principle of all RS models ever since the legendary 911 Carrera RS 2.7. Thanks to an array of lightweight construction measures such as the extensive use of carbon fibre reinforced plastic (CFRP), the 911 GT3 RS weighs in at only 1,450 kg (DIN kerb weight: vehicle including 90% fuel and all fluids).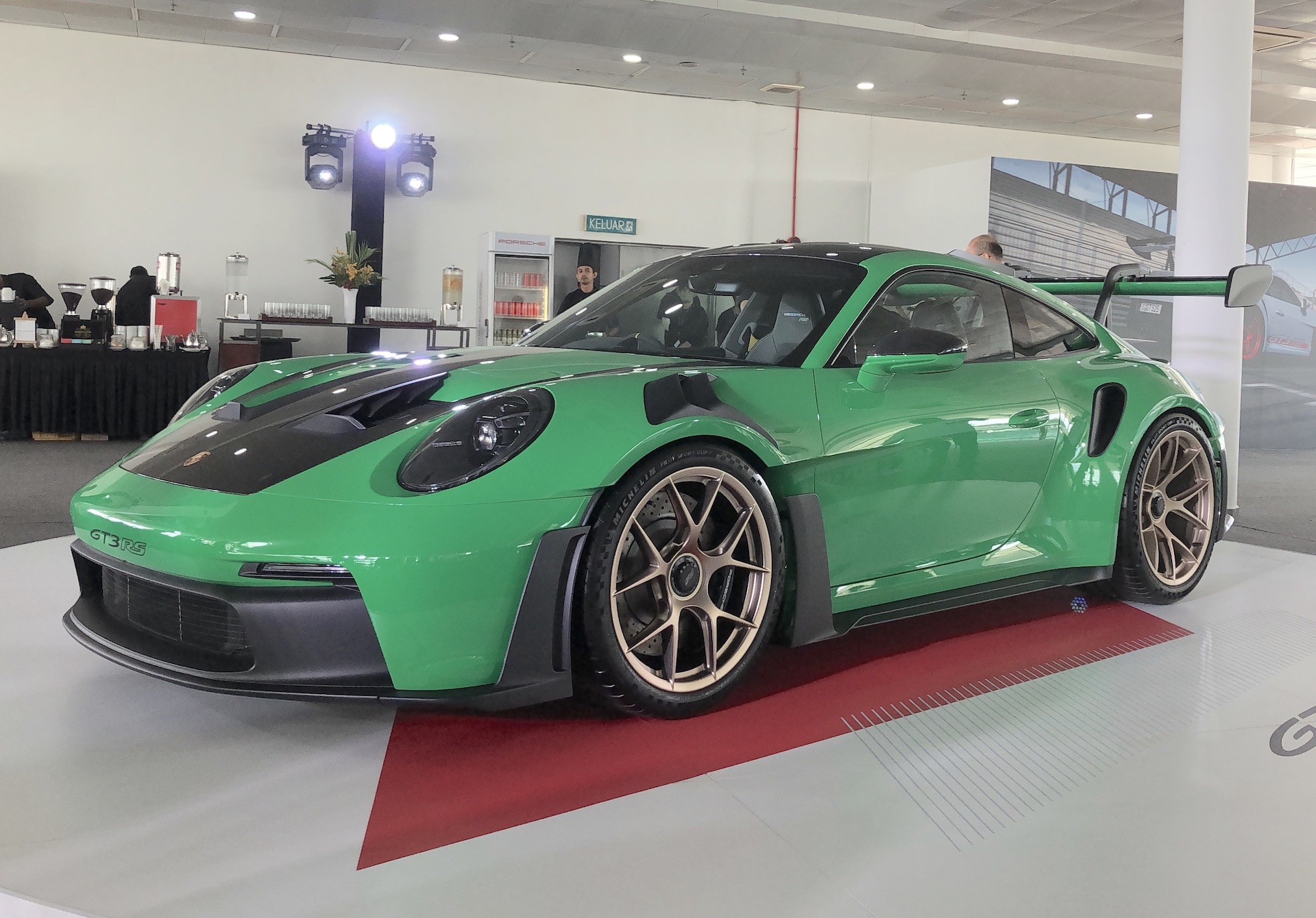 The doors, front wings, roof and bonnet, for example, are made from CFRP, and this material is also used in the interior, for example in the standard full bucket seats.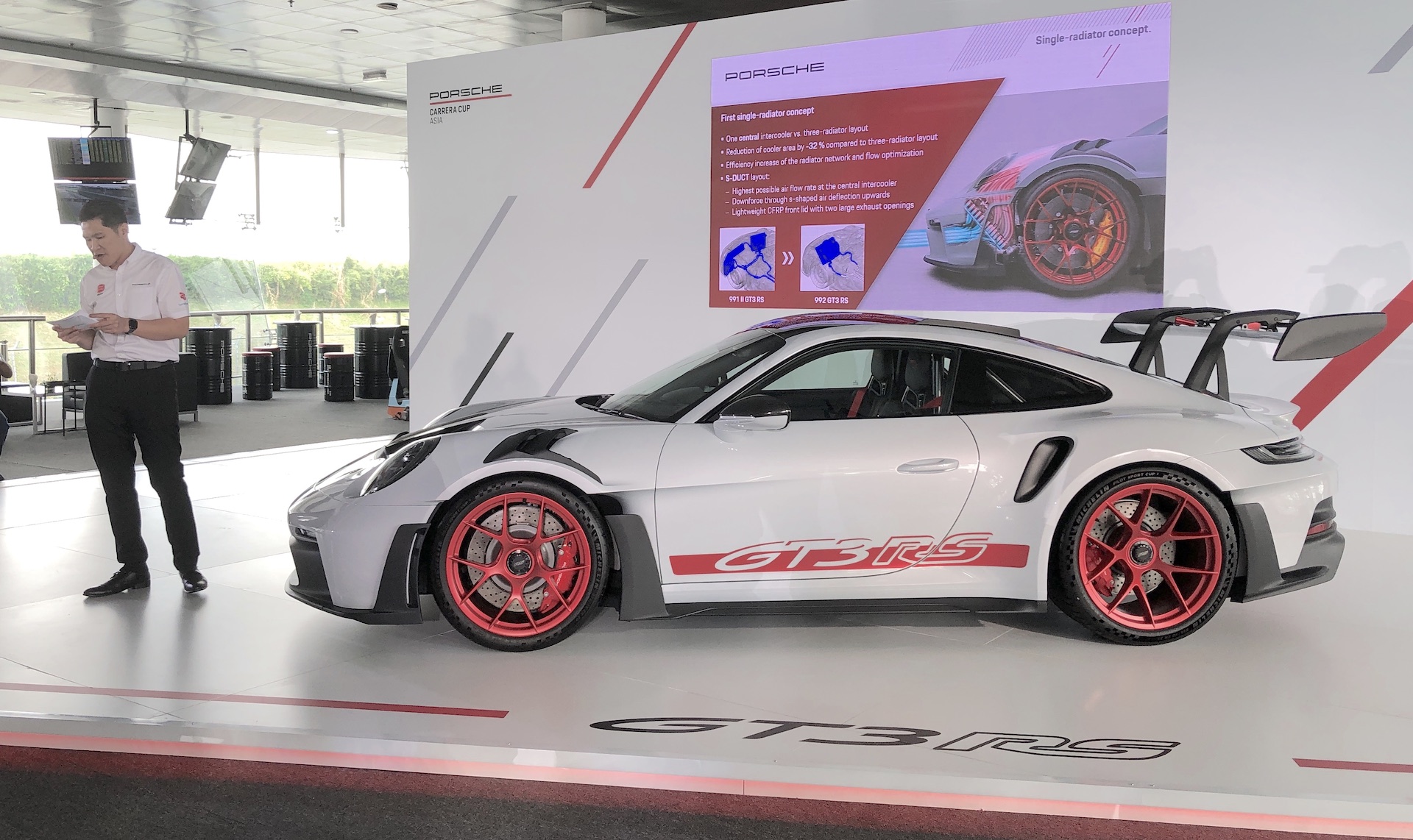 Available with Clubsport and Weissach packages
The interior of the GT3 RS is finished in typical RS style: black leather, Race-Tex and carbon-weave finish characterise the pure, race-derived ambience. The 911 GT3 RS is available with the Clubsport package at no extra cost, which includes a steel rollover bar, a handheld fire extinguisher, and six-point seatbelts for the driver.