Automotive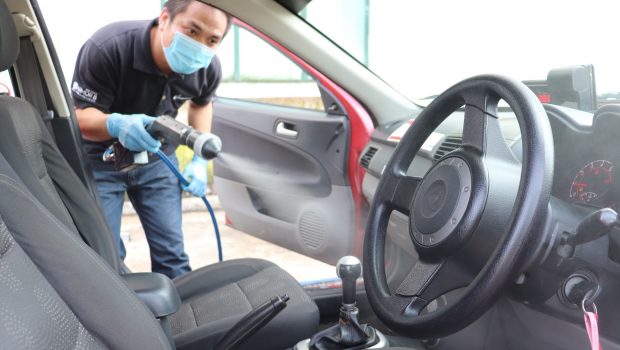 Published on July 9th, 2020 | by Joshua Chin
0
PICKnGO Offers Sanitising Package For Drivers
Promising up to six months of protection, is it too good to be true?
Arising from the need for safe and sanitised ride-hailing vehicles during this coronavirus pandemic, e-hailing upstart PICKnGO has partnered with MUDAcare to introduce a comprehensive vehicle sanitising package.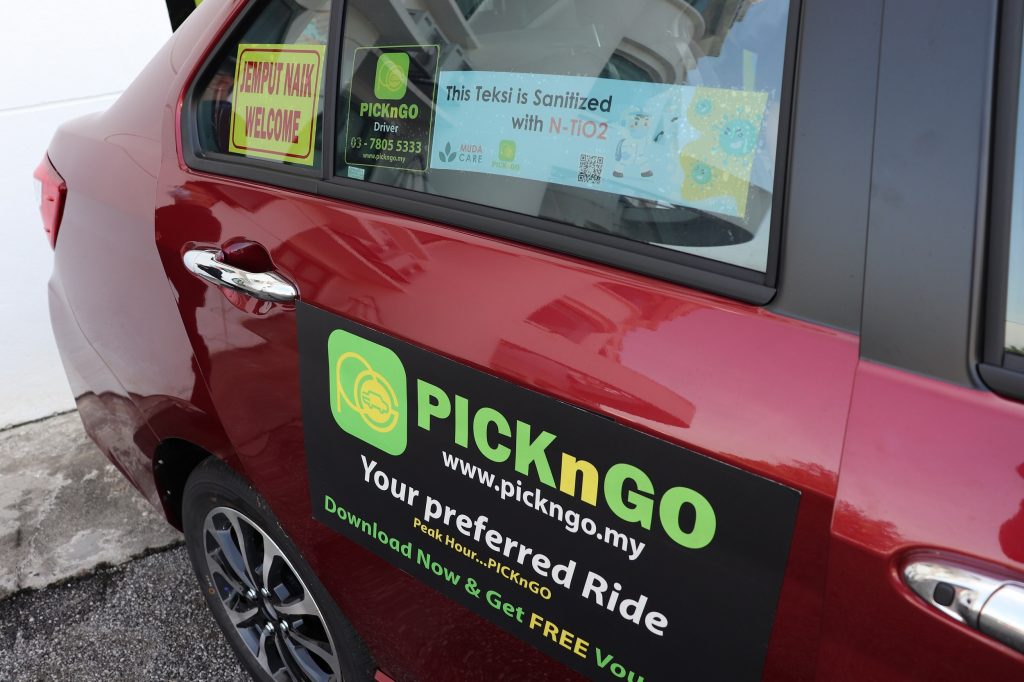 Promising lasting hygienic protection of up to six months, is this deal too good to be true for e-hailing drivers to go through with it?
A closer look at the package offered might give us some insight into answering this question. 
The comprehensive vehicle sanitising package introduced by PICKnGO and MUDAcare boils down to spraying the vehicle's interior with a specialised product. Trained MUDAcare applicators will spray the interior of the vehicle with a MUDAcare coating by way of an electrostatic sprayer, which is stated to be a Nanoscale titanium dioxide (N-TiO2) based solution. 
MUDAcare claims that this sterilising process not only kill viruses, bacteria and mould within seconds of application, but also inhibit growth of microorganism and provides lasting protection of up to six months.
Cars that have gone through this process will receive a sticker with a validation period once sanitisation has been completed. Riders therefore, once noticing this validation sticker can ride with confidence, knowing that the car they are in has been properly sanitised. Or at least this is what PICKnGO claims anyway, with a subtle proviso that all passengers must continue to wear their face coverings when in the vehicle.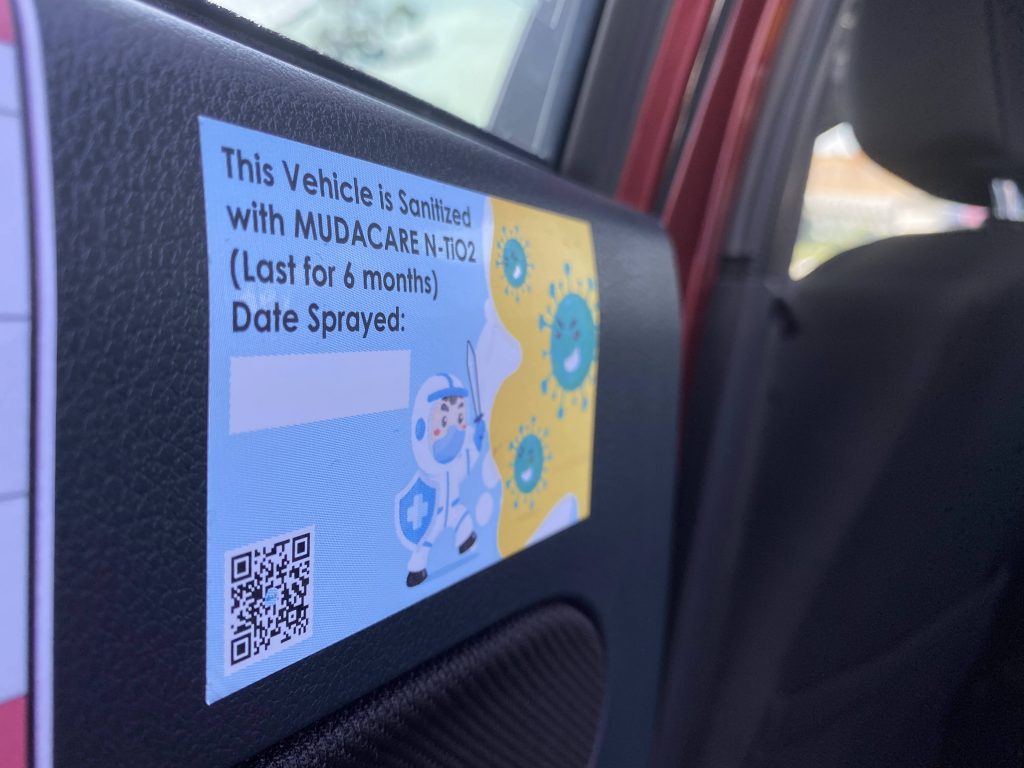 But what exactly is this miracle spray that can disinfect a car's interior for up to half a year?
To those not familiar with nano-chemistry, this Nanoscale titanium dioxide nanoparticle is most commonly found as an additive to paint and windows as this nanoparticle has UV absorption and photocatalytic sterilising properties. In simple terms, this nanoparticle solution can be used to create self-cleaning windows and anti-fog coating. 
The photocatalytic sterilising properties also means that this spray could theoretically be used to sterilise objects. Saying that though, to quote directly from the Ministry of Health's conclusions about titanium dioxide nanoparticle coatings: '…the scientific evidence of (it's) effectiveness is still limited and studies showed conflicting results. There was no retrievable evidence on its safety and cost effectiveness.' 
In other words, this sanitisation method may indeed be too good to be true. Adding to that, most research confirming the sterilisation properties of this coating is applied to non-porous medical objects like forceps or beakers, and may show different results when applied to porous leather seats in a car's interior.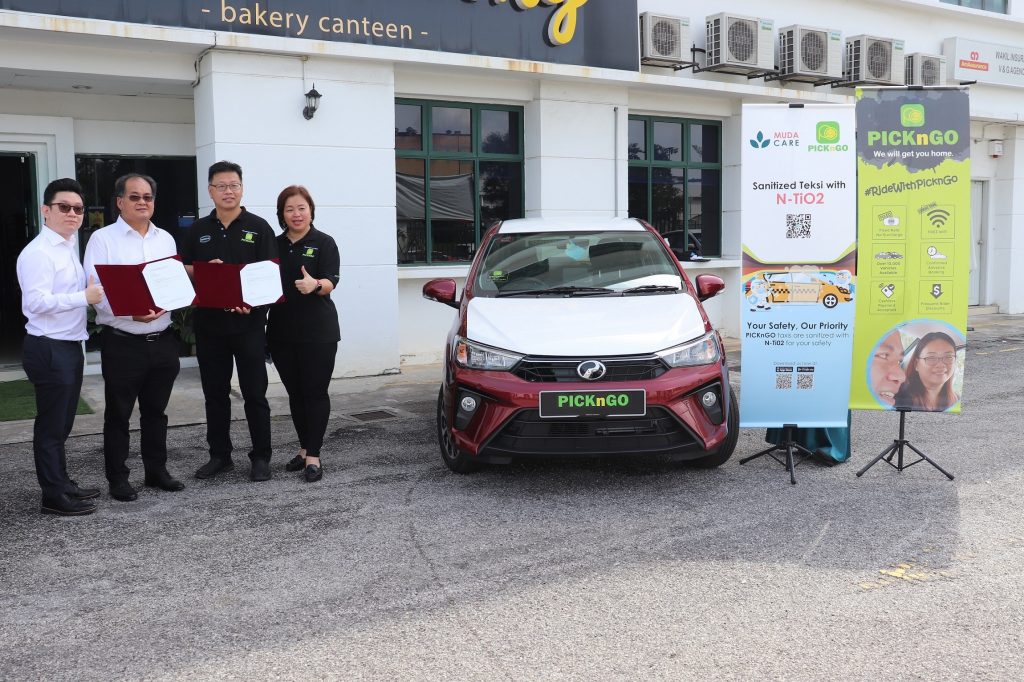 PICKnGO claims that this sanitation method is more financially sustainable than having drivers clean their cars after every pickup, a process that many e-hailing drivers are doing now. They are also offering to subsidise the sanitisation costs if drivers choose this package.
Cunningly though, the cost of the package and the subsidy given by the e-hailing company remains a mystery. Furthermore, the company also promises customers that they will not experience an increase in fares even with the sanitation program, so one can draw a simple conclusion that the extra costs will have to be borne by the driver. 
With that said though, inconclusive evidence does not equate to snake oil. This sanitation program will probably be better than no sanitation program at all. The think to keep in mind for everyone is that adhering to the SOPs stipulated by the MOH is still the safer way to go. 
Regardless of the hygiene of the ride-hailing vehicle, one should still wear a mask when inside the vehicle and wash your hands at the first opportunity once out of it. This should be sufficient to keep the virus at bay when you're in someone else's vehicle. 
To those who are still interested in this MUDAcare sanitation program, one can get your car professionally sanitised at the PICKnGO Center in Shah Alam or by contacting 016-3361636 for an appointment. This program is open to both PICKnGO drivers and to the general public.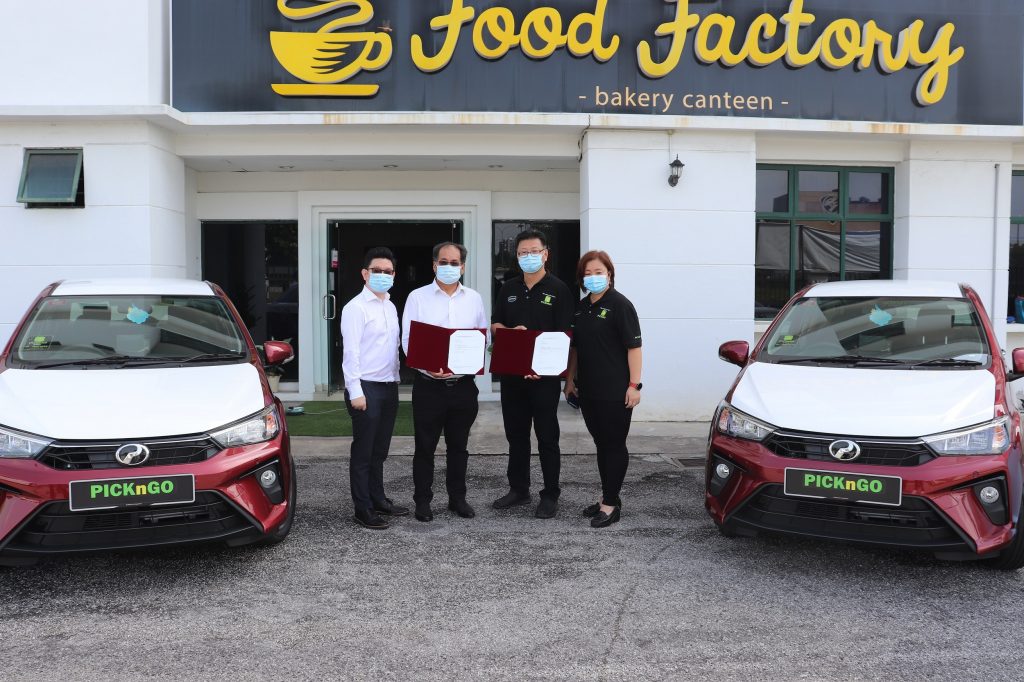 More information can be found in the press release below: 
Shah Alam, 8 July 2020: Passengers who are thinking of hailing a ride with any PICKnGO taxi or car can now do so in utmost confidence as the operator is raising the bar when it comes to hygiene.
In light of the COVID-19 pandemic, PICKnGO is partnering with MUDAcare to introduce a comprehensive vehicle sanitising package that promises a high-level of sanitisation while keeping fares affordable.  
MUDAcare's trained applicators will spray selected taxis with MUDAcare coating, a nanoscale titanium dioxide based (N-TiO2) solution designed to kill viruses, bacteria, and mold. The solution is applied on various surfaces in the vehicle by using an electrostatic sprayer.
Other than being anti-microbial, N-TiO2 is also non-toxic, and is approved by the United States Food and Drug Administration (FDA) and is CE certified, meaning it meets EU standards for health, safety, and environmental protection.
This is an extra precaution taken by PICKnGO as N-TiO2 is proven to be able to not only destroy and inhibit microorganisms, but it also provides lasting protection of up to six months.
Valerie Chan, Executive Director of PICKnGO said, "Taxi drivers might not be able to sanitise their vehicles after every ride. Hence, we are encouraging our drivers to use N-TiO2 – based sterilising solution to keep their taxis protected for longer periods. It is also financially more sustainable compared to sanitising their vehicle on a daily or monthly basis."
"Our taxis which has been sanitised by MUDAcare will receive a sticker with validation period stated to tell passengers that the taxis have been sanitised by MUDAcare. So, all they need to do it look out for taxis with the sticker."
Adrian Lau, senior vice president of MUDAcare, said: "By using MUDAcare coating, N-TiO2, all surfaces will be sanitised, and bacteria and viruses will be destroyed within seconds upon contact with MUDAcare coating. 
"This type of sanitisation is very suitable in public areas, especially public transportation because it provides better and longer protection to the public. So, when passengers see our stickers on any PICKnGO taxi, they can rest assured that this particular vehicle has been properly sanitised. All they need to do is wear a mask," Lau added.
To encourage taxi drivers to maintain their disinfection regime with MUDAcare, PICKnGO will be partially subsidising the sanitisation cost. 
PICKnGO and MUDAcare has sanitised their first 100 taxis today, and will be treating more taxis by batches. With this, passengers could start riding with MUDAcare coating, N-TiO2 treated taxis from 7 July onwards, at no extra cost. MUDAcare also welcomes the public to try out its treatment at the PICKnGO Center in Shah Alam by contacting 016-3361636 for appointment .