Automotive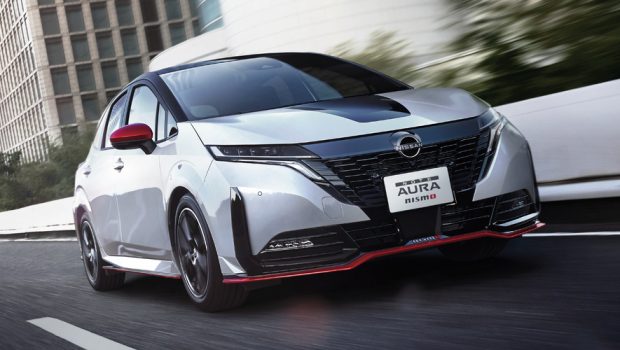 Published on August 18th, 2021 | by Joshua Chin
0
Nissan Note Aura Nismo Nets Design Cues From Formula E
There is no extra power to be found under the hood of this sporty-looking Nissan though. 
Nissan's Nismo division has been rather busy of late, with the launch of a performance-spec Patrol and (yet another) tarted-up GT-R arriving all within the last three months. And while many are presumably eagerly anticipating this in-house tuning arm to eventually turn their attention to the new Z that will be launched tomorrow, what has instead been unveiled during this interim period is the new Nissan Note Aura Nismo. 
Touted by Nissan to be a 'swift electrified city racer' that has been inspired by Formula E, the Note Aura Nismo nets a couple of sporty exterior and interior touches to back up that bold claim. Unfortunately however, it doesn't actually gain any additional performance under the hood to match its race-ready looks.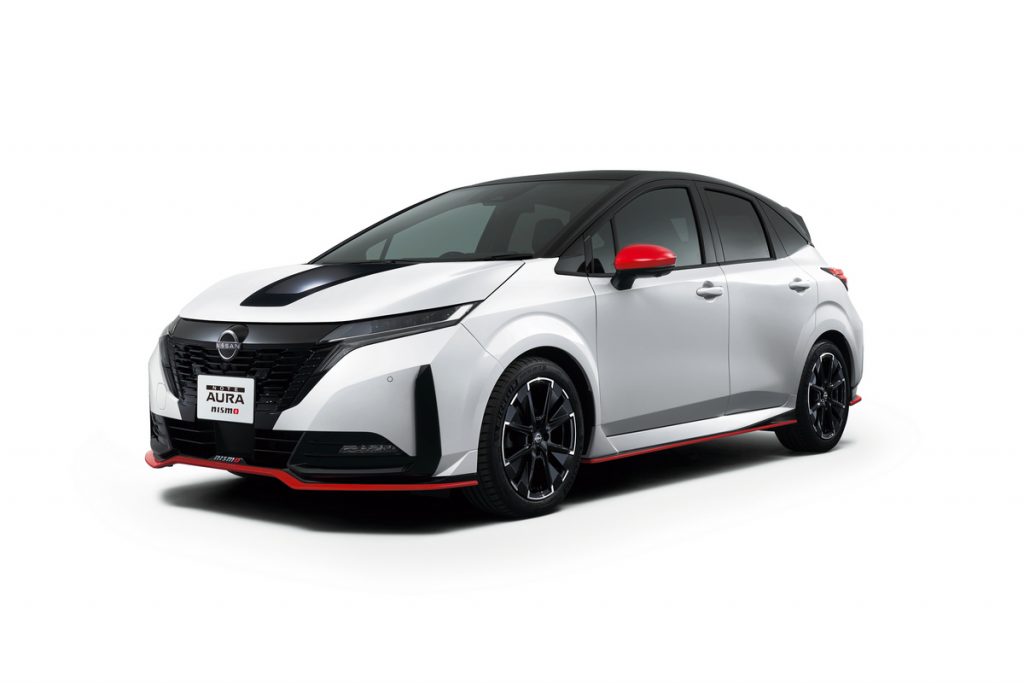 Now starting with enhancements made on the outside of this Nissan hatchback first, this tarted-up Note Aura nets a pair of prominent black side blades and a red-accented splitter for a meaner-looking front fascia. This aggressive aesthetic is also continued further down the side with the addition of 17-inch alloy wheels wrapped in Michelin Pilot Sport 4 tires, which complements the red extended side skirts and the equally red wing mirror caps. 
Its sporty exterior design is further driven home too by its rather large exposed diffuser round its rump, not to mention its bright red layered double-wing sticking out from its two-tone paint scheme. All of which is then rounded off with a couple of redesigned NISMO emblems in matte chrome and matte red, as well as a black decal on the bonnet that gives the illusion of a power bulge.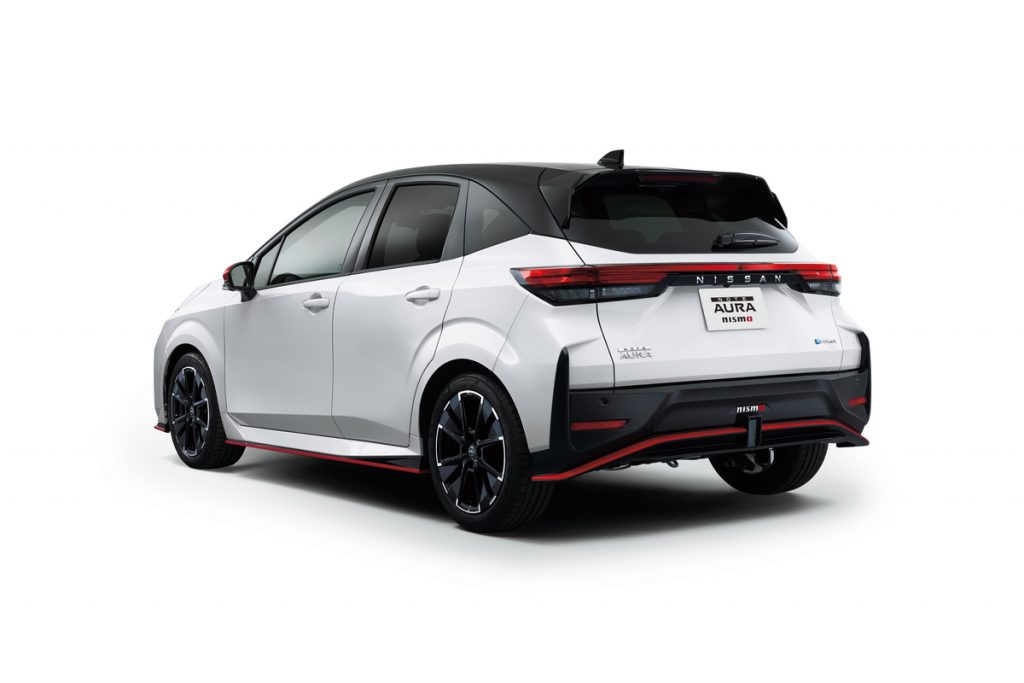 Rather regrettably though, the Note Aura Nismo still retains its stock sibling's e-Power range extending EV setup. Consisting of a naturally aspirated 1.2-litre three-pot that acts as a generator to the twin electric drive motors on board, total power output for this sporty-looking hatchback is a decidedly sedate 134 hp and 300 Nm of torque. 
While it is nevertheless true that the powertrain is no different from the standard Note Auras, this Nismo variant however does indeed come with Nismo drive mode that apparently provides better response and improved acceleration. Nissan also says that the styling tweaks bring with it real aerodynamic benefits, which hence enables the warmed-up hatchback to take advantage of its reworked suspension and a stiffer body for sharper handling.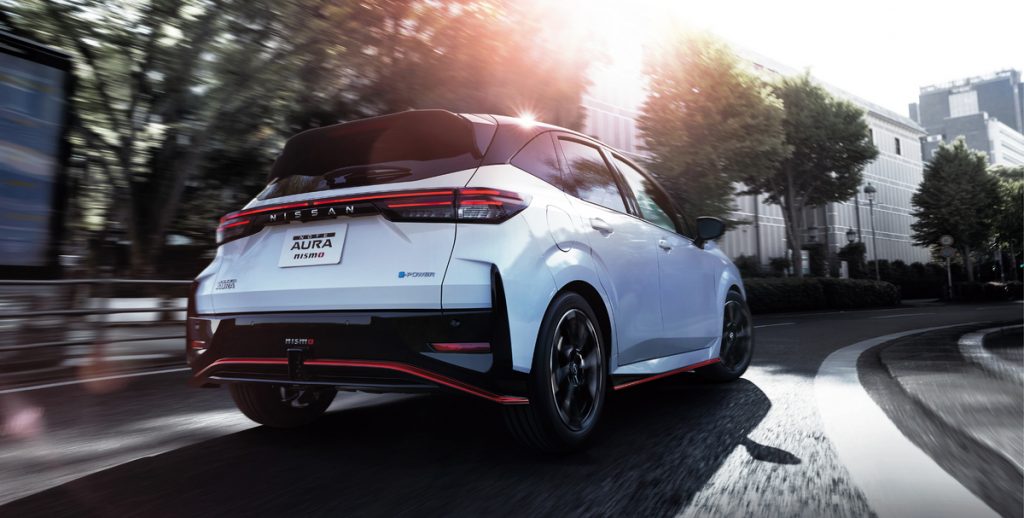 Moving on inside the Note Aura Nismo meanwhile, the main highlight within the cabin are its pair of bucket seats that feature an embroidered Nismo logo and contrast stitching. Other sporty touches within the interior include a flat-bottomed steering wheel, a custom red-weave style dash panel and a bright red start-stop button.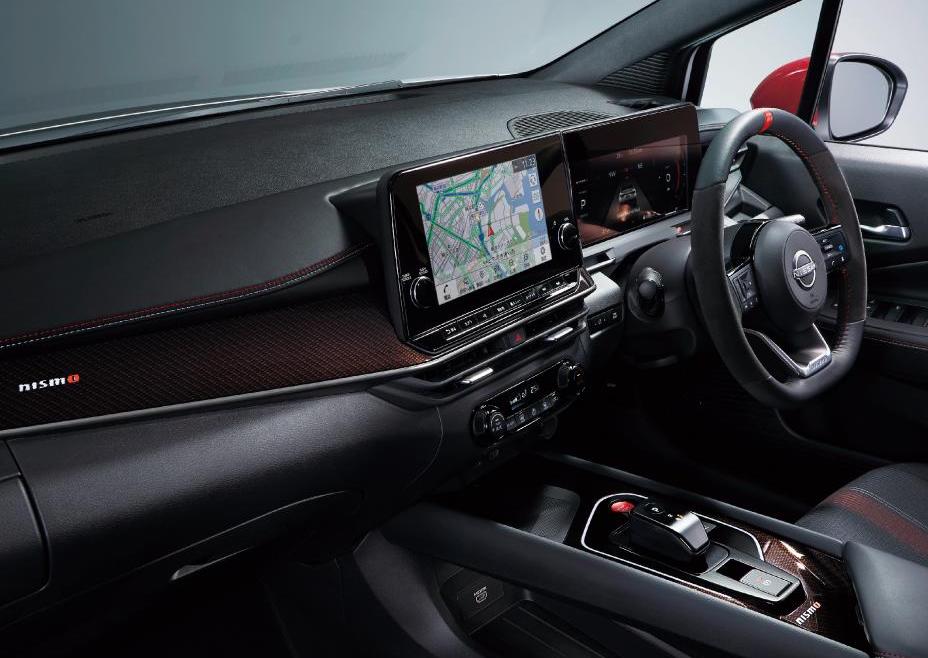 The Nissan Note Aura is set to go on sale in Japan this autumn, and will priced from ¥2,869,900 (RM111,000). Customers will also be able to order additional Nismo accessories should they want to dress up their purchase further, with various Nismo-branded exterior and interior garnishes available within an expansive catalogue.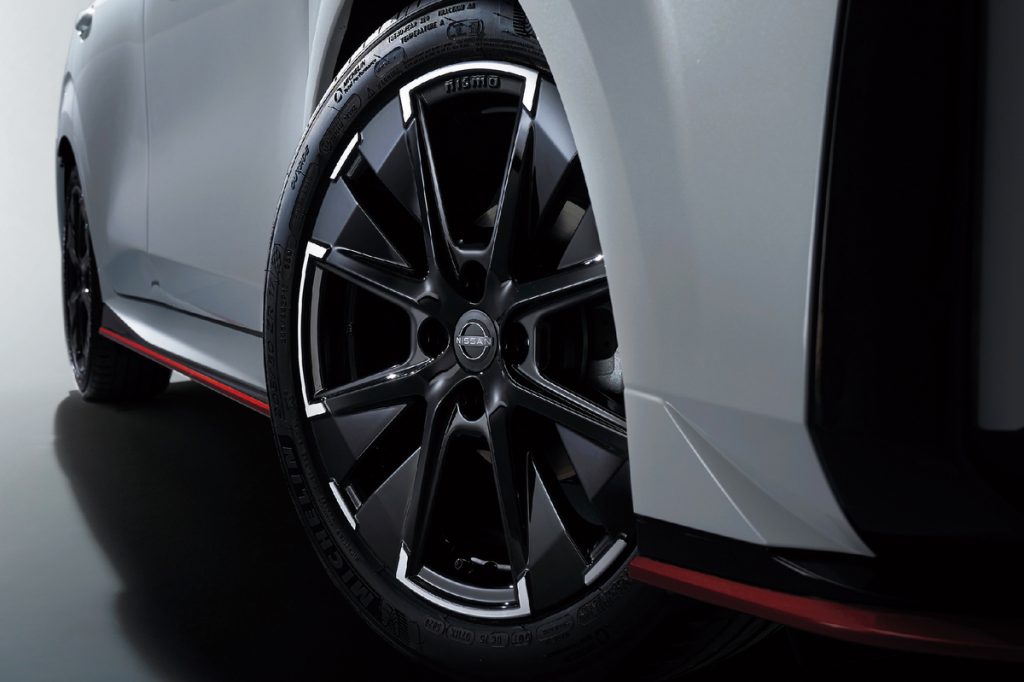 PRESS RELEASE: Nissan Motor Co., Ltd. today announced the launch of the Note Aura NISMO, sales of which are scheduled to start in Japan this autumn. Sales in Japan of the Note Aura, which was announced in June this year, start today.
The all-new Note Aura NISMO comes exclusively with Nissan's e-POWER electrified powertrain, a key part of the company's electrification strategy under the Nissan NEXT global business transformation plan.
With "swift electrified city racer" as its Formula-E-inspired design concept, the Note Aura NISMO is based on the Note Aura while incorporating the NISMO spirit and ethos. Nismo is Nissan's performance brand that offers high performance products to a wide range of customers for street use. Note Aura meets this NISMO-style of next-generation design, exhilarating handling, agile response, and smooth acceleration.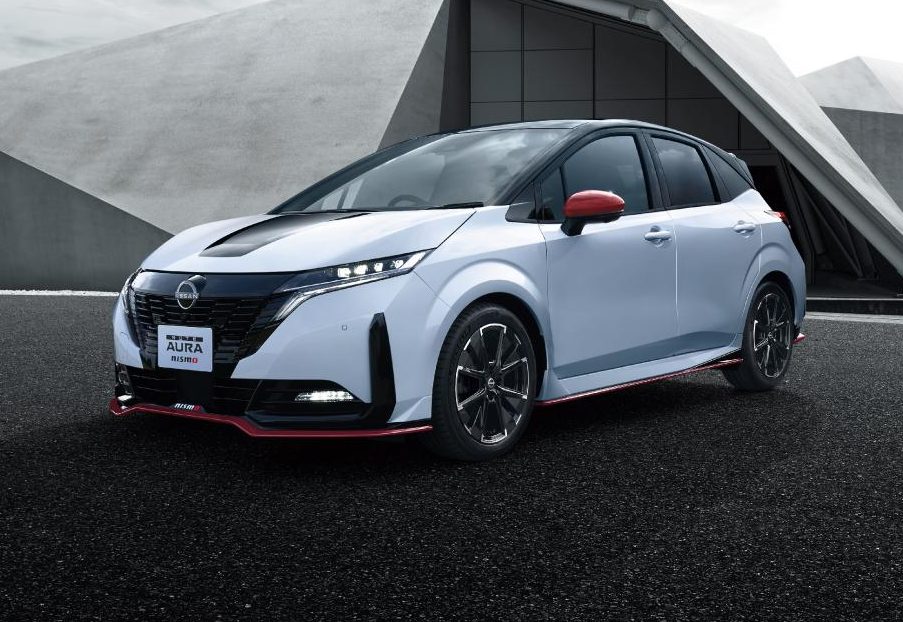 Exterior and interior features
The urban, streamlined, next-generation NISMO design expresses vitality and captures the cutting-edge feel of electrified vehicles.
With NISMO's iconic bright red layered double-wing, the Note Aura NISMO has a low-and-wide silhouette. The redesigned NISMO emblem in matte chrome and matte red accentuates the vehicle's NISMO character.
Other features include wide-rim 17-inch aluminum wheels with high aerodynamic performance. A total of five body color variations are available, including four two-tone combinations.
The interior features a mixture of dark toned color and red accents that evoke focus and excitement for driving. The seats add touch to the interior's sportiness, with seat covers made from a combination of dedicated fabric and synthetic leather, an embroidered NISMO logo and red/grey stitching.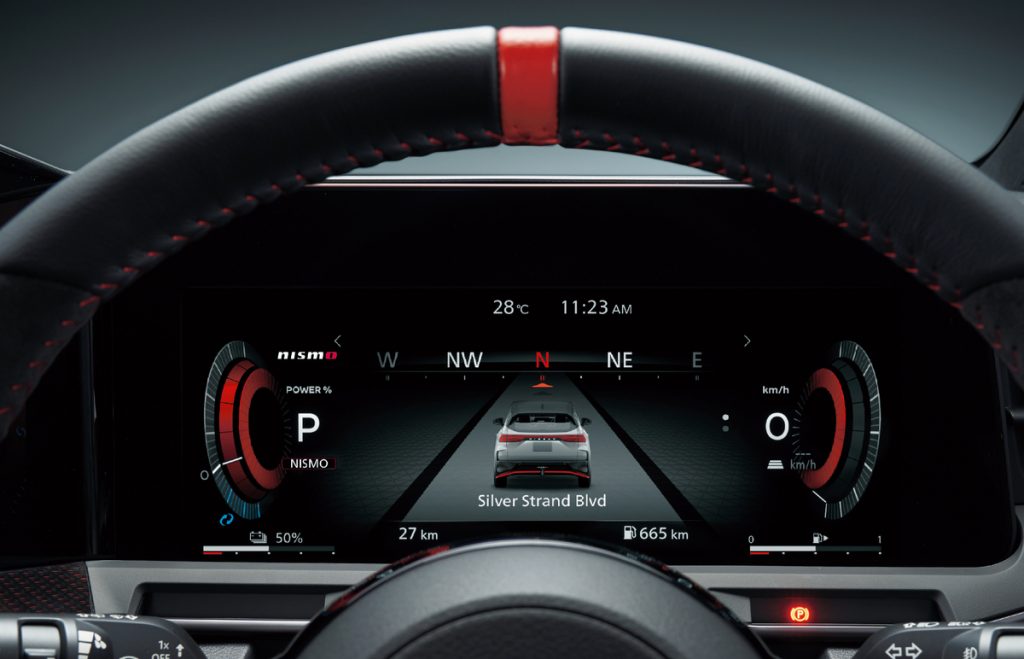 Exhilarating driving performance
Utilizing aerodynamic technologies honed through motor racing, the Note Aura NISMO features optimized aerodynamic downforce, offering stability at high speeds.
Quick and smooth handling, as well as high steering stability, are also offered by the specialized suspension and optimized body rigidity distribution. In addition, the Note Aura NISMO makes maximum use of the second-generation e-POWER system to offer agile response and increased acceleration that live up to the expectations of Nismo fans and genuine lovers of driving.
Three drive mode settings are available for the Note Aura NISMO. The NISMO drive mode offers a more powerful response and increased acceleration. The Normal Mode and the Eco Mode have also been specially tuned for NISMO, providing more comfortable driving.