Automotive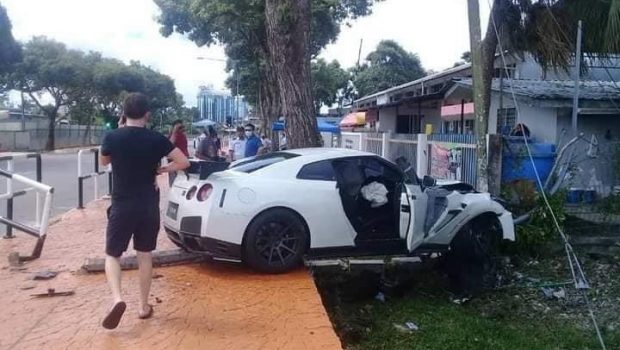 Published on October 29th, 2020 | by Joshua Chin
0
Nissan GT-R Lands In Ditch Near SK Lumba Kuda, Kuching
Testing the horsepower of one's GT-R near a school named after horse racing is ill-advised. 
A Nissan R35 GT-R has reportedly skidded off the road and landed in a ditch off Jalan Tan Sri Datuk William Tan facing SK Lumba Kuda in Kuching, Sarawak. The incident reportedly occurred at around 4 pm on Monday, the 26th of October. 
No official reporting of the accident has been made public thus far, though the pictures regarding the aftermath of the incident does paint the Japanese supercar to be going at quite a high speed when the accident occurred.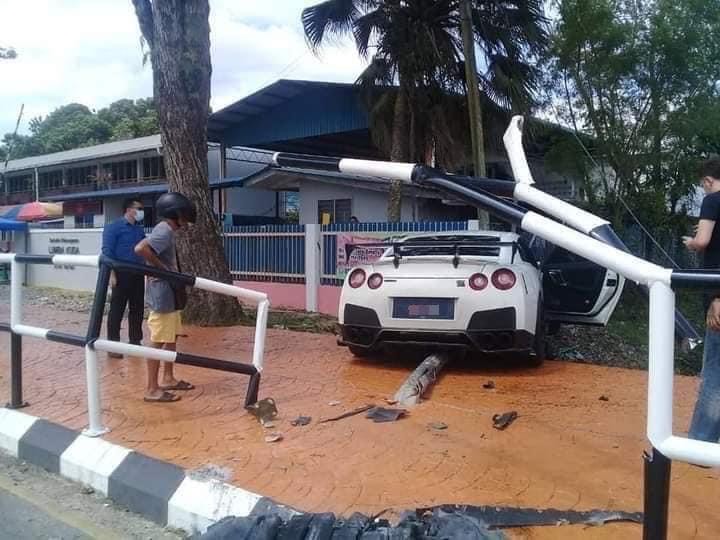 From the pictures at the scene of the crash, it would appear that the white GT-R had managed to break through a steel barricade and flatten a lamp post before being forced to a stop by a telephone pole. This indicates that the GT-R must have been going quite fast, as to do this magnitude of damage to these objects that don't normally bend or break easily. Both airbags having deployed further supports this evidence. 
Saying that, crashing into the lamp post was probably the best possible outcome for the occupants in this gnarly and unfortunate incident. This is because the lamp post looks to be supporting the GT-R like a bridge across the ditch, saving it from dropping further down into the ditch, thus causing more damage.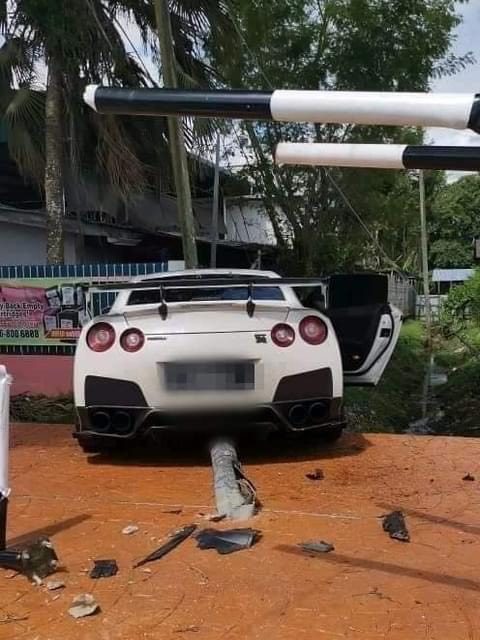 As it stands, this four-seat supercar that has straddled the ditch looks to only have sustained moderate frontal damage to the front fenders, front bumper and bonnet. Light underbody damage should also be expected, not least due to the post that is in contact with the undercarriage of this moderately modified GT-R. 
Happily however, it looks like aside from the airbags deploying, the passenger cell remains mostly intact. Meaning that the occupants most likely walked away with little to no physical injuries, emotional and financial traumas are another thing altogether. 
Nevertheless, like what most internet commentators have picked up on, crashing one's GT-R outside a school named for horse racing will inevitably bring the tasteless jibes revolving around horsepower. With 'Itu sekolah lumba kuda, bukan kawasan ujian kuasa kuda' seemingly to be the most popular.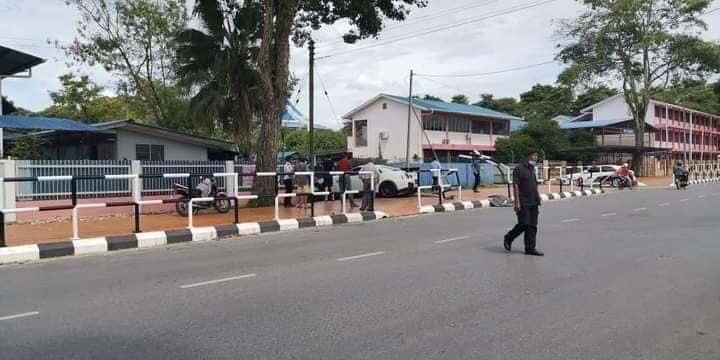 It does serve as a timely reminder though to perhaps take it down a notch when out on the public roads, especially near a school zone. Especially if you are driving a 500+ horsepower four-wheel drive Godzilla.