Automotive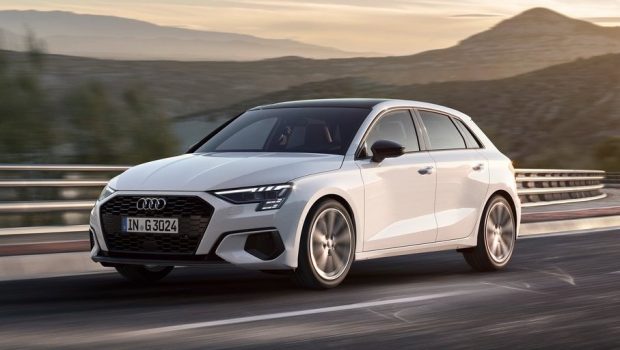 Published on September 16th, 2020 | by Joshua Chin
0
NGV-powered Audi A3 Sportback 30 g-tron Launched
While everyone is moving to EVs, Audi has quietly announced a natural gas powered A3. 
Hearing the words natural gas, one most often attributes it to taxis here in Malaysia. Elsewhere in the world too, natural gas powered vehicles didn't explode in popularity. That said though, there are a few of these gas-powered vehicles on the market. One of which just happens to be this newly launched Audi A3 Sportback 30 g-tron.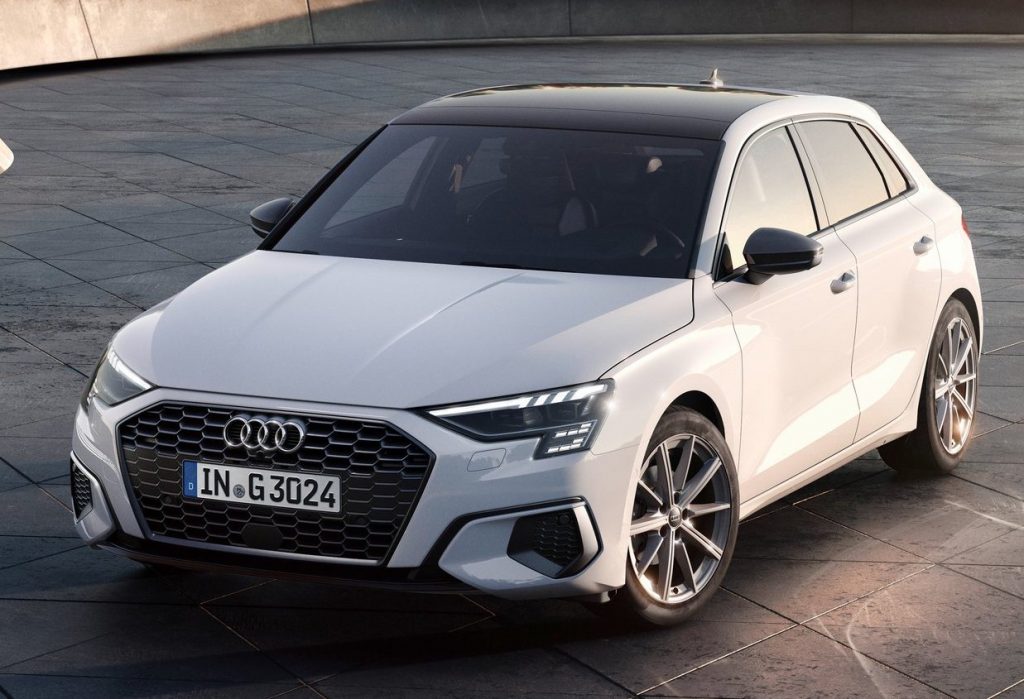 Some might think it mad for Audi to invest heavily in producing a compressed natural gas (CNG) variant of its popular hatchback, especially at a time when everyone else is moving to EVs. That said though, there is method in the German marque's madness, considering this is the second iteration of Audi's CNG-powered hatchback that began in 2014.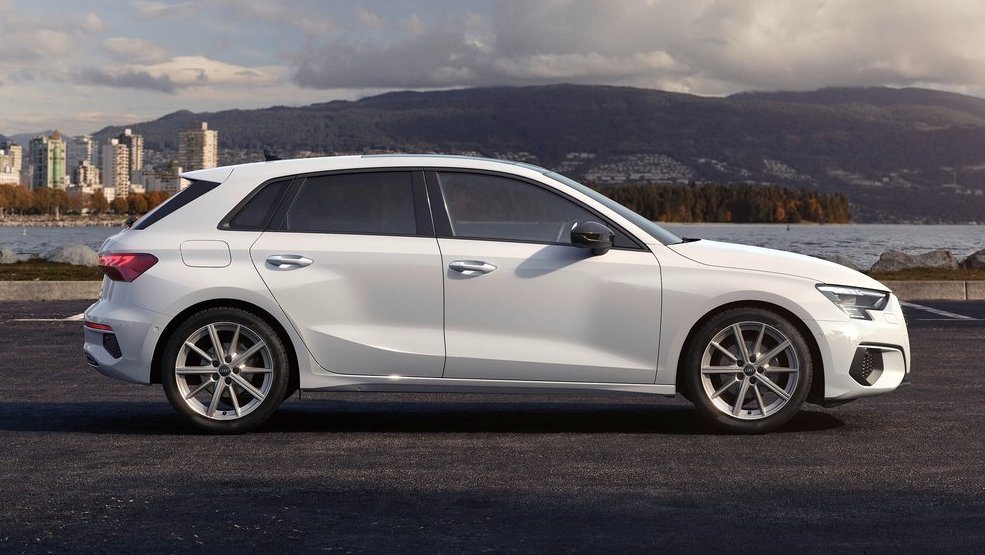 What lies underneath the hood of this normal looking A3 is actually a rather interesting powertrain and power supply system. The figures associated with the 1.5 TFSI turbocharged four cylinder may not seem significant on the face of it, but the engineering behind this engine is fascinating to say the least. 
Getting the numbers of this powertrain out of the way first, 131 PS and 200 Nm of torque is transferred to the front wheels through a 7 speed S-tronic transmission. Netting a 0-100 km/h time of an adequate 9.7 seconds, and a top speed of 211 km/h. As for economy and the environment, the average NEDC fuel consumption and range are 3.5 kg of CNG per 100 km and 495 km respectively. This 1.5 litre engine also produces 96 g/km of CO2.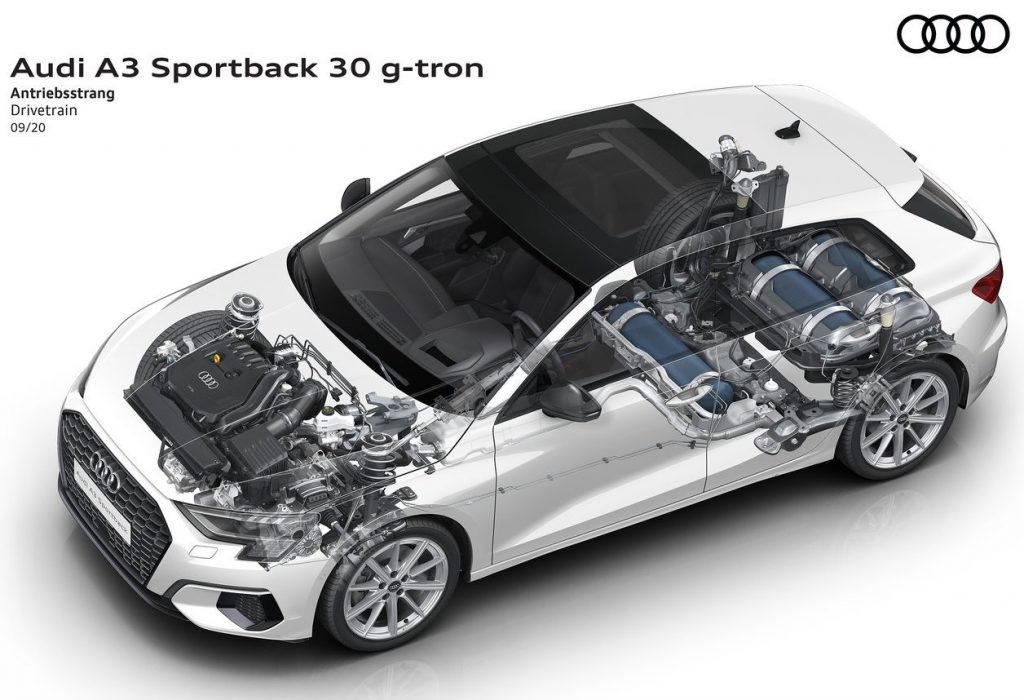 As mentioned prior, looking at these rather insignificant numbers don't tell the full story behind what is actually a really clever power package. Just be forewarned there will be some engineering nerdery here, so if you aren't into that just skip the next paragraph or two to get back to the story. 
While the 1.5 litre lump may seem like a normal engine, it actually runs on a high compression Miller cycle, as opposed to the Otto cycle seen on most petrol-powered cars. The benefit of this is that the Miller cycle was actually designed to work under partial load conditions, which is most of the time for combustion-engined cars. Thus, this translates to greater operational efficiency than in a normal fuel-powered car. A 20% reduction in CO2 emissions compared to comparable petrol engines, thanks to the high hydrogen content in CNG, is the icing on top of this cake.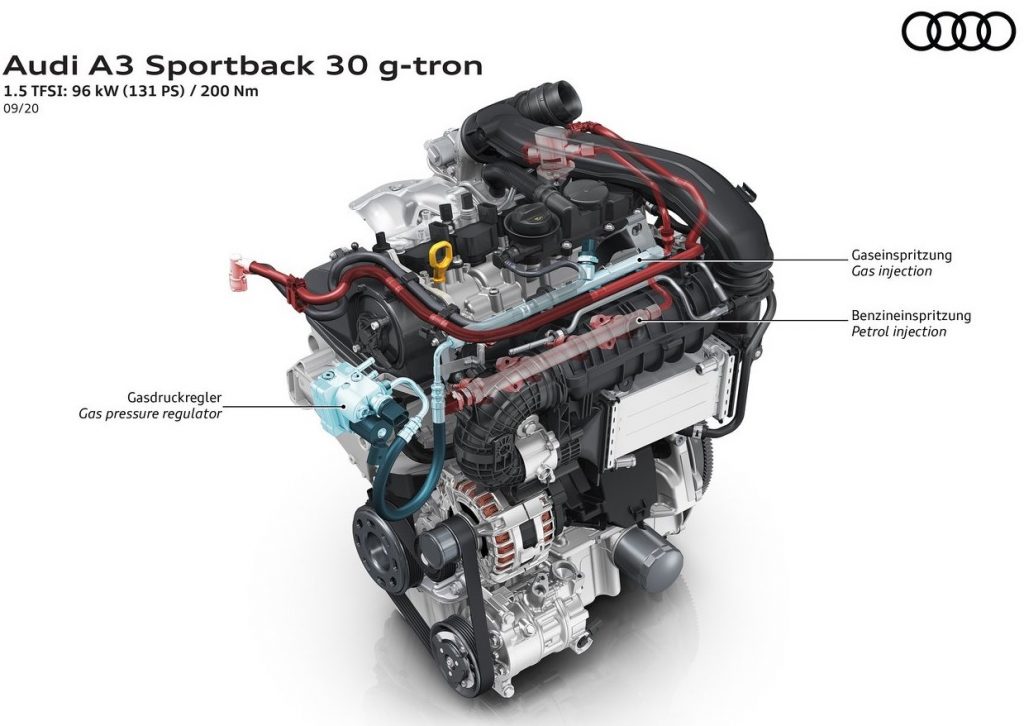 In addition to that, the engine can be also made to run on petrol in certain conditions to maintain smooth running, such as when the tank pressure is low. At times like this, the 9 litre fuel tank will feed the engine automatically. Audi goes on to claim that the driver will not even notice the switch to petrol consumption, with the only observable difference being the fuel needle moving within the digital instrument cluster.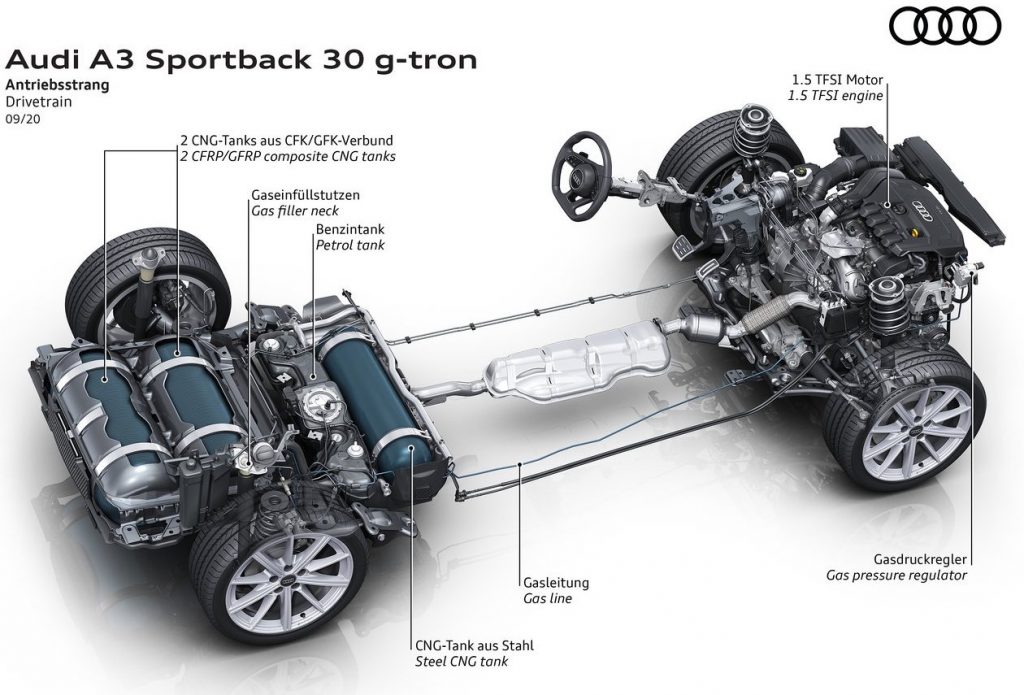 On to the gas tanks themselves, three gas tanks sit at the rear-third of this hatchback, providing a total capacity of 18 kg of CNG. Both filler necks for the CNG and petrol are found under the same sole filler flap. The gas tanks may be larger than the equivalent petrol tank, but the boot space still remains usable with a cargo capacity of 280 with all the seats up, extending to 1,100 litres with all the seats folded down.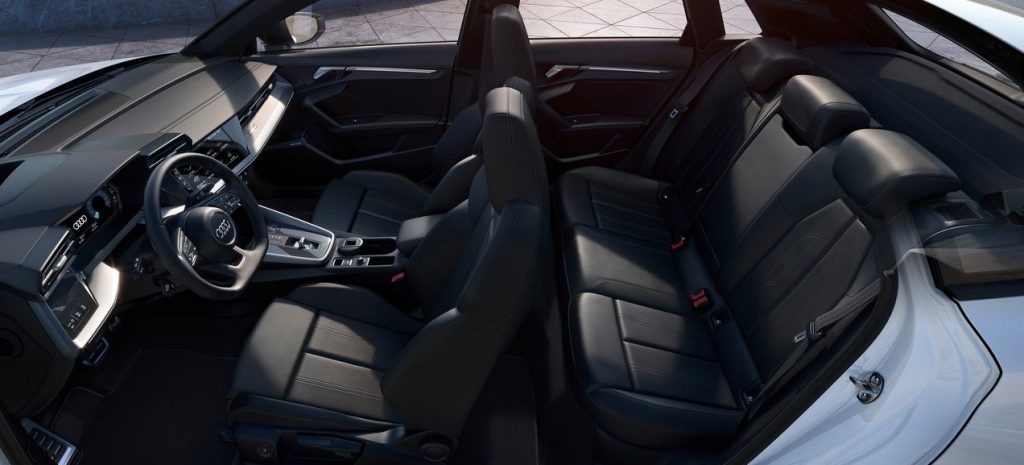 Speaking about practicality, the A3 g-tron comes with the usual Audi tech and features found on the normal A3. These include LED headlights, digital instrument cluster, 10.1-inch touch display and leather-covered multifunction steering wheel to name a few. In fact, it is essentially a normal Audi A3 for all intents and purposes, it is just that the g-tron happens to be powered by gas instead of a liquid fuel.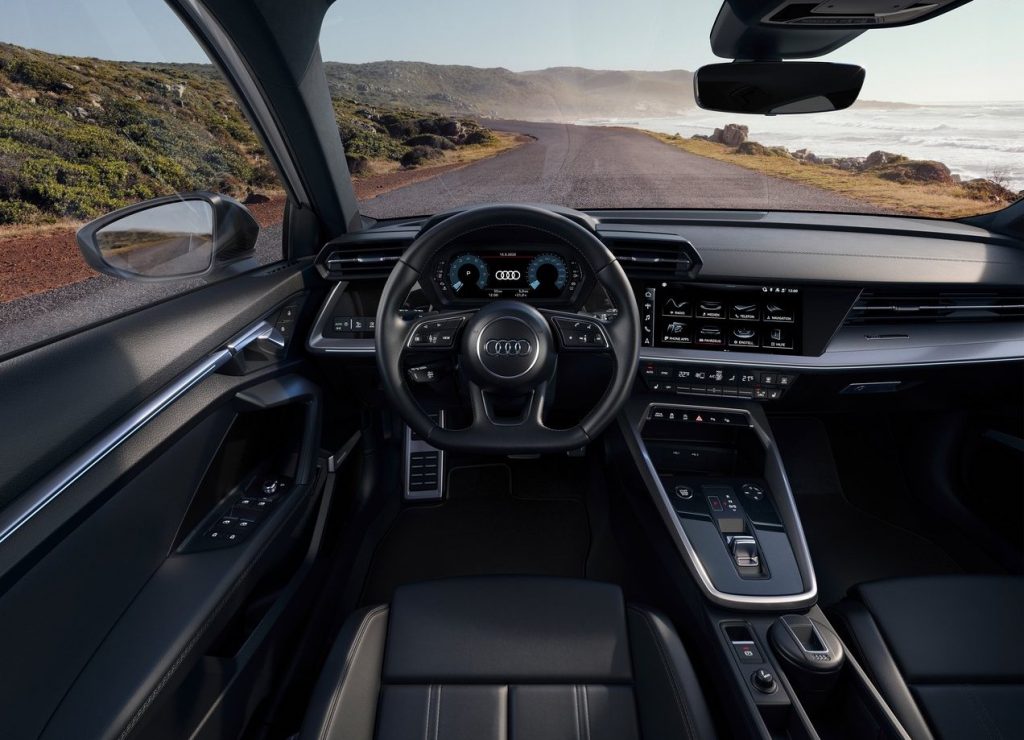 This CNG-powered Audi A3 g-tron will be on sale in Germany in the fall of this year starting at €30,705.88 (RM 151k). Now the reason why this particular Audi is on the German market is mainly due to economic reasons, as most of you would have shrewdly guessed by now. 
Germany is offering a favourable tax rate on natural gas and bio methane until 2026. Factoring to that the 850 CNG filling stations in Germany, this alternative fuel Audi may be a financially savvy buy for the German motorist. 
The fact that Audi has developed a CNG-specific engine does bring up an interesting point for the Malaysian auto industry though. It would be stating the obvious that our EV infrastructure will not be ready for another couple of years, even decades perhaps. So why don't we see if CNG would be the way forward for our local auto industry?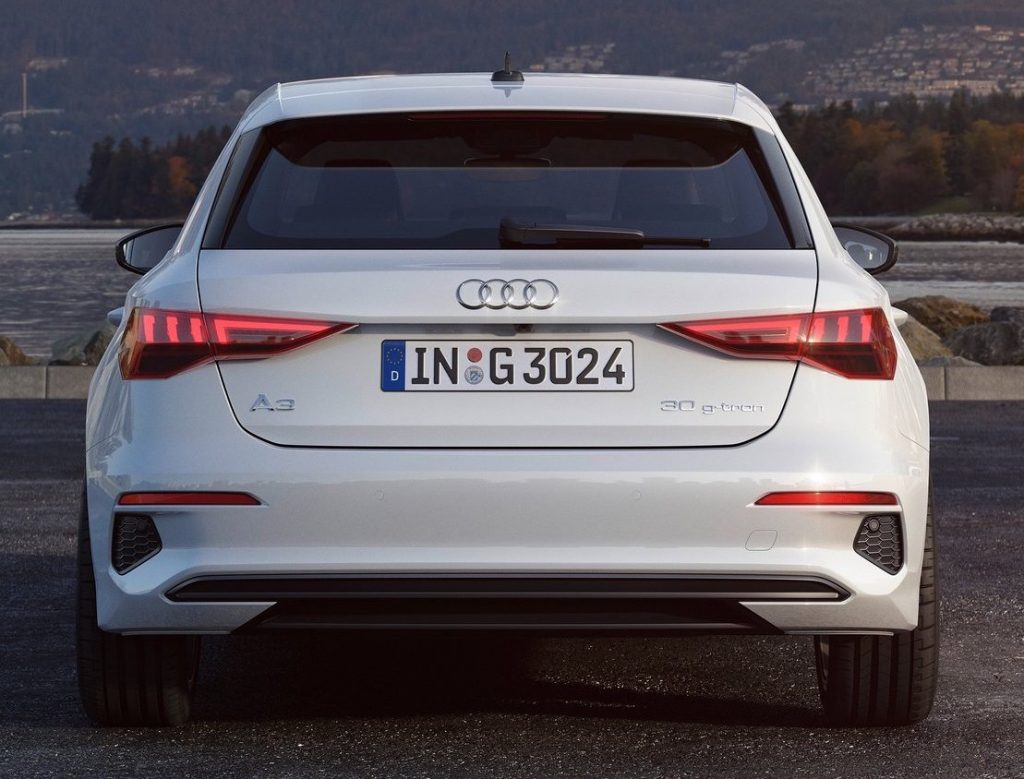 PRESS RELEASE: Audi adds a new member to the A3 family: the A3 Sportback 30 g-tron. Operation with natural gas or biomethane makes the compact model particularly economical and climate-friendly with very low emissions. Like all variants of the new A3 model series, it boasts a sporty design, a digital operating concept and generous standard equipment. Sales in Germany begin in fall 2020 at a base price of €30,705.88.
The first A3 Sportback g-tron introduced by Audi in 2014 already featured a sophisticated technology concept. The successor builds on that. Its 1.5 TFSI engine produces 96 kW (131 PS) and generates 200 Nm (147.5 lb-ft) of torque between 1,400 and 4,000 rpm. Its turbocharger with variable turbine geometry makes optimal use of the exhaust gas energy for early and harmonious torque development. The Miller combustion process provides tremendous consumption advantages during normal driving. With its abbreviated compression phase and long expansion phase, it was designed specifically for operation at partial load.
Operation with the knock-resistant fuel CNG enables a higher 12.5:1 compression ratio compared with the conventional combustion process of the 1.5 TFSI 110 kW (150 PS) and also improves efficiency. The cylinder head, injection system, turbocharger and catalytic converter were modified accordingly for the CNG engine. Before the gas reaches the injector valves, an electronic pressure regulator reduces the pressure from as much as 200 bar, which can prevail in the tanks, to between 5 and 9 bar.
The CNG model accelerates from 0 to 100 km/h (62.1 mph) in 9.7 seconds on its way to a top speed of 211 km/h (131.1 mph). Average NEDC fuel consumption for the four-cylinder is just 3.6 – 3.5 kilograms CNG (Compressed Natural Gas) per 100 kilometers, corresponding to a CO2 equivalent of 99 – 96 grams per kilometer (159.3 – 154.5 g/mi). With full gas tanks, the car has an NEDC range of up to 495 (307.6 mi) kilometers and a WLTP range of up to 445 kilometers (276.5 mi). This is supplemented by the additional range offered by the reserve gasoline tank with a net usable volume of 9 liters (2.4 US gal) mounted in front of the rear axle. Power is transferred to the front wheels via the standard seven-speed S tronic.
The four-cylinder always starts in CNG mode, only injecting slight amounts of gasoline under rare operating conditions. If the pressure in the gas tanks drops below a certain threshold, which varies depending on the current driving state, the engine switches to gasoline mode. The driver does not notice this switch. The fuel level in the tanks and consumption in the respective operating mode are displayed in the digital instrument cluster. The two filler necks are placed under a common fuel flap.
Light and safe: the CNG tanks
Three CNG tanks arranged perpendicular to the direction of travel are located in the rear of the Audi A3 Sportback 30 g-tron. A narrow steel cylinder with a capacity of approximately 4 kilograms of gas is mounted in front of the gasoline tank. Two large tanks, each of which can hold approximately 7 kilograms of CNG, are located beneath the luggage compartment floor. They are made of fiber-composite materials and, in keeping with Audi's lightweight construction philosophy, each weighs just 26 kilograms (57.3 lb). The inner layer is a gas-tight polyamide vessel. The ultra high-strength outer shell comprises two layers: an inner layer of carbon fiber-reinforced polymer (CFRP) and an outer layer of glass fiber-reinforced polymer (GFRP). The GFRP layer also has a safety function: It turns a milky white if damaged. A cover likewise made of GFRP protects the tanks against stone impacts or other road influences.
Utmost care is taken during their manufacture. Before the tanks are mounted in the car, they are pressure tested at 300 bar, far above the operating pressure of 200 bar. The vessels withstand a burst pressure of 580 bar, which is also well above the 470 bar required by law. Crash tests requirements are also easily met.
Powerful advantages: lower costs, lower emissions
The Audi A3 Sportback 30 g-tron is also a leader when it comes to economy, in part because of the favorable tax rate on natural gas and biomethane in Germany until 2026. The emissions balance is similarly positive. Due to the fuel's high hydrogen content, a CNG automobile emits approximately 20 percent less carbon dioxide than a comparable gasoline model.
There are currently some 850 CNG gas stations in Germany. More than half of them sell biomethane produced entirely from waste, and this number is increasing. With this fuel, driving is nearly climate-neutral. When the fuel is burned in the engine, it only releases as much CO2 as the biomass from which it was produced bound while growing.
The Four Rings brand is helping to further increase the share of sustainable methane in the gas mix by feeding Audi e­gas into the natural gas network. The synthetic fuel is produced at the power-to-gas plant in Werlte from water and carbon dioxide using electricity generated by wind power. Audi sources the CO2 from an adjacent biogas plant that recycles agricultural waste. The power-to-gas plant in Emsland is both a research facility and production site that also serves to stabilize the power grid in light of the increasing share of fluctuating green electricity from wind and solar power generation.
Like all models in the series, the Audi A3 Sportback 30 g-tron combines very fun driving with everyday utility. Beneath its expressive exterior lie many technologies from the full-size class. They can be found in the operating concept and the infotainment, the headlights, the interior and the sporty balanced handling. Depending on the position of the rear seat backs, the luggage compartment has a volume of 280 to 1,100 liters (9.9 to 38.8 cu ft). The loading floor is flush with the loading edge.
The Audi A3 Sportback 30 g-tron comes standard with the following equipment: LED headlights, digital instrument cluster, 10.1-inch touch display, leather-covered multifunction steering wheel and the assistance systems Audi pre sense front, lane departure warning, swerve assist and turn assist. Options include matrix LED headlights with digital daytime running lights, three-zone automatic air conditioning, head-up display, sport seats with integrated head restraints, panoramic glass sunroof and adaptive cruise assist, which supports the driver with longitudinal and lateral guidance. Three exterior and three interior lines, which can be freely combined, provide for a high level of customization.
Sales of the Audi A3 Sportback 30 g-tron in Germany and other European countries begin in fall 2020. The base price in Germany is €30,705.88.