Automotive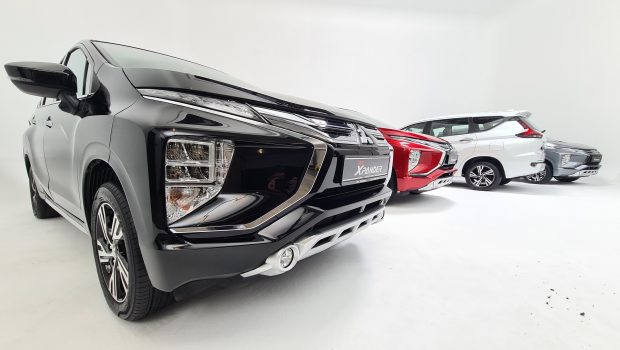 Published on October 22nd, 2020 | by Joshua Chin
0
Mitsubishi Xpander MPV Previewed, Bookings Open Today
No word on the price yet, but the specs of this 7-seat Mitsubishi Xpander MPV are laid bare below. 
After many months of eager anticipation, Mitsubishi Motors Malaysia (MMM), the official distributor of Mitsubishi vehicles locally, has finally unveiled its new Xpander 7-seat compact MPV.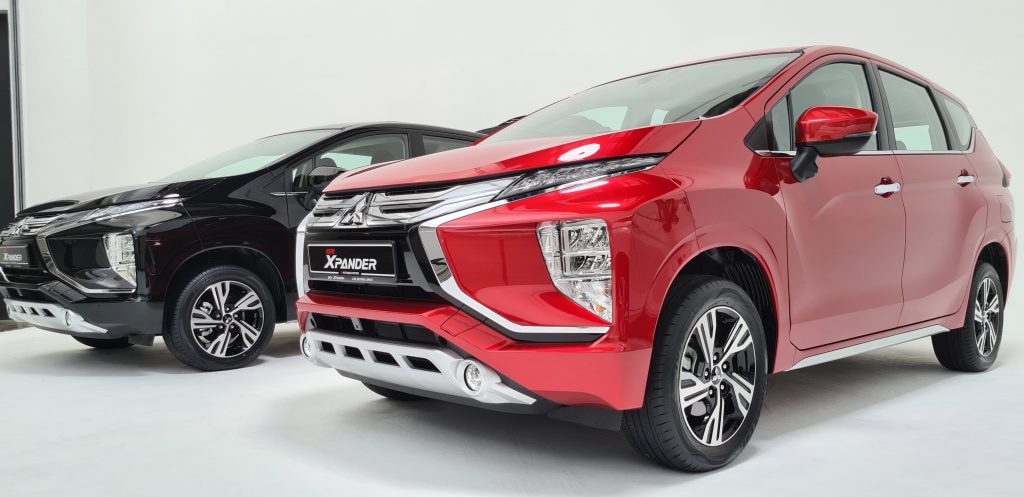 Furthermore, aside from releasing all the details regarding this latest addition to the local Mitsubishi lineup, MMM has also invited the motoring press to a socially-distanced preview of this new Japanese minivan. So here are all the details regarding this latest challenger into the local 'school transporter van' segment. 
Starting on the outside of the Xpander, the menacing front end aesthetic is probably the highlight of this minivan's design. Incorporating Mitsubishi's corporate Dynamic Shield front end design, the new Xpander's X-shaped chrome grille is flanked by slit-like bi-LED headlights and more impressively, the huge crystal block LED position lights. An exposed metallic brush guard with twin fog lights encased on either side adds some SUV ruggedness to this MPV.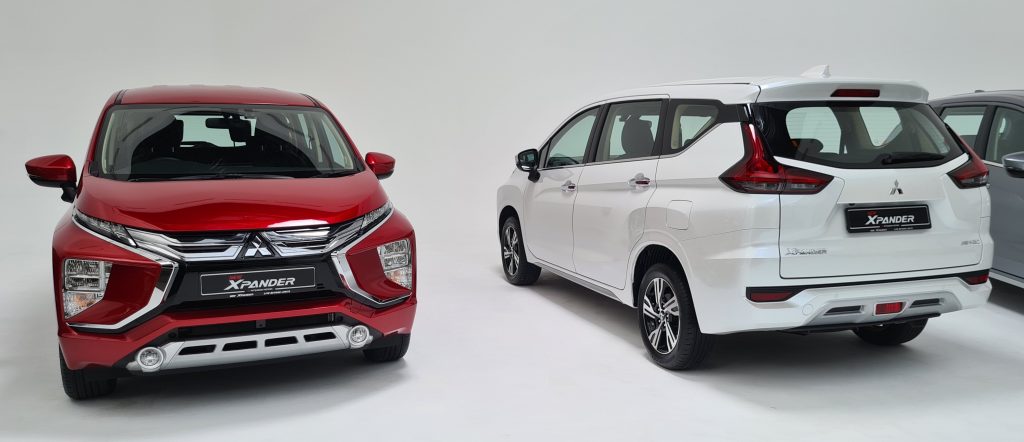 Down the side, this high-riding minivan houses 16 inch dual-tone alloys beneath its flared and sculpted wheel arches. A chrome strip that runs along the bottom of the window line meanwhile adds a touch of design flair to the side profile. As does the floating roof aesthetic, courtesy of a black trim piece on the D-pillar. L-shaped LED tail lights round the back complete the design highlights of the Xpander. 
Continuing onto the powertrain, only one option is available locally, and that would be the 1.5 litre naturally-aspirated MIVEC four-cylinder unit. Outputting an adequate 105 PS and 141 Nm of torque, it should be sufficient for daily driving duties. Drive is sent to the front wheels through a well-proven four-speed automatic transmission.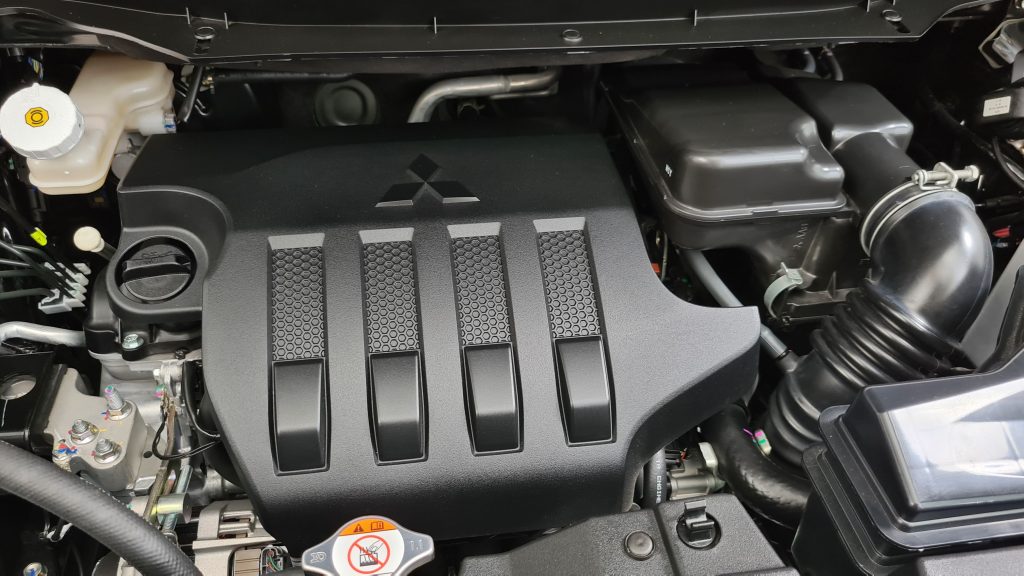 Stepping inside the Xpander, there is no doubt that this 7-seat people mover is indeed a practical vehicle. Mitsubishi touts that the Xpander boasts best-in-class cabin space, and there is certainly some truth to that.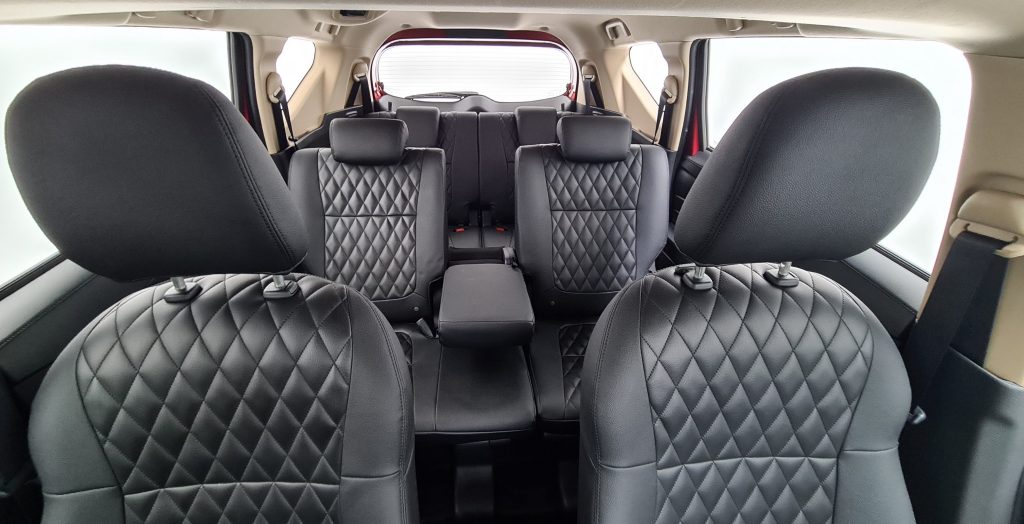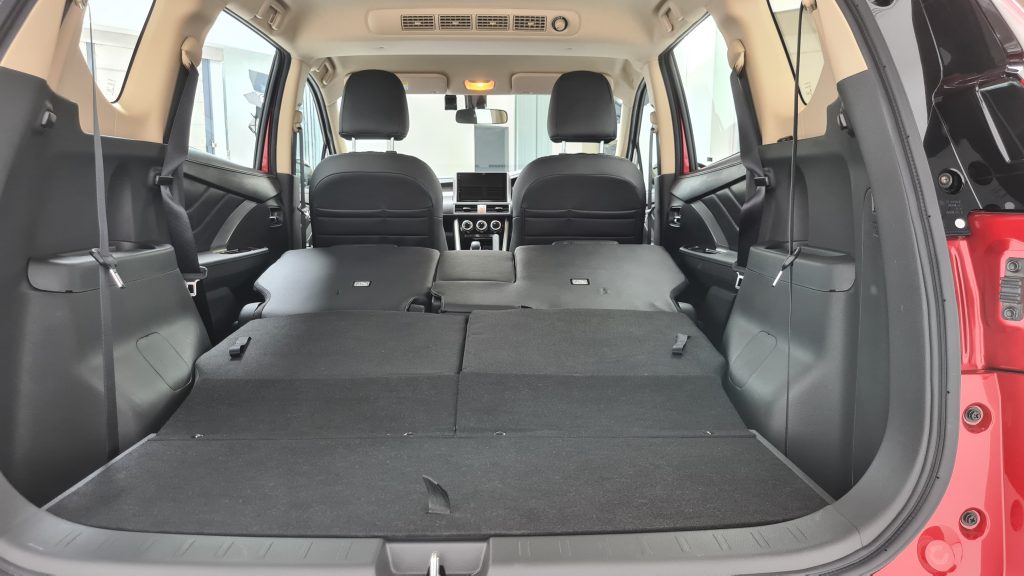 A flat floor on the second row means three passengers seat comfortably in the middle section, while even six-footers are able to contort themselves behind in the third row for, with a reasonable amount of headroom to spare. A one lever seat flipping mechanism is also quite intuitive to use. Making ingress and egress of the third row easier.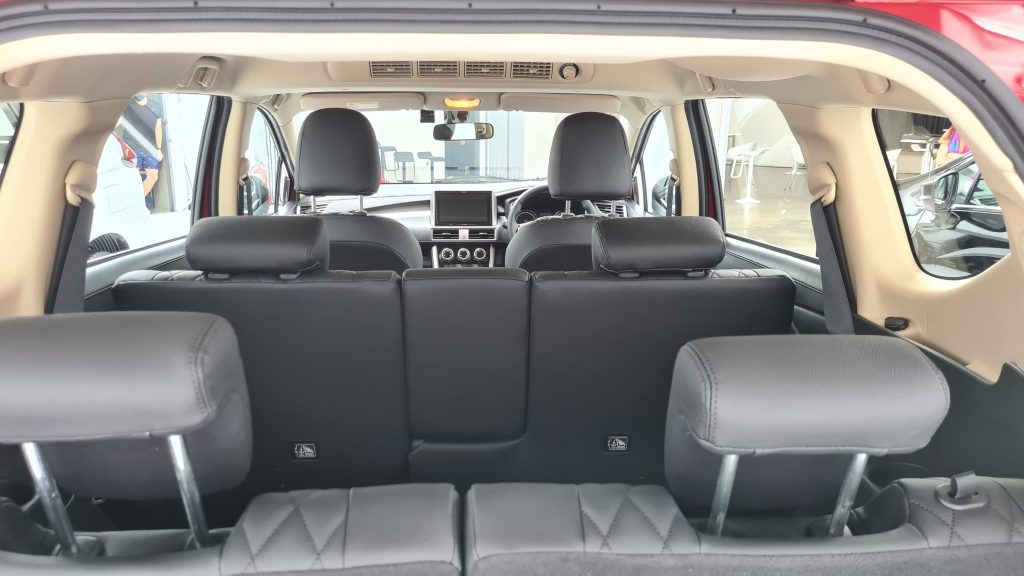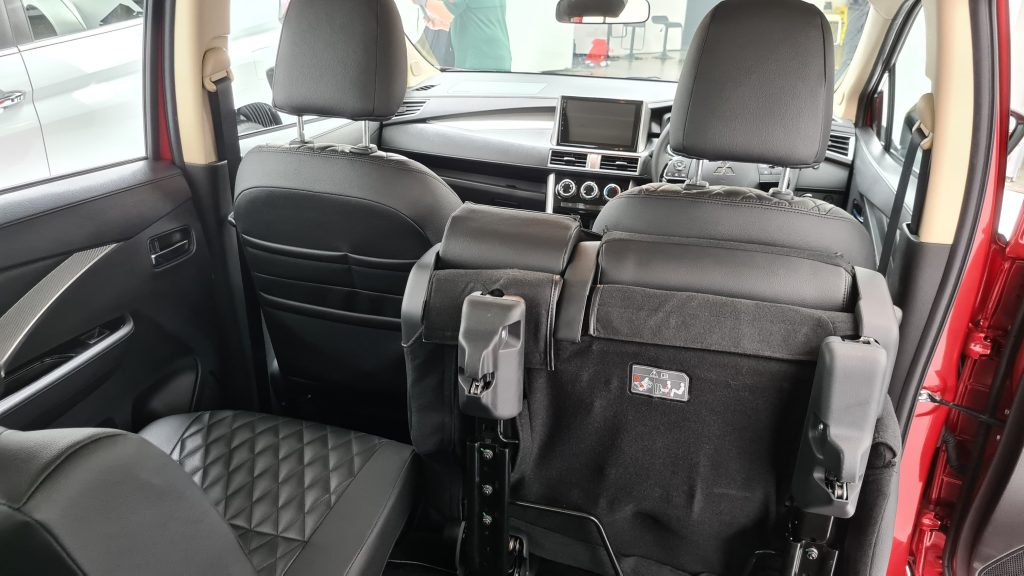 As for interior quality however, let's just leave it with saying that plastic is used both liberally and rather innovatively within the interior of the Xpander. A simple example would be the door cards, it might look like fabric, but instead it's all plastic. Speaking of fabric, the leather seat upholstery is much the same as those on Air Asia plane seats. No Nappa leather here on this MPV, but then again, it is to be expected after all for a car in this segment.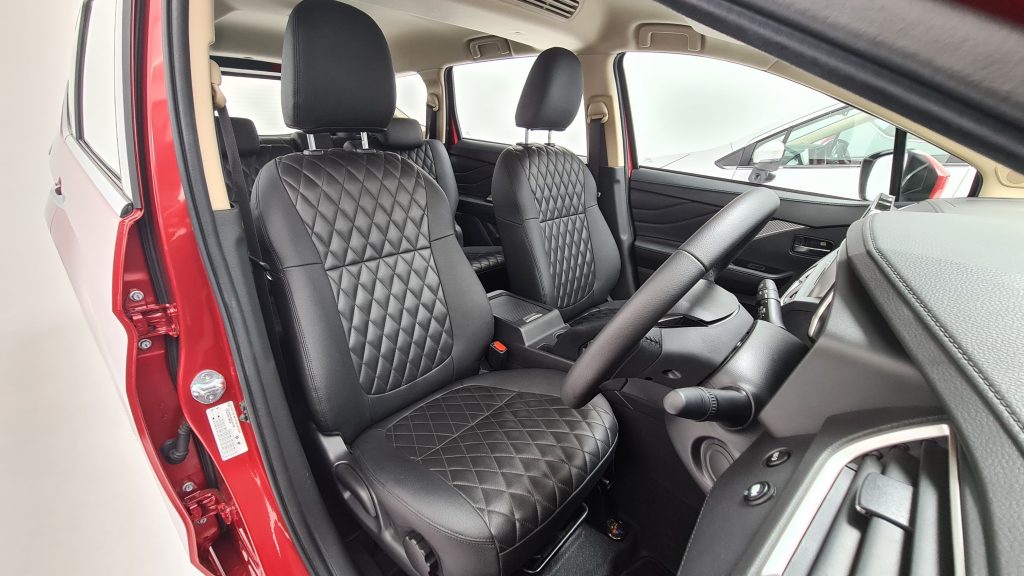 Where Mitsubishi did spend money however is probably on kit, as the standard equipment list on the Xpander is quite generous. In addition to keyless-go and electrically folding door mirrors, a  9-inch central infotainment screen with integrated Apple CarPlay and Android Auto is standard up front, as is a multi-function steering wheel with cruise control functionality. The standard roof-mounted rear air-con vents with separate ventilation controls from the front will also be a blessing for rear seat occupants in the hot and humid Malaysian weather.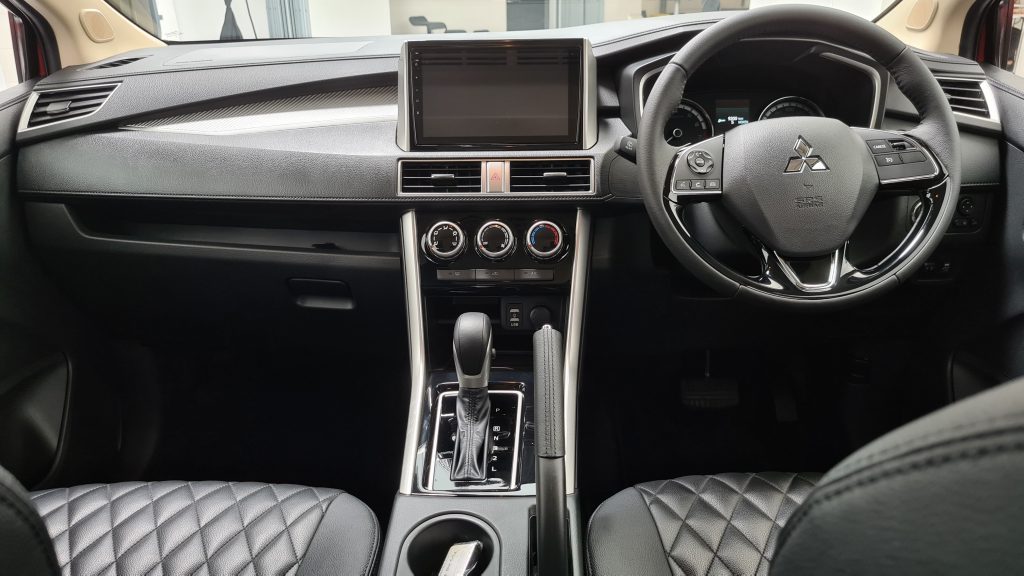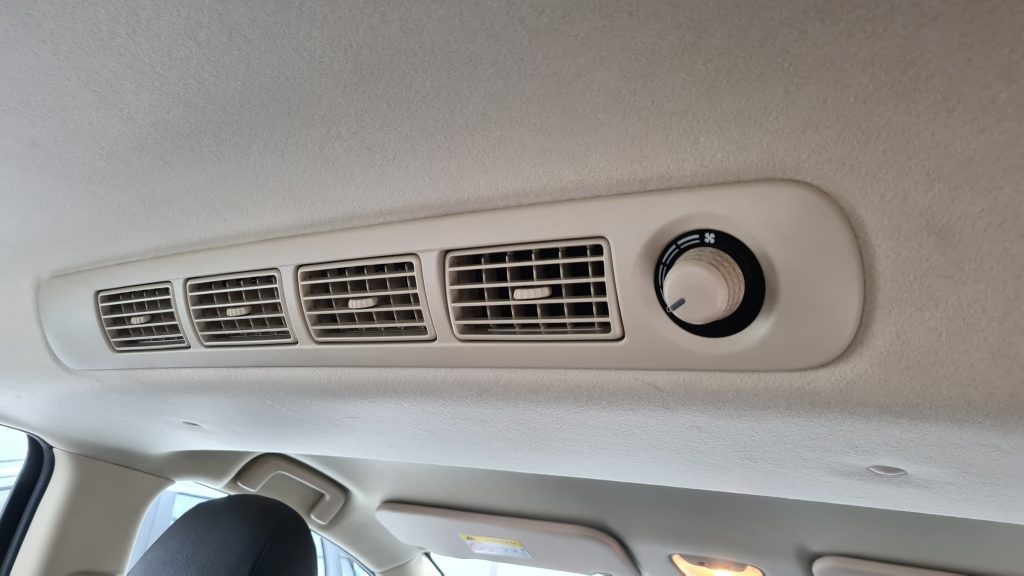 Moving on to the topic of safety, the Xpander scores reasonably well here too as it comes standard with a host of safety acronyms, including 'anti-lock braking system (ABS), electronic brake-force distributor (EBD), Active Stability Control (ASC), Brake Assist System (BA), Hill Start Assist (HSA), Rest Reminder, Brake Override System (BOS)'. Moreover, as part of MMM's Authorised Dealer Package, the Xpander is also fitted with a Driving Video Recorder (DVR) dash cam and perhaps more usefully for a car this size, a 360º surround view camera system. That said, the fact that it only has dual front airbags does knock the safety score back a bit.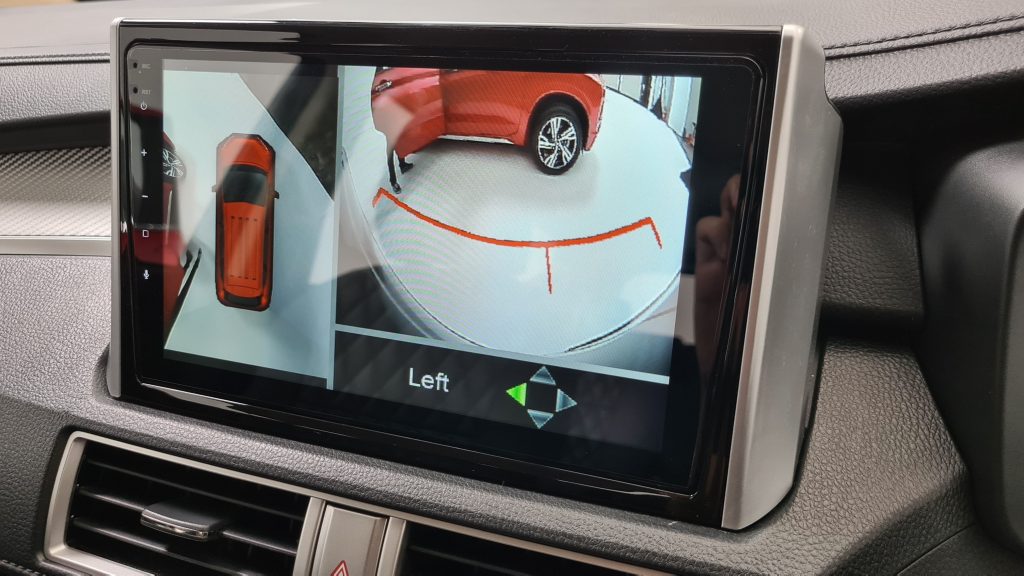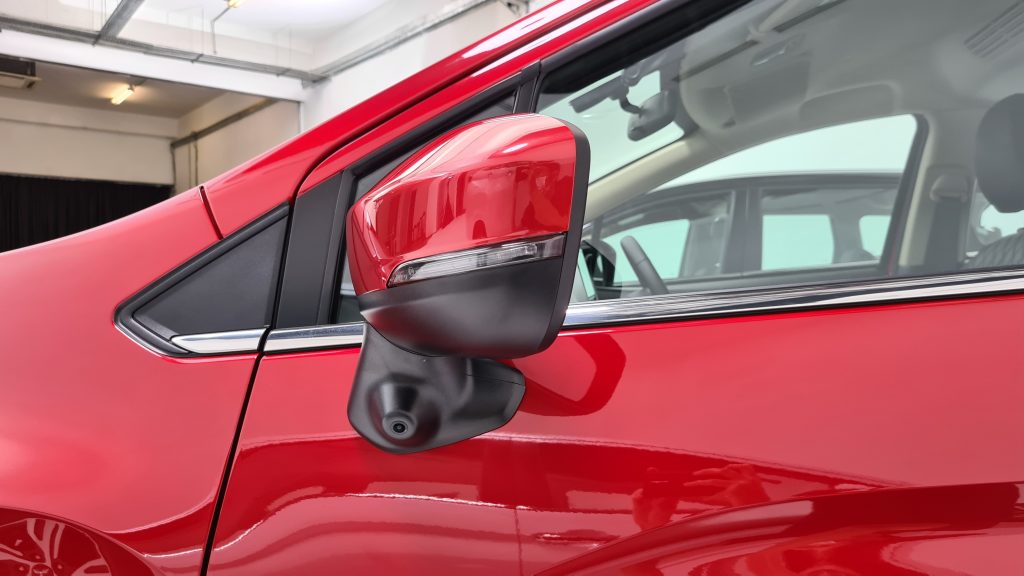 To those more well-travelled readers among us, some might have caught on to the fact that the specs of this locally assembled Xpander is similar to the ones already available in our other ASEAN neighbours. And that would be correct as the Malaysian Xpander is essentially the facelifted Xpander that was launched elsewhere in ASEAN since 2019 already. Thanks to the need for it to be locally assembled for it to be competitively priced however, it is only now that the Xpander arrives in Malaysia.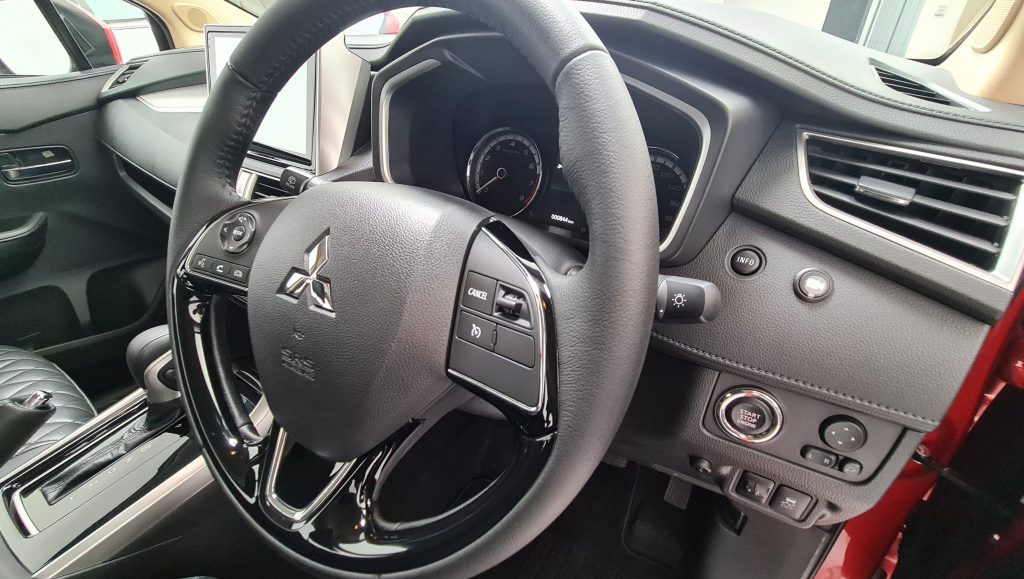 Speaking of the price, there is no official word thus far from MMM. However conservative estimates place it to be around RM 93k to RM 98k, and certainly not more than the RM 100k mark. Bookings for the Xpander are now open at all authorised Mitsubishi showrooms nationwide from today, ahead of the official launch of this Japanese compact MPV sometime in November. 
Although it may be a bit rough round the edges, with its sharp looks, practical interior, generous standard equipment and relatively low price, this looks to be much-needed winner for the tri-diamond marque.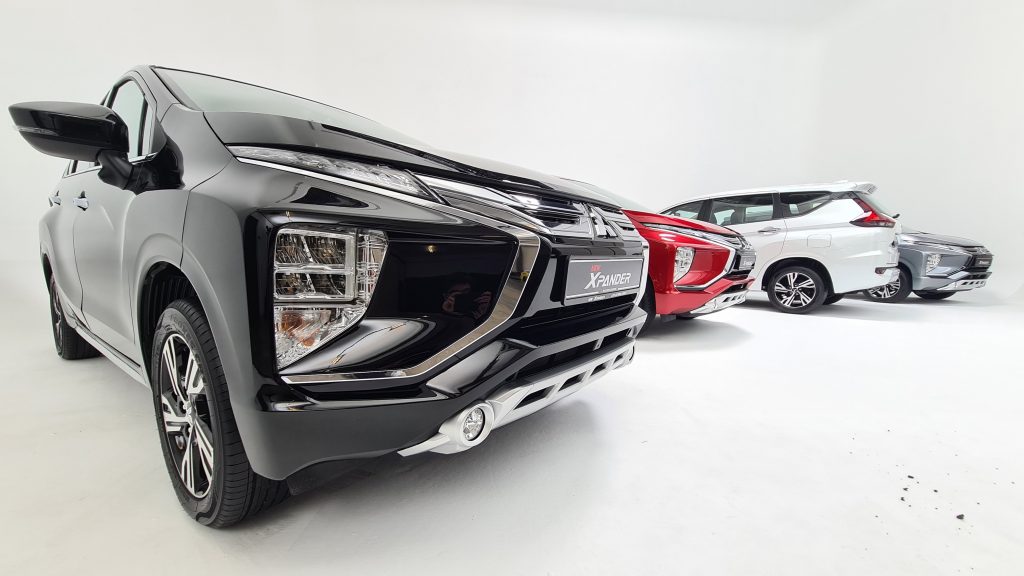 PRESS RELEASE: MITSUBISHI MOTORS MALAYSIA (MMM), the official distributor of Mitsubishi Motors vehicles in Malaysia, revealed full product specifications of the new Mitsubishi XPANDER today. 
The seven-seater crossover is now open for bookings at all Mitsubishi Motors authorized showrooms nationwide, ahead of its official launch in Malaysia which is targeted for November 2020. 
The XPANDER is powered by a 1.5-litre MIVEC petrol engine using aluminium block that produces 105 PS at 6,000 rpm and 141 Nm of torque at 4,000 rpm. The XPANDER comes with a four-speed automatic transmission optimized for power and fuel economy. The new XPANDER comes with 5-Year warranty with unlimited mileage.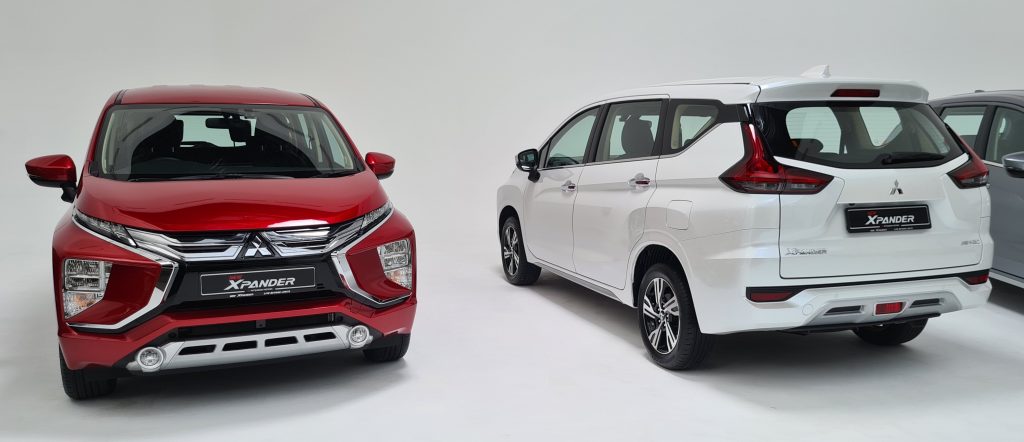 Commenting on the new XPANDER, Chief Executive Officer of Mitsubishi Motors Malaysia, Tomoyuki Shinnishi said, "The XPANDER is a significant model for MMM and we are optimistic that it will be a favourite among many Malaysians for its design is more than just aesthetics. Today, we are pleased to reveal the full-specs of the new XPANDER to all. We understood that Malaysians now want a car that matched their aspiration for a more active lifestyle and practicality and as such, the XPANDER is customized to meet Malaysians preference."
He added, "At Mitsubishi Motors, we want to offer a more price competitive model with better specifications, hence the move to locally-assembled. We want to provide our customers with more convenience and comfort and subsequently allowing them to live an adventurous life beyond limits."
Exterior 
The new XPANDER never fails to impress with its striking futuristic design. The XPANDER follows the iteration of the 'Dynamic Shield' front design concept, which is incorporated in every newly launched Mitsubishi car. The 'Dynamic Shield' expresses high performance and a sense of protection for the driver and passengers.
Aesthetically, the XPANDER comes with a few impressive kit list including Bi-LED Headlamps, Crystal blocks LED position lamp and L-illumination LED Tail Lights. The new XPANDER also comes with 16 inch dual-tone alloy wheels. Customers also need not worry about flash floods with the XPANDER's high ground clearance of 205mm.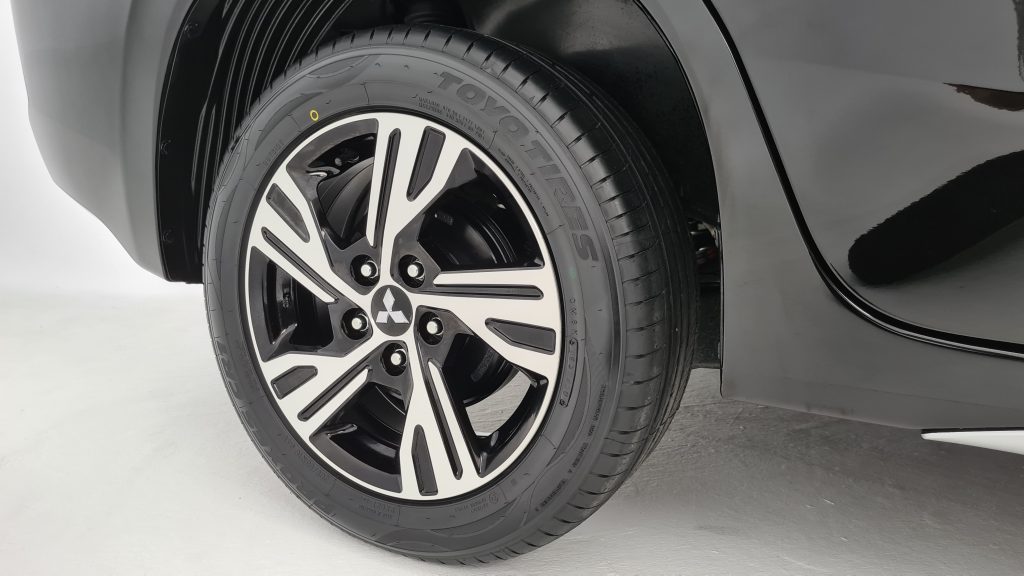 Interior 
Moving inside, the XPANDER gets best-in-class spacious cabin with overall headroom of 1,730mm and overall length of 4,475mm. The new XPANDER is with a 2,775mm wheelbase and 1,750mm width offering more legroom for all its passengers.  
The XPANDER is the only car in its class with fold-flat second and third rows seats providing full luggage space and car-like boot that makes it easier to load larger or longer items. The XPANDER is also fitted with under-seat multi-purpose storage, cargo floor box with lid, third row side pocket and cup holder, centre console box with sliding lid, multiple storage compartments and glove box with double compartment to store all the items needed for a perfect weekend getaway.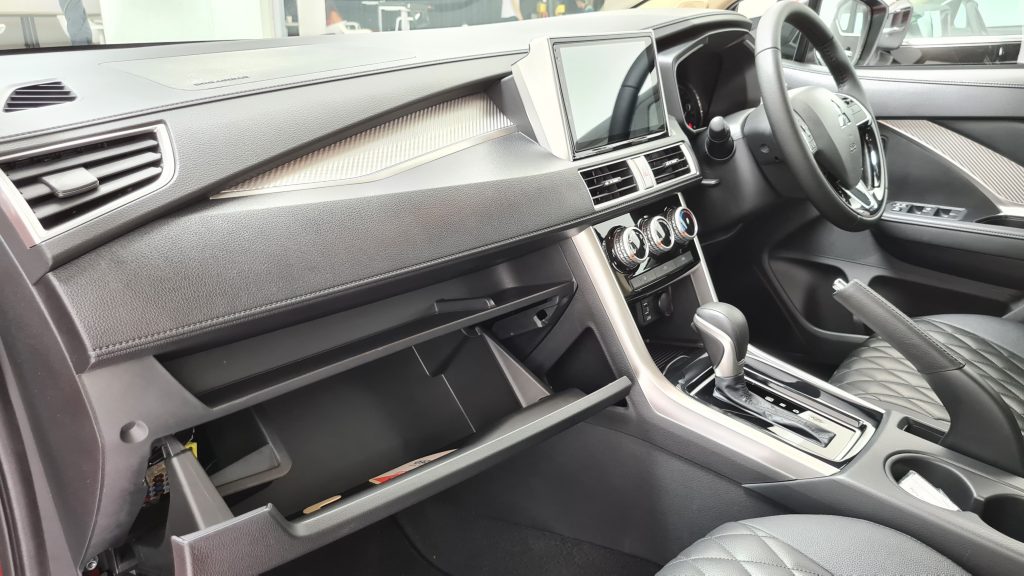 Furthermore, the XPANDER also comes with four roof-mounted air vents for better air distribution towards each passenger promising faster cooling effect for hot days. For entertainment, the XPANDER comes with 9-Inch Audio System with Apple Carplay and Android Auto Ready. 
Safety 
Safety features includes dual SRS airbags, anti-lock braking system (ABS), electronic brake-force distributor (EBD), Active Stability Control (ASC), Brake Assist System (BA), Hill Start Assist (HSA), Rest Reminder, Brake Override System (BOS) among others.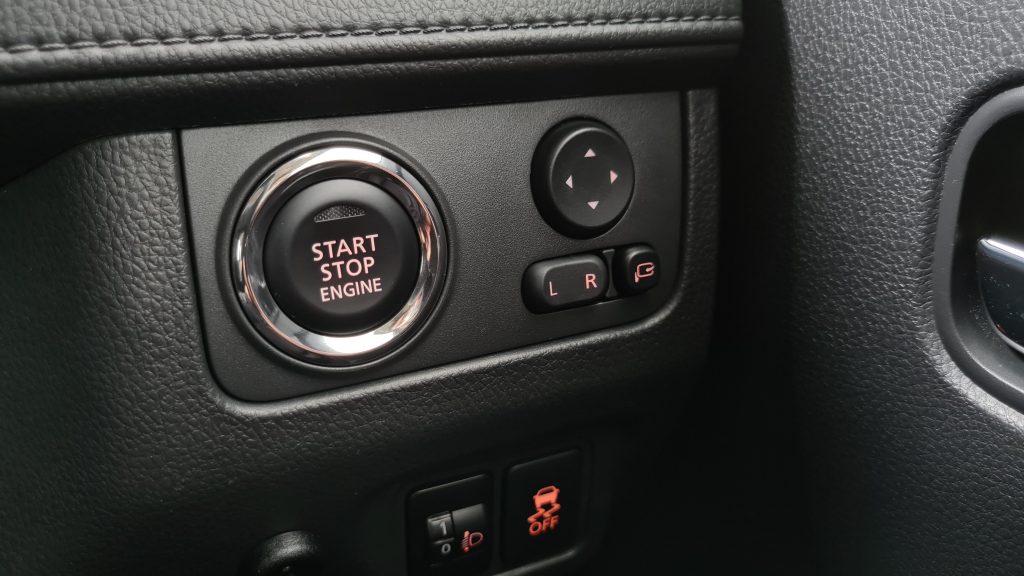 Last but not least, the XPANDER also comes with 4.2-inch high contrast meter cluster with important information display such as engine coolant temperature gauge, and warning display for cruise control or low battery in the car key.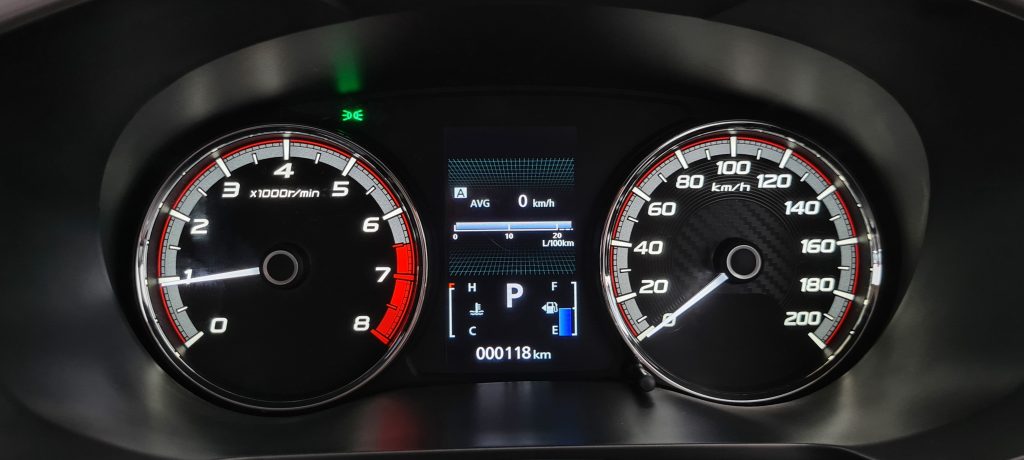 MMM's Authorised Dealer Package
To further enhance the value of the vehicle, a MMM authorized dealer package is introduced. The MMM authorized dealer package will include features such as All Round Monitor (ARM), Driving Video Recorder (DVR) and Leather Seats. 
ARM uses multiple cameras around the vehicle to create a 360 Degrees bird's eye view to aid parking and manoeuvring. 
For added peace-of-mind driving, the DVR captures every moment or incident in front of the vehicle while on the move.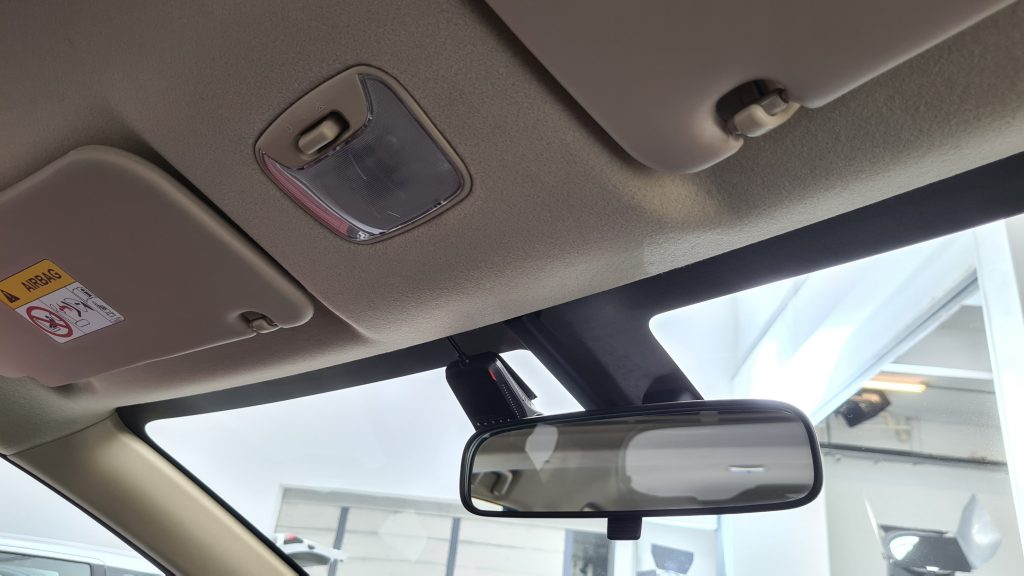 Last but not least, the stylish black leather seats further complements the vehicle design and ride comfort for the driver and passengers. 
All these accessories are tested and verified by MMM to be in compliance with Malaysia's local regulation requirement.