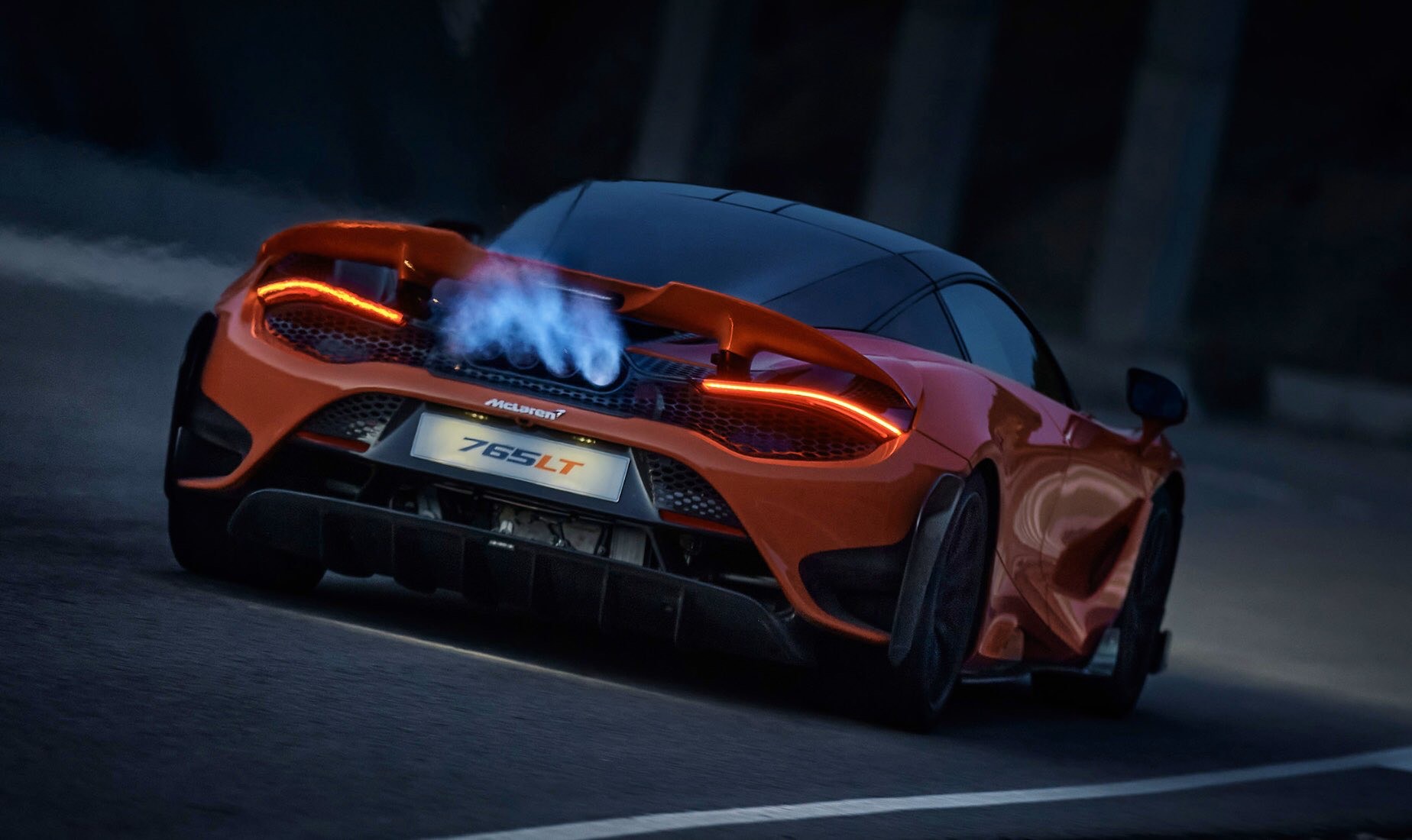 The cockpit of the new McLaren 765LT is an enticing blend of generous interior space and excellent ergonomics, with racetrack efficiency and supercar luxury combining to create an overall ambience of cutting-edge technology and high-level craftsmanship in an environment defined by its driver focus. A wealth of personalisation opportunities are available, from unique exterior colours and soft-grain leather to a world-class audio system, while customers who wish to explore their own unique specification can turn to McLaren Special Operations (MSO) for even greater choice. A de-bossed 765LT logo on the facia and a numbered LT dedication plaque further underline the exclusivity of each car.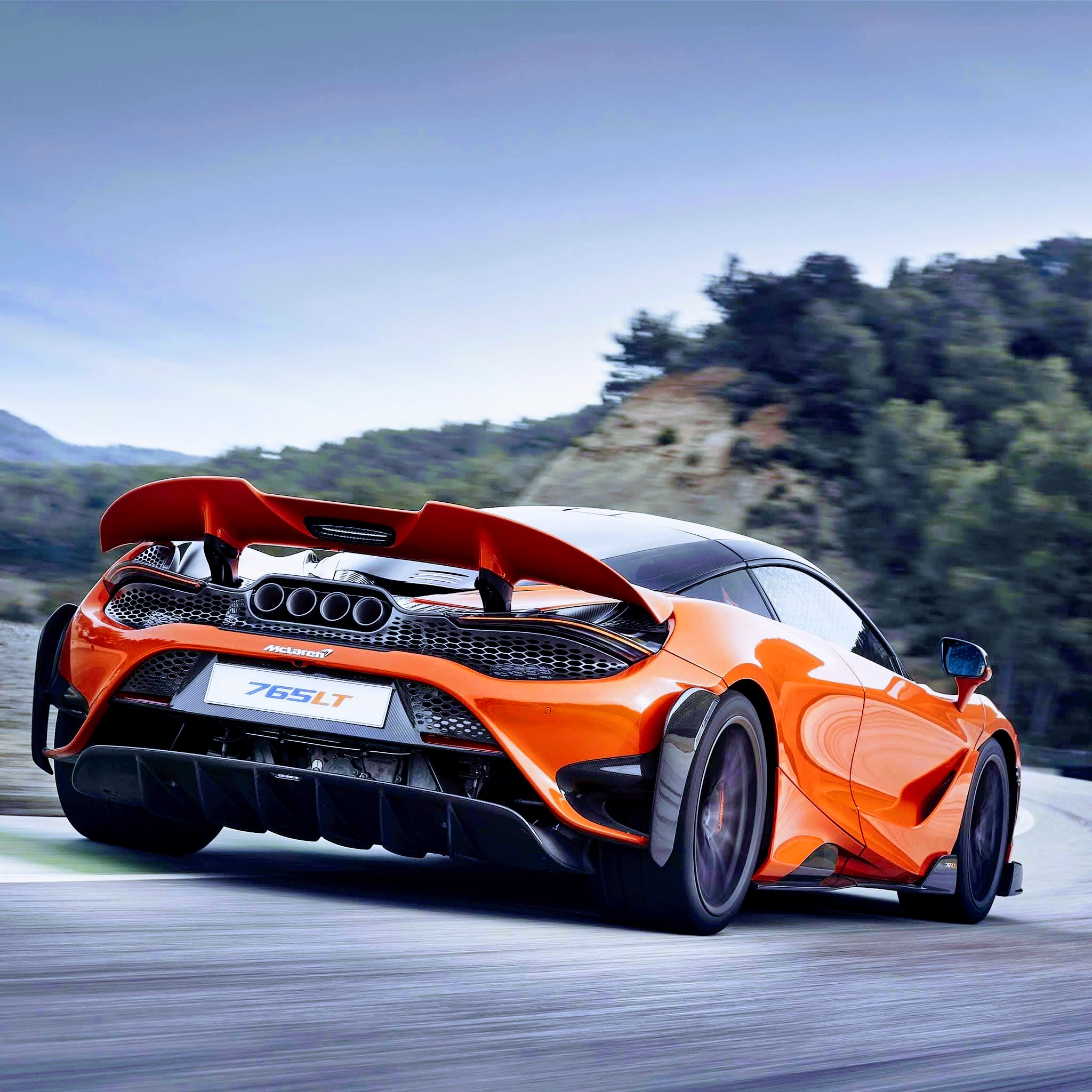 Eight bespoke 'By McLaren' interior colour themes have been designed to complement the adventurous nature of the 765LT. The first introduces a subtle hint of colour throughout the lightweight Alcantara® interior, replacing the standard Carbon Black stitching with McLaren Orange. Three themes go further, introducing an additional Alcantara® colour with a complementary stitch on specific areas – including the seats and doors – on a Carbon Black Alcantara® base. Dove Grey Alcantara® with Situs Grey stitching, Burnt Orange Alcantara® with Carmine stitching and Midnight Blue Alcantara® with Kingfisher Blue stitching are available.
These four themes each feature a graphic laser-cut into the seats, respectively exposing McLaren Orange, Situs Grey, Carmine or Azura Blue secondary colours which correspond with the coloured stitching. A further four 'By McLaren' themes offer a luxurious alternative to Alcantara®, combining Carbon Black soft-grain leather with contrasting colour stitching in McLaren Orange, Situs Grey, Carmine or Kingfisher Blue. All the 'By McLaren' interiors can be specified, at no cost to the customer, with a 12 o'clock stripe on the Alcantara® steering wheel, in McLaren Orange, Burnt Orange, Blue or Dove Grey.
The primary hub in the 765LT for driver convenience, comfort and connectivity functions – including McLaren Track Telemetry (MTT) – is an 8.0-inch, high-resolution Central Infotainment Screen that works in conjunction with a Folding Driver Display to provide an integrated driver information platform. The Folding Driver Display and Central Infotainment Screen surrounds are available in carbon fibre to complement the finish of the window switch surrounds, steering wheel clasp and Active Dynamics Panel surround. Further carbon fibre is available from the MSO Defined range, including satin finish visual carbon fibre for the air vents and extended sill trims with unique 765LT branding.
Customers who value convenience features more than pursuing the maximum possible weight saving have ample choice from the 765LT's equipment portfolio. Door stowage pockets and a central tunnel with lockable stowage can be specified as options in lieu of the lightweight nets and carbon fibre central tunnel fitted as standard. A driver-controlled vehicle lift system that raises the nose of the car when needed – for instance over speed bumps or when entering or exiting a car park – is a cost-option.
While there is no audio system in the standard specification – saving 1.5kg of vehicle weight – a lightweight, McLaren 4-speaker audio system with AM/FM radio, DAB or SiriusXM radio (depending on region), Bluetooth telephony, iPod/iPhone Integration and audio voice prompts can be specified at no cost. An upgraded, world-class audio system, developed specifically for the second-generation McLaren Super Series by Bowers & Wilkins, is available at additional cost.
Additional convenience options include a choice of high-definition reversing camera or an enhanced 360-degree park assist system with one front, one rear and two door-mirror mounted HD cameras that together provide a 'bird's-eye' view of the vehicle's surroundings during parking and low-speed manoeuvres. In markets where it is offered, Homelink® allows for the remote opening of up to three electric garage doors or house gates.
The McLaren 765LT is not a car for those wanting to keep a low profile and the standard colour choices reflect this. There are 17 exterior paint colours, including two – Nardo Orange and Smoked White – unique to the new LT. Chicane Effect, which was first seen on the McLaren 600LT and is a reminder of the original Chicane grey available for the 675LT, is also offered. A further 13 exterior colours are in the MSO Defined range available through McLaren Special Operations, while beyond this there is the opportunity for any colour that is technically possible through an MSO Bespoke commission.