Automotive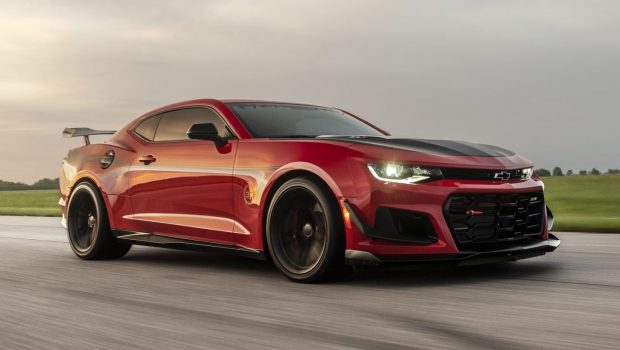 Published on July 29th, 2021 | by Joshua Chin
0
Hennessey Marks Turning 30 With 1,000 hp Exorcist Camaro
Only 30 of these 30th anniversary Hennessey Exorcist Camaros will ever be produced.  
While 30 is probably the age where most people tend to grow up and slow down, this convention however (fortunately) doesn't apply to automakers. And this is most recently evidenced by the fact that despite Hennessey already being three decades old, the American tuning company is still not showing any signs at all of slowing down when it comes to whipping up some high-horsepower creations.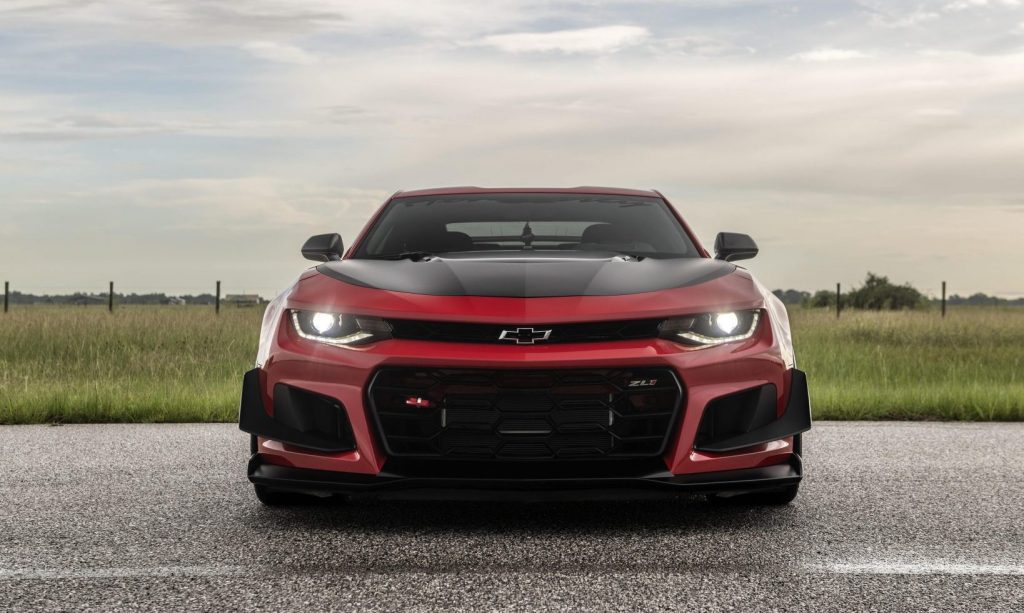 In fact, the Texan tuners are celebrating its 30th anniversary with a limited-run of its 1,000 hp Exorcist Camaros. Dubbed rather unimaginatively as the Hennessey Exorcist 30th Anniversary Camaro, these special edition cars net a few unique add-ons to distinguish themselves from the 100 normal units that came three years before. 
Though it is perhaps worth highlighting that these add-ons are mainly on the aesthetics aspect of the Exorcist, with the 30th Anniversary most prominently differentiated by means of the custom anniversary logo on its front flanks. All these special edition Camaros also feature a custom exterior graphic on its standard red and black paint scheme, as well as an Anniversary Edition chassis plate denoting each of the 30 models' unique build number.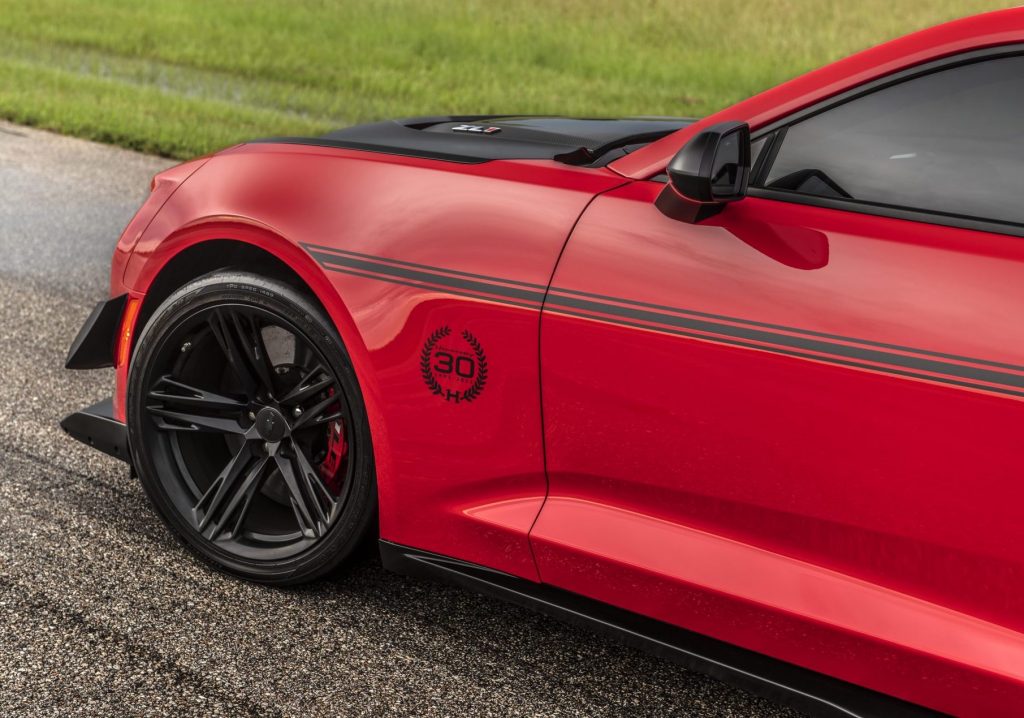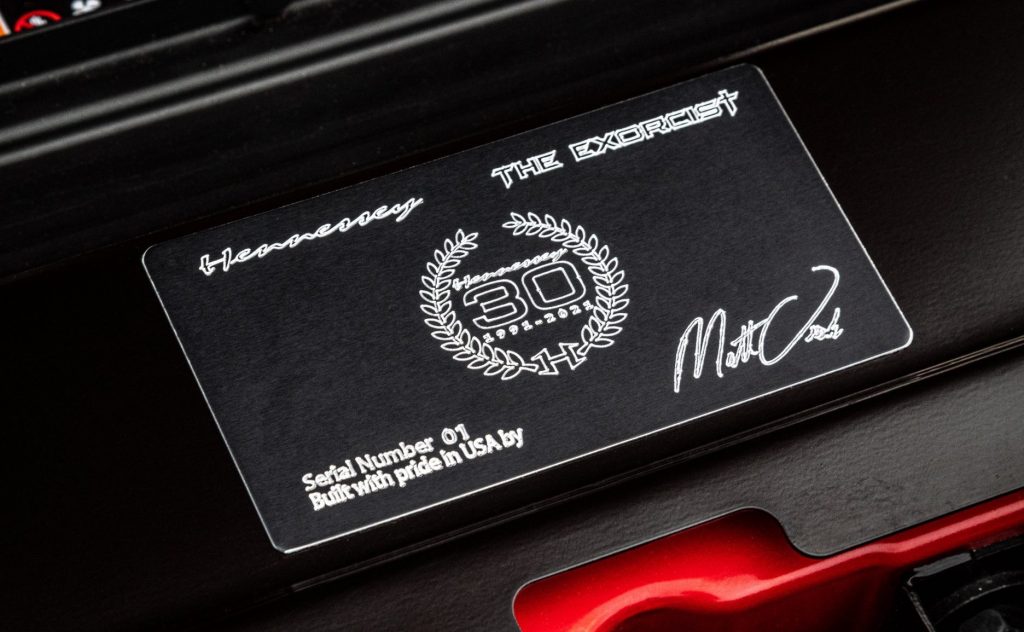 As for what lies under the hood meanwhile, there really is nothing separating the 30th Anniversary Edition from the normal Exorcists. This however shouldn't really be a problem for anyone, given that these tuned Camaros pumps out a staggering 1,000 hp and 1,200 Nm of torque in its original state already.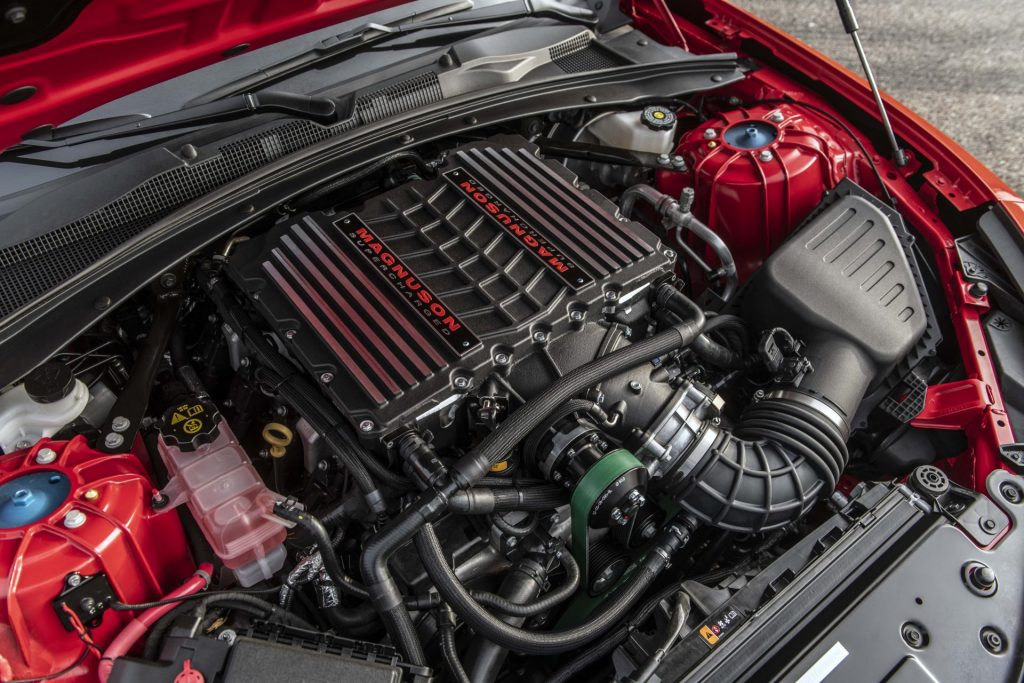 Created with the goal to 'slay the Dodge Demon', the laundry list of modifications made by Hennessey to the stock Camaro ZL1 include an uprated high-flow supercharger and air induction system, significantly upgraded engine internals, custom camshafts in addition to a beefier auxiliary fuel system. The Exorcist also nets receives a high-flow catalytic converter and an HPE engine management calibration to reach those headline power figures
Now naturally all this high horsepower therefore translates to some mad speed, with this mad muscle car apparently can (very literally) rocket to 100 km/h in just 2.1 seconds, before topping out at a claimed V-Max of 350 km/h (217 mph). Hennessey has provided a quarter-mile time of 9.57 seconds for this tuned Camaro too, which for context is 0.08 seconds than what Dodge officially claims for its Demon.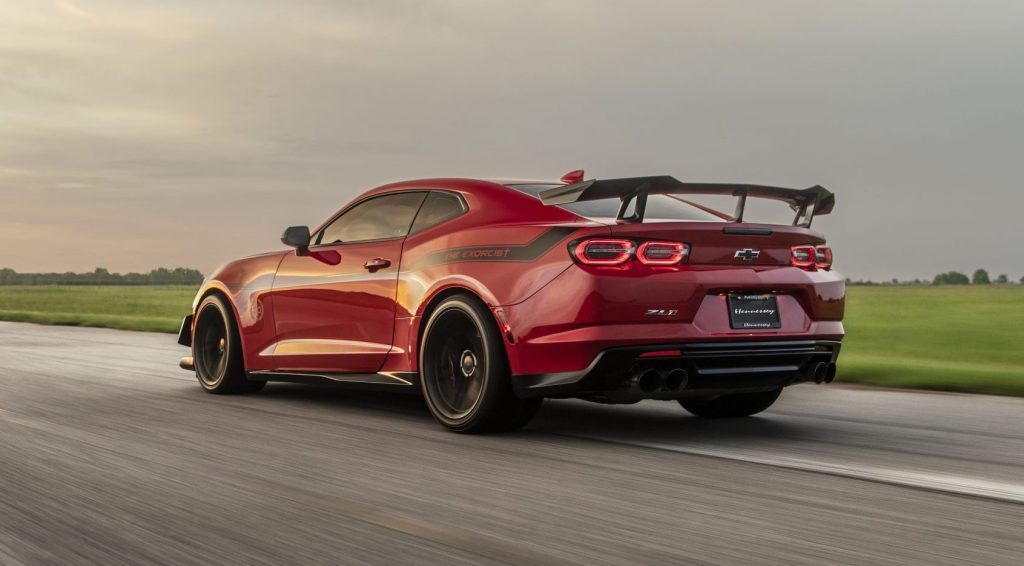 Despite hypercar-rivalling performance however, these Exorcists don't actually cost all that much. That is because Hennessey is only charging $135,000 (RM 570,000) for these limited 30 unit run of these 30th Anniversary Edition cars, with that price actually including the base Camaro ZL1 too. 
These special-edition model can also be specified as a convertible or a coupe, with a choice of either a six-speed manual or 10-speed automatic transmissions. And best of all, Hennessey has said that these Exorcist 30th Anniversary Camaros are available to order from customers around the world. 
So how long would it be then, before one of these beastly Chevrolets is spotted tearing up the mean streets of Malaysia?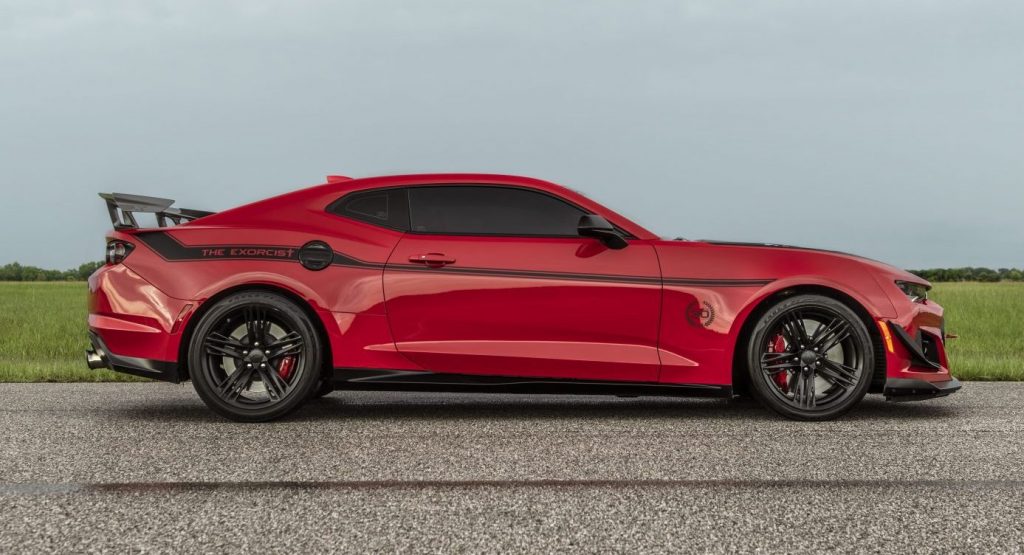 PRESS RELEASE: Hell-raising Hennessey Performance Engineering will offer 30 customers extra-special versions of its iconic Exorcist Camaro ZL1. Celebrating three decades of making fast cars faster (1991-2021), the Texas-based high-performance vehicle specialist will complete its 100-car production run of The Exorcist with this ultra-exclusive set of muscle cars.
Each Hennessey Exorcist 30th Anniversary Camaro will feature an anniversary logo on the car's front flanks, set behind each front wheel. In addition, each of the 1,000 bhp models will be individually-numbered with an Anniversary Edition chassis plate denoting each of the 30 models' build number.
The Exorcist was created by Hennessey to 'slay the Dodge Demon,' a task it more than achieved thanks to its 217 mph top speed, 2.1 second 0-60 mph time and 9.57 second ¼ mile. Hennessey's iconic enhancement of the stock Chevrolet Camaro ZL1 raised the bar on muscle cars with customers worldwide queuing up for its supercharged V8 thrills and 883 lb-ft of torque.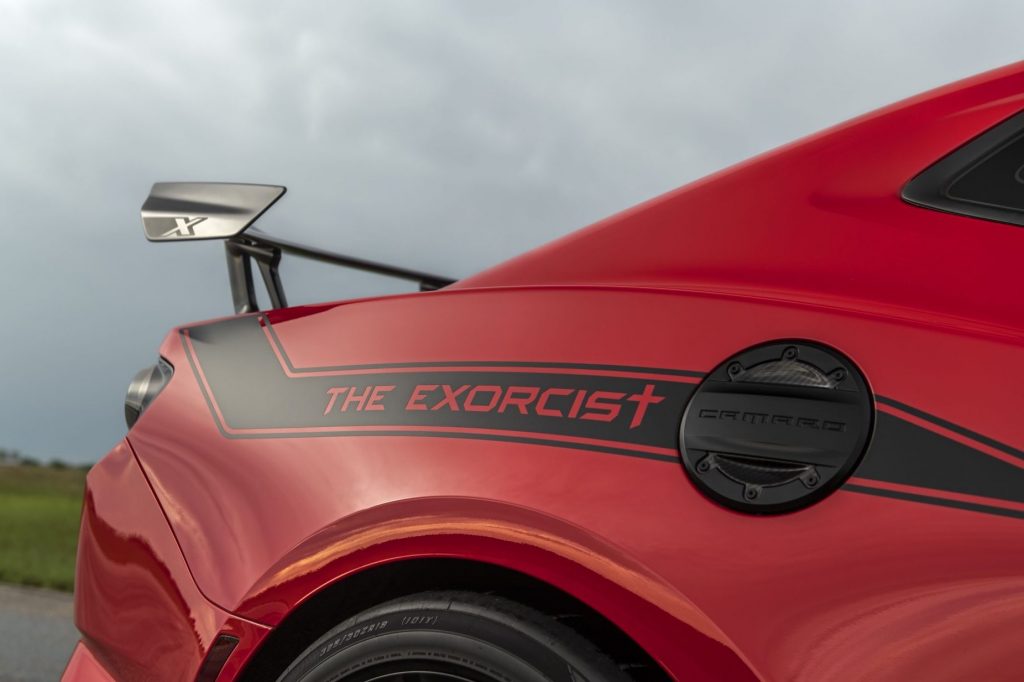 John Hennessey, company founder and CEO: "The Exorcist is the epitome of the American Muscle car and has the off-the-line performance to embarrass almost any car on the planet. We've been making fast cars faster since 1991, so our 30th Anniversary Exorcist pools all we know into one ferocious supercar slayer."
Hennessey's engineers upgrade, re-calibrate and improve almost every area of the Camaro's powertrain from installing a high-flow supercharger and air induction system, to a custom Hennessey camshaft, ported cylinder heads, long-tube stainless steel headers, and high-flow catalytic converters. The upgrades and Anniversary Edition Exorcist is priced at $135,000 (including the base Camaro ZL1) with the model benefitting from Hennessey's two-year / 24,000 mile warranty.
Customers across the US and around the world can specify The Exorcist Anniversary Edition in coupe or convertible form with an automatic or manual transmission. Orders can be placed through authorized Chevrolet retailers or with Hennessey directly by calling 979.885.1300 or visiting www.HennesseyPerformance.com.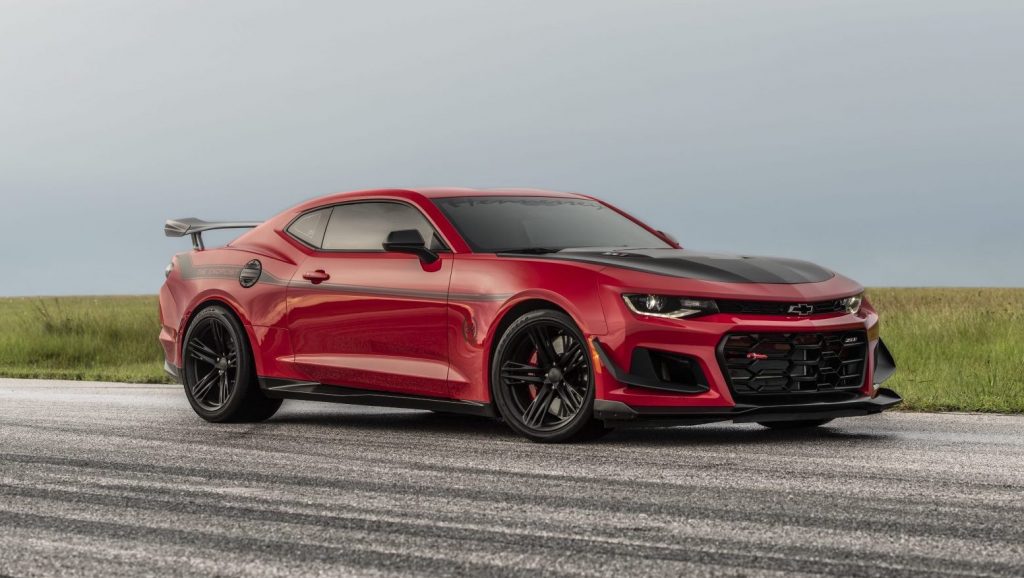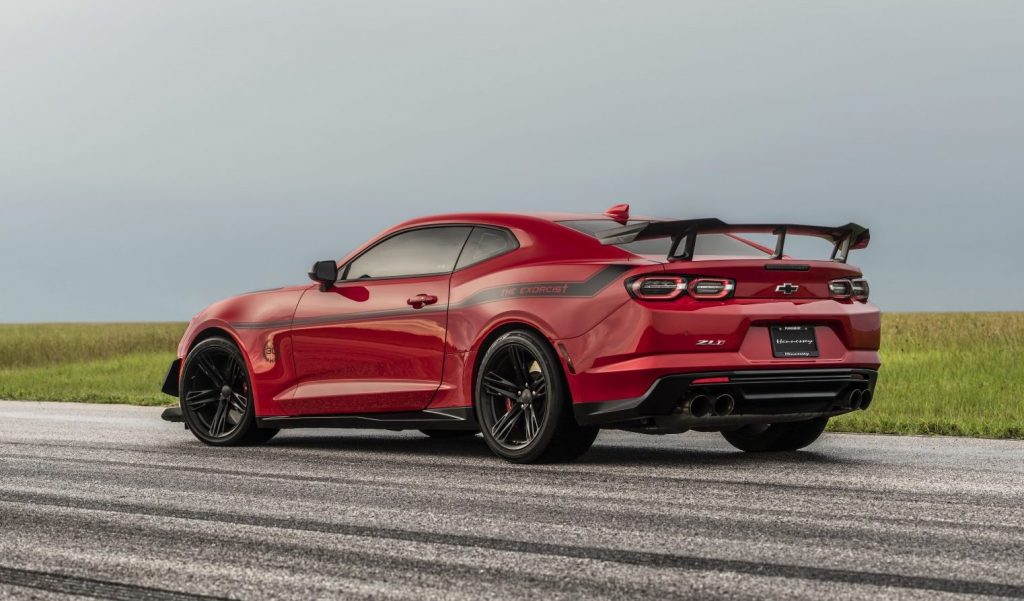 POWER:
• 1000 bhp @ 6,500 rpm
• 883 lb-ft torque @ 4,500 rpm
PERFORMANCE:
• 0-60 mph: 2.1 sec.
• 1/4 mile: 9.57 @ 147 mph
• Top speed: 217 mph
THE EXORCIST UPGRADE INCLUDES:
• High-Flow Supercharger Upgrade
• High-Flow Air Induction System
• Custom HPE Camshaft
• Ported Cylinder Heads
• Auxiliary Fuel System Upgrade
• Upgraded Valve Springs and Retainers
• Upgraded Intake valves & Exhaust Valves
• Upgraded Lifters and Pushrods
• Oversized Heat Exchanger Upgrade
• Long-Tube Stainless Steel Headers
• High-Flow Catalytic Converters
• All Necessary Gaskets & Fluids
• Professional Installation
• HPE Engine Management Calibration
• Dyno Tuning & Road Testing
• Limited Edition Chassis Plate 1 of 30
• Exorcist Exterior Graphics
• 30th Anniversary Edition Exterior Graphics
• Hennessey Premium Floormats
• 2 Year / 24,000 Mile Limited Warranty