Automotive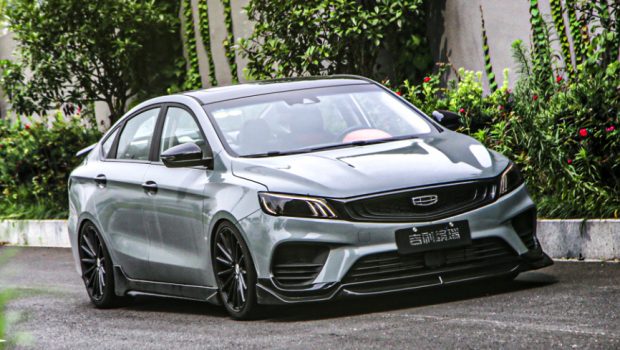 Published on February 8th, 2021 | by Joshua Chin
0
Geely Goes Wild With A Factory Modified Binrui Sedan
It looks as if the engineers at Geely were given an opportunity to let loose for a hot minute. 
For those automotive anoraks out there, you may recall the oft-retold tale of the birth of the original Golf GTI. A story in which a handful of VW engineers worked after hours for months on end to soup up a family car into a hot hatch icon we know today. 
Well, it may look like history could be repeating itself here as Geely may be attempting to recreate that GTI magic with its Binrui. I say this because what you are looking here is not just some independent-tuner special, but this gun-metal grey sedan here was instead actually modified at the factory by the Chinese auto giant themselves.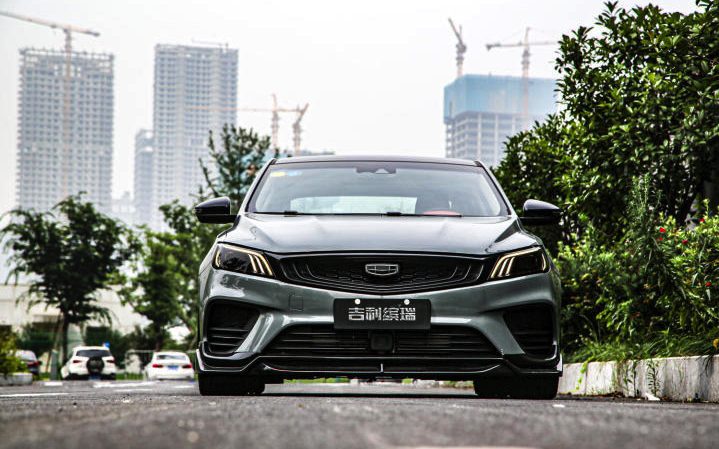 Sporting a redesigned front bumper with larger intakes and smoked LED headlights up front, it is no doubt that this particularly modified Binrui exudes a more sporty, menacing vibe than its normal counterpart. This fact is then further accentuated by the addition large front chin spoiler up front, which is painted black to match the deeper side skirts round the side of this sedan.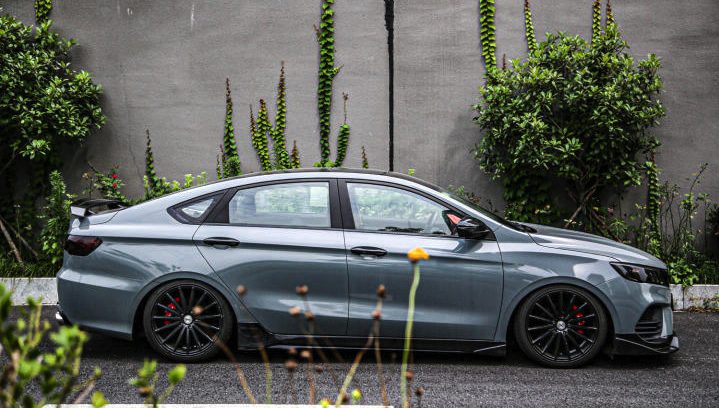 Speaking of the black side skirts, the black theme continues down the side too of this modified Binrui with black door handles, black mirror caps and a black roof. There is even black multi-spoke Vossen wheels wrapped in a thin veneer of rubber that sit snug within the wheel arches of this lowered Geely, though behind them hide red brake calipers for that splash of colour in this predominantly black-and-grey car.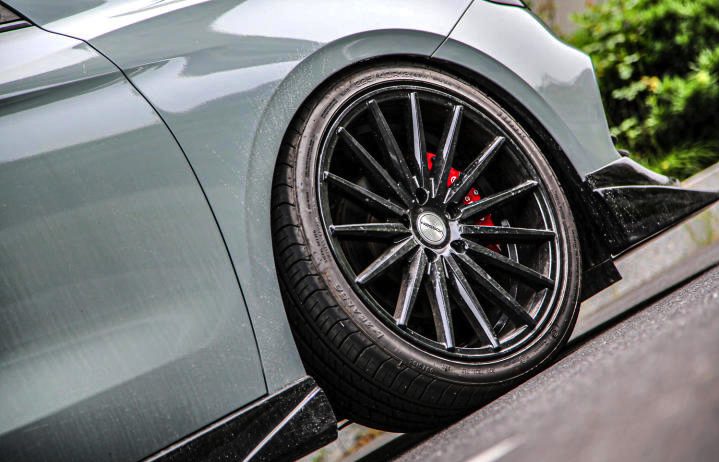 Moving round the back, the rear of this Binrui gets much the same additions as the front end. Coming complete with, smoked rear light clusters, a fixed rear spoiler and a redesigned rear bumper, which in itself features an aggressive rear diffuser with integrated F1-style LED brake light in the centre, and flanked by dual shiny exhaust tips poking out on either side.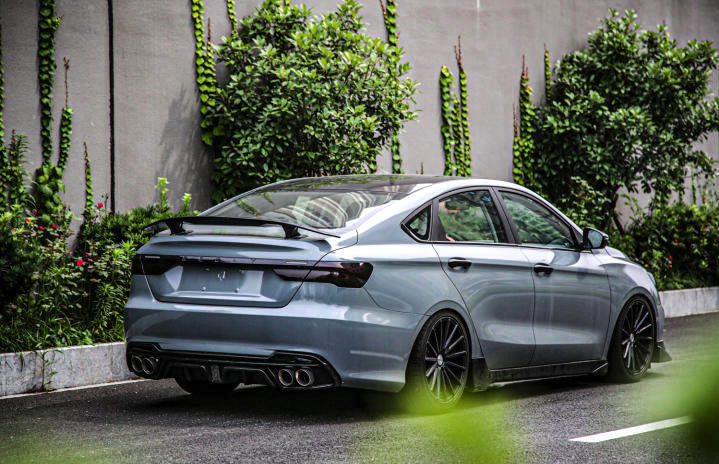 On the topic of those quad-exhausts, connected to them up front is most likely the Binrui's 1.4 litre turbocharged four cylinder that is mated to an 8-speed CVT. Actual details on the performance upgrades performed over here are rather thin on the ground at time of writing, but even in standard trim this particular powertrain combination provides an adequate 131 hp and 215 Nm of torque.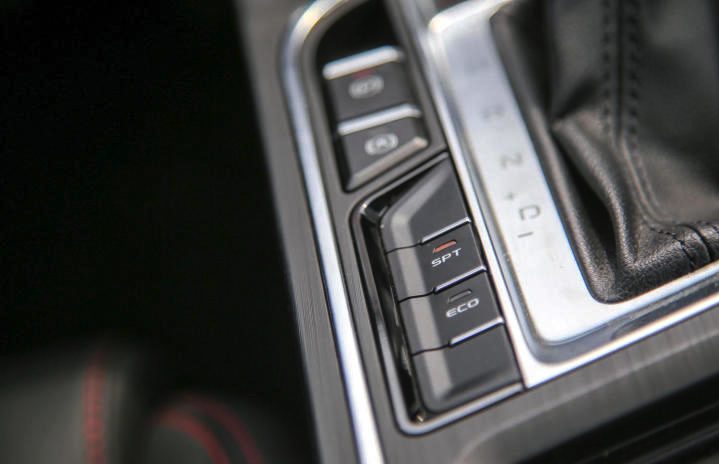 Stepping inside the modified Geely, the cabin is much like a typical Binrui's though with the exception of the liberal use of vibrant red accents. Actually to call it accents may be a misnomer as half the cabin is bathed in this bright red hue, from the typical red inserts and red stitching on the seats, all the way to the various splotches on the dash which culminates in the blindingly red instrument cluster cowling.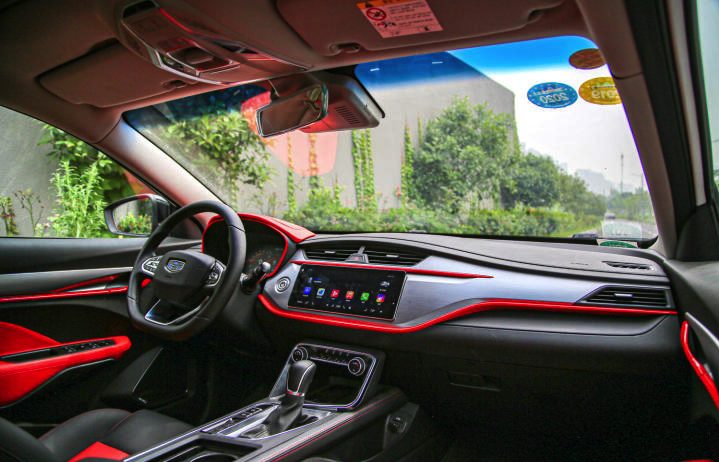 Thus far, there has been no official word yet on whether this particular Geely variant will ever make it into production. Though thinking more sensibly, this particular Binrui is most likely a one-off project for the Chinese automaker. 
Saying that, there is always the F-Type Sport variant (no relation to Jaguar) for those who want a sporty Binrui. While it may not be anything as cool-looking on the outside as this particular Geely here, it does however feature a similarly snazzy red-and-black interior, as well as a modest power bump over the standard model.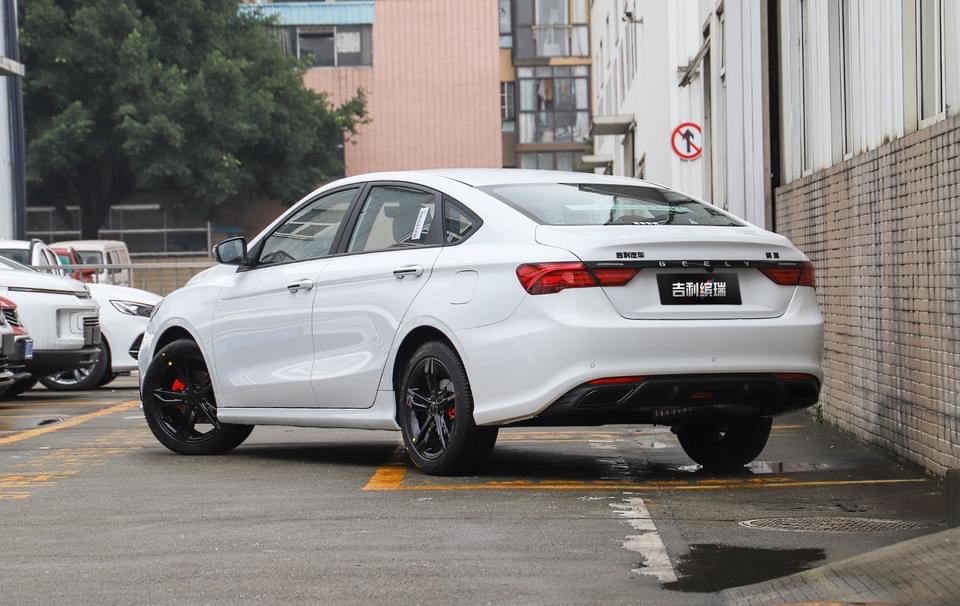 As for whether this Geely will make its way over here, there have been persistent rumours that this new Binrui will be what is termed the Proton S50. Then again, the news surrounding this topic are still very much hearsay at the moment, with nothing official yet from the Malaysian subsidiary of Chinese auto giant. 
Be it as it may be though, this modified Geely here would probably serve as a good template on what could be done by local tuners if it does eventually arrive here sporting a Proton badge.