Automotive
News
Fiat Unveils 500e Gelateria Edition Ice Cream Van Concept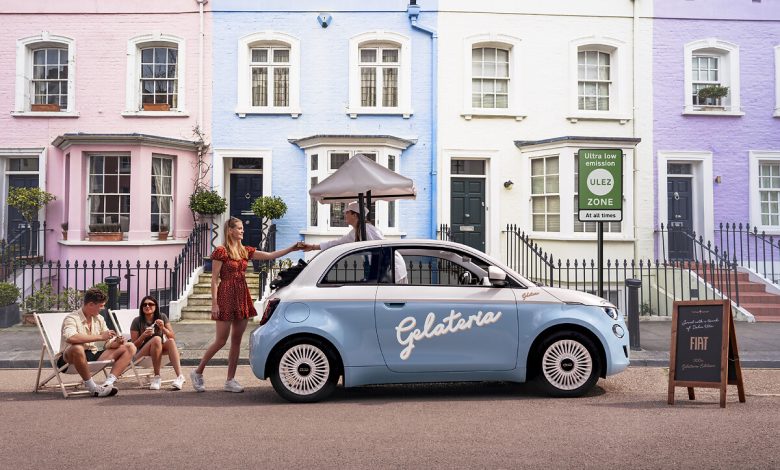 This all-electric Fiat convertible is likely to be the world's smallest ice cream van. 
Despite the summer nearly being over already, it has nevertheless not stopped Fiat from unveiling its 500e Gelateria Edition for the UK. The Italian automaker's apparent vision what the future of the ice cream van could be, this lean, green all-electric iced treat dispenser is apparently touted to be the smallest of its kind.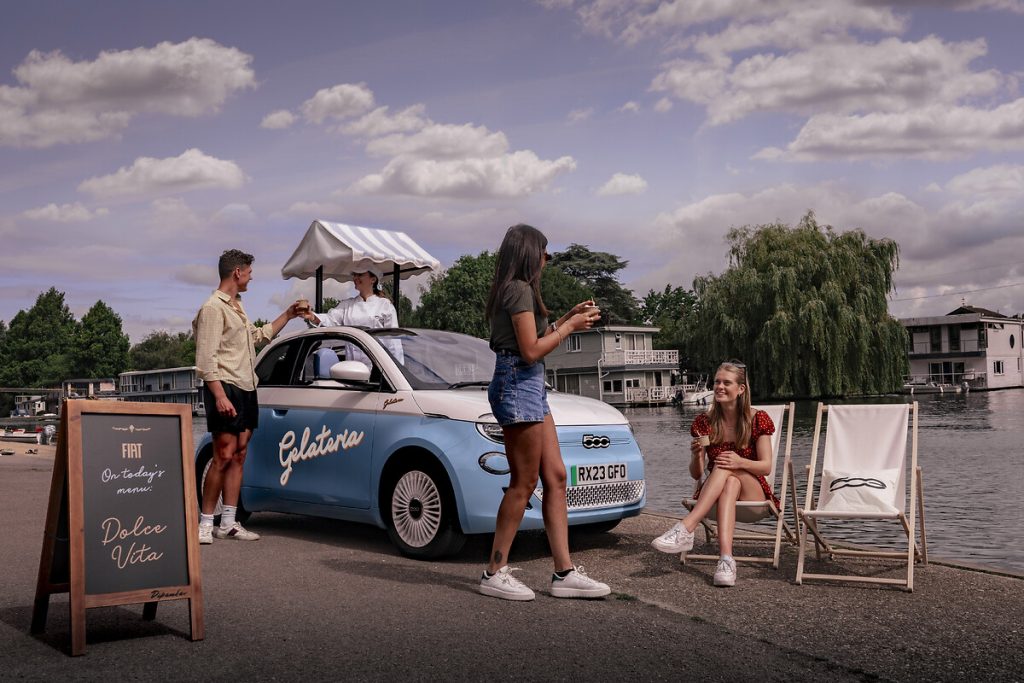 Based on the 500e convertible, the Gelateria Edition has saw the rear bench and passenger seat be relegated to the kerbside, in order to enable the server to walk about freely within the open-top cabin. The removal of its rear bench also hence allows for the fitment of a bespoke cabinet that contains dual battery-powered freezers (storing up to 30 litres of gelato and additional associated ice cream paraphernalia) in its place, which can be served to eagerly awaiting customers from the rear of the vehicle.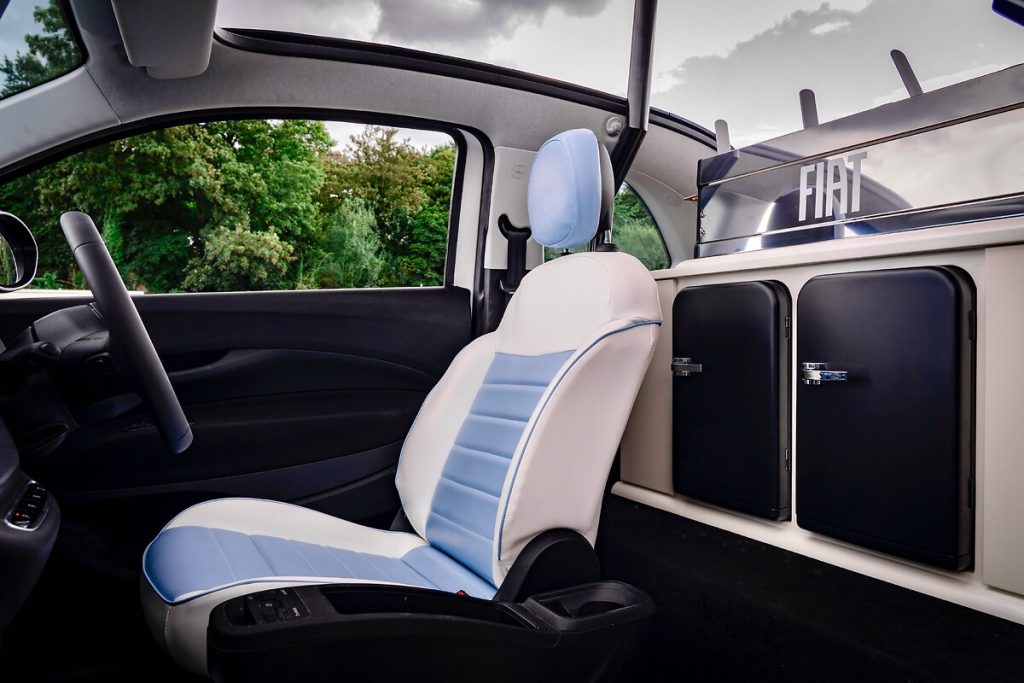 And in the rare occasion where the sun is actually shining over the UK, there is even a canopy that can be erected to provide shade for both the ice creams and server working beneath. Moreover, said retro-styled canopy is meant to be colour coordinated with the light blue and cream overall colour scheme, which is, according to Fiat at least, meant to evoke the spirit of a 1950s style Italian gelateria. 
This 1950s Italian gelateria vibe continues further within the 500e Gelateria by way of a unique dashboard-operated jingle that supposedly was inspired by the operatic sounds of Italy, in addition to the almost improbable capability of stuffing a few deckchairs within its tiny cabin for deployment when parked. This la dolce vita theme is then finally topped off with custom bronze Gelateria badging appear on the boot and wings, as well as a cream dashboard finish and a reupholstered driver's seat.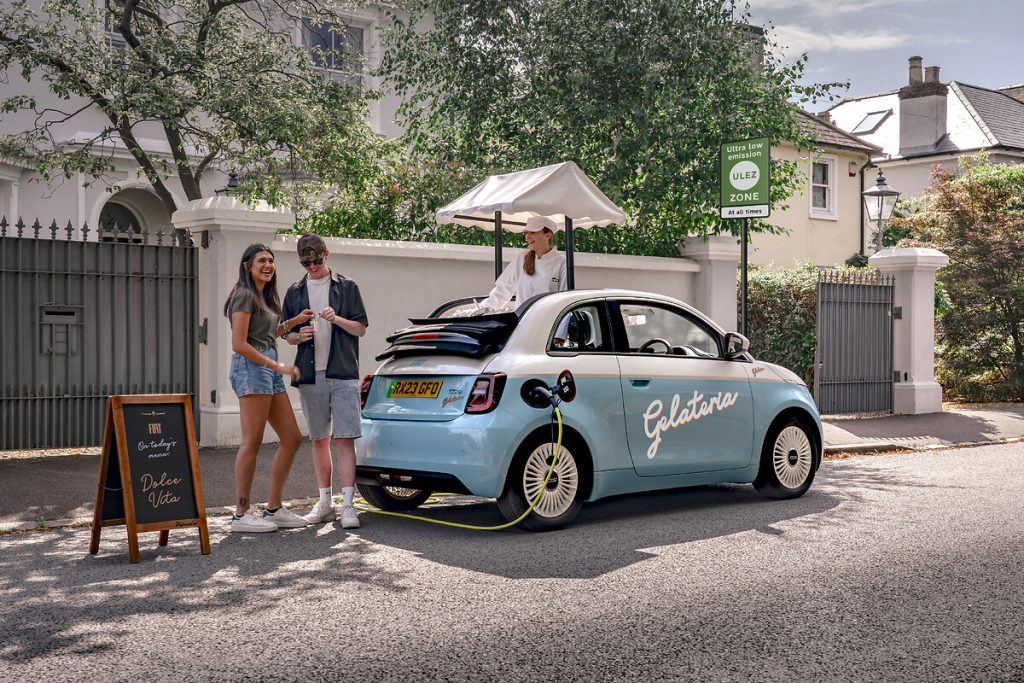 Now as to why Fiat has gone to the trouble of converting a tiny 500e into an ice cream van concept for the UK, it is apparently because there is a rise in bans of combustion-engined ice cream vans due to air and noise pollution concerns. Three London councils: Camden, Greenwich, and Westminster City have already either banned or restricted combustion-engined ice cream vans for such reasons, with more supposedly on the horizon. 
For those purveyors of ice cream who are actually interested in replacing their ICE ice cream vans with this 500e however, it is unfortunate to hear that Fiat has no plans thus far of churning up a production-ready version of this Gelateria Edition concept. But what the Italian automaker may be able to offer instead is its newly-created Bicerin flavoured gelato. Said to taste like a traditional hot drink native to the Italian city of Turin and the birthplace of FIAT, this new ice cream flavour was created in conjunction of the launch of this concept and should at least be a nice way to spend the last of the remaining summer days.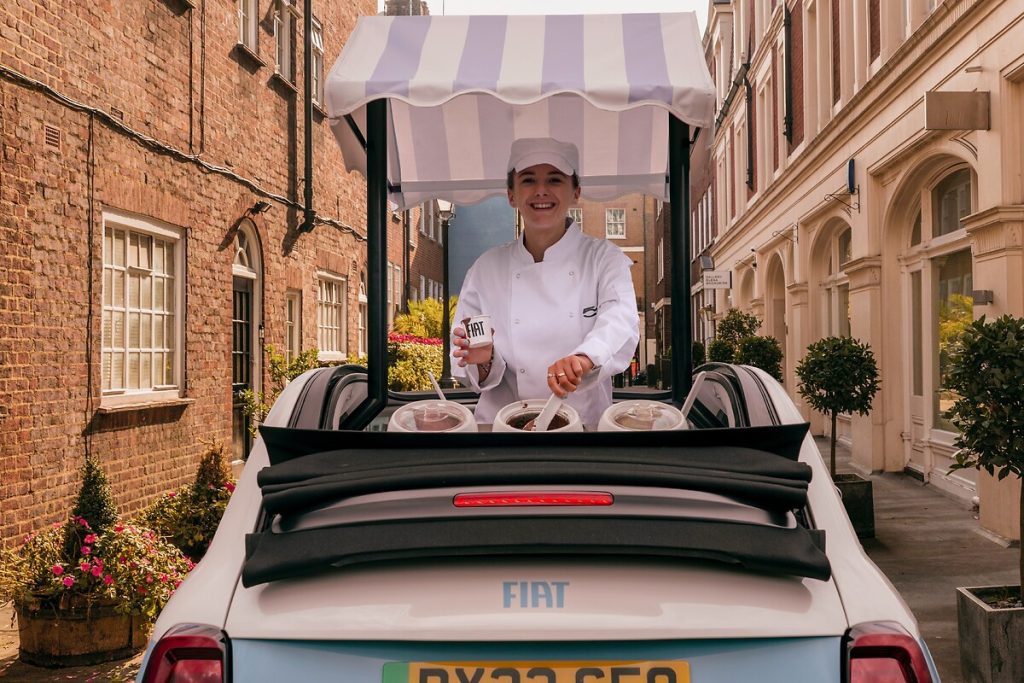 PRESS RELEASE: FIAT has envisioned what the ice cream 'van' of the future could look like by unveiling the world's smallest, zero-emissions-in-use, gelateria – a one-off concept of the all-electric Fiat 500e Convertible for the UK.
The stunning-looking Fiat 500e Gelateria Edition concept brings an Italian twist to the traditional ice cream van and a taste of la dolce vita to Britain's streets.
With the UK finally set for a period of warm and sunny weather, despite the car's compact size, it's able to serve approximately 300 people per day in a sustainable fashion.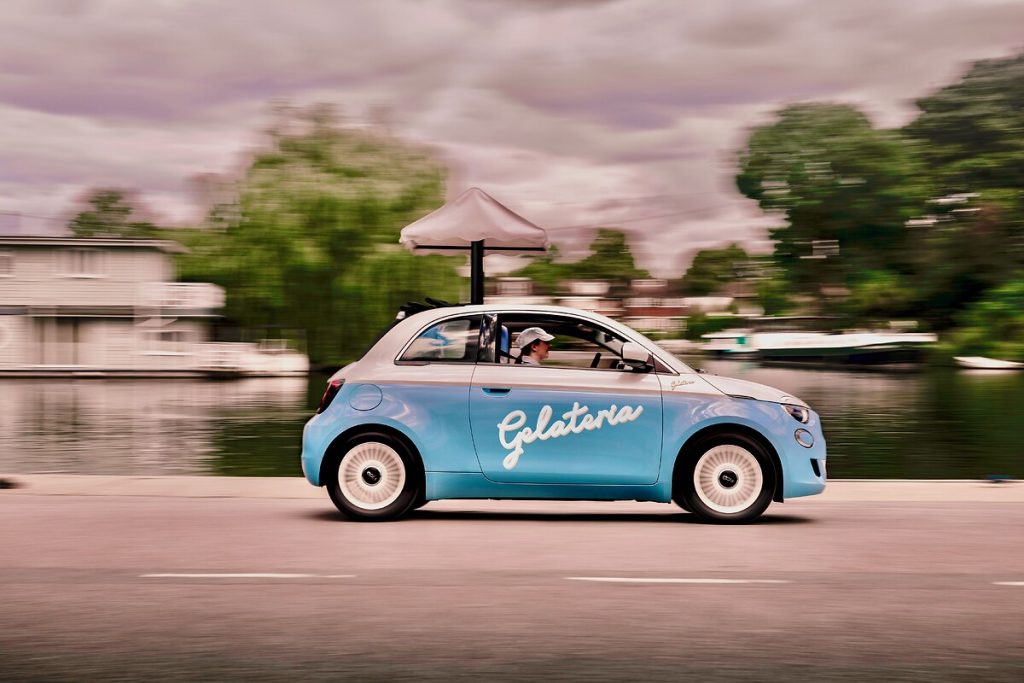 The ULEZ-beating 500e Gelateria Edition is a compact and sustainable solution to highly-polluting ice cream vans of old – many of which are powered by diesel engines that idle to power on-board appliances – that are increasingly restricted from the country's urban areas.
Three London councils, Camden, Greenwich, and Westminster City have already either banned or restricted combustion-engined ice cream vans due to air and noise pollution concerns.
Furthermore, with 14 UK cities set to have low emissions zones in place by the end of 2024, including the significant expansion of ULEZ into all London boroughs on 29th August, further restrictions could hamper combustion-engined ice cream vans.
In light of these current and impending restrictions, FIAT research investigated Brits' feelings towards ice cream vans. It found 92% have bought ice cream from an ice cream van, which is presumably why 83% agree that 'ice cream vans are a quintessential part of British culture'. Also, nearly half (48%) said they would be upset if ice cream vans disappeared.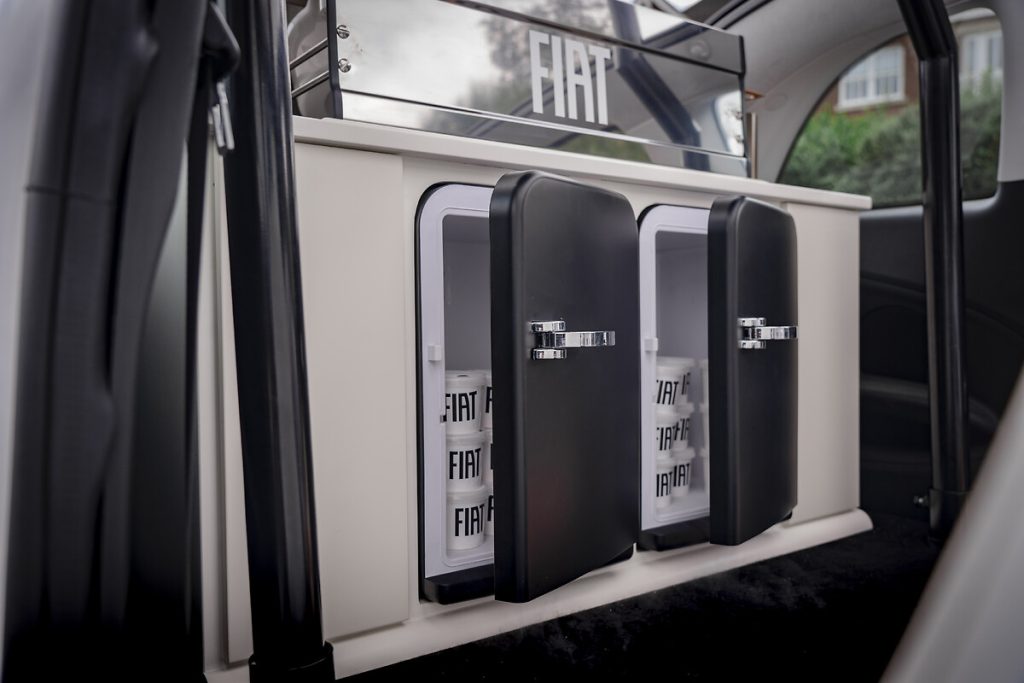 About the FIAT 500e Gelateria Edition
Based on the award-winning FIAT 500e, the 500e Gelateria Edition features an entirely bespoke interior as the passenger and rear seats are removed. The server is able to freely move around inside the car, serving gelato to customers over the rear of the car.
Sporting a unique two-tone colour finish that evokes the spirit of a classic, local Italian gelateria of the 1950s, the interior and exterior of the Gelateria Edition are rich with light blue and cream colours – with wheels to match.
Frozen gelato trays are mounted above a bespoke cabinet containing dual battery-powered freezers storing up to 30 litres of gelato – enough to serve approximately 300 people per day – as well as additional accessories such as cones, tubs and spoons.
Placed on the boot and wings, a unique Gelateria badge in bronze cursive style denotes the model as a one-off concept.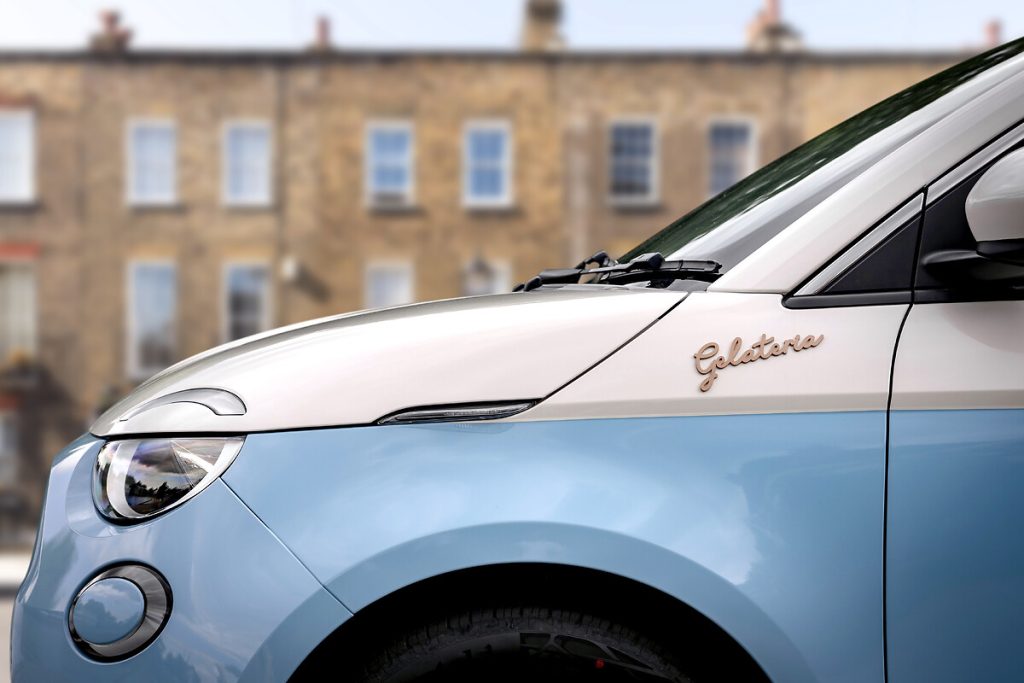 With the folding fabric roof down, the retro-style canopy can be raised – matching the classical exterior colours – to provide shade to the onboard display of gelato flavours and server beneath.
No vehicle that serves gelato is complete without an appropriate chime, which is why the 500e Gelateria Edition features a jingle inspired by the operatic sounds of Italy, passionately, yet softly notifying customers of its presence at the push of a special button on the car's dashboard.
The 500e Gelateria Edition also features a unique cream dashboard finish with bronze Gelateria badging alongside a reupholstered driver's seat.
Deck chairs can be stored within the car so customers can enjoy their freshly served gelato in total comfort.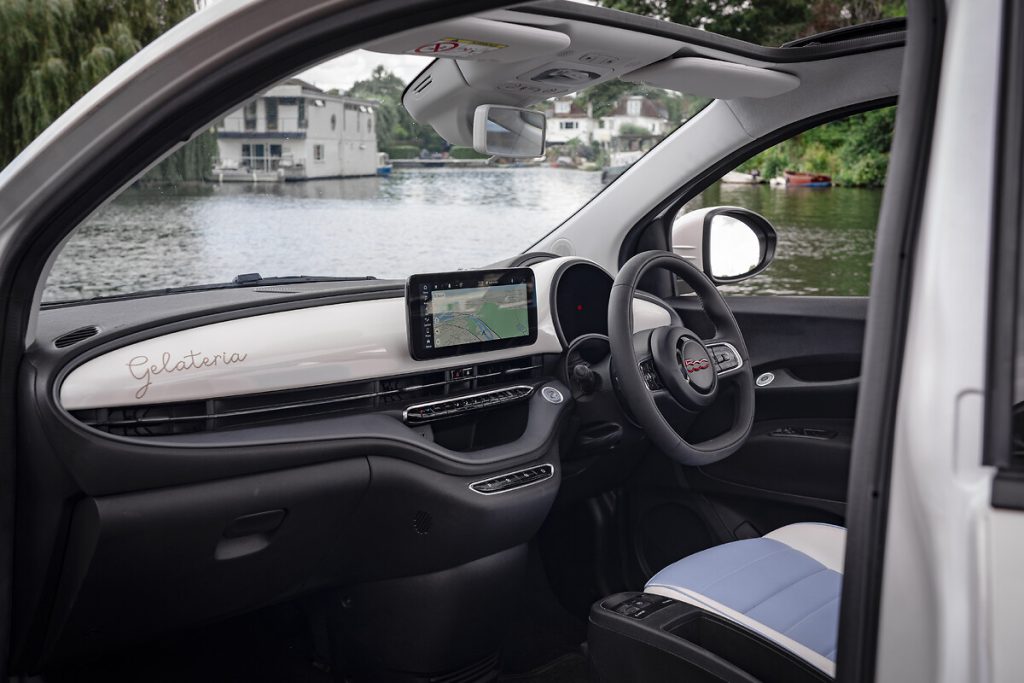 FIAT has also created a new gelato flavour that expresses the brand's history. Bicerin – a traditional hot drink native to the Italian city of Turin and the birthplace of FIAT – is the inspiration for FIAT's new gelato flavour, consisting of coffee, chocolate and oat milk ingredients.
The FIAT 500e is the first fully-electric FIAT designed from the ground up. The car provides a raft of best-in-class features such as Level 2 Autonomous Driving technologies, a variety of battery options and a substantial driving range of up to 199 miles (WLTP).
Damien Dally, Managing Director of FIAT UK, commented: "Understandably, the British public cherishes the ice cream van during summertime, yet the old-fashioned combustion-engine examples of the past are fast becoming outdated – and for good reason.
"While the one-off FIAT 500e Gelateria Edition remains a one-off UK concept, based on the 500e Convertible, it is a zero-emission solution that demonstrates the car's versatility in city environments. It's small, compact and electric, styled with the brand's Italian heritage in mind. Plus, the open-top roof brings a touch of dolce vita wherever you go."