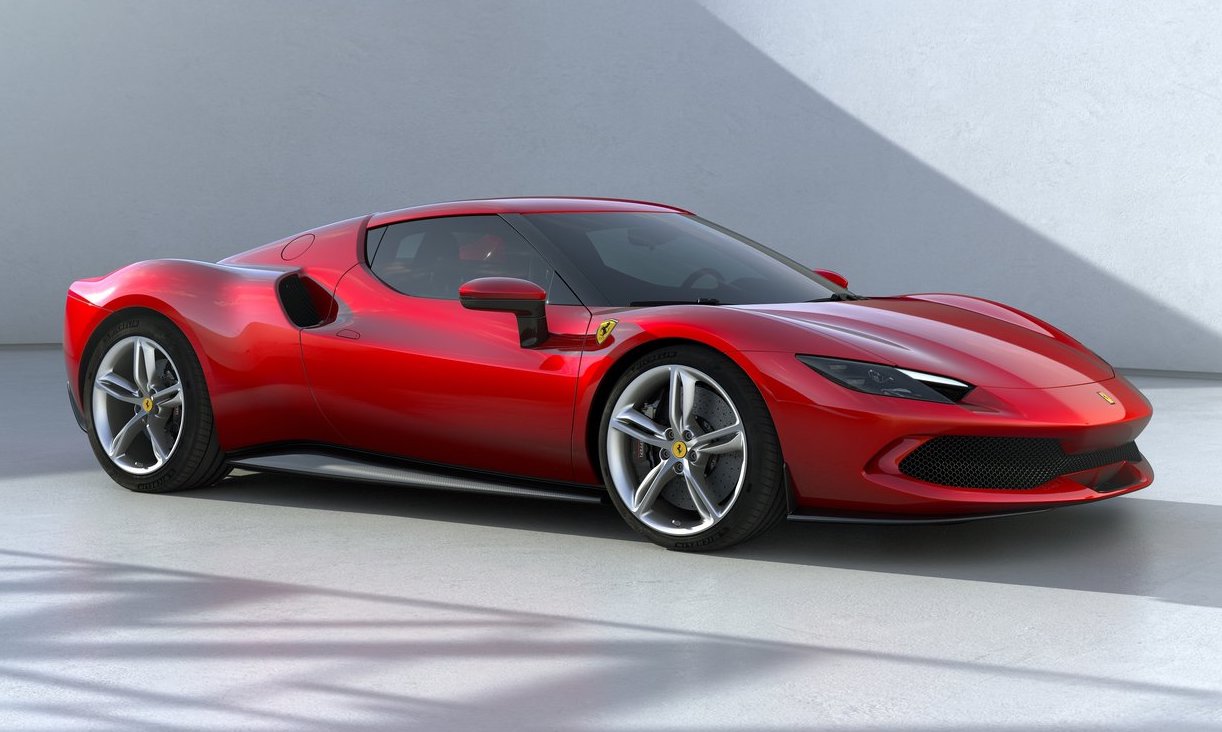 This successor to the F8 Tributo will be the first Ferrari since the Dino 246 to feature a V6. 
Courtesy of the ever-tightening emissions regulations all automakers have to conform to these days, the traditional mid-engined V8 Ferrari formula had evolved drastically in recent time. 
The first of these drastic changes first crept in with the 488 GTB, that added a pair of turbochargers to the naturally-aspirated 458 Italia. Now though, Ferrari has went and shaken up one of its core models in its lineup even further, by ditching two of those cylinders and plonking an electric motor to create the 296 GTB.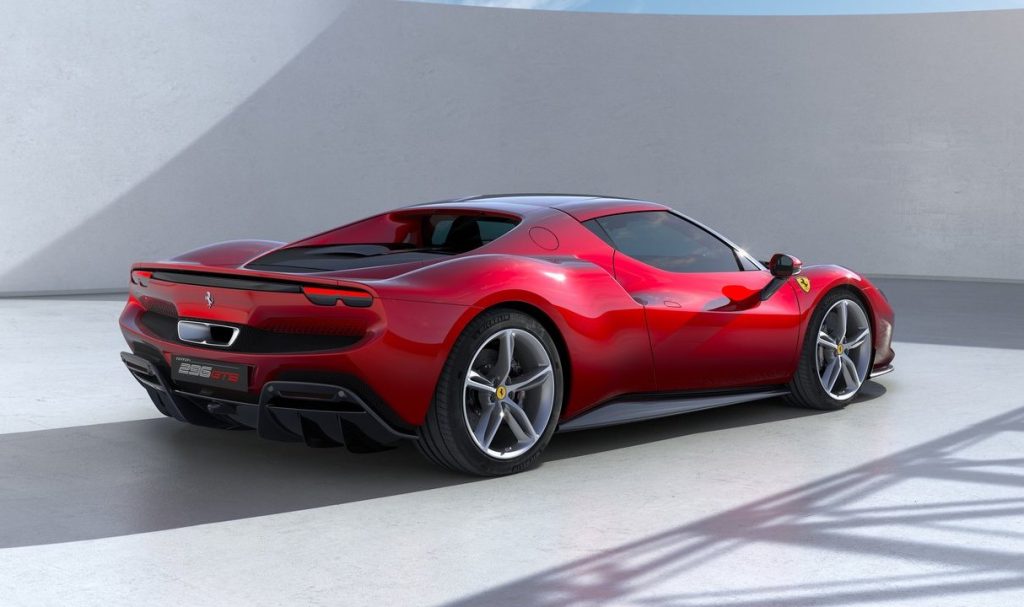 Yes, the successor to the outgoing F8 Tributo will be featuring a plug-in hybrid V6. The first six-pot for Ferrari since Dino 246 from 1974, it is nevertheless worth just checking the specs out before shedding a tear in morning for the loss of the screaming V8.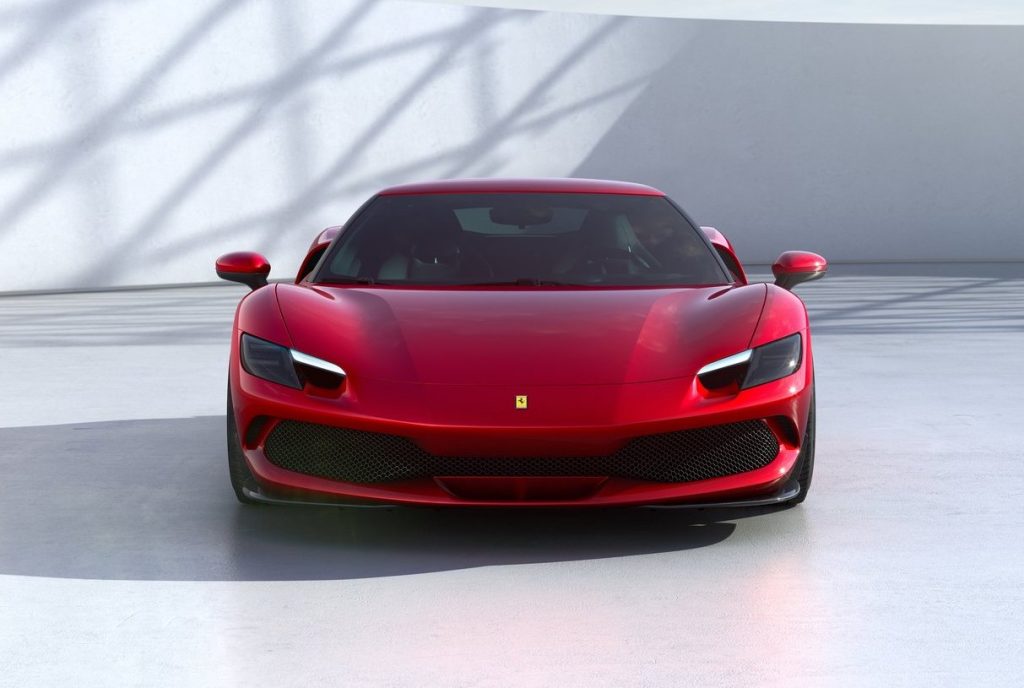 That is all because this twin-turbocharged 3.0-litre PHEV V6 is an engineering masterpiece. Getting the headline figures out of the way first, the combined power output of this hybrid powertrain stands at a whopping 819 hp and 750 Nm of torque.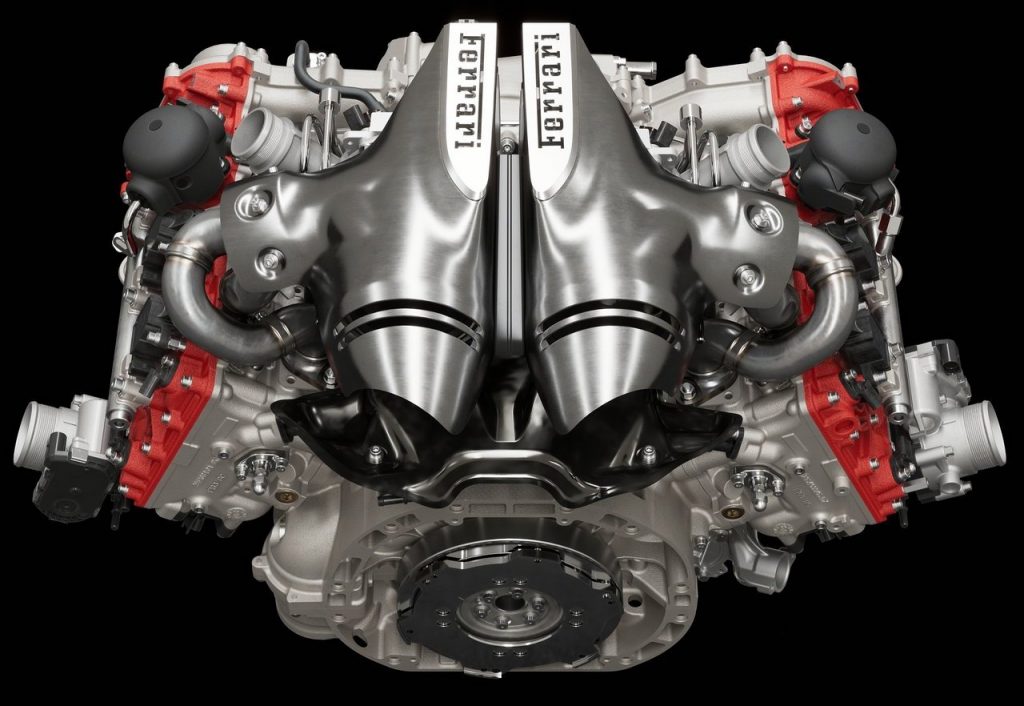 Just to make that jaw drop even further still, the 296 GTB can apparently achieve the century sprint in 2.9 seconds, and carry on to a top speed of over 330 km/h (205 mph). Oh, and this solely rear wheel drive Ferrari is able to fly around Fiorano in just 1 minute 21 seconds, which is 1.5 seconds quicker than the V8 powered F8 Tributo it replaces. 
Its incredulous performance stats just doesn't stop there however, as Ferrari is touting too that its all-new clean-sheet hot-vee 120º V6 —which incidentally revs to 8,500 rpm — boasts the highest specific power output of any production engine currently on the market. Outputting 654 hp on its own without any electrical assistance, the claimed 218 hp per litre figure just manages to usurp the 208 hp per litre number of the Mercedes-AMG A45 S that previously held the record.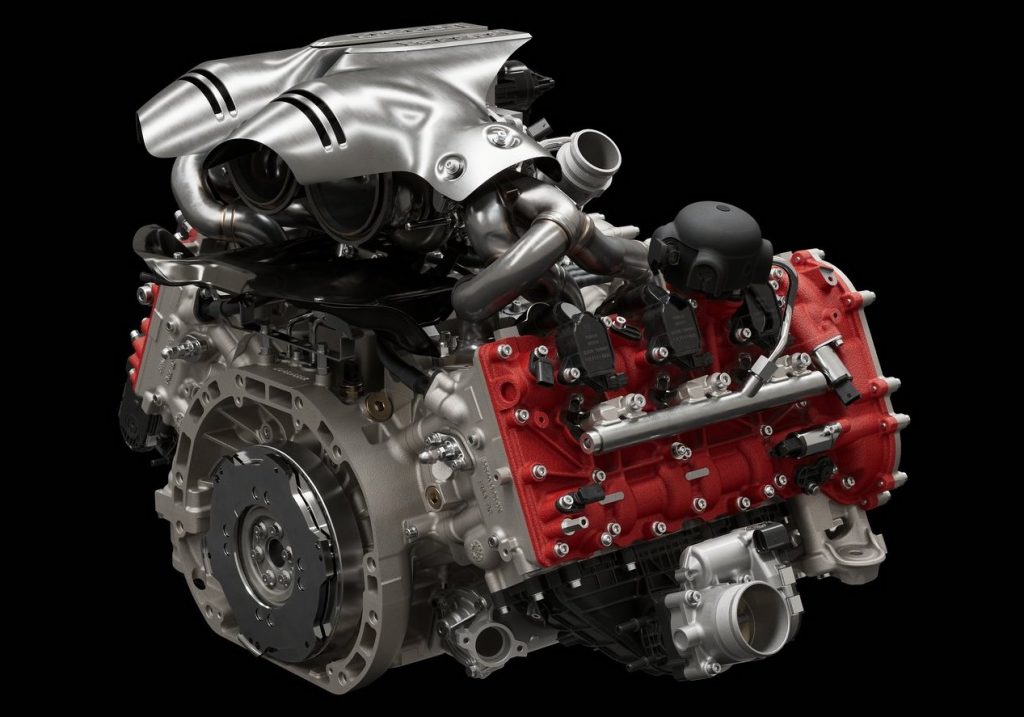 Now moving swiftly onto the electrical side of things, the single electric motor sandwiched between the 8-speed dual-clutch transmission outputs 164 hp by itself. Hooked up to a 7.45 kWh battery pack under the floor, the 296 GTB is said to be able to drive up to 25 km in pure EV mode, and at speeds of up to 135 km/h.
Ferrari's rationale of sticking to one motor (unlike the tri-motor setup in the SF90 Stradale) and a smaller battery is perhaps mainly due to weight, as this 296 GTB is actually only 35 kg heavier (at 1,470 kg) than the F8 Tributo. This new car is also interestingly slightly shorter between the wheels (by 50 mm) than its predecessor, for which the Italian supercar manufacturer says further enhances its agility on the road.
For customers who intend to really wish to hustle in their 296 GTB however, the Assetto Fiorano package is perhaps then a worthy option to tick. That is because it brings with it a host of additional lightweight carbon fibre trim, motorsport-spec shock absorbers, Michelin Pilot Sport Cup 2 R tyres, a Lexan plexiglass rear screen and a special livery that pays homage to the Ferrari 250 Le Mans.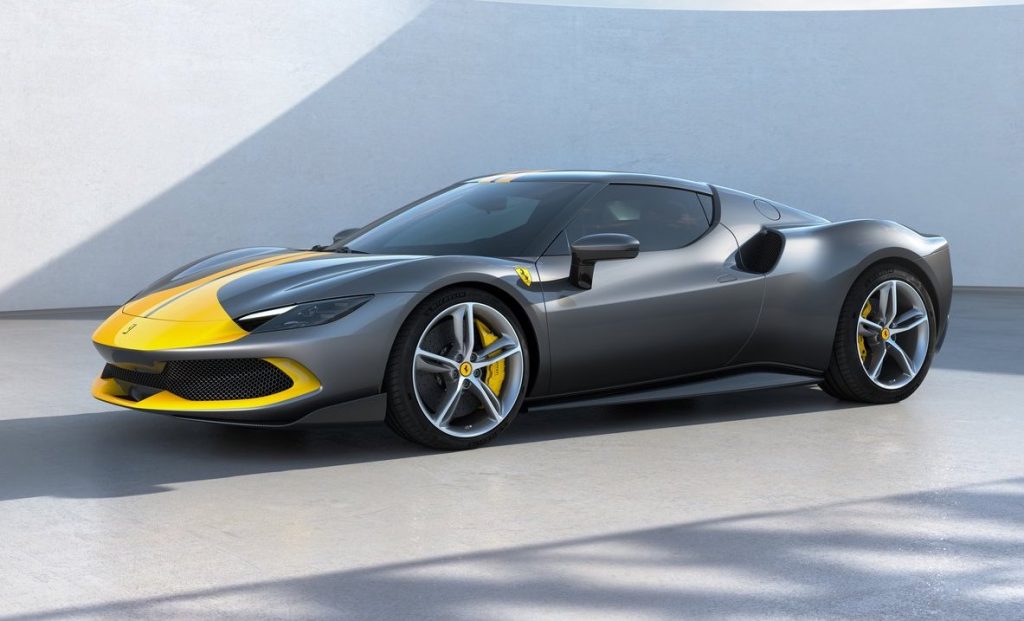 Continuing on the topic of that very special classic Prancing Horse, the 250 LM had also apparently served as the inspiration for the B-pillar, rear haunches and Kamm tail of the 296 GTB. The LaFerrari meanwhile donates its active rear spoiler tech, with its wraparound windscreen being a design cue borrowed from Ferrari J50. 
Looking at it as a complete package however, the 296 GTB honestly looks very, very similar to its SF90 Stradale sibling. Its tech-laden interior also bears a striking resemblance to the aforementioned 900+ hp hybrid Ferrari, with the same signature multifunction steering wheel and H-gate gear selector in the centre console.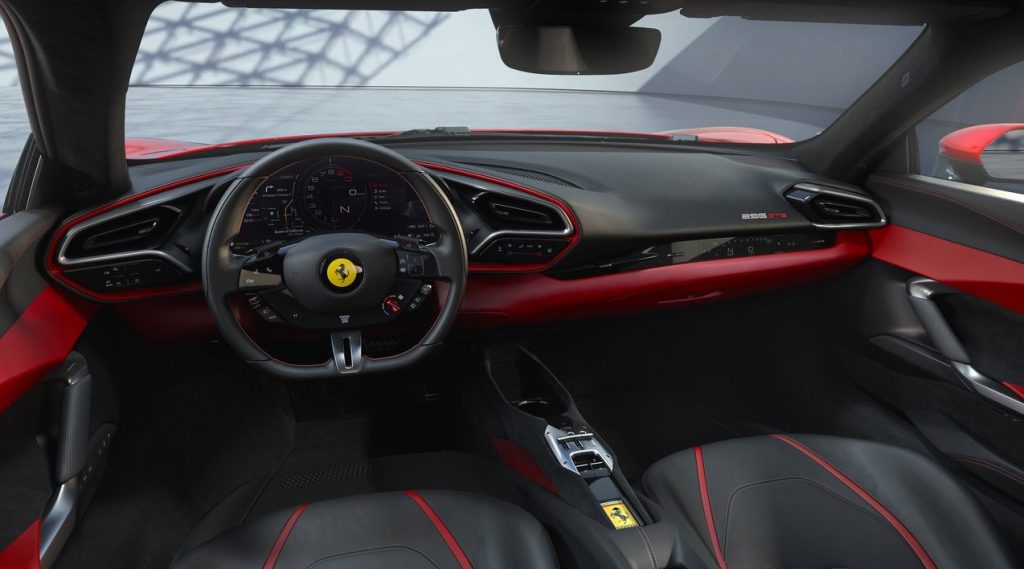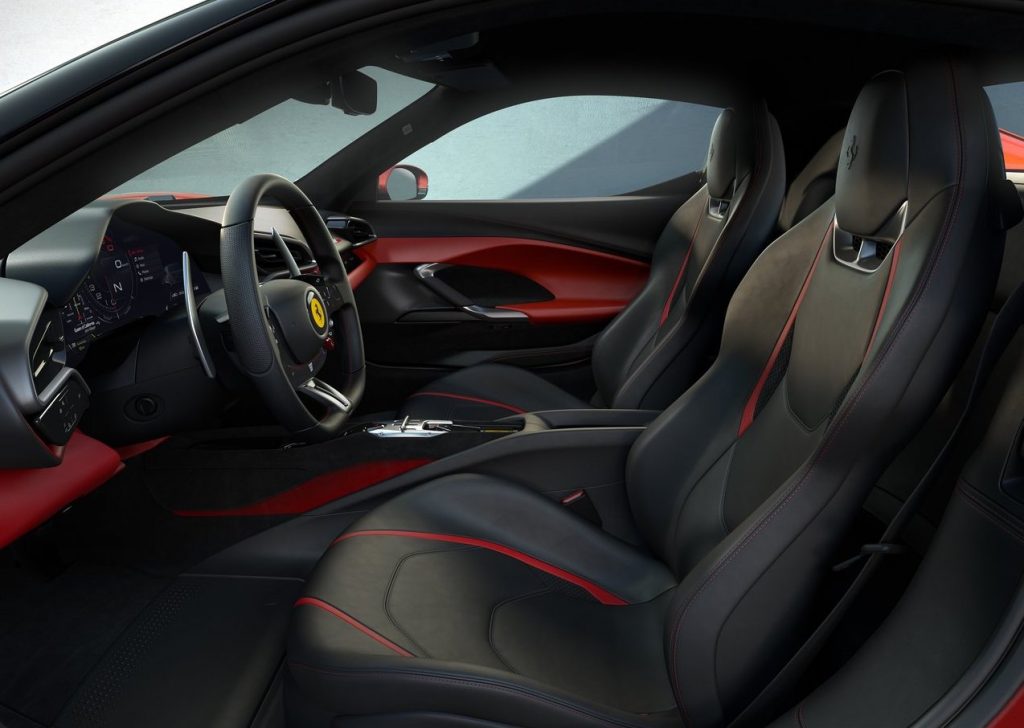 Priced from €269,000 (RM 1.34 million) in Italy — or €302,000 (1.5 million) with the Asset Fiorano package — the first European deliveries of the 296 GTB is set to begin in the first quarter of 2022. This will also be around the same time that Ferrari will be debuting its Purosangue SUV, before following up with an all-electric supercar come 2025.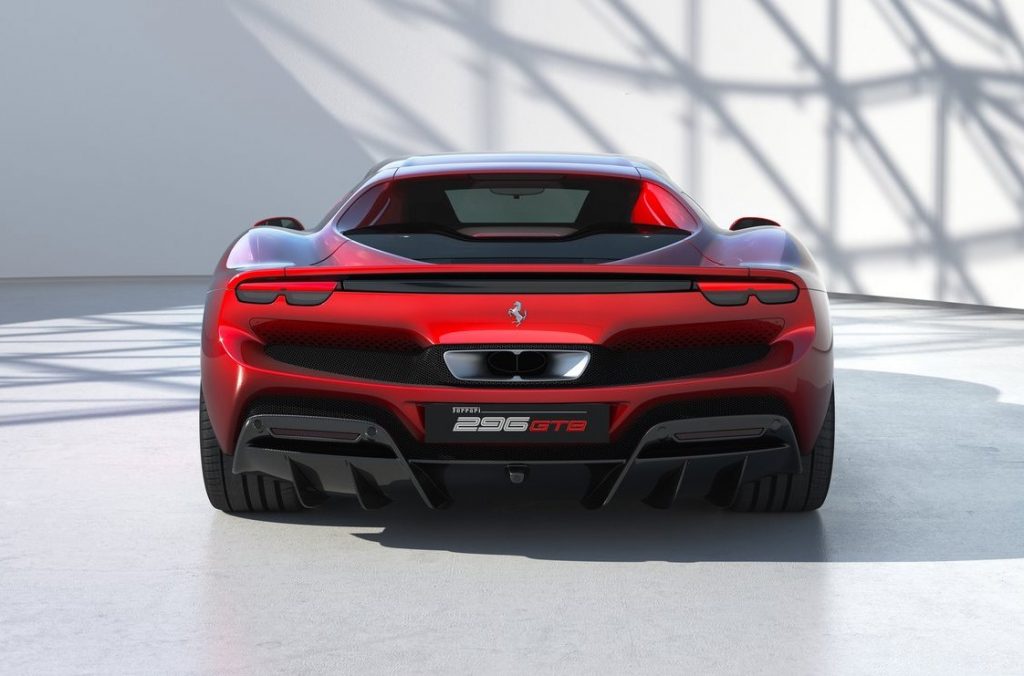 TECHNICAL SPECIFICATIONS
POWERTRAIN
Type: V6 – 120°
Overall displacement: 2992 cm3
Bore and stroke: 88 mm x 82 mm
Max. power output ICE: 663 cv
Max. power output hybrid system: 610 kW (830 cv) @ 8000 rpm
Max. torque: 740 Nm @ 6250 rpm
Max. revs: 8500 rpm
Compression ratio: 9.4:1
High voltage battery capacity: 7.45 kWh
DIMENSIONS AND WEIGHTS
Length: 4565 mm
Width: 1958 mm
Height: 1187 mm
Wheelbase: 2600 mm
Front track: 1665 mm
Rear track: 1632 mm
Dry weight: 1470 kg
Dry weight/power ratio: 1.77 kg/cv
Weight distribution: 40.5 % front / 59.5 % rear
Fuel tanks capacity: 65 litres
TYRES AND WHEELS
Front: 245/35 ZR 20 J9.0
Rear: 305/35 ZR 20 J11.0
BRAKES
Front: 398 x 223 x 38 mm
Rear: 360 x 233 x 32 mm
TRANSMISSION AND GEARBOX
ELECTRONIC CONTROLS
eSSC: eTC, eDiff, SCM, FDE2.0, EPS, ABS Evo, 6w-CDS; high-performance ABS/EBD with energy recovery
PERFORMANCE
Max. speed: >330 km/h
0-100 km/h: 2.9 s
0-200 km/h: 7.3 s
200-0 km/h: 107 m
Fiorano lap time: 1′ 21″