Automotive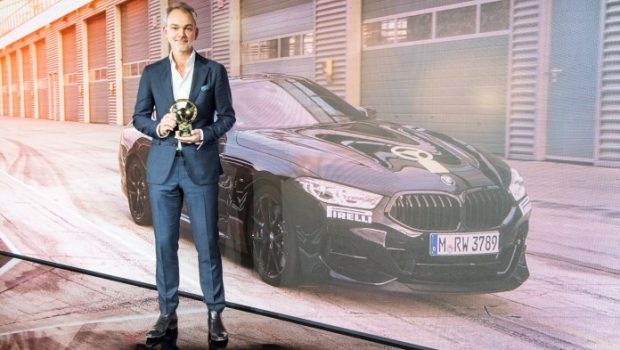 Published on November 20th, 2019 | by Hammer
0
BMW gets TWO Golden Steering Wheel 2019 Awards
BMW management are celebrating their latest win in a big way as they managed to secure two titles in the recent coveted 2019 Golden Steering Wheel awards organized by one of the biggest and most prominent automotive publication, Auto Bild.
The new BMW 1 Series and the luxury BMW 8 Series were the models to bring back home the two trophies. Oliver Zipse, BMW chairman, and Adrian van Hooydonk, senior VP for BMW Group Design, were present at the ceremony gala to receive the two awards.
In this year's edition, a total of 58 models competed in seven categories. The finalists were judged based on the choices made by Auto Bild and Bild am Sonntag readers, as well by a jury of highly qualified automotive expert, including Walter Rohrl and Hans-Joachim Stuck.
The Golden Steering Wheel award (translated as Goldenes Lenkrad in German) is one of the most prestigious automotive industry accolades, having a history that traces back to the year 1976. Before choosing the rightful winner, the finalists were heavily scrutinized by the expert jury at the Lausitzring proving grounds near Dresden.
After the list of finalists was decided out of the initial list of 58 contenders, the jury made its final decision on which car shall receive the prestigious trophy. Thus, the all-new BMW 1 Series was able to grab the first position in the Compact Cars category. Readers and automotive experts also unanimously picked the BMW 8 Series as the most beautiful car of the year.
The new 1 Series managed to win the hearts of readers and experts, already proving to be a very successful proposition in the compact segment. Sitting on the front-driven architecture entitled FAAR, the new F40 generation of the compact BMW boasts an array of technical enhancement which help deliver an outstanding ride quality for such a vehicle. The actuator contiguous wheel slip limitation is a technology sourced directly from the BMW i3 electric vehicle and it helps the driver to achieve a maximum grip when touching down the gas pedal.