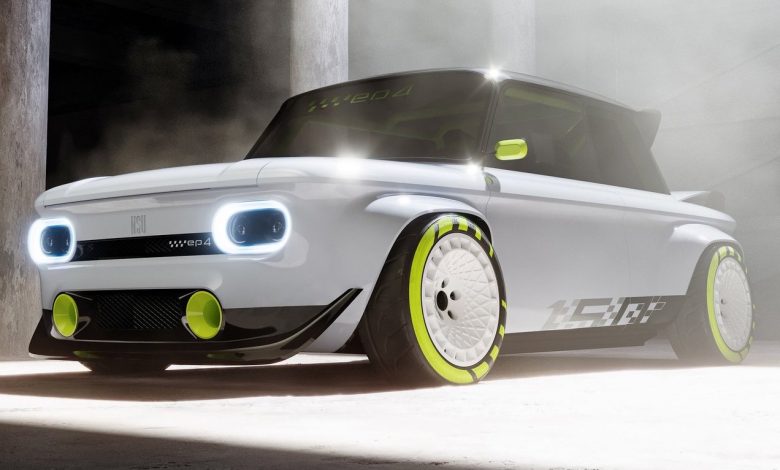 Audi celebrates the 150th birthday of its Neckarsulm plant by resto-modding an NSU Prinz.
Audi's Neckarsulm production plant has recently celebrated its 150th birthday. And in order to mark this momentous milestone, the German automaker showcased an electrified revival of a car that was once built at this manufacturing facility. Though those who are perhaps more observant might already notice that this EP4 concept doesn't actually bear four rings on its nose, or even actually look like any Audi at all.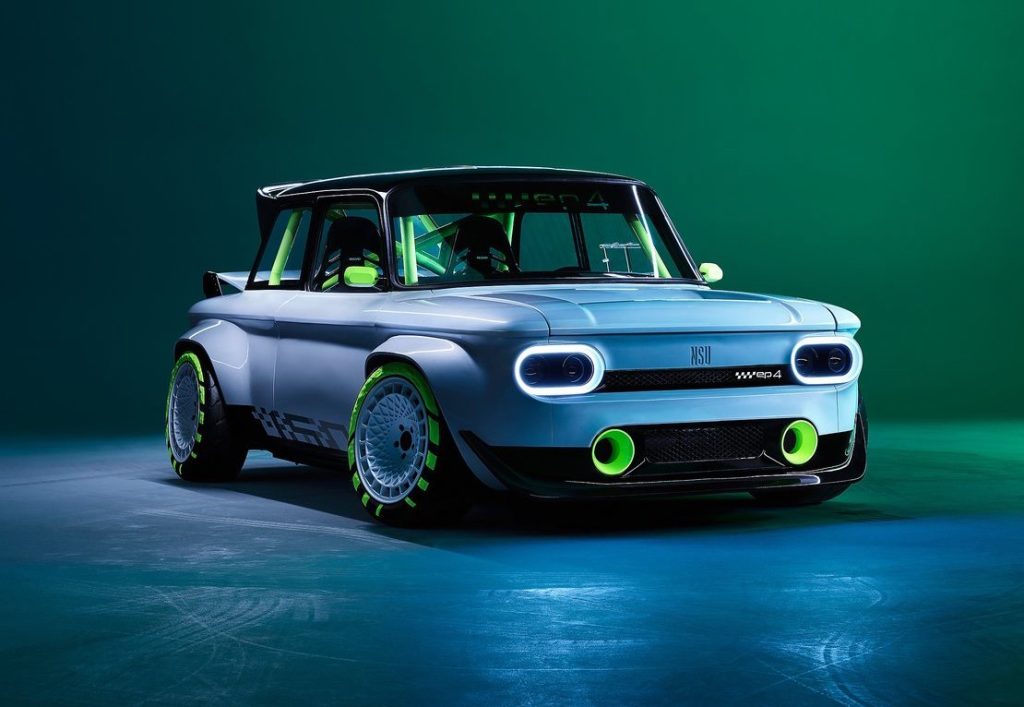 So what is going on then? Well, as the NSU badge on its nose can attest, the Audi EP4 is not in fact an Audi at all, but instead an electrified revival of NSU's Prinz 4. In fact, the EP4 name breaks down to the "E" standing for electric drive, with the "P4" for the NSU Prinz 4. 
But why is Audi building an NSU to celebrate the 150th birthday of its factory? Well, the reason to that is for the plant to originally be NSU's headquarters, before Volkswagen bought the company over and fused it with Auto Union to form Audi in 1969. NSU denotes Neckarsulm after all too. So it therefore does make somewhat reasonable sense for an electrified Prinz revival to be marking this occasion.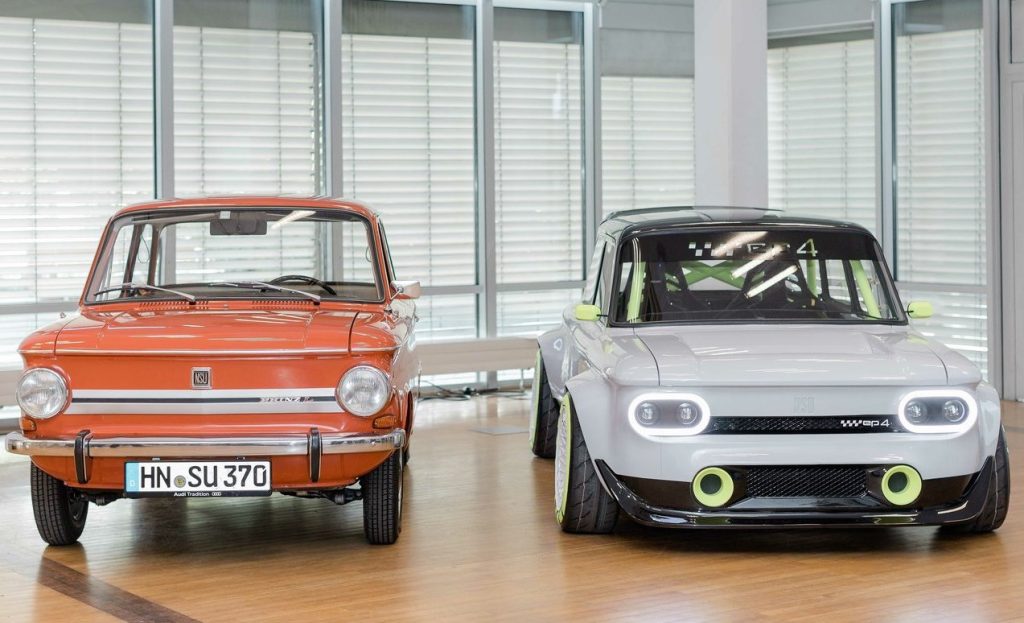 And it is an actual Prinz that Audi has used for its base of the EP4 too. A 1971 Prinz 4 that originally rolled off the Neckarsulm plant was dragged out of its decades-long abandonment and after over 6 months of hard work by 12 apprentices working at the four ringed automaker, was finally transformed to this retro-futuristic sporty saloon presented here. 
Said transformation of the Prinz first began with fixing the bodywork. Rust spots that dotted this 50+ year old classic was first fixed, then a big hole was presumably cut into its floor such that a modified floor pan from an Audi A1 could be fitted underneath. The original NSU fenders were subsequently replaced with wider 3D-printed versions too, in order to not just accept the wider modern wheels tucked underneath it, but also to give this EP4 a more muscular exterior aesthetic.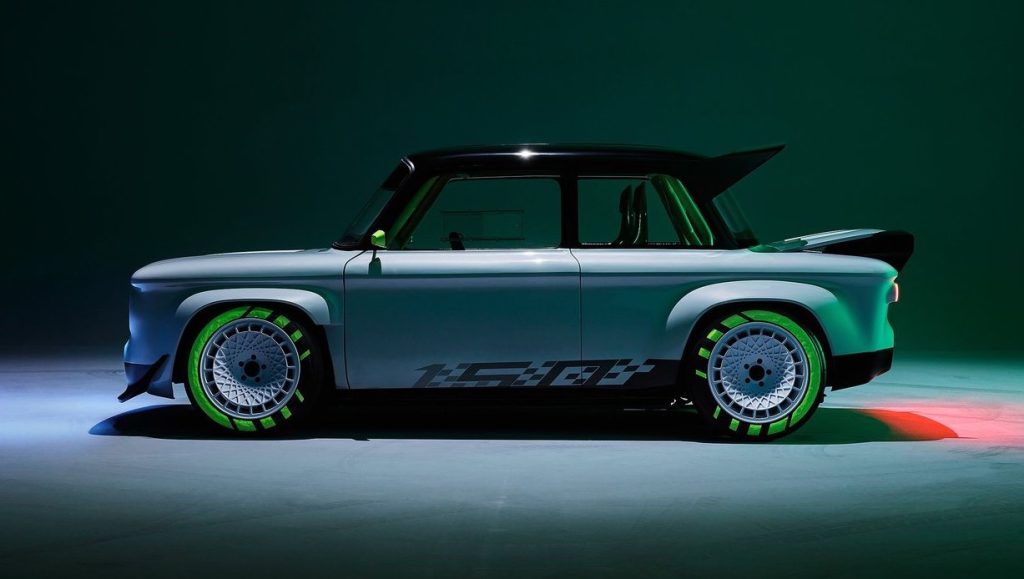 The A1 base was deemed a necessity to be stuffed under the Prinz because the 240 hp Audi e-tron electric motor fitted to the EP4 outputs about 12x the power as the two-cylinder that came originally with this NSU. A plug-in hybrid Audi Q7 TFSI e quattro meanwhile has donated its battery pack for use in this project, and is mounted under the front hood where the fuel tank once was.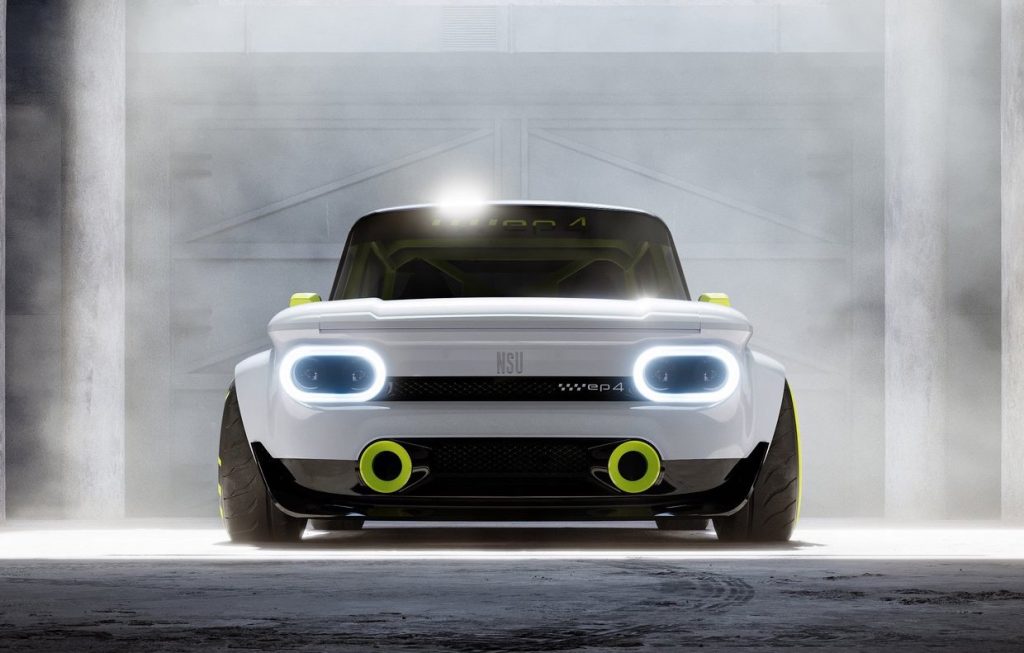 More interestingly though about the carbon fibre bonnet is for it to feature a massive opening, which in tandem with the wide air intake at the bottom of the front bumper allow heat from the battery to be vented through. Heat generated from the rear-mounted motor on the other hand is vented through the tailgate, which can be fixed half open in an apparent homage to the sportier NSU Prinz 1000. And just continuing on the subject of the EP4's rump for a little bit more, its massive rear wing is actually not attached to the body, but instead to its Signal Yellow-painted roll cage, with its supports going right through the rear window.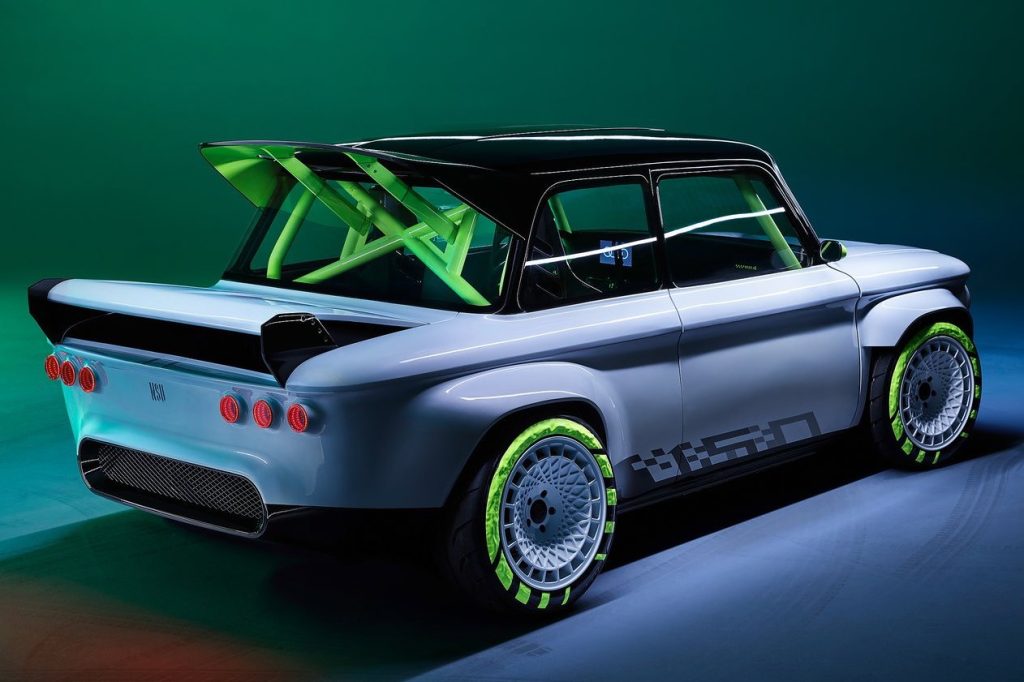 Moving on inside now, the EP4 features a typically spartan racing car-spec cabin. A single-board computer and sole corresponding screen serves as its instruments and displays, while its occupants are stuffed snuggly into Recaro Podium bucket seats. 
Resplendent in its Audi Suzuka Grey and Brilliant Black two-tone paint job, this electrified Prinz is unfortunately to be nothing more than a one-off future museum exhibit built to celebrate 150 years of the Neckarsulm plant. Given though that Audi Sport is also currently based in said site, there might be hope yet for some of its engineers to perhaps infuse some of the EP4's rather endearing charm into its future sporty products.