Automotive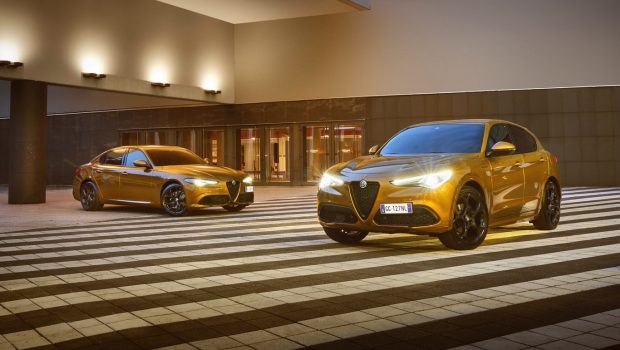 Published on October 14th, 2021 | by Joshua Chin
0
Alfa Romeo Stelvio & Giulia GT Junior Special Editions Debut
Alfa Romeo dips back into its past to find a way in further jazzing up its present day lineup. 
While Alfa Romeo is currently certainly in a better state than in its recent past, it can be said however a significant chunk of its lustre from its hey-day back in the 60s and 70s has been somewhat squandered over the years. Perhaps in an attempt to recapture some of that nostalgia therefore to the good ol' days, this Italian marque has hence recently revealed special editions of both its Giulia sedan and Stelvio SUV, which pays homage to one of its most popular models in its history books — the GT Junior.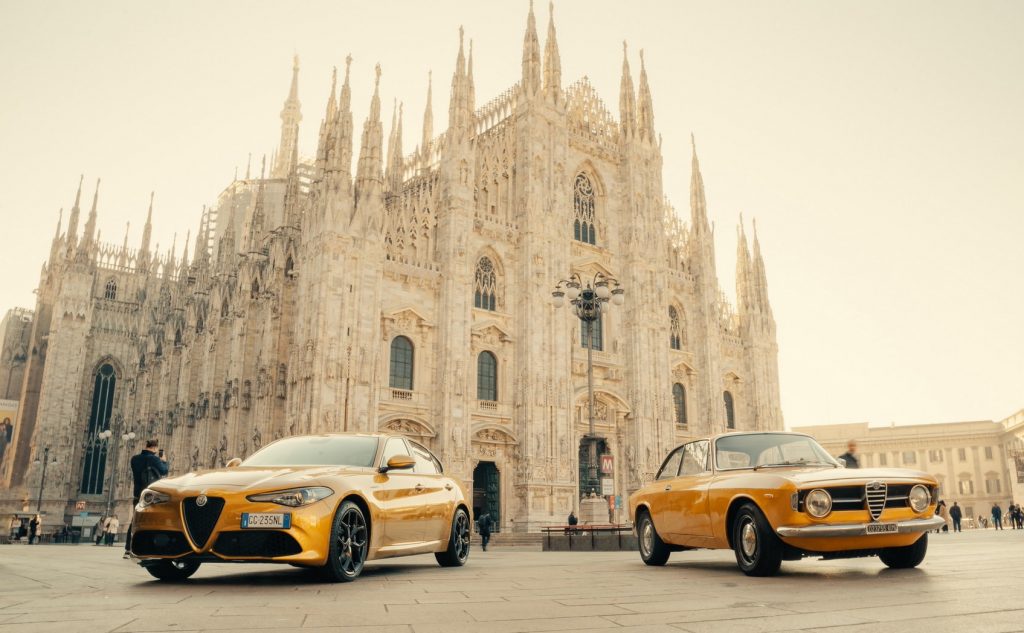 Before delving right into what exactly is special about these special editions however, let's just instead take a quick refresher first on the car on which said special editions are paying tribute to. And what might surprise some is that the GT Junior isn't even the top-tier Alfa Romeo of its day, as it was instead the automaker's entry-level two-door coupe that sat beneath the Giulia Sprint GT. 
Being the entry-level Alfa sports car of its day though did mean that it was (somewhat) attainable to the masses, as evidenced nearly 100,000 units being sold during its decade long production run from 1966 to 1976. Its stellar driving dynamics also no doubt contributed a not-insignificant chunk to its popularity and legacy that lingers till today, not to mention too its peppy 1.3-litre twin-cam four-pot that buzzed happily under its Bertone-styled body.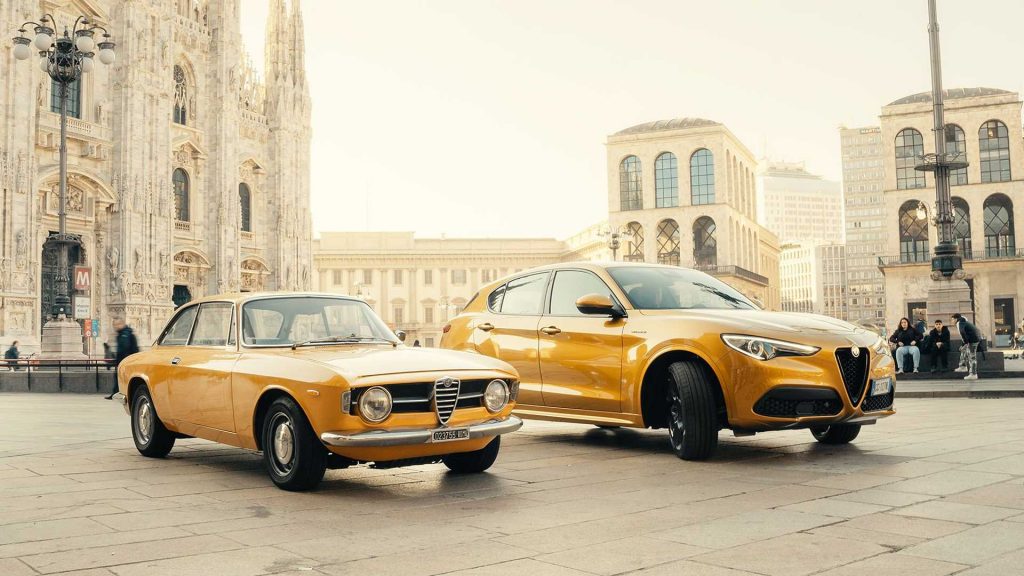 Those hoping for such pep from its modern day homages might be left a little wanting though, as Alfa Romeo has rather interestingly gone with the decision to offer both these special editions with its 210 hp 2.2-litre turbodiesel. There is happily however the option also to mate the 8-speed automatic 'boxes in either cars to a more potent 280 hp 2.0-litre boosted petrol mill, with the Giulia even available to send power only to its rear wheels too if requested.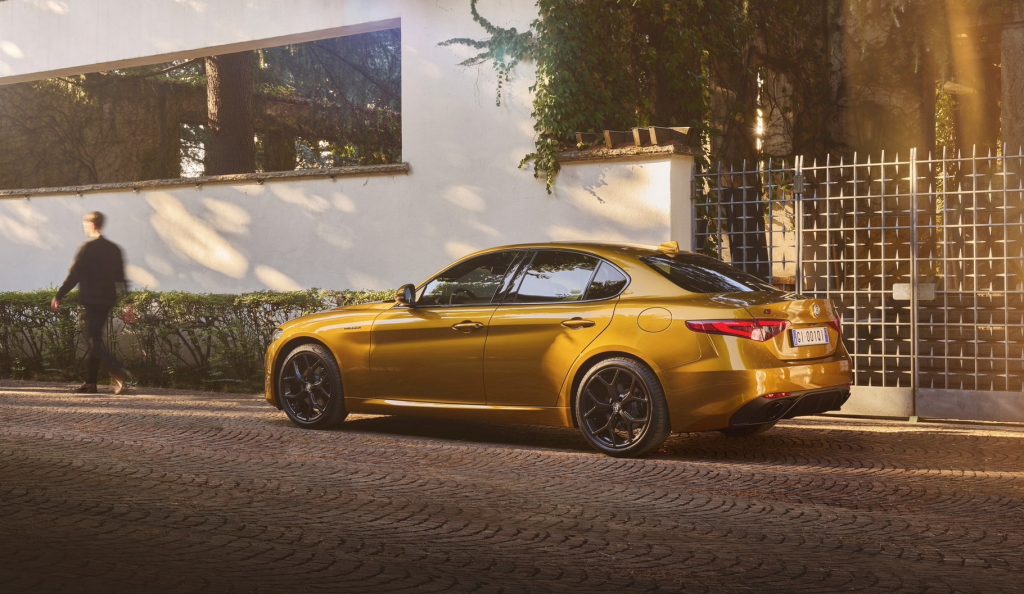 In continuing on the topic of wheels meanwhile, the Stelvio GT Junior comes fitted with black-painted five-hole 21-inch alloys while its sedan sibling features a different multi-spoke 19-inch wheel design. The black theme continues further too with various other bits of blacked-out trim like the window surrounds and dual exhaust tips, which does do a more than adequate job in further accentuating the exclusive (and vividly yellow) Lipari Ochre exterior hue featured on both these special editions.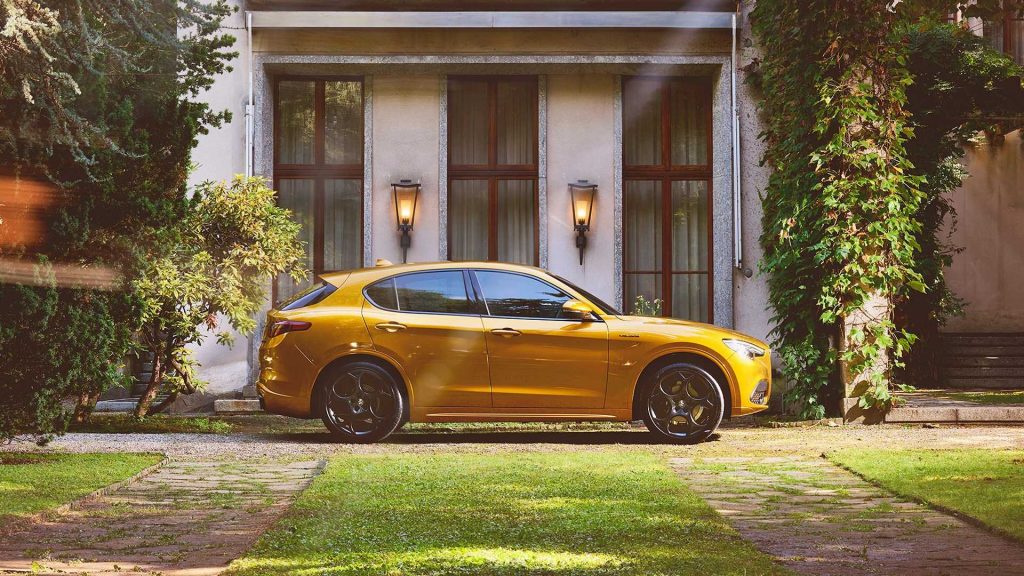 Now moving on inside, the easiest way in distinguishing these special edition Alfa Romeos from its standard siblings will be by the silhouette of the GT 1300 Junior that has been embossed on the dashboards. Logos of the car it pays tribute to also appear on the headrests of its black leather seats too, but that is about the extent of the interior tweaks to the Veloce trim of its common counterparts.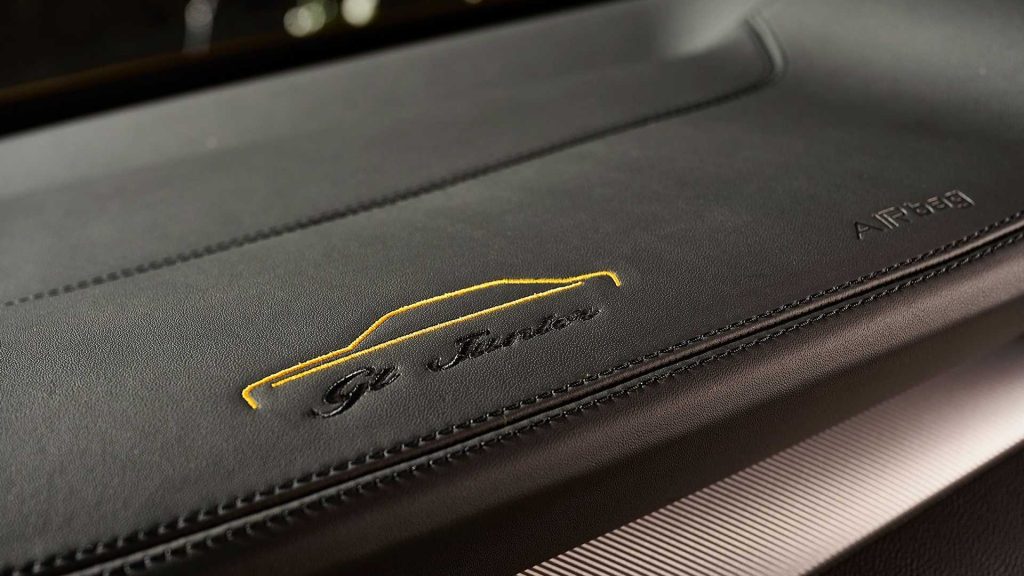 The Alfa Romeo Stelvio GT Junior retails for €72,750 (RM 350,000) in its home market of Italy, which makes it €6,550 (RM 32,000) dearer than the equivalent standard spec car on which it is based upon. Prices for the special edition Giulia on the other hand have not been officially disclosed thus far, but it is nevertheless reasonable to expect a price hike of a similar margin to its SUV sibling.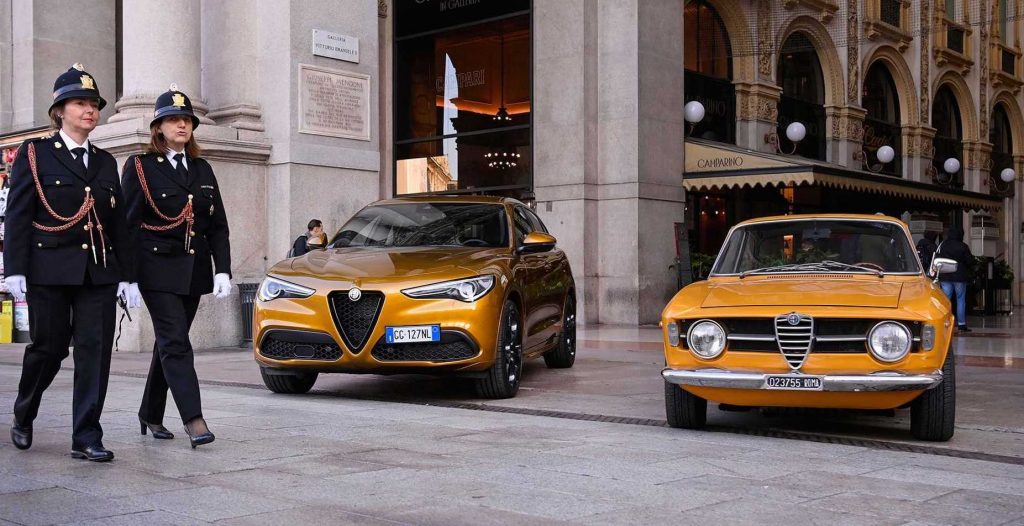 PRESS RELEASE: Alfa Romeo pays further tribute to its unparalleled historical heritage, by presenting the new Giulia and Stelvio GT Junior special series, inspired by an icon of the 1960s, the GT 1300. The exclusive Limited Edition is based on the "Veloce" trim level, the sportiest in the line-up.
Its exterior feature the captivating Lipari Ochre color, inspired by the nuances known as "Old Timers": the brand's distinctive Heritage and typical daring in its choice of strongly characterful hues. With its connotation of sporty minimalism, the interior includes electrically adjustable leather seats with distinctive "GT Junior" embroidery on the front headrest, along with specific stitching. Notable features on the dashboard: the stylish GT 1300 Junior pattern and silhouette of the 1960s.
This completes a triptych of successful launches for the Italian brand: within a few months, the 500 units of the GTA/GTAm launched in May sold out ultra-fast, together with the excellent sales performance of the Giulia and Stelvio '6C Villa d'Este'.  Alfa Romeo thus confirms its unparalleled ability to create cars characterized by long-lasting aesthetic and functional choices that inspire models as up to date as they come.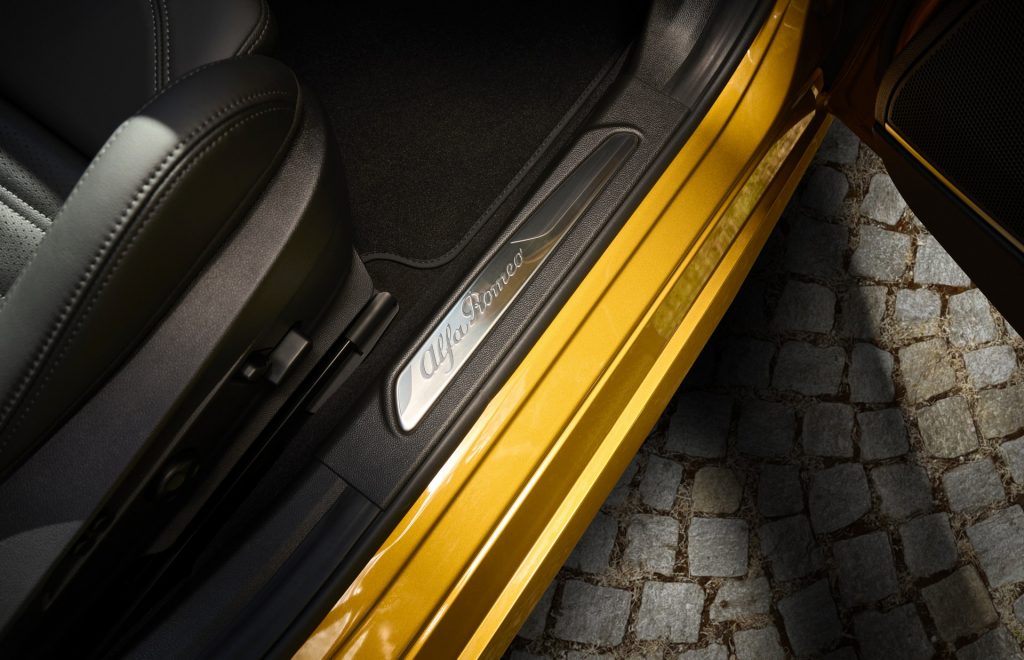 Giulia GT 1300 Junior: the epitome of an era
The exclusive special series is inspired by one of the brand's most iconic models: the unforgettable GT 1300 Junior, nearly 100,000 units of which were marketed in the 10 years it was produced, from 1966 to 1976.
Based on the Giulia Sprint GT, with a Bertone body and an 89-hp engine, the GT 1300 Junior soon established itself as a car that fully embodied the spirit of the '60s – revival and the economic boom, when dreams became achievable, including to own a stylish sports car.
It was no coincidence that Alfa Romeo's famous advertising claim of the time read: "Una vittoria al giorno, con una vettura per tutti i giorni" ("a victory a day in your everyday car").
The GT 1300 Junior was a stunning forerunner of the equilibrium between beauty and functionality so characteristic of Alfa Romeo, ambassador of a timeless design with lightweight but powerful forms, ready to burst out of the blocks just like an athlete.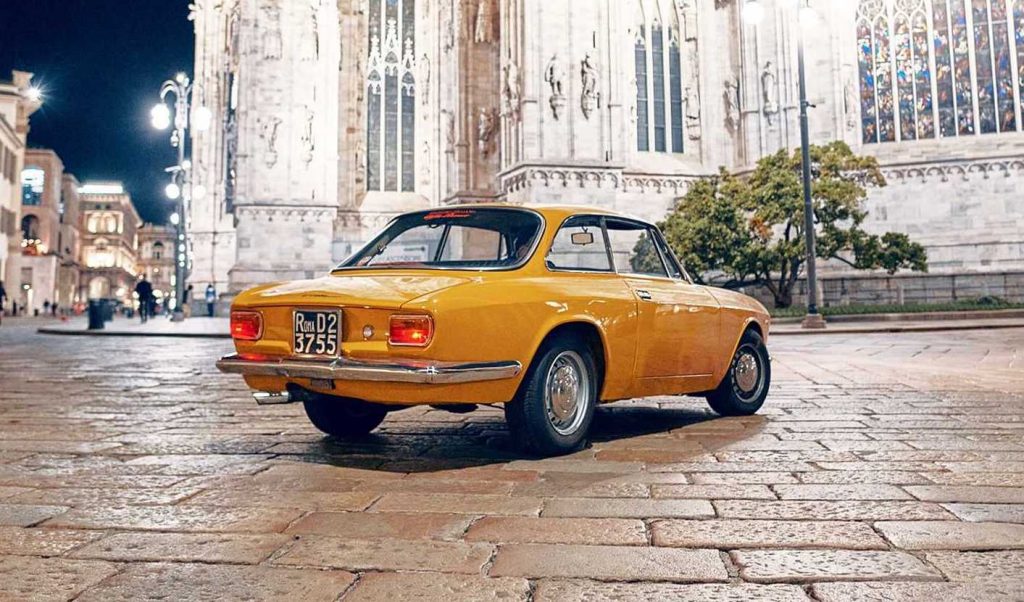 Giulia and Stelvio GT Junior: timeless beauty
The same values and features can be found in the present-day "GT Junior" Limited Edition of the Giulia and Stelvio, equipped with a 210-hp, 2.2-liter Turbo Diesel engine or a 280-hp, 2.0-liter Turbo Gasoline variant with 4 aluminum cylinders and carbon fiber drive shaft, paired with 8-speed automatic transmission and Q4 four-wheel drive (RWD also available on the 280-hp Giulia 2.0).
As well as the daring Lipari Ochre, the exteriors of the Giulia and Stelvio "GT Junior" feature five-hole lightweight 21" alloy wheels on the Stelvio; 19" on the Giulia. Aluminum steering column shift paddles for the automatic transmission come as standard, with L2 ADAS systems, rear parking sensors, wireless charger and automatically operated tailgate available as optional extras.