News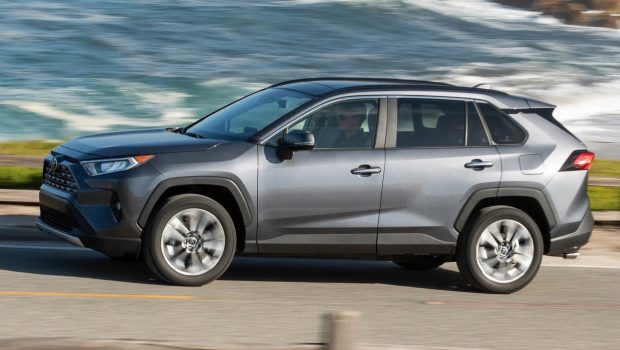 Published on November 29th, 2018 | by Hammer
0
Toyota RAV4 should come to Malaysia to rival the Honda CR-V
Over the years, Toyota has listened to owners and dealers around the world…….but not in ASEAN and it has paid off. Over the last five years, the global Toyota RAV4 SUV volume has doubled, which speaks profoundly to the segment's attractiveness and growth, and ultimately, RAV4's popularity. RAV4 currently ranks as the number-one-selling vehicle in the Toyota lineup in North America, as well as the best-selling non-pickup-truck in North America.
Engineers worked for about 4 years to fine-tune every aspect of RAV4's performance, handling stability and ride comfort. The end goal was simple: engineer a driving experience that is 'Confident and Natural'.
This unmatched performance was realized thanks to a group of takumi-highly-trained master craftsmen-who strived to develop a vehicle that acts and reacts as the driver intends, even in extreme weather and road conditions. Including the takumi in the development process was just another layer of enhancement to the overall design approach led by the Toyota New Global Architecture (TNGA) philosophy. These master craftsmen focused on working together to improve vehicle performance at various stages of the development process to deliver an ever-better Toyota RAV4.
The power source for Toyota RAV4's driving abilities comes from one of two powertrains:
Dynamic Force 2.5-liter inline-four-cylinder engine with VVT-iE mated to an 8-speed Direct-Shift Automatic Transmission, which motivates the five gas models
Dynamic Force 2.5-liter inline-four-cylinder Toyota Hybrid System II (THS II) engine with Electronically-Controlled Continuously-Variable Transmission (ECVT), which activates the four hybrid models
The takumi were precise with the development of RAV4's structure and configuration to achieve an increase in performance as a whole. The engine utilizes high-speed combustion technology and a variable control system for greater thermal efficiency output, which reduces energy losses associated with exhaust and cooling systems and the movement of mechanical parts, among other factors. With a 40-percent thermal efficiency (41 percent for hybrids), the 2.5-liter 4-cylinder Dynamic Force Engine is the ideal powerplant for the all-new RAV4 to meet the demand of providing a highly responsive, yet fuel efficient driving experience. The Direct Shift-8AT transmission provides direct lock-up from gears two through eight to eliminate power loss from the torque converter, executing ideal smooth shifts.
The Toyota-first, Dynamic Torque Vectoring All-Wheel Drive with Rear Driveline Disconnect, is nothing short of impressive, and enables drivers to steer the vehicle as intended, even atop the toughest of roads.
Standard on AWD-equipped Limited gas and Adventure grade models, Dynamic Torque Vectoring All-Wheel Drive with Rear Driveline Disconnect can send 50 percent of engine torque to the rear wheels, plus distribute it to the left or right rear wheel for improved handling. When AWD isn't required (on long stretches of highway, for example), RAV4 can achieve better fuel economy thanks to the Rear Driveline Disconnect system. The disconnection features the world's first ratchet-type dog clutches on both the front and rear wheel shafts. These clutches stop the driveshaft's rotations, thus transmitting the driving force to the front wheels when AWD isn't required, significantly reducing energy loss, improving fuel efficiency, and reducing rotational vibration making for a smoother ride.
This all-new AWD system is one of three available on the all-new RAV4; it joins the AWD-i system available on hybrid grades and the (non-Dynamic Torque Vectoring) AWD system available on core gas grades.
When paired with the new All-Wheel Drive with Intelligence (AWD-i), RAV4 Hybrid increases the total torque to the rear wheels-which is electronically driven-by 30% compared to the current generation AWD-i system. By adopting a new control system that optimally distributes torque to the rear wheels based on the driving conditions, the new AWD-i system offers high off-road performance, handling, and ability.
RAV4's unparalleled driving experience is just one of the ways the all-new RAV4 exceeds expectations for owners, the segment, and the industry.
XSE Hybrid: The Sportiest Toyota RAV4
For those who prefer sportier driving dynamics, XSE Hybrid stays ready with the perfect conflation of sport and utility. XSE is an all-new addition to RAV4's Hybrid family.
The piano-black accents across the front end, mirror caps, fender arches, and lower rockers set the stage for XSE Hybrid's sporty appeal. Unique to RAV4 Hybrids, projector-beam LED headlamps flank each side of the grille (on XLE and above) for a brighter, sharper, and ideally angled light source.
Standard on all RAV4 Hybrid models, the Toyota Hybrid System II (THS II) works in sync with the 2.5-liter 4-cylinder Dynamic Force Engine for an impressive balance of energy efficiency and supreme power output. Performance-wise, XSE Hybrid is truly the "no compromise" grade thanks to its enhanced power and acceleration. When paired with its sport-tuned suspension having tauter shock absorbers and springs, RAV4 XSE Hybrid takes the throne as the quickest-and best-handling-RAV4 in the lineup.
While driving thrills behind XSE Hybrid's steering wheel are standard, that's not all guests get: In any RAV4 Hybrid, drivers can look forward to anticipated class-leading fuel efficiency and increases in horsepower and acceleration, respectively.
On- and Off-Road Fun
For explorers looking to satisfy their outdoorsy cravings, Toyota RAV4 Adventure has the capabilities for all types of off-road fun.
RAV4 Adventure is distinguishable among the other grades with its standard high-rise roof rails and large over-fenders. Inspired by Toyota's off-road vehicle heritage, RAV4 Adventure grade has a more rugged exterior, thanks in part to its more aggressive grille, fog light surrounds, and unique wheel design. It answers the call designers had of Robust with its stout stance, standard Dynamic Torque Vectoring All-Wheel Drive with Rear Driveline Disconnect, and a reliable and tough functionality that's apt for any road.
The fun ratchets up once pavement blends into dirt thanks to Multi-Terrain Select. Standard on all AWD-equipped gas RAV4 models, Multi-Terrain Select gives drivers the ability to maximize traction when driving through mud, sand, or rocks. The system is easy to use thanks to a control dial (or buttons) positioned in the center console to the left of the shift knob.
We wait to see if Toyota in Malaysia will start selling this all new RAV4 to compete head on with the ever popular Honda CR-V