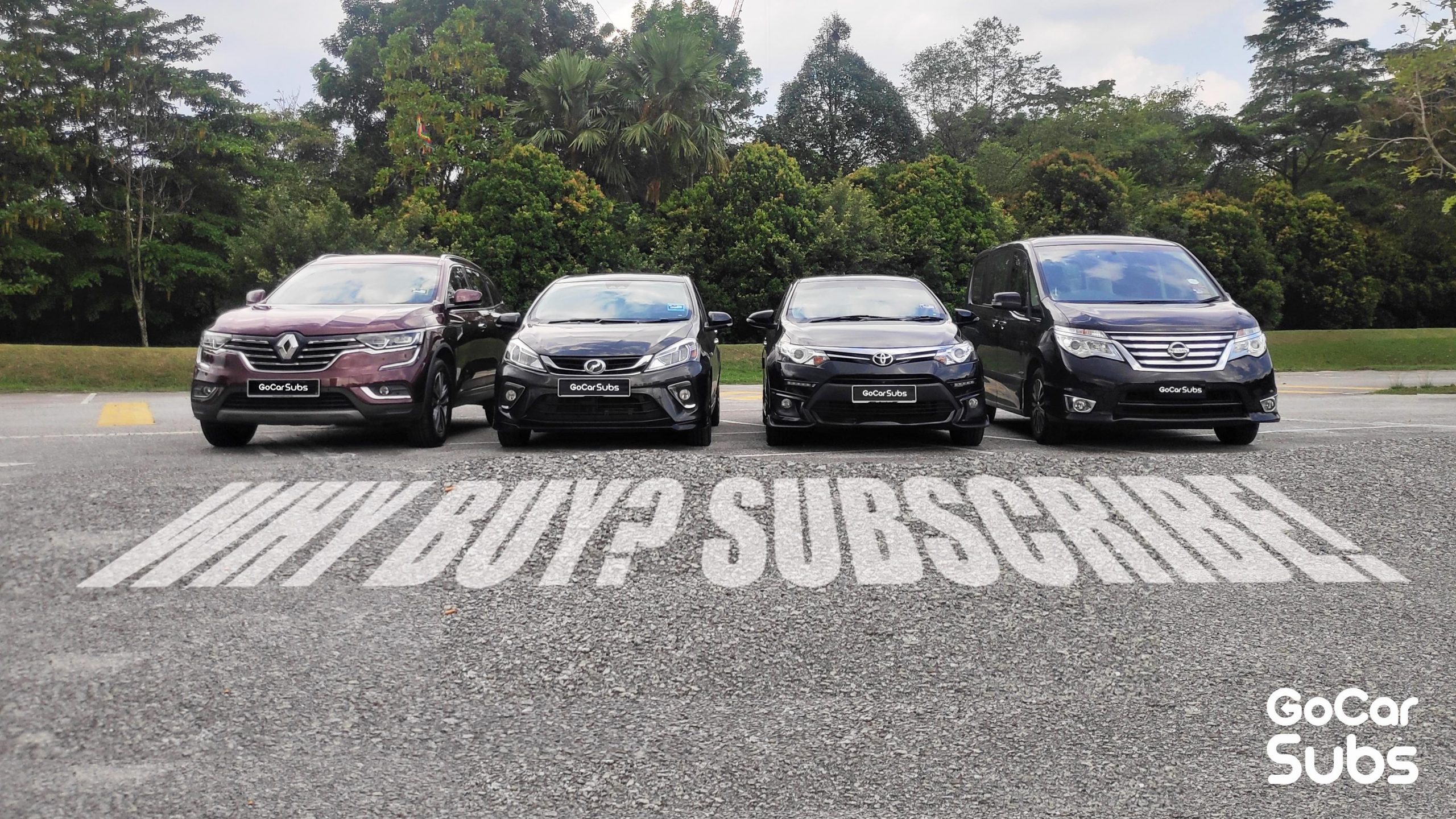 A revamp of the old system to catch up to its competitors. 
GoCar, more commonly associated with the car-sharing app, has announced a revamp of their car subscription program. Now known as GoCar Subs, this car subscription program joins the niche market of car lease options available to Malaysian consumers.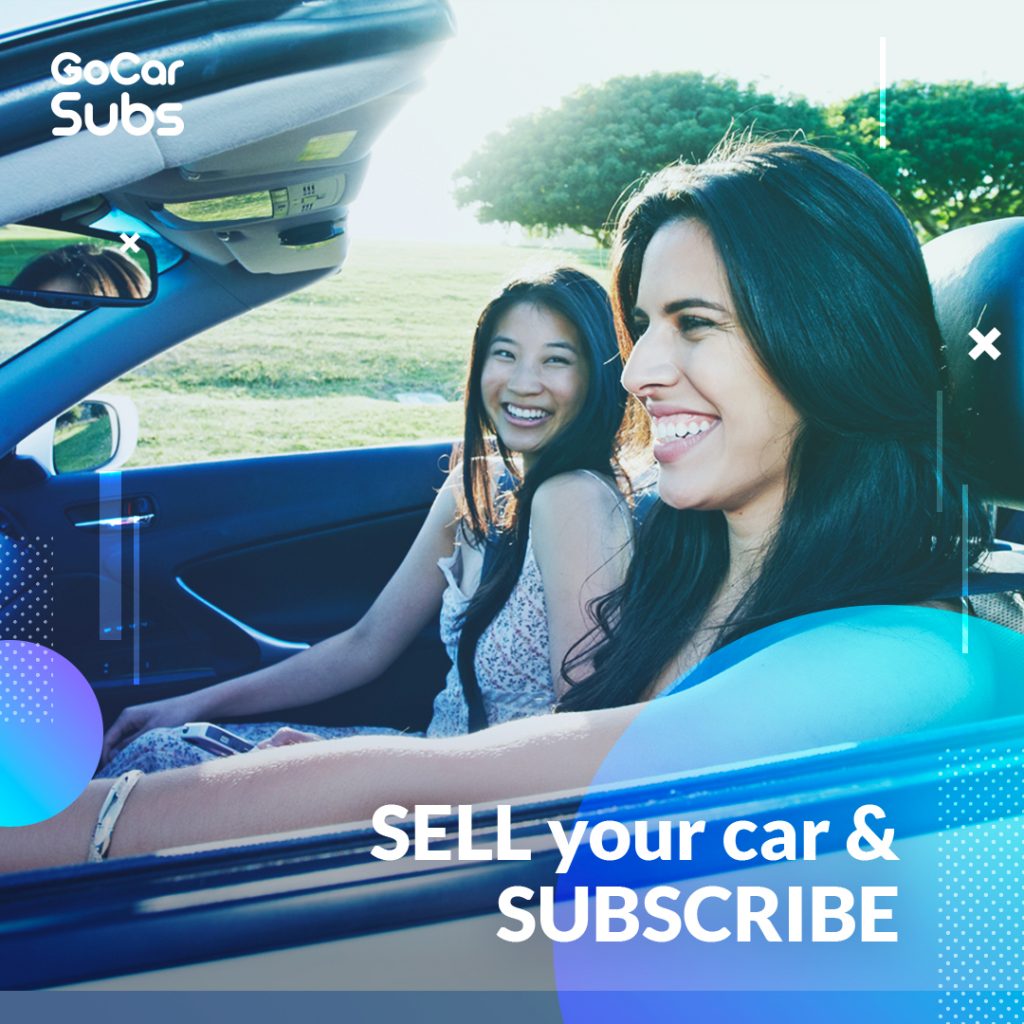 Allegedly the proprietor of the car subscription program in Malaysia, the revamped GoCar Subs now offers a wider range of vehicles to choose from. According to GoCar, customers can now subscribe to 'sedans, crossover SUVs, MPVs, and a pickup truck, which include local, Japanese and Continental makes such as Perodua, Proton, Nissan, Toyota, Honda, Volkswagen and Renault.'
Looking through the catalogue on their site, this is certainly the case. Unlike the pricier Renault Subscription service offered by TC Euro Cars though, it is worth pointing out that none of these cars offered by CoCar Subs are brand new. Most of these cars range from between 2 to 5 years old. Typical examples of cars available for subscription are a 2018 Nissan Almera with 40,000 km on the clock or a 2017 base-spec Proton Saga that also had done 40,000 km.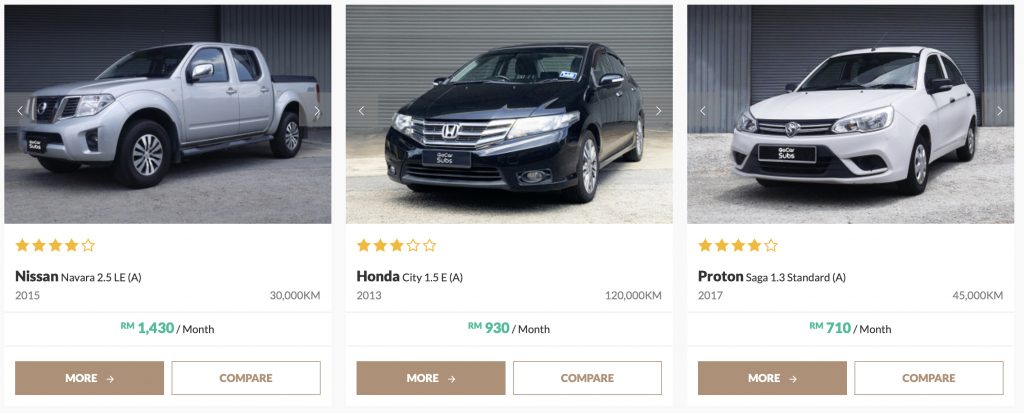 For the enthusiast however, a 120,000 km 2011 BMW 523i may be more within your wheelhouse. And speaking on a personal capacity, this may be the best deal within the catalogue right now. For the simple reason that, like all car subscription services, maintenance and regular servicing is covered within the monthly plan, in addition to comprehensive insurance, road tax and an independently rated car inspection.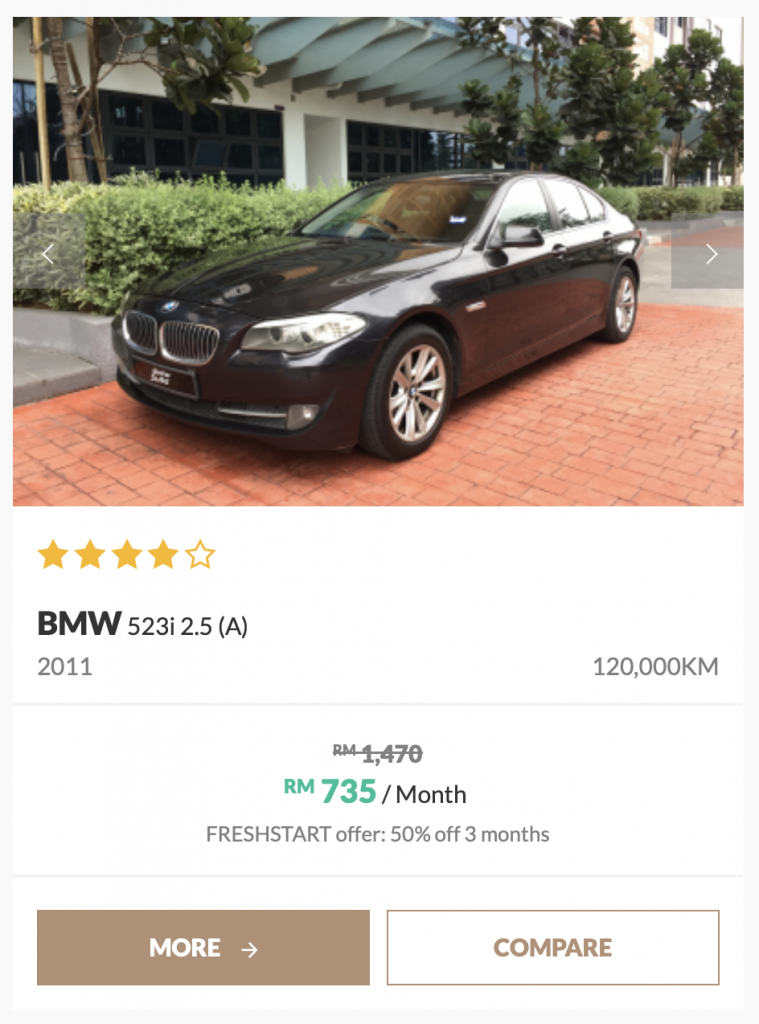 What better way is there to own a used luxury continental car than have someone else swallow all the maintenance costs?
Speaking of the subscription plans, GoCar Subs now offers subscription durations ranging from weekly, monthly, 12 months, 24 months or 36 months. It goes without saying too that the longer the subscription, the cheaper the cost. 
In conjunction with the launch of this revamped service, GoCar Subs is offering a free consultation module. Customers interested in experiencing this car subscription service can 'can explore the option of selling their car to GoCar Subs and having up to 6 months of Subscription fees paid for through their trade-in.' 
This new wave of car subscription services popping up all over provides an interesting alternative to Malaysian car buyers. Ditching the loan commitment, depreciation woes and maintenance worries would be a bonus to some, but car subscription brings with it its own set of problems and restrictions. Mainly stemming on from the fact that you don't actually own the vehicle. 
For one, no modifications can be done to the vehicle. GoCar Subs offers tinting packages from RM 28 a month. Another add-on is Singapore access for RM8 monthly, which leads neatly on to the subject of a fixed monthly milage cap with excess fees for every km over said cap. These restrictions may not be too big a deal to some, but it might be a deal breaker to others.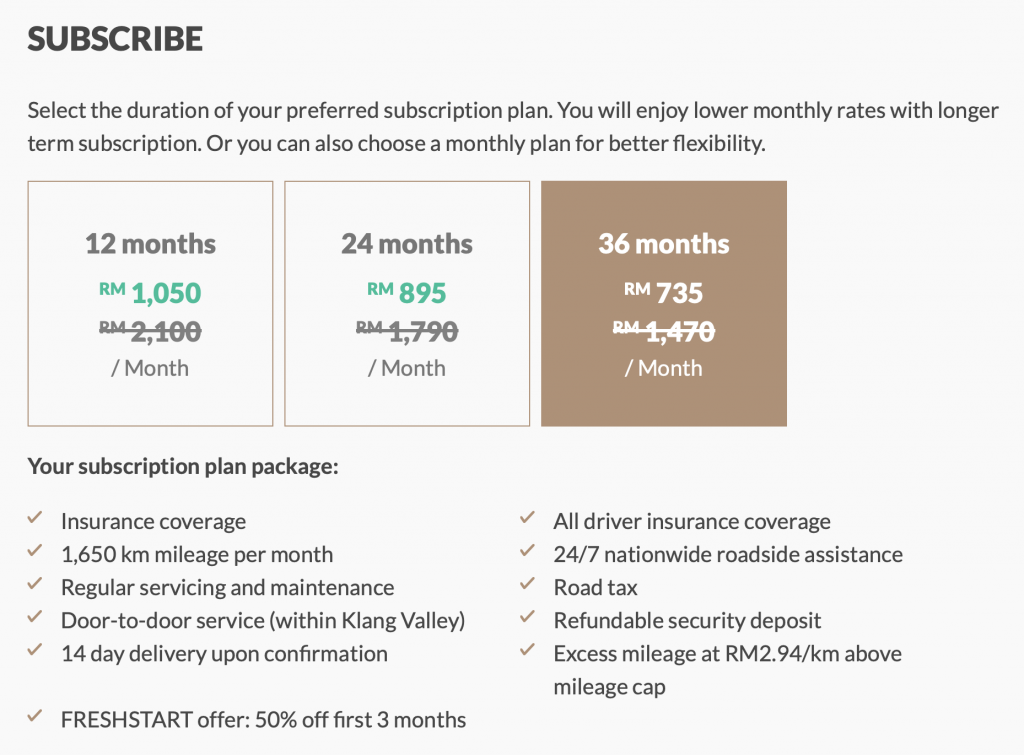 To anyone interested still interested, GoCar Subs claims that through their revamped service, customers can begin their subscription journeys in less than 14 days. There is even an additional 50% off the first three months of subscription for customers who sign up for plans that are longer than 12 months. 
GoCar Subs is only available within the Klang Valley region at the moment but seeks to expand to other regions in the near future. 
More information can be found in the press release below: 
GoCar Malaysia Revamps and Expands Subscription Offerings for More Options and Affordability
GoCar, Malaysia's leading on-demand car-sharing platform, today announced that it has enhanced and expanded its car subscription programme, which is now rebranded as GoCar Subs.
Launched in June 2019 – the first of its kind in the country – GoCar Subs aims to offer customers an affordable and flexible alternative to today's car ownership challenges. 
For a start, with the revamp, GoCar Subs now has an extended fleet of vehicle options from sedans, crossover SUVs, MPVs, and a pickup truck, which include local, Japanese and Continental makes such as Perodua, Proton, Nissan, Toyota, Honda, Volkswagen and Renault. All vehicles in the line-up are independently inspected to ensure the vehicle is in good condition and meets the standards that customers are looking for.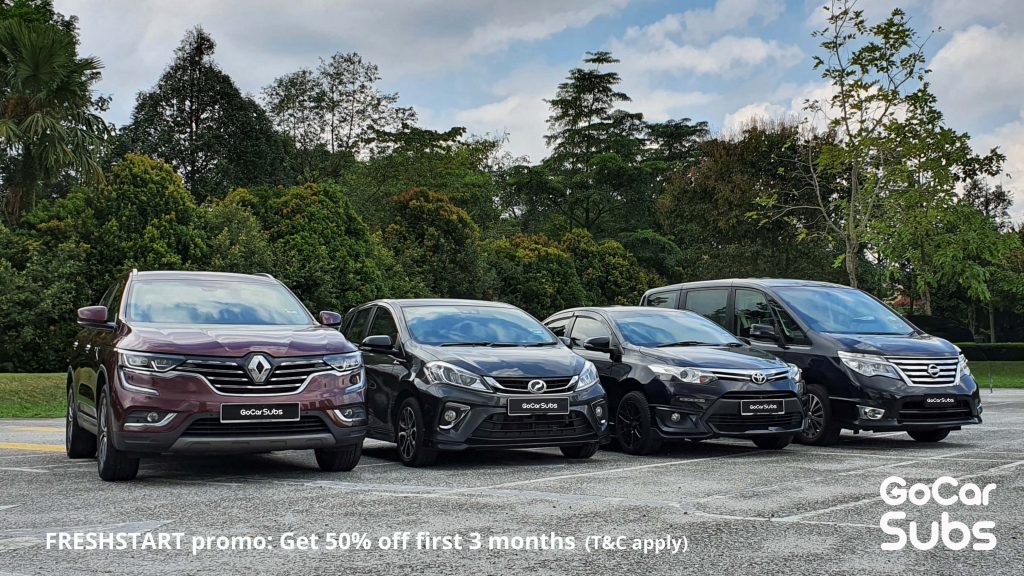 Subscription plan options now include durations of weekly, monthly, 12 months, 24 months or 36 months. The longer the contract period, the more affordable the costs. 
All fees are inclusive of comprehensive insurance, road tax, regular servicing and maintenance and independently rated car inspection. As a subscription programme, GoCar Subs customers also need not worry about hefty down payments, loan interest rates, being locked-in to long-term loan tenures and vehicle depreciation costs.
Comparable to having up to another six months' extension on the moratorium
GoCar Subs has also launched a free-consultation module, where customer can explore the option of selling their car to GoCar Subs and having up to 6 months of Subscription fees paid for through their trade-in. They can select from the list of cars available in GoCar Subs garage, or even choose to re-subscribe to their own car. The best part? Customers have the option of flexibility in cancelling their subscription at any time.
This frees customers from long term loan tenures, interest fees and the worry of vehicle depreciation. According to the statistics provided by the Department of Statistics Malaysia, car loans are also the main cause of bankruptcy in Malaysia. With GoCar Subs, customers have the freedom and flexibility as they need not worry about the Subscription fee contributing to their CCRIS. Additionally, GoCar Subs offers customers the freedom of access to an affordable vehicle without having to commit for long periods of time.
Those interested in a free consultation can just submit their details at the newly launched GoCar Subs website. A designated product consultant will be in contact within 24 hours to provide assistance.
Additionally, through the dedicated website for GoCar Subs (www.gocarsubs.com), customers can register for a new subscription account, select their vehicle and subscription plan, complete the subscription process, track their subscription status online and manage their subscription payments. All applications will be processed within 24 hours. Once approved, customers will receive their cars and start their subscription journey within 14 days.
For added convenience and with customer safety in mind, GoCar Subs is also offering door-to-door service for vehicle delivery as well as maintenance pick-up and return. This service is available free for customers within the Klang Valley who subscribe for the 12-month and above plans. Customers can also rest assured that all vehicles will be sanitised before being handed over to them.
Another new feature under GoCar Subs are add-on options, the costs of which customers can choose to amortise across their subscription for additional comfort and convenience. Current offerings available include Singapore access for RM8 monthly (extended insurance coverage included), tinting from RM28 monthly and full accident protection for RM99 monthly (no excess fees will be charged in the event of an accident).
GoCar Subs is open to all Malaysian citizens and residents (international driving licenses are accepted). To subscribe, applicants only need to submit a copy of their driving license, identity card or passport, three-month payslip, EPF statement and three-month bank statement. 
For a limited-time, customers who subscribe to the 12-month, 24-month and 36-month plans and make payment by 31 August 2020 will be entitled to 50 percent fee reduction for the first three months. Sign up now at www.gocarsubs.com